With the start of a new semester, comes the start of a new intramural sport season as well. Now for those of you who aren't sports nerds like I am, or just don't know what intramural sports are, let me give you a rundown of the whole thing.
Intramural sports are usually coordinated by the student recreation center, and you get to form teams with your friends to play a wide variety of sports ranging from soccer, to flag football, to battleship.
Intramurals are great because while you still get to play in official games against other teams, it is only as competitive as you make it. So it doesn't matter if you aren't very into athletics, or if you are just looking for a reason to get off the couch, anyone can play and have a great time while doing it.
At my time here at Alabama, I have participated in outdoor soccer, indoor soccer and most recently, flag football. My first semester, I even created my own outdoor soccer team with some of my new friends. It was a really great way to get to know people, and continue playing the sport that I have always loved playing.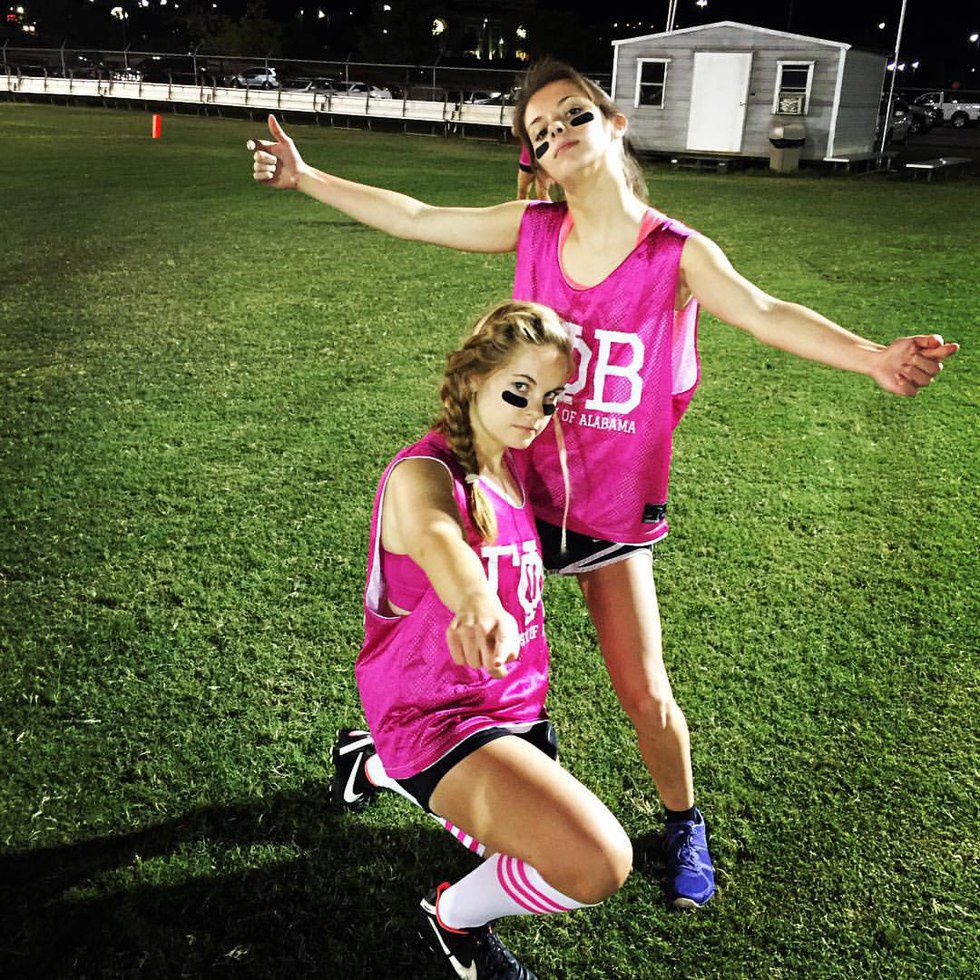 Action shot of my big and I looking fierce before our first flag football game.

While I have played soccer my whole life, I barely even touched a football before joining my sorority's flag football team. That is another thing that is so great about intramurals, it is not only a fun experience, but you can try sports that you have never played before. The referees for our first game were even very helpful, and no one laughed (that hard) at me when I pulled the wrong person's flag on the first play.
So if you're considering joining or starting your own team, but are a little unsure about it here are 10 reasons why you should:
1. It is a great way to make new friends.
2. It is a great way to stay in shape.
3. You can continue playing a sport that you love, or try a brand new one.
4. "It's so great being able to stay active and share a common interest with some of my friends, and being able to have fun and cheering each other on, win or lose." -Abby Linman, sophomore.
5. At a lot of schools you get a championship T-Shirt when your team comes in first place, along with serious bragging rights.
6. "If you're an adrenaline junkie, it is really fun because you get a great rush when playing." – Marissa Maguire, freshman.
7. You can take it really seriously, or just have fun with it. There is no pressure to win or lose.
8. If you're really competitive (like me), it is a great way to utilize that aspect in a healthy way.
9. It is a good way to relieve stress.
10. "Do it for the Insta." –Laura Britianisky, sophomore.