With a big election coming around this November, people are starting to look for other options besides Hillary Clinton and Donald Trump. Most people, who are looking for someone besides the main two party candidates, are looking to vote Libertarian (or Green Party). Both Gary Johnson and Jill Stein are running for president for third-parties such as Libertarian (Johnson) and Green Party (Stein). Gary Johnson seems to be gaining some popularity, especially among younger voters. Recently, there have been articles about how if you don't vote for either a Democrat or a Republican, you're just throwing away your vote and handing the presidency over to one of the two candidates.
Being a political science major, the discussion on who to vote for is all the rage right now. Election day is only a month away. I recently received an email from one of my political science classes and someone had told the professor that they were planning on voting Libertarian this election but didn't know what to do. The student had asked for an opinion. One of the teaching assistants of the class responded, "The Libertarians will not win the election. A vote for that ticket (or the Green Party) is a "protest vote" and that is what some people plan to do. If that's your reason to vote understand what you are doing. Trump or Clinton will be President of the United States. Which one are you more comfortable with? Which one are you less comfortable with?". Another source says that "voting for Gary Johnson is as sensible as writing in 'Puff the Magic Dragon'". The author, Walter Shapiro, who is a journalist, pointed out some mistakes that Johnson had made in recent interviews and because of these slip-ups, Johnson apparently isn't a very good candidate. Walter Shapiro says, "Johnson's candidacy went from plausible protest vote to comic punchline". Shapiro decided to point out a mistake that Johnson had made and apparently because of those two mistakes, Johnson isn't a viable candidate anymore. A commenter on Shapiro's article said, "The media swarms the molehills of minor slips of a third party candidate, while ignoring the mountains of deceit, corruption and blatant disregard of the American people, by the rigged Big Two Party duopoly" and they're not exactly wrong. Instead of pointing out all of the corruption of the two party candidates, let's point out the verbal slip-up of the lesser candidate because he couldn't remember the name of someone.
People claim that the Libertarians aren't doing well enough in the polls. According to a recent Gallup poll, 57 percent of Americans believe that a major third party is needed. That 57 percent is higher than the 46 percent reported in 2012. Also, according to "American Government & Politics Today, the Essentials", a textbook that I'm currently reading, polls aren't exactly the most efficient way to predict an election. An example from the book says, "President Harry Truman holds up the front page of the Chicago Daily Tribune issue that predicted his defeat on the basis of a Gallup poll. Truman, of course, defeated Dewey. The Gallup poll was completed more than a week before the election, so it missed a shift by undecided voters to Truman" (pictured below). With many people not participating in polls and a large number of undecided voters, trying to predict who will actually win the election is pretty difficult. Gary Johnson's polling numbers as of September 4th was at 10 percent according to the New York Times and his numbers are expected to climb. Gary Johnson's numbers could also potentially increase with voters becoming more educated on his issues and where he stands.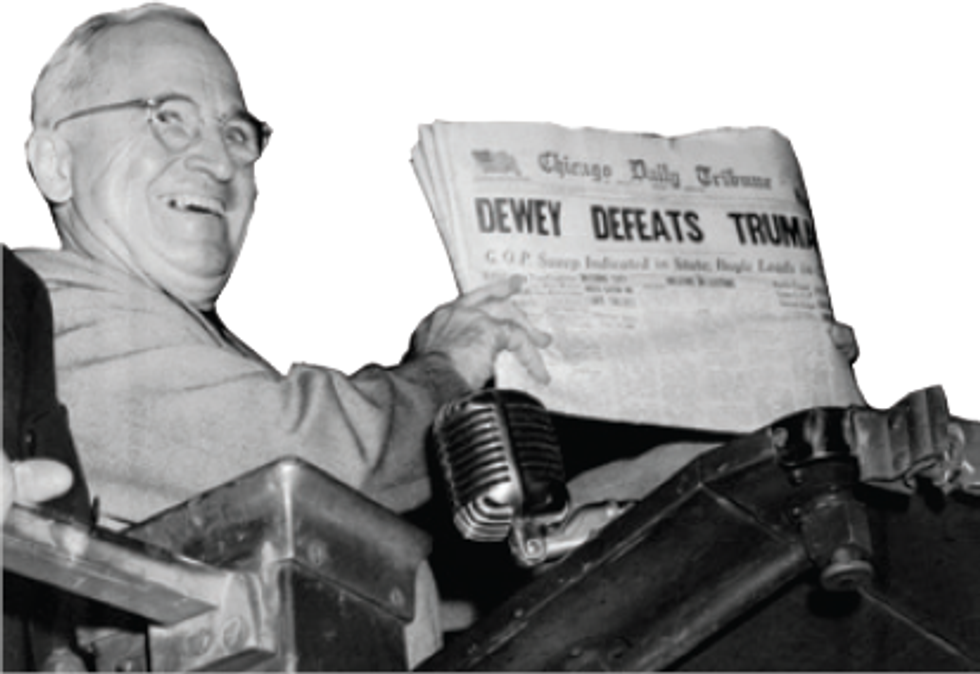 Now, for this whole "protest vote" thing. According to Dictionary.com, a protest vote is "a ballot cast for a candidate with a minimal chance of winning, to register dislike for the other candidates". If someone doesn't agree with the two main parties beliefs and their candidates, United States citizens should not have to vote for them. Say my beliefs line up more with Gary Johnson or Jill Stein than Hillary or Trump, who am I going to vote for? Probably the person who I feel is right for the country. I shouldn't have to choose between the lesser of two evils when I don't agree with either of them. There is a third option, why can't I pick that one? Too many people have lost their lives fighting for the right to vote for me to just pick the person I think would do less damage. Most people that have been talking about voting Libertarian this November aren't doing it to protest against Trump or Clinton, they're doing it because they believe that Libertarian is the way to go.
If not agreeing with either Trump or Clinton makes my vote a "protest vote", then be it. Don't forget to get out and vote November 8th.