Our country has dug itself into a massive hole over the past year between mass shootings, killing of innocent people as well as police officers, and more tragic news coming out each new day. As most of you have probably heard, Colin Kaepernick chose to stay seated for the playing of the National Anthem at his preseason game against the San Diego Chargers. Kaepernick is the quarterback for the San Francisco 49ers. As a quarterback, you are seen as the leader of the team and most likely have the biggest spotlight on the team. Naturally, all focus was directed on him and his decision to not stand up.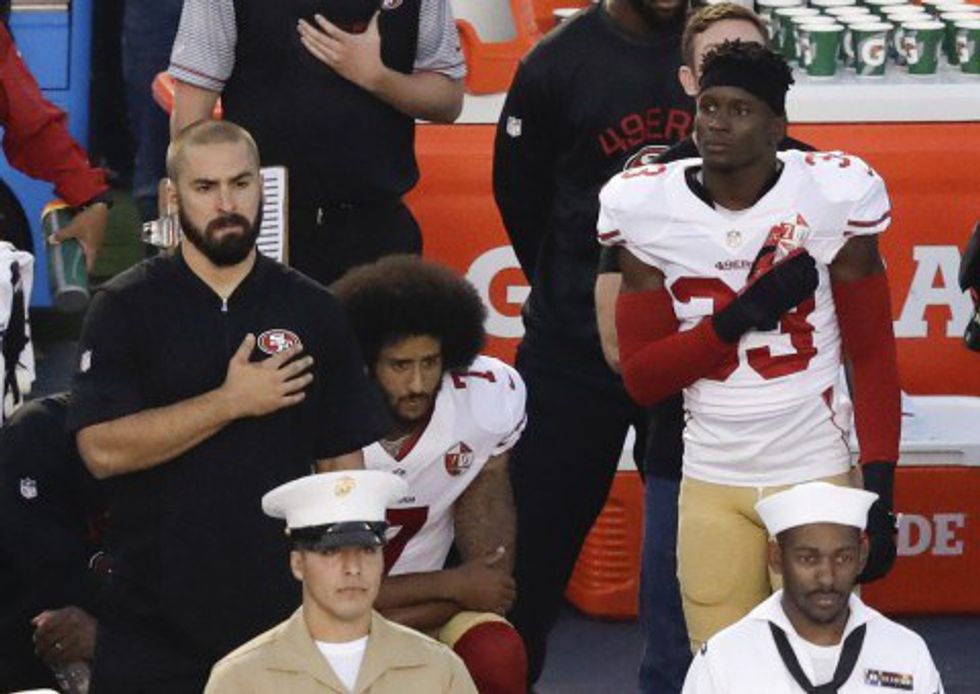 I am all for people standing up for what they believe in and doing their own thing; however, if you have the audacity to disrespect the United States of America, which by the way gives you the freedom you have to not stand up during the National Anthem, then I'm sorry but I have lost all respect for you.
If you were to disrespect your country that much if you lived in a different country, in Egypt disrespecting the flag is equivalent to a year in prison or a fine equaling $4,200. Kaepernick did not receive any punishment for his action besides some harsh words said by NFL fans or just Americans in general.
According to an interview Kaepernick had with the NFL, his reason for remaining seated was that he will not show pride for a country that oppresses people of color. The National Football Association does not require its players to stand for the national anthem, but they do encourage it. I am not arguing with his reason for sitting down, I agree that we are having racial tension in the country, but the place to argue this is not prior to America's national pastime. Instead of trying to get his point across, people only saw him sitting down and many people lost respect for him before he could even explain why he did not stand.
When I stand up for the playing of the national anthem, my biggest reason is to honor all the veterans and those currently fighting for our freedom. Kaepernick disrespected the military, the people who keep the country safe and allow us to watch our beloved football games. In an interview with USA Today, Kaepernick said that this whole thing is a misunderstanding. He told press he is not an anti-American and his entire goal of not standing was to draw attention to an issue he would like to help out. The NFL player also said that he would like to donate $1 million to help with racial inequality as well as police brutality in the nation.
Staying seated for the playing of the national anthem is hard to look passed, however Kaepernick wants to see a change made to all the senseless violence in the country. A new article released on Saturday, September 3, showed that Chip Kelly stated that Blaine Gibbert will start as the quarterback for the 49ers in the next game.