After enduring a trail ride on a bomb-proof horse, the many self-proclaimed master equestrians have declared horse riding to not be a sport. After all, they just sat there. The horse walked on the trail. The horse trotted when the horse in the lead trotted.They didn't do anything. They just sat there. Obviously, an equestrian does the same.


Unfortunately, this is not an unpopular opinion among those who do not ride horses.
To those who have hopped on the bomb-proof horse for a trail, you're right. You did just sit there. Sitting on a horse makes you an equestrian the same way that standing in a field while holding a football makes me a football player. So, let's talk.
Horse riding can be broken down into two categories: English and Western. In these two categories, there are many different disciplines. For example, in English riding you have your hunter-jumpers, three-day eventers, saddle seat, hunt seat, etc. In Western riding you have your reiners, cutters, barrel racers, western pleasure, and more. Each of these disciplines requires the horse and rider to perform in different ways. I have the most experience in saddle seat and limited experience with jumping, so those will be the main two that I use for examples.
Equitation is the position of the rider on the horse. Equitation is dependent on the discipline of riding. For instance, in saddle seat the rider grips with their knees. The lower leg must be kept back and off of the horse, toes pointed forward, and heels down. Saddle seat riders hold their hands higher than other disciplines because of the anatomy of the American Saddlebred Horse. Saddlebreds are majestic giraffes on ten shots of espresso. You are riding a powder keg, and it is amazing. The rider's hands should make a direct line to the horse's mouth. A jumper is to grip with their inner thighs and calves, not with their knees. Toes are pointed forward, and heels down. They are essentially wrapping their legs around the horse. This is not easy, and if you do not believe me, you need to try it.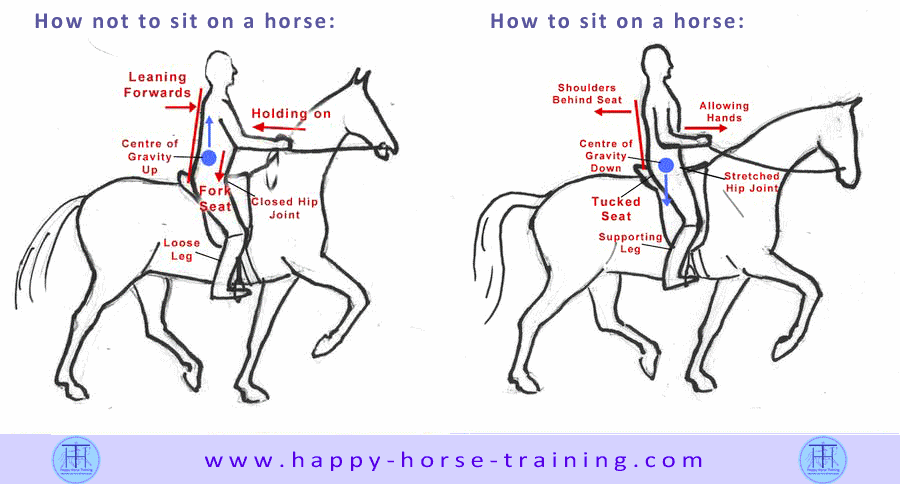 Everything that you can do with a saddle, you should be able to do without a saddle. This has become my philosophy. I'm not sure that this would hold true for certain western disciplines, such as barrel racing or cutting, because of the movements involved, but I don't have enough experience in those disciplines to determine that. When I ride, the only things holding my booty to that horse's back are my legs. That's right -- not the saddle. My legs.
Now, let's talk stirrups. Stirrups connect to the saddle and are what you are putting your feet into. Have you ever heard of No-Stirrup November? It's the best and the worst rolled into one. No-Stirrup November is when the equestrians take the stirrups off of their saddles for a month. Why? Riding without stirrups helps riders develop their seat and, boy, does it build leg muscles! It is wonderfully terrible.
There are many exercises that we do to build muscles, but one of my favorites is two-point. You have all most likely seen a jockey at one point in your life. The position that they are in is two-point, except our stirrups are longer, so our legs are still on the horse. To be in two-point position, we are lifting ourselves off of the horse with our legs and holding ourselves up with our core muscles. It is hard work, and if you don't believe me, try it sometime. You will shake and it will be wonderful.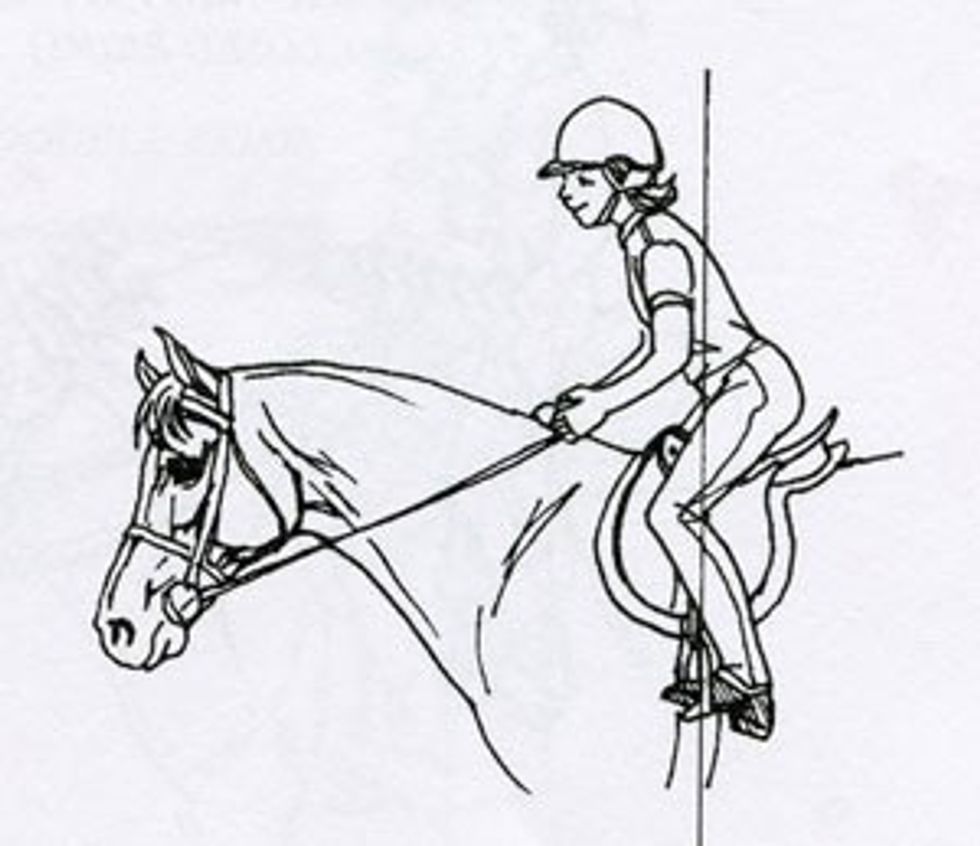 Notice how her back is arched and not hunched over. Hunching makes you look like a turtle. Looking like a turtle is sloppy. Don't be sloppy.
The rider does not just grip the horse and sit there. Every movement of the horse is a result of a cue or aid given by the rider. Every movement, whether it's shifting weight, leg pressure, a bump of the rein, whatever. The rider is always doing something, always paying attention to the horse and all of the surroundings, and responding accordingly.
Simply pulling on your reins isn't going to cut it. If you are only using reins, you are not a good rider. Plain and simple. Vocal commands are important. Legs are also important. Every shift of your weight is important, even just moving your head. The horse feels that and responds to it.
Our horses are our teammates. It's been said in every horse riding is a sport argument, but it is true. My teammate does not speak English, weighs 1,200 pounds, and I have to figure out how to communicate with him/her.
Every horse is different. Equestrians must learn how to ride every different horse that they are on. They have to listen to their teammate and respond accordingly.
Equestrians are hardcore. We've been thrown, kicked, dragged, fallen on top of, you name it, and you know what we do after that happens? We get back on. If you aren't going to the hospital you are getting back on. If you aren't broken or concussed, you are getting back on. No excuses. Falling off is part of it. This sport is not for the faint of heart.
Exhibit A: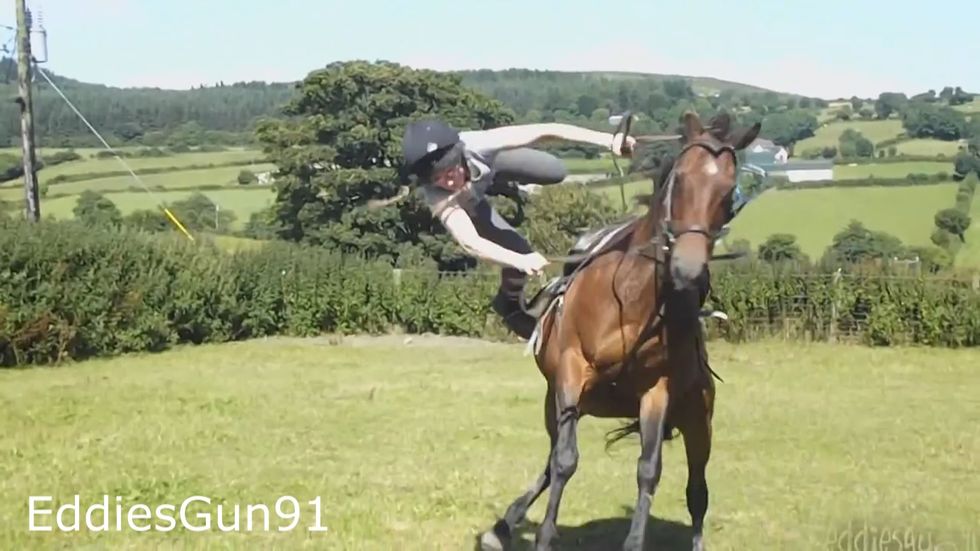 Exhibit B: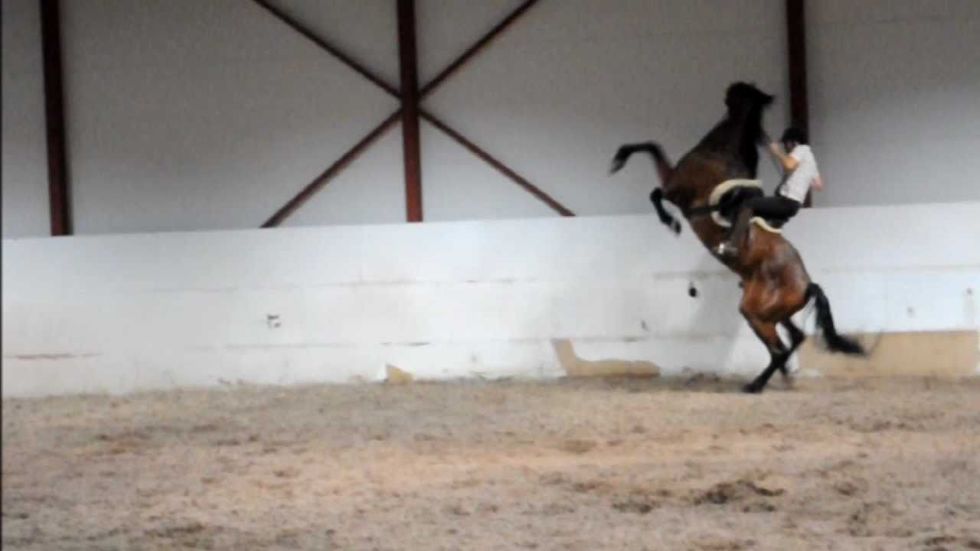 Exhibit C: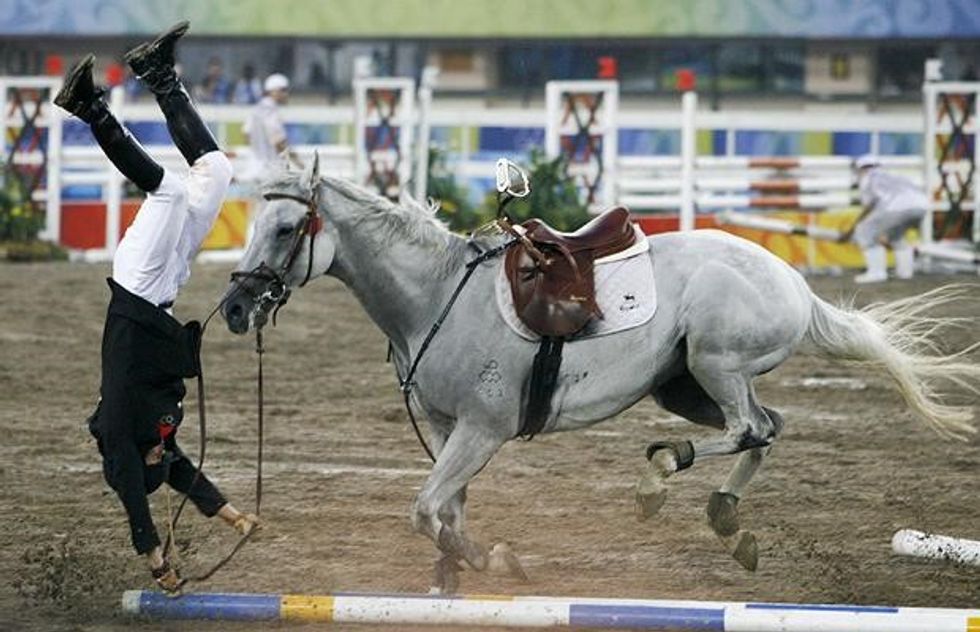 Note: I did not pick the worst falls. I picked common ones.
Let's talk calories. For a person who weighs 150 pounds, grooming a horse burns about 114 calories, longeing (yes, it is spelled like this) burns 79, tacking up burns 46, and warm-up riding burns 226. That means an equestrian burns 463 calories warming up. To put it in perspective, playing football for 30 minutes burns 438 (for a person at 150 pounds).
I haven't even mentioned the hours of barn chores that include lifting 50 pound feed bags and water buckets that go along with being an equestrian.
With all the time, work, muscle, blood, sweat, and tears equestrians put into horse riding, it is preposterous that we still have to convince people that it is a sport. Take it from the girl who has had 1,200 pounds come down on top of her, who has been thrown into arena walls and fences, who has gone over fences without the horse, who has been dragged through and thrown across arenas, who has clung to the neck of a galloping horse and pulled herself back on its back: horse riding is a sport, equestrians are athletes, and if you still aren't convinced, I would be more than happy for you to come and "sit" on my Saddlebred. I'd love to see what happens.