Normally I come up with some kind of snappy introduction about whatever I'm writing about on a given week, but this week, I have no words. Today, three people died at the hands of white supremacists at a rally in Charlottesville, Virginia. In 2017. Let that fact sink in. In 2017, 52 years after the Voting Rights Act was passed and 53 years after the Civil Rights Act was passed - people are protesting and killing over race relations.
What began as a protest against the removal of a statue of Robert E. Lee (including chanting "You will not replace us," waving Nazi flags, and giving the Third Reich salute) quickly spiraled into a battle of taunts and brawls, culminating in a car plowing through a crowd that, at the time this article was written, killed one person and injured at least a dozen more. Two police officers were also killed in a helicopter crash that was associated with the rally.
This rally, called "Unite the Right," promised to "fulfill the promises of Donald Trump" to "take our country back." It attracted the attention of the KKK and neo-Nazi leaders like David Duke and Richard Spencer.
Donald Trump, after an uncharacteristically long period of silence, eventually tweeted: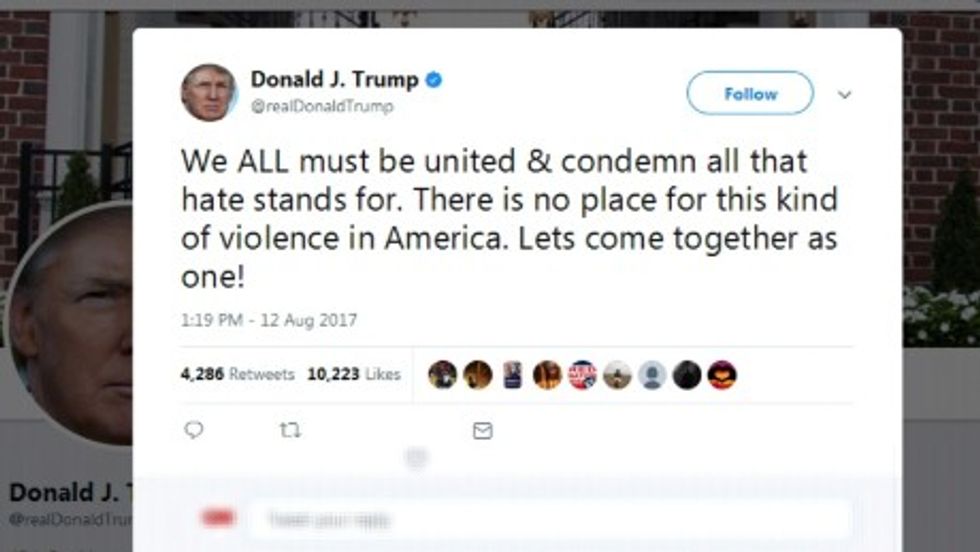 President Trump has never specifically condemned the neo-Nazi/white supremacist movement, a point which has not been lost on its members: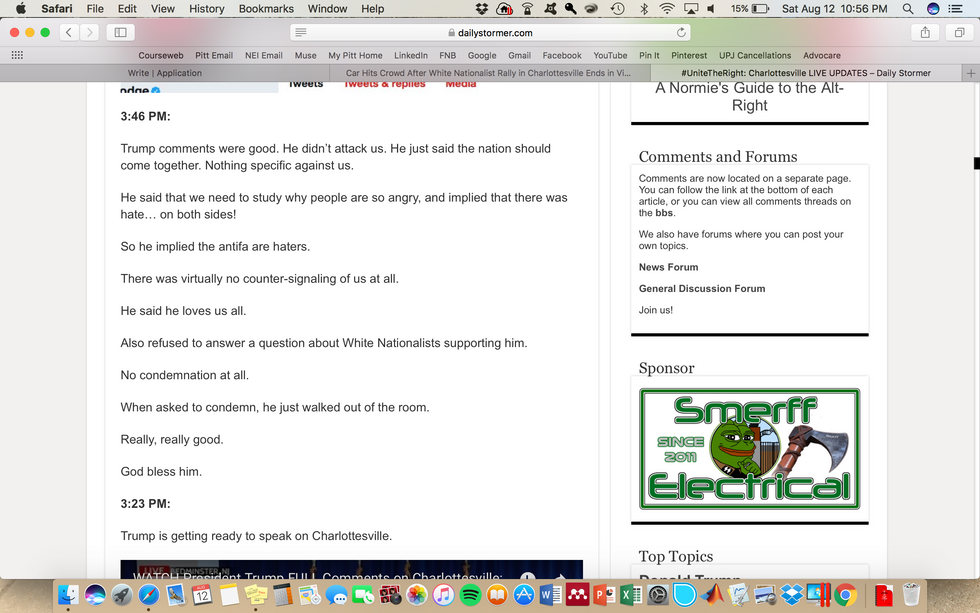 (Clicking the picture links to Daily Stormer, a neo-Nazi/"alt-right" journal. If you want to get angry. For the record, "antifa" = anti-fascists. I had to Google it.)
Clearly, by Trump not explicitly condemning the white nationalists, he is fueling their fire and essentially saying that it's okay. It's okay that they hate POC. It's okay that they're hurting people in the streets.
President Trump, Speaker Ryan, and Vice President Pence held their tongues until the movement turned violent, because obviously neo-Nazis literally carrying Nazi flags in the name of Trump wasn't that bad and didn't require condemnation. The waited until the state of Virginia declared a state of emergency.
There's not a whole lot to say that hasn't already been said. What's happened in Charlottesville is abhorrent. It's terrifying. It's un-American. It's downright depressing.
I believe in free speech. I believe that if you have an opinion, it's your right to be heard. But if your opinion is hating someone else for who they are, then that isn't an opinion. That's ignorance and hatred, and that cannot be tolerated.
From the New York Times: "At McIntire Park, the white nationalists waved Confederate flags and other banners. As a photographer took pictures, one of them, who gave his name only as Ted because he said he might want to run for political office some day, said he was from Missouri, and added, 'I'm tired of seeing white people pushed around.'"
"I'm tired of seeing white people pushed around." A quote has been circulating around Twitter recently. It reads, "When you're used to privilege, equality feels like oppression." White men ran this country essentially singlehandedly for two hundred years. They're used to being the only voice at the only microphone. Now they're holding the only microphone while other groups fight to share that space. And that's scary. So now, groups like this are lashing out because this equality feels like oppression.
Congresswoman Shirley Chisholm once said, "If they don't give you a seat at the table, bring a folding chair." And that's exactly what is happening when minority groups begin to step up to take their rightful place. Society should be a meritocracy.
I understand that white men feel like they have been made the enemy. That the people living in 2017 are paying for the sins of our forefathers by being the brunt of all pain and anger. I understand those feelings, and I know that it can be frustrating. But this? This is not the answer. This is how cowards react to new ideas and to change. With violence and anger and pain and intolerance.
How should they be responding? With rational discussion. With open minds and hearts. By being willing to listen to what people different from them are saying. By admitting, "You know, maybe my actions are, in fact, hurting other people, and I had no idea. Maybe I should change that specific action."
And both sides should be taking this approach. Instead of shouting your opinion in someone's face, we (myself included) should take the time to explain our views to others. To explain our pain and our frustration and the nuances of oppression that do indeed still exist in our lives.
I still believe in the Republican party. I still believe in my conservative values. I know that not all Republicans are racists that beat people up in small towns in Virginia because a statue of a Confederate leader is being threatened. But I do not, for one second, condone a single action by the alt-right today. These people do not represent me and my party. If Trump can't say it, I will.
Speaking of what Mr. Trump says, I know people will come back and argue that he eventually did specifically condone the alt-right and the neo-Nazis who marched on Charlottesville. And you would be right. Eventually. The day of the rally, President Trump was asked questions about the event, and all he would say was that there was "hate on all sides." When asked to specifically condone white nationalists, he was silent. For one of our most talkative presidents to date, Mr. Trump has been uncharacteristically silent where most world leaders have swiftly condemned the views that sparked the rally.
I'll leave you with this. From the New York Times: "Attorney General Jeff Sessions said Justice Department agents would support local and state officials in an investigation of Saturday's events. 'This kind of violence is totally contrary to American values and can never be tolerated,' Mr. Sessions said in a statement."
If ~Jeff Sessions~ thinks your actions are whack, then they're probably whack.