April 3, 2016 was a day of decisions in the realm of Marquette Basketball. One of these decisions was Henry Ellenson's, where he declared for the 2016 NBA Draft. The other decision came in the form of a video—a video that touched every Marquette affiliate right down to the ending.
"But those who hope in the Lord will renew their strength. They will soar on wings like eagles; they will run and not grow weary, they will walk and not be faint." Isaiah 40:31
Or, they will soar on wings like *Golden* Eagles, in this case.
The four-star recruit Markus Howard decided on Marquette. According to reports, Howard also decided to graduate an entire year early from high school to come to Marquette for the 2016-17 school year. If this isn't commitment to and utmost excitement for the game, I don't know what is. Obviously he's got a good head on his shoulders.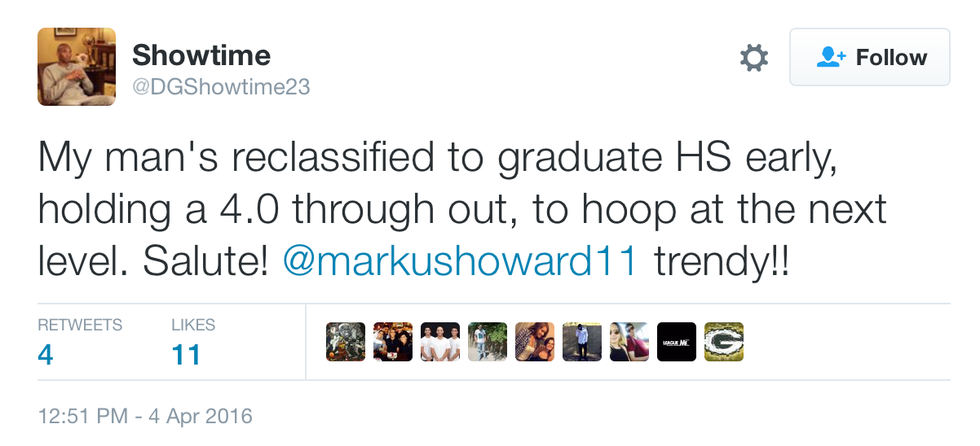 But what does "The Decision" really mean for #MUBB?
The 5'11" point guard surely isn't a replacement in the wake of the 6'11" forward in Ellenson. However, he's a promise for the future of Marquette Basketball like Henry had been, and the #MUBB community has every right to be pumped. Howard's been ranked as high as No. 32 in America by ESPN, and had options offer-wise from schools such as Indiana, Arizona, Baylor, California, Oregon and Arizona State, to name a few. He was actually committed to play for ASU as a sophomore in high school and de-committed just this past March. He has accolades measuring him up to the NO. 1 scorer in the country for his class. If that's not a startling statistic as it is, watch his highlights for yourself.
#MUBB got a hell of a player in Markus Howard. I'm anxious and excited to see where his talents will take the team, and where a team with him onboard will take the program as a whole.
Because even though one decision on April 3 meant losing Henry Ellenson to the NBA, even he is eager to see the future of #MUBB progress with the addition of Markus Howard.