To stay healthy, it is important to listen to your body. If you ever experience something and think "you know, this doesn't seem right," chances are you are having that uneasy feeling for a reason.
Here is a list of common conditions that can mess with your vaginal health and how to treat them.
*DISCLAIMER* I am NOT a medical doctor and you should always consult a physician about serious medical questions.
Bacterial Vaginosis (or BV) vs a Yeast Infection (Candida)
"What is it?"
Though easily confused, bacterial vaginosis and a yeast infection are not exactly the same; BV is an overgrowth of naturally occurring vaginal bacteria, and a yeast infection occurs due to an overproduction of naturally occurring vaginal yeast. The reason they are often confused for one another is that both result in the super fun vaginal discharge that makes you feel oh so soft and feminine (100 percent sarcasm). You can see a side by side comparison of the symptoms in the image below. Both are distracting and uncomfortable when they occur, but are totally treatable.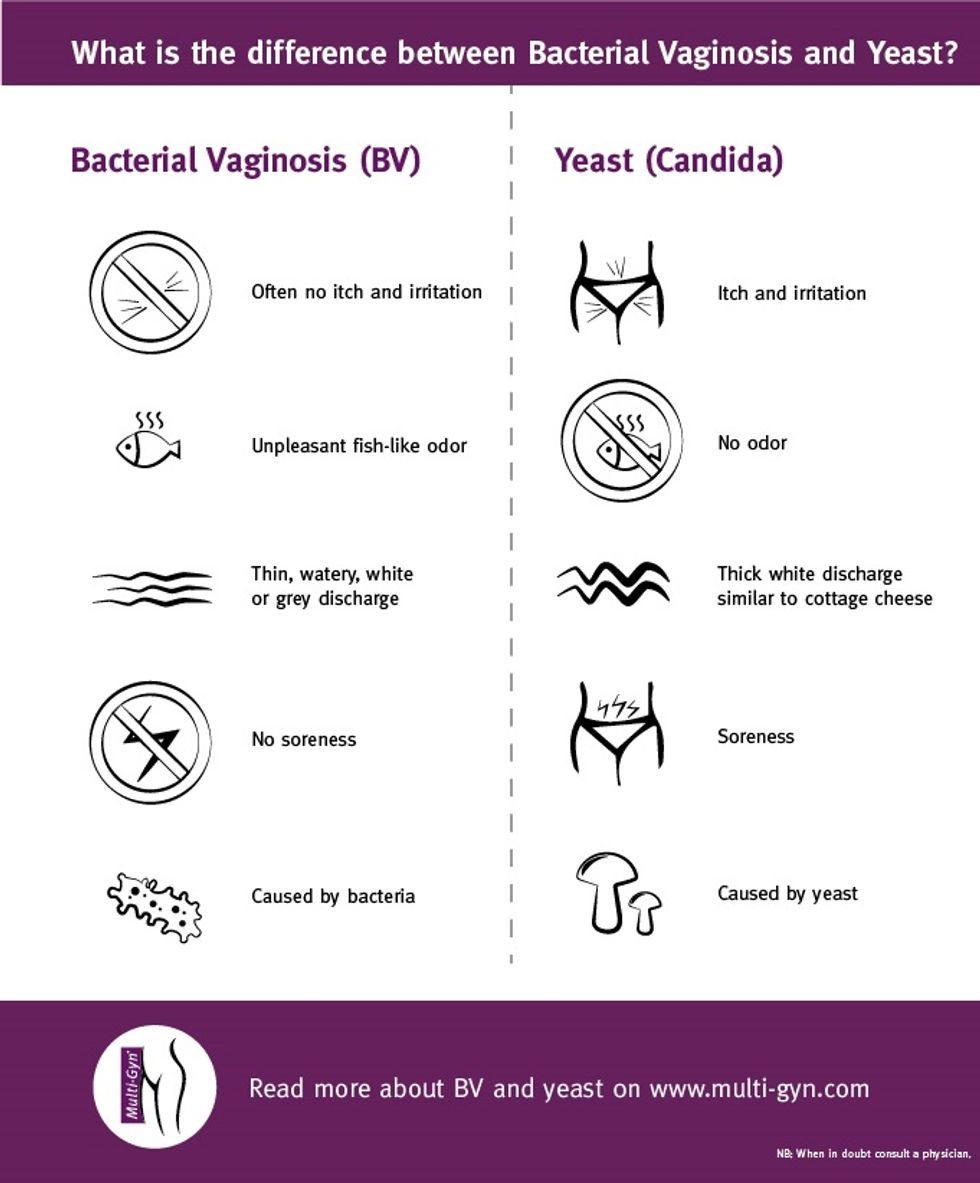 "What do I do if I have it?"
It is best to see your doctor to make sure you are treating both Candida and BV the right way (like previously mentioned, the two are often confused). You can definitely go to your gynecologist for this, but a primary care provider or on-campus clinic can treat them just as easily. Your doctor will perform will perform a swab test to check your pH (this is not a scary examination, and it only takes a minute).
If you have a yeast infection, your doctor will most likely give you an oral medication (it's usually one big pill) and possibly recommend an over-the-counter treatment like Monistat to address your symptoms while the medicine kicks in.
If you have BV, the doctor will prescribe you an antibiotic since it's a bacterial infection and may give you some sort of cream to ease any discomfort.
Urinary Tract Infection (or UTI)
"What is it?"
Defined, a urinary tract infection is an infection that can occur in one or more parts of the urinary tract; meaning your kidneys, ureters, bladder and urethra.
UTI's can occur for a variety of reasons. Some people are more prone to getting them just by sheer luck, and they can also come from bacteria exchange during sex. Symptoms include pain in your kidneys (which are located in your low back), burning during urination and frequency (which basically means you constantly feel like you need to pee, even when you don't need to go).
"What do I do if I have it?"
It is best to see your doctor to make sure your symptoms are a UTI (a campus clinic can also easily diagnose a UTI). You will pee in a cup, and your doctor will examine it for culture (nasty little guys that are causing the pain).
If you have a UTI, your doctor will prescribe you an antibiotic (usually something like Macrobid).
You can also take something like AZO which is a urinary analgesic (which means it numbs the pain and frequency while you get better) there is also a prescription strength version of AZO called Peridium that your doctor may prescribe you if your infection is more severe.
If you have a UTI you should be pushing the fluid to help flush your system, and cranberry juice can often help as well.
Endometriosis
"What is it?"
Endometriosis is a condition where the endometrium (the lining that lines the uterus) begins to grow on the outside of the uterus as well. This can result in extreme pelvic pain and pain during intercourse. If you have extreme pelvic pain and cramping and think you might just have bad periods, it could actually be endometriosis.
"What do I do if I have it?"
If you suspect you might have endometriosis, you should 100 percent talk to your doctor. If you do not have a gynecologist, your primary care doctor or local clinic will likely refer you to one.
To screen for it, your doctor will most likely perform a pelvic ultrasound. Endometriosis is often treated with birth control designed to keep this tissue from overgrowing in the future, and surgery may be an option to remove any current endometrial overgrowth.
If this sounds scary, have no fear. I have personally had this surgery and the recovery time is quick. If you suspect you may have endometriosis it is important that you talk to your doctor sooner rather than later as it can cause extreme discomfort and can affect fertility. The sooner you get it checked out, the healthier you'll be!
Vulvodynia
"What is it?"
Vulvodynia can be described as a chronic and unexpected pain in the tissues surrounding your vaginal opening otherwise known as your vulva (meaning it can affect your labia, clitoris and vaginal opening). Vulvodynia can come in waves and in different locations (generalized) or it can occur in one specific place (localized) and be chronic.
Doctors are still not certain what exactly causes vulvodynia, but they do not believe it is linked to STD's. Rather, it may possibly be due to trauma, nerve injury, genetic hypersensitivity, inflammation or excessive antibiotic use.
Symptoms of vulvodynia can come and go or be chronic and include burning, itching, stinging and rawness. Sometimes these symptoms may be induced through sexual intercourse, sitting for long periods of time or activities like biking.
"What do I do if I have it?
Talk to your doctor about a treatment plan that works best for you. They may be able to prescribe you medications or topical treatments to ease the pain of vulvodynia.
You can also make life changes that will help with your symptoms such as using a water-soluble lubricant during sex, avoiding washes/personal care products/detergents that are scented and applying ice treatments after intercourse.
The take-home message
The most important thing to remember about keeping up with your vaginal health is to NOT be afraid to talk to your doctor.
If something is troubling you, you have the right as a patient to ask for help (and odds are, you are not the first person a doctor has seen with a yeast infection).
Don't downplay your symptoms; be honest with yourself and your health care provider to get all the information you can to best take care of YOU. There is no need to be embarrassed or ashamed because you're talking about "down there." You deserve to be healthy!