To the Person Who Doesn't Feel Bad for Chester Bennington,
When I first saw your title, I was a bit taken back by the immediate harshness I felt. I decided to be a fellow writer and give your article a chance. However, upon reading your ignorant article, I have a rude awakening for you.
Anxiety and depression make it hard to see anything in life besides what is going on in your mind. If he did choose to pass away the same way as Chris Cornell on his birthday, it was significant to him. You say, "Am I the only one who sees the irony in Bennington's death"? I would have to ask, "do you not understand that he was in pain?" In his mind, his depression and mental illness made him committing suicide the same way as Cornell's make sense.
There have been plenty of artists who have left legacies behind them, Cornell and Bennington are no exceptions. There is my favorite writer, David Foster Wallace, who also hung himself. Taking the quote that "What Bennington leaves behind....is a body of work that will impact generations of musicians to come" and twisting to where it is gratifying suicide is missing the whole message of the quote. This quote is meant to symbolize how Bennington made such an impact that he and Linkin Park will affect musicians to come. It is not stating, "if future musicians hang themselves then we will write about them and give them the attention they wanted, and it will all be okay."
I am going to go back to the mental illness point that I think you are missing. Coming from someone who has (medically diagnosed--I might add) anxiety, there are times when something appears selfish, but it is me not being able to see anything around my anxiety. There have been times when I fixed one problem and caused many others in the process because my anxiety felt that it was "the right thing to do." Was it the most logical? Most likely not. However, it made sense in my mind because mental illness does that to you. It twists your mind to think something is one way when really, it is another.
I should probably also mention that I am a musician since you said the music wasn't enough for him (I study it in college). There have been times when I wanted to give it all up completely or throw my saxophone (that is what I study) against the wall and hope it shattered.
Music is my outlet, at the same time. I can go into a practice room and forget my issues. When I perform with ensembles, I forget about what is going on off-stage. But sometimes, the thing I love most isn't enough for me sometimes.
Anxiety and depression are those people who stick around but do nothing but cause problems for you. You think you are strong enough to stop listening to them. They make you feel a certain way, do things a certain way, and keep you up when all you want to do is sleep. With a mental illness, you want to make a change, but that mental illness prevents you from making it.
You will try so hard to make the pain go away, to do other things to help your illness, but it will not work because mental illness is something that you can't just "make a change" and it will all go away. Mental illness from anxiety, depression, anorexia, OCD stick around because it is stronger than you, no matter how hard you try to keep it away.
Here is the tricky part about preventing suicide: you can't. Why? People who are truly in pain will not come to you. I am a trained Resident Advisor for my University's campus, and I have sat through hours of lectures and training on how to help suicidal residents.
The tricky part about this training is that the only way you will know if someone is having suicidal thoughts is if you ask them "are you thinking about committing suicide." You have to ask that exact question because if you do not, you will not get anywhere close to an answer. That is incredibly hard to ask, coming from someone who has had to ask it before.
You hope that your article will make someone think "Damn. That really would be a stupid thing to do". I hope this article makes you think "Damn. I am ignorant towards mental illness". Posting suicide hotline numbers and such will only go so far.
We, as a society, need to know that someone with a mental illness will not come out and say "I have anxiety and it prevents me from literally doing anything in life I want to!" and shout it from the rooftops. That will not happen. Mental illness is tricky, and articles like yours only make them trickier because it automatically makes someone who has a mental illness feel worse for the fact that they have a mental illness.
I am not here to tear you down. It does bother me however when people do not understand how mental illness works. Did Bennington want it to come to this? To leave his six children behind?
To be honest, most likely not. I feel sorry for his family; I feel bad his entire fan community that I am a part of. This is far from an easy situation. Blaming Chris Cornell or anyone with a mental illness for being able to sympathize with Bennington will not make it any easier.
I hope that this article helps you understand what it is like to have a mental illness and most importantly, understanding mental illness with others.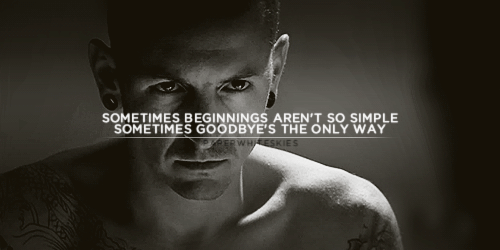 Sincerely,
An Individual is Who Sick and Tired of Ignorance with Mental Illness
Rest in Peace, Chester. My thoughts and prayers are with his family and Chris Cornell's daughter.