To the girls that have been with me since forever,
I honestly love you guys so much. One of the greatest gifts of life is friendship and I honestly feel that you guys gave me that. You were my first friends and I love how we have never broken that bond that we've had. People ALWAYS say that you lose friends throughout life and that friends grow apart, but that has never happened to us and I am beyond thankful for that. They also say if a friendship goes past seven years, then it's meant to last forever. We've been best friends for over 10 years now and I know that we are all meant to last forever.
Starting back in elementary school, we would hang out here and there but mostly talk in school and share little notes. And then we wrote a song together. A WHOLE SONG. You guys honestly made my days. I remember moving up to 5th grade, and three of us were in one class and the other three in another and I was devastated. But of course, we didn't let that change anything.
Then starting middle school, two of you went to private school and I remember all of us thinking we wouldn't be able to go on without seeing each other every day anymore. However, it was even like that throughout high school and we still seemed to be able to be the best friends we always have been. We've had so many different names for our group, from the green grape group to happy tree friends. It makes sense as to why those names are so unique because we're a unique group.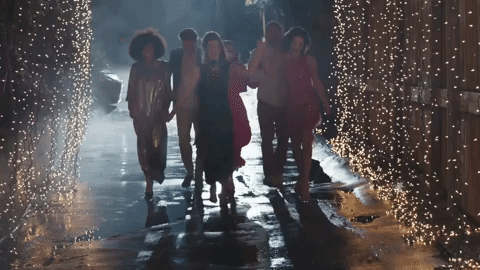 We've been through so much together and have witnessed so many highs and lows of each other's lives. We've all been through multiple birthdays together, school dances, concerts, getting jobs, graduations, prom, and the beginning of college. So many special moments that I would love to relive in a second. Moments like these are the best memories that I have of my life. I am so thankful that the moments that I will look back on when I'm older will all involve you guys.
When I honestly think about the future, I think about each having our own lives and families but still being involved in all each other's lives. I see us continuously still meeting up for our annual Friendsgiving and Holiday Parties because we will still mean that much to each other later on. I see us going on little trips here and there to get away from the craziness that life will probably throw us. I see us hanging out with our kids together telling them stories about when we were younger.
As much as I think about my future, I most definitely picture you guys being bridesmaids at my wedding. You mean so much to me and as many friends as I'll make throughout my life, I know that you guys will always be there.
There is a quote that says "Do not save your loving speeches for your friends till they are dead. Do not write them on their tombstones, speak them rather now instead." This is why I wrote this open letter to you guys because I want you to know how much of an impact you have had on my life. So I am dedicating this song to you because as corny as it may be, I mean every lyric because no matter what happens, I will most definitely always remember you all.