Have you ever tried to have a serious conversation with your friend, and they were not responsive because they were either: a) On their phone or b) On their phone?
Well it is safe say that this is very common among millennials. Most adults between the ages of 18-36 check their phones around 43 times a day. In addition, 80 percent of millennials are known to sleep with their phones by their sides. Although technology is becoming more innovative and we have access to the world at our fingertips, what is it doing to us as a generation and how will it effect our future?
The way that teenagers and young adults interact with their phone seems almost obsessive. There is not a moment in the day where you will not see a young person, or anyone for that matter, without a phone in their hand. The relationships that people have with their phones is one like no other. It comes with this understanding that you can escape to literally anywhere you want to go and come back to reality when you feel like it. It is the sense that we have control over ourselves and our lives in that moment in time which is why we stay plugged in. More often than not, most people do not see the negative effects of staying so connected to our phones.
For one, researchers found that it can negatively affect emotions. They did two studies that were conducted at the University of Essex in the United Kingdom, and ultimately found that when a person is trying to have an important conversation with another person but their phone is present it can generally interfere with human relationships. They also found that it can increase stress levels, it can increase your risk of illness and your immune system, increase the risk of chronic pain, and obviously increase the risk of eye vision problems.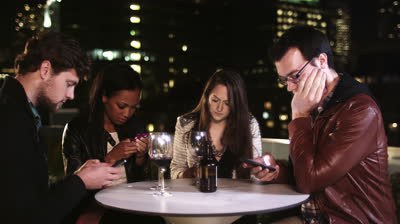 We as a millennials are very fortunate to have the technology we do now, and will continue to incorporate it into our daily lives. We just have to be mindful as to how much we use it as well as not relying on it for everything. It should be able to help us on a regular, but should not think for us. If anything, we should make sure it is doing nothing but bringing benefits and positive energy into our lives, otherwise it is useless.