Have you ever wondered how you can get one of those incredible surfer bodies without the looming threat of a shark attack? Look no further! City Surf Fitness has you covered. While there may not be any actual water involved in this surf-inspired workout, after one 50-minute class, you're guaranteed to feel like you've been riding the waves all day.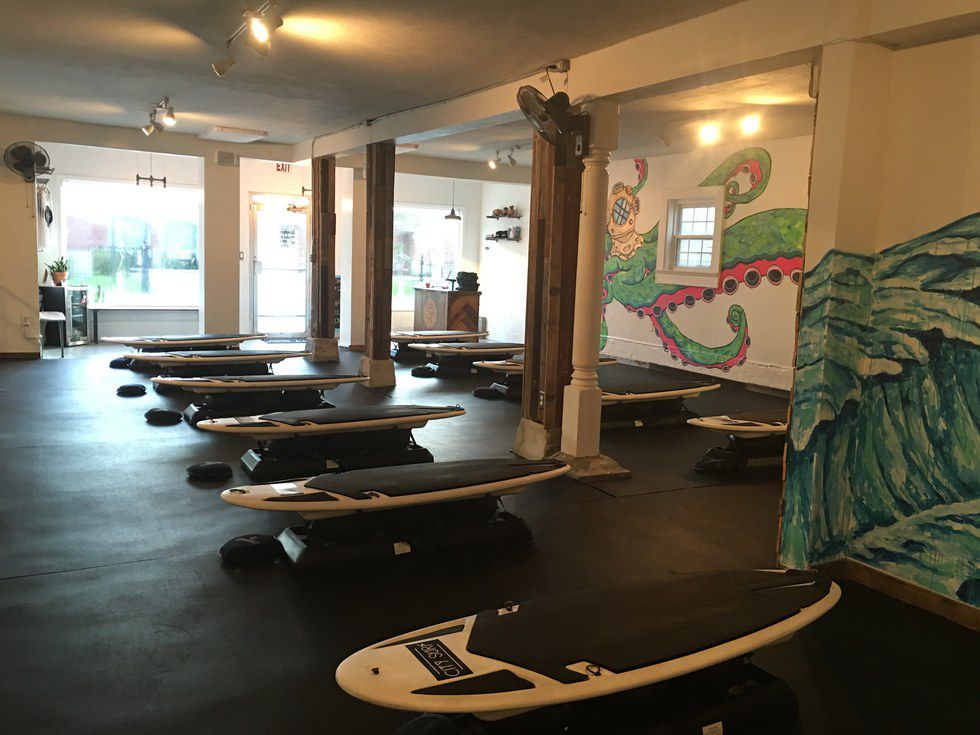 City Surf New Orleans opened its doors last November on Magazine Street, adding some much-needed variety to the New Orleans exercise scene. With 14 Surfset boards (as seen on Shark Tank!) that balance on top of three Bosu Balls, City Surfers shred up a sweat and work their core muscles through a combination of moves ranging from cardio-based exercises to yoga poses that challenge your stability.
The studio is open seven days a week and has seven signature classes: Beach Body Bootcamp (cardio-based), Big Kahuna (strength-inspired training), Buddha Board (surf spin on yoga), City Surf (the studio's signature class that uses surf-inspired movements), City Surf Circuits (combination of cardio, balance, and strength moves), Pipeline (surfer barre training), and Rip Core (core-focused exercises). With a lineup like this, there's something for everyone!
I have never been one to stick to any specialty workout class but once I tried City Surf, I was hooked! After a month of consistent surfing, I definitely noticed a stronger core and toner muscles and each workout burned between 350-400 calories. The workouts were always changing, and every instructor brought their own style that kept me coming back for more. And now for a confession, I loved this workout and the studio's vibe so much that I am proud to say I am now a City Surf employee. You can catch me at the front desk or teaching my own Bootcamp class on Monday and Saturday mornings.
If you think you're up for the challenge, City Surf has two awesome introductory rates that work with any budget. Try out three classes for $45 (it took me about three times to get used to the board) or jump right in and purchase the unlimited introductory month for just $79.
Nowhere near New Orleans? No problem. City Surf is also located in Colorado (Denver) and Texas (Austin, Dallas, Deep Ellum, and Plano). Surf's up, y'all!