You can suspect that you might be struggling with some sort of mental disorder, but you need to seek out a professional to get a diagnosis, and potentially receive treatment. That's their job. That's what they spend years training for.
This is not to say that there isn't a very real possibility you are suffering from an illness when you're persistently struggling, and it doesn't mean that only a doctor's diagnosis makes your pain legitimate. Everyone who is ill will have a feeling first, but self-diagnosis is treading on dangerous ground.
Everyone goes through a tough time sometimes, but it is not appropriate to decide for yourself that you have depression, or PTSD, or any other disorder.
Suffering a hardship that triggers anxiety or sadness is awful, to be sure, but there is a serious difference between temporary anguish and a lifetime of suffering. And just because you have access to Wikipedia at 3am when you're drinking to cope with whatever you're going through doesn't mean you're suddenly an expert who can speak with authority about these things.
It's disrespectful to those who actually suffer from an illness every single day of their lives for you to try to fit in just because you're feeling kind of sad right now.
The biggest problem is that so many people who diagnose themselves will then use the buzzword of "depression" or "anxiety" or "PTSD" as a crutch. Acting out and blaming your behavior on an illness you claim to suffer from is so incongruous from people who actually struggle. Those with real illness more often try to hide their symptoms from the outside world, and are often afraid to talk about their illness because of the stigma around it that is often a result of the wild behavior people who don't actually suffer exhibit. Do you get it?
It's the psychological equivalent of rolling around in a wheelchair every day in order to get sympathy from others.
And worse even, people who aren't actually suffering will eventually walk away from the sadness, the frustration, the anxiety they are temporarily feeling, where those who are suffering don't have that option. And then society at large wonders why everyone just can't get over it if some people can, which further pushes the notion that mental illness is about mindset and not an actual disorder.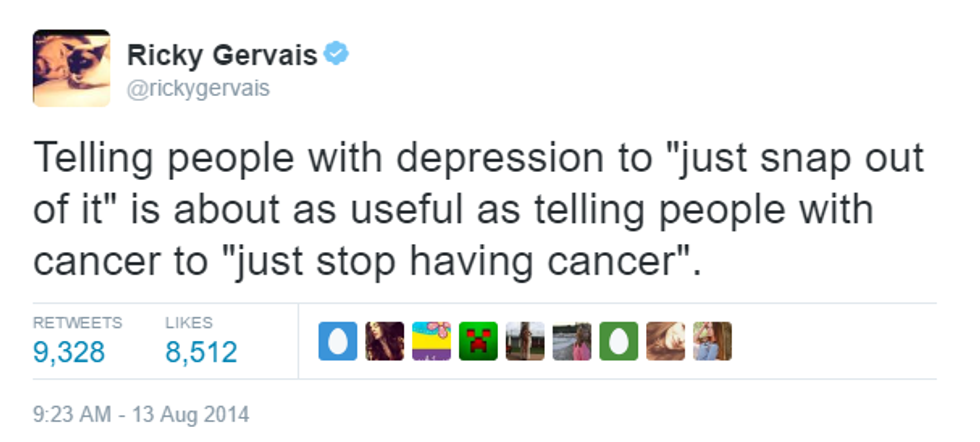 You can be depressed, but not have depression. You can feel anxious without having anxiety.
Depression is not cute. Having anxiety doesn't make you quirky. It's a very real struggle. Stop romanticizing illness. It's not a joke.
That's all.