The time has come once again for baseball season. The start of the 2017 season comes with a lot of change to the Major League Baseball landscape. Who would have thought that the game would transition seamlessly around the retirements of two all-time greats? Who in the world predicted the teams in the World Series? Who guessed that the pace of play would be further affected? Who knew that the eve of a hot free agent offseason would still be so eventful? Opening Day 2017 is where the journey to the World Series begins again along with these things you should be excited about.
---
1) What will life be without A-Rod and Big Papi?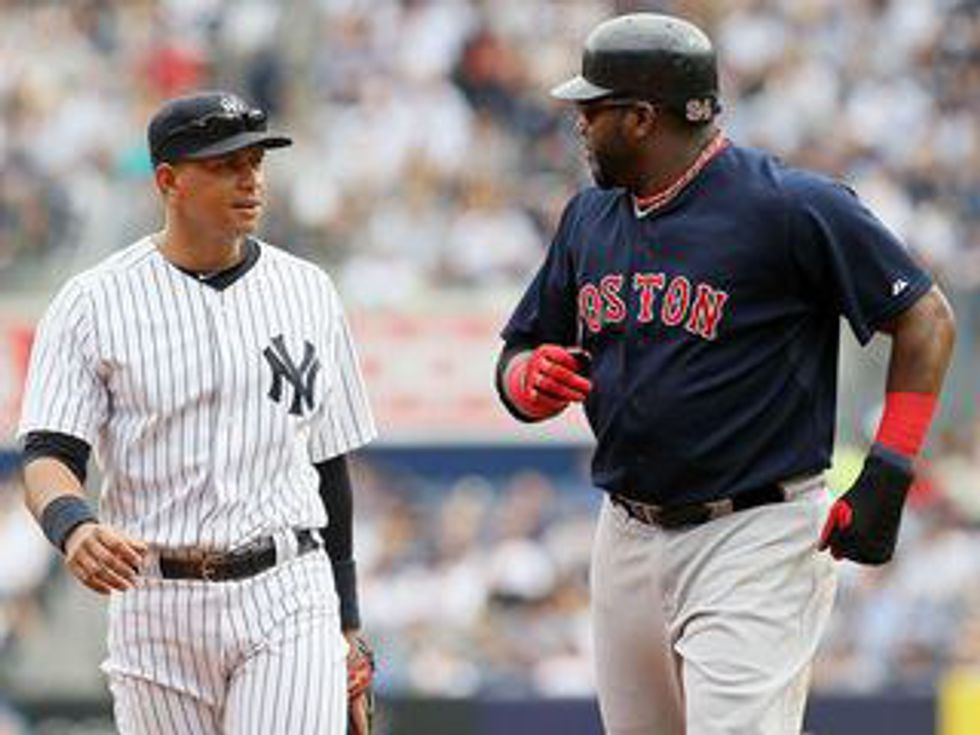 Two of the game's most captivating stars in history, Alex Rodriguez and David Ortiz have ridden into the sunset of retirement as of last season's end. The two were part of a small bunch of beloved and sometimes vilified (by the rival teams) players like Derek Jeter, Barry Bonds, and others as a facet of the most recent bygone era. However, baseball has it's new era of superstars like Mike Trout, Mookie Betts, Kris Bryant, and Bryce Harper. Let's set aside the question of who will be the next perennial postseason hero. Let's forget about who will be the next true poster boy of baseball for a second. Who are the fans gonna have to boo? Baseball fans enjoy having someone to boo and hopefully see struggle against their team. Yes, there are stars that are thorns in the side of certain teams (a la Ortiz versus the Yankees over the years), but most of them have to much of a good side for the fans. Fans tend to buy tickets to games for their team, but also to see the Trouts and Harpers of the game invade their ballpark. It's a spectacle for fans. We shall see which superstars will develop more of a "bad boy edge," and become one that fans love to love and love to hate.
2) It's a wild, wild AL West.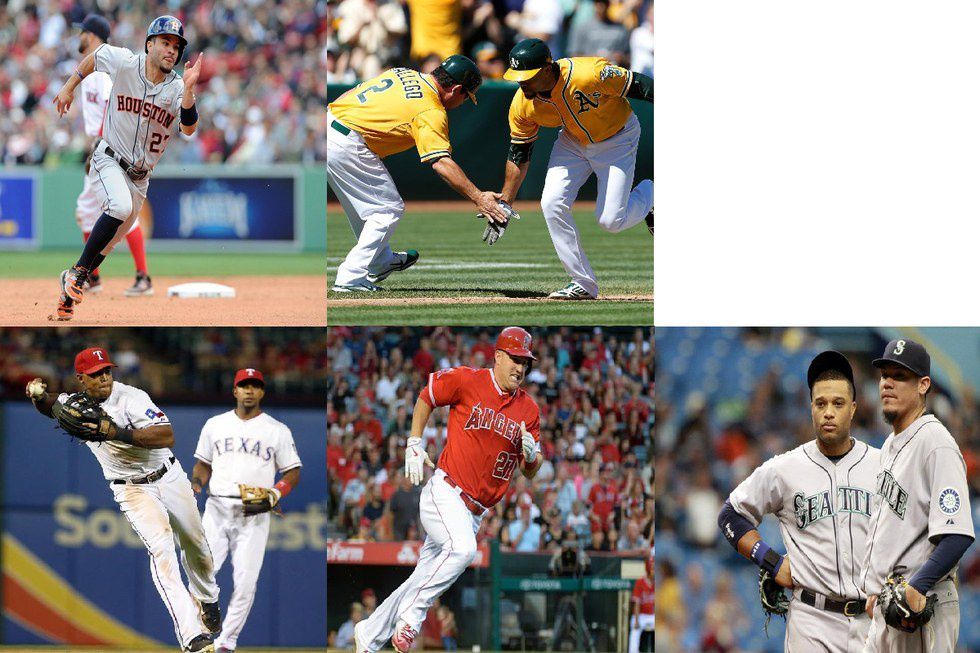 Baseball fans, you all love parity don't you? Well, look no further than the American League West division. While Houston is the favorite right now, Texas has defied the odds the last two seasons by capturing the crown and look to do so again. The Angels may finally have the pieces in place around Mike Trout. The Mariners are hungry to grab that brass ring with a now-or-never situation for their core group of veterans. Lastly, the Athletics and mainly their administration has been well known to pull spark plugs on deals in order to boost them into seemingly improbable runs. Take 2013 and 2014's Oakland squads, for instance. The point is, with the loaded power of the Astros' lineup, the solidarity of the Rangers with Adrian Beltre as a clubhouse leader, The Angels' desperation to win for their superstar, Seattle's clock ticking on Cano, Cruz, Hernandez, and Iwakuma, and Oakland's unpredictability, anything is possible in the wild wild West.
[rebelmouse-proxy-image https://media.rbl.ms/image?u=%2Ffiles%2F2017%2F03%2F13%2F6362503067347560661084782494_cropped_GettyImages-128903233.jpg%3Fts%3D1458093251&ho=https%3A%2F%2Faz616578.vo.msecnd.net&s=161&h=a72c65172a6e8dc6c7eee8e516d5643f8487c041ee0ede79a6e3c3cbb42fb8cb&size=980x&c=383671717 crop_info="%7B%22image%22%3A%20%22https%3A//media.rbl.ms/image%3Fu%3D%252Ffiles%252F2017%252F03%252F13%252F6362503067347560661084782494_cropped_GettyImages-128903233.jpg%253Fts%253D1458093251%26ho%3Dhttps%253A%252F%252Faz616578.vo.msecnd.net%26s%3D161%26h%3Da72c65172a6e8dc6c7eee8e516d5643f8487c041ee0ede79a6e3c3cbb42fb8cb%26size%3D980x%26c%3D383671717%22%7D" expand=1 original_size="1x1"]
3) Intentional walks are out.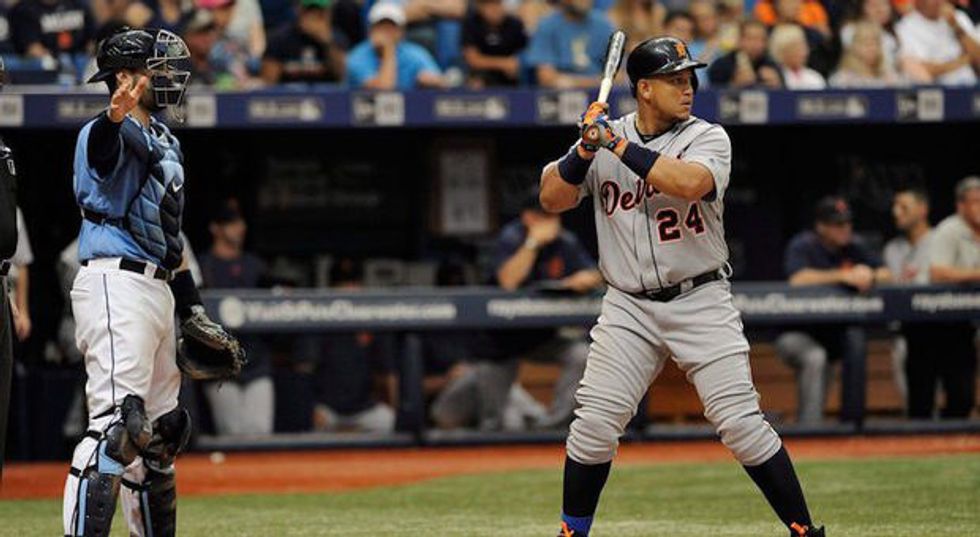 Over the last few seasons, MLB has been striving to increase the pace of play in games, which would also potentially increase the level of fan interest in the game. Currently, there are only thirty seconds maximum in between pitches and two minutes maximum in between inning halves. Now, there will be no more intentional walks with four pitches. A dugout will have to simply signal to the umpire that they want the batter to be intentionally walked. This eliminates the unnecessary four pitches and stalling of that moment of the game. Plus, last season, intentional walks only occurred 932 intentional walks, averaging about one every three games. So, baseball fans, no more possibility of a wild pitch or batted ball in an intentional walk situation. Will this keep the fans' butts in the seats and eyes glued to the screens?
4) Who will go from bust to boom?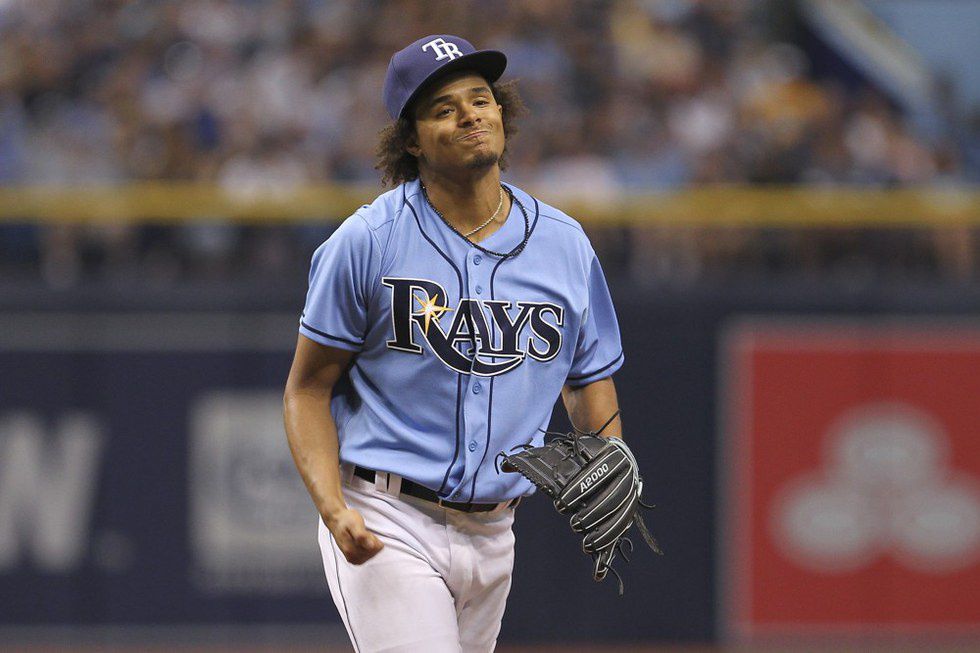 Tampa Bay Rays ace pitcher Chris Archer is not the only star player on any team who had a rough 2016. Diamondbacks pitcher Zack Greinke, Cubs outfielder Jason Heyward, Pirates outfielder Andrew McCutchen, Astros pitcher Dallas Keuchel, and Nationals outfielder Bryce Harper all had bust seasons, just to name a few. Who were victims of weaker supporting casts? Who just simply underperformed? Who battled injuries and are now back at full strength? Spring Training is a good time to experiment with new approaches to at-bats or outings, and it shall be interesting to see which ones pay off in the stat book and which ones will need consistent tweaks.
5) How far can the Braves and Marlins push the Senior Circuit?
[rebelmouse-proxy-image https://media.rbl.ms/image?u=%2Ffiles%2F2017%2F03%2F13%2F636250309363619854965697688_marlins-v-braves-922.jpg%3Fw%3D640%26h%3D360%26crop%3D1&ho=https%3A%2F%2Faz616578.vo.msecnd.net&s=124&h=41920ad6656fdad454e0a68c662dd035a0f2dfd7a92e35ac08eb4d42a8f77086&size=980x&c=3196058121 crop_info="%7B%22image%22%3A%20%22https%3A//media.rbl.ms/image%3Fu%3D%252Ffiles%252F2017%252F03%252F13%252F636250309363619854965697688_marlins-v-braves-922.jpg%253Fw%253D640%2526h%253D360%2526crop%253D1%26ho%3Dhttps%253A%252F%252Faz616578.vo.msecnd.net%26s%3D124%26h%3D41920ad6656fdad454e0a68c662dd035a0f2dfd7a92e35ac08eb4d42a8f77086%26size%3D980x%26c%3D3196058121%22%7D" expand=1 original_size="1x1"]

With the Atlanta Braves saving face towards the end of an otherwise dismal season, and the Miami Marlins playing with fire for the late Jose Fernandez, these two teams are not looking to be on the outside come October. The National League does boast some established acts though, which may block these teams' postseason chances. However, that does not mean the NL East rivals cannot be a thorn in the side of other contenders the entire season. Atlanta has reloaded around a mix of young and older talent, filling out their rotation with Bartolo Colon, R.A. Dickey, and Jaime Garcia. This may take the pressure off a lineup including Freddie Freeman, Ender Inciarte, Brandon Phillips, and Dansby Swanson to carry the burden. On the Marlins' side of things, star pitcher Jose Fernandez's death late last year has cast a pall over the Fish. However, Giancarlo Stanton, Marcell Osuna, and Christian Yelich are set to continue leading the charge of a hungry squad that was coming into their own last year, only seven and a half games shy of the playoffs. No matter how the scenarios play out in 2017, Atlanta and Miami will look to establish themselves as credible threats. They will look to do it early.
6) The revolution of the middle infield continues.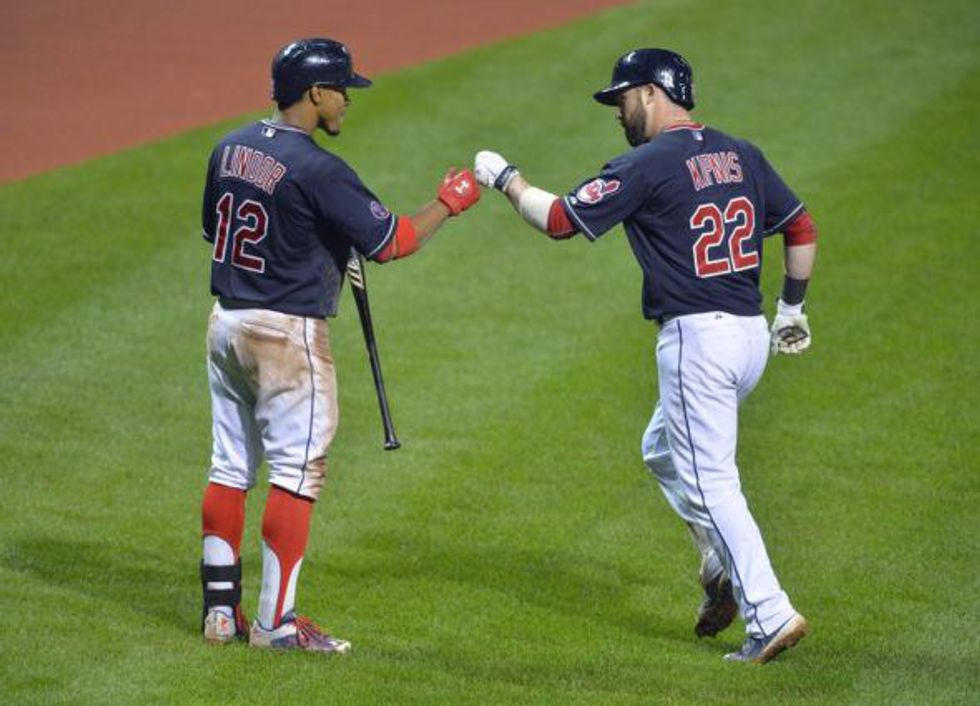 Jason Kipnis and Francisco Lindor may be the best middle infield tandem in the Majors. That does not come without its share of arguments though, as Jose Altuve and Carlos Correa, and Xander Bogearts and Dustin Pedroia may say differently, among others. Either way, the real revolution of the middle infield is at the dish, where Twins second baseman Brian Dozier leads the pack since he set the bar last year with his 42 home runs and 99 runs batted in. However, Altuve, Correa, Bogearts, Mariners two-bagger Robinson Cano, Nats second baseman Daniel Murphy, and Dodgers shortstop Corey Seager are among eighteen middle infielders who had 20-plus home run seasons last year. The durability of players being able to switch positions on any given day may be what is aiding them in surging their power production. Who knows? Either way, it is a far cry from what used to be the "Steroid Era" in MLB.
7) Ichiro is back.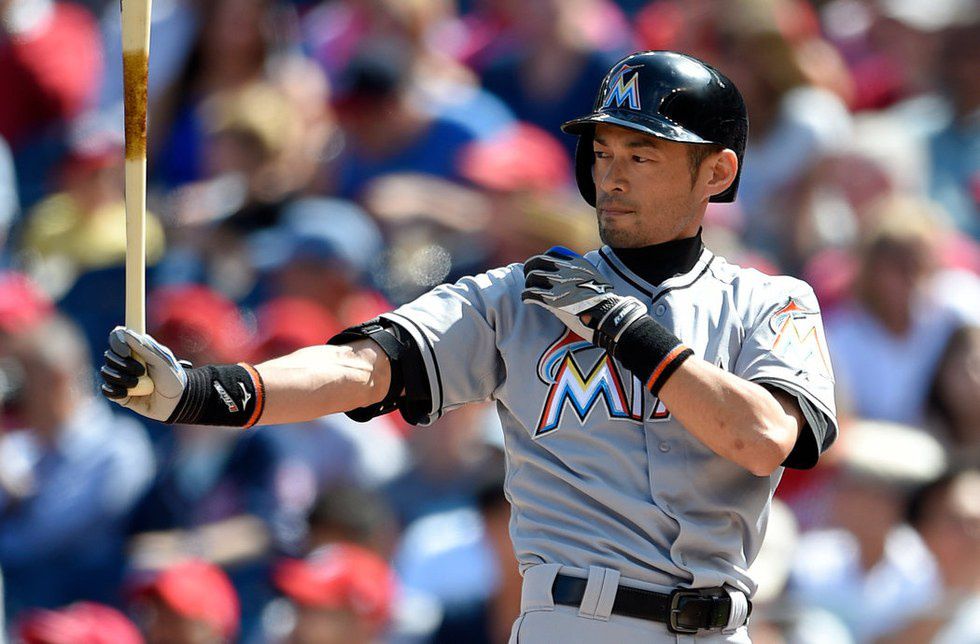 August 7, 2016 at Coors Field is when the sure fire hall of famer, Ichiro Suzuki collected his membership into the 3,000 hit club. He is only the 30th player in Major League history to hit that milestone. What was even more incredible was the fact that Ichiro joined the club by hitting a triple, proving that he truly does "still got it." The ten-time All-Star has not showed any signs of slowing down either. Even at age 41, Ichiro believes he could play ten more years if he wanted to. First, all eyes will be on him as he looks to pass Rod Carew, Rickey Henderson, and Craig Biggio on the all-time hits list. Ichiro, with 3,030 career hits, is also in striking distance of cracking the top 20. All he has to do is surpass Dave Winfield's 3,110 hits.
8) Numbers will be retired.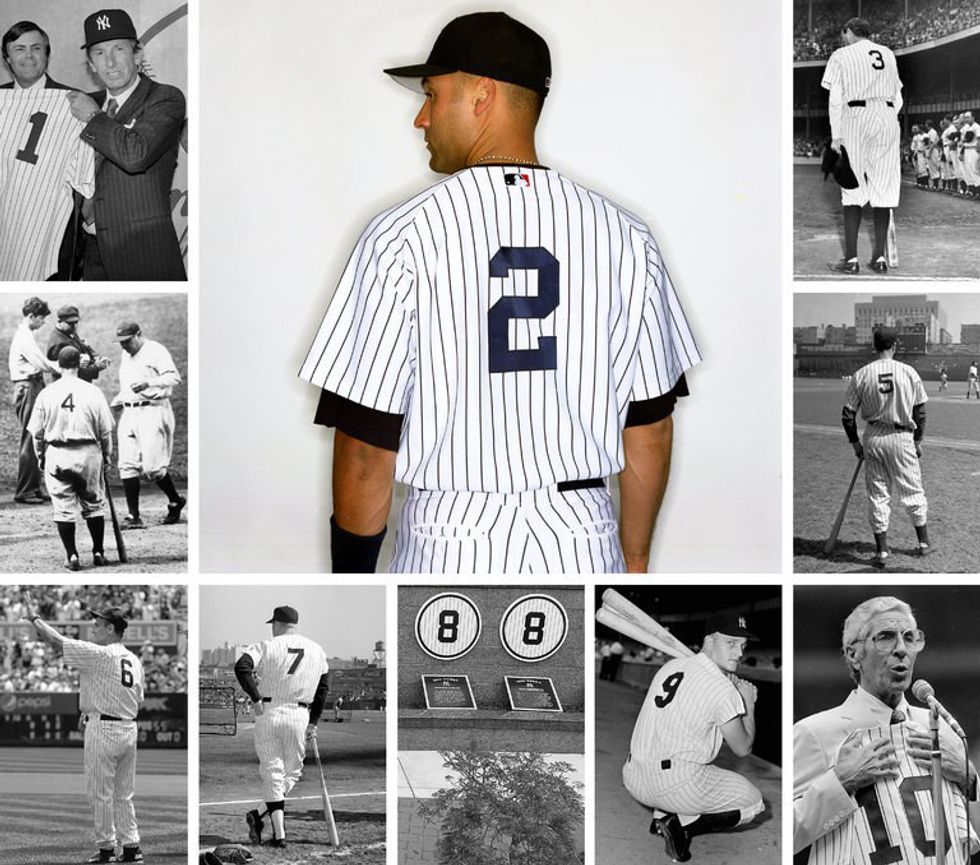 Several franchises will etch pieces of their rich histories in stone this season. The fun begins in the Bronx in May as the "Captain", Derek Jeter's number two will be retired. This is the final single digit to be retired by the Yankees ever. "Big Papi," David Ortiz will have his moment in June as Fenway Park will never see a number 34 step onto the field again. The AL West will celebrate their fair share of history as well when the Mariners will retire the number eleven of their all-time great designated hitter, Edgar Martinez. Last, but not least, Ivan "Pudge" Rodriguez will catch his iconic number seven throughout the Rangers' history books beginning in the same month.
9) What will Bartolo Colon do next?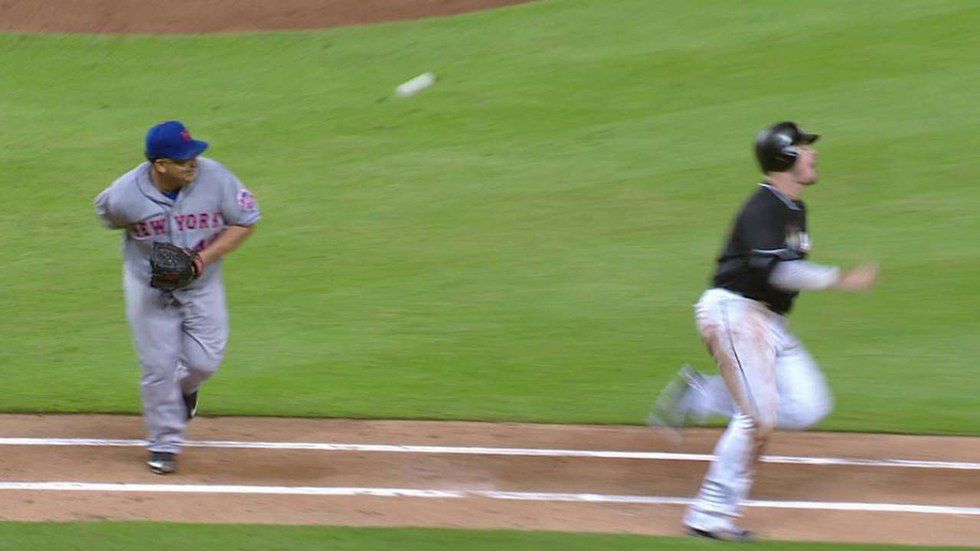 Fan favorite and popularly known as "Big Sexy," Bartolo Colon is not only the oldest pitcher, but also the oldest player in baseball at age 43. He is still as deceptively athletic as ever, completing at least one dazzling play per season it seems. From the jaw-dropping behind-the-back flip to first base shown above in 2015, to his quickly snagged grounder into a double play assist in 2016, to hitting his first career home run out of Petco Park in the same year, Colon never fails to amaze. What will "Big Sexy" do next besides potentially win more than eleven games to become the winningest pitcher in the history of the Dominican Republic? Could he kick-flip a ball to first base? We shall see.
10) Are the bullpen woes solved in San Fran?
[rebelmouse-proxy-image https://media.rbl.ms/image?u=%2Ffiles%2F2017%2F03%2F13%2F636250311457013188391769350_sjm-giants-1012-144.jpg%3Fw%3D482&ho=https%3A%2F%2Faz616578.vo.msecnd.net&s=420&h=31cac3ace5f00edf2adb88e450d36e9fc8b51a5bd2ef09a3d3a9b71904d07e3b&size=980x&c=1013802023 crop_info="%7B%22image%22%3A%20%22https%3A//media.rbl.ms/image%3Fu%3D%252Ffiles%252F2017%252F03%252F13%252F636250311457013188391769350_sjm-giants-1012-144.jpg%253Fw%253D482%26ho%3Dhttps%253A%252F%252Faz616578.vo.msecnd.net%26s%3D420%26h%3D31cac3ace5f00edf2adb88e450d36e9fc8b51a5bd2ef09a3d3a9b71904d07e3b%26size%3D980x%26c%3D1013802023%22%7D" expand=1 original_size="1x1"]

Over the last three seasons, the San Francisco Giants have been notorious for its struggles deep in the bullpen. Even in their 2014 World Series run, they had to depend on starter, Madison Bumgarner for five innings to get the save and make up for the 'pen's ineptitude. Last season, the Giants had the chance to knock off the Cubs in the NLDS, but from Derek Law, to Sergio Romo, to Will Smith, San Francisco had its eyes open again to why they needed to shop for a bonafide closer. It landed All-Star, Mark Melancon for $62 million over four years. Melancon secured 47 saves last season (in 51 opportunities), tied for the second-highest in the Majors. The Giants secured a playoff berth last year, but will hope to secure more wins throughout the regular season and beyond with a sure fire bet finally in the bullpen, making San Francisco all the more dangerous from top to bottom.
11) Is a Royal reboot inevitable?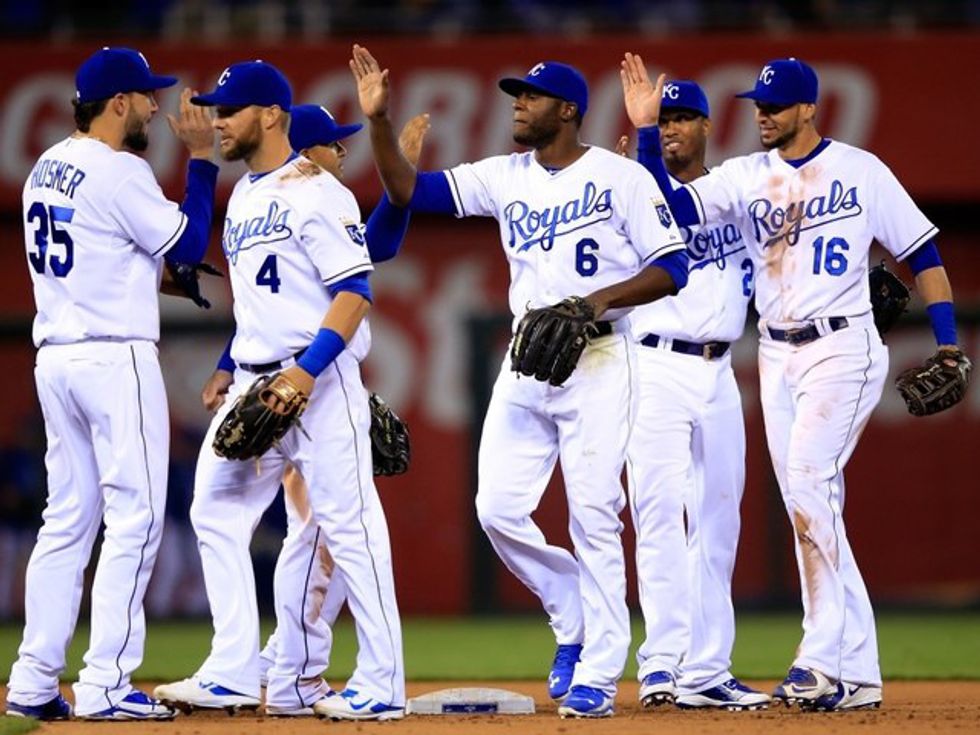 Still a dangerous team themselves, the Kansas City Royals are in an in-between stage right now. With a depleted farm system compared to their true contending years in 2014 and 2015, the boys in blue have no choice but to contend for now. However, with the departures of closer Wade Davis and designated hitter Kendrys Morales, the question of whether or not this the beginning of the end looms over the Power & Light District. Can the Royals with their main core of players make one final championship run before the band breaks up? With Eric Hosmer, Mike Moustakas, Alcides Escobar, and Lorenzo Cain all in contract years, it is imperative that Kansas City faces the challenge of keeping one of these guys before the season ends. In other words, with a watered down bullpen and potential of a trading frenzy if this team falls out of contention early, the Royals need to forget about the incoming payroll challenges and reboot their winning ways.
12) Rebuilds are coming to fruition.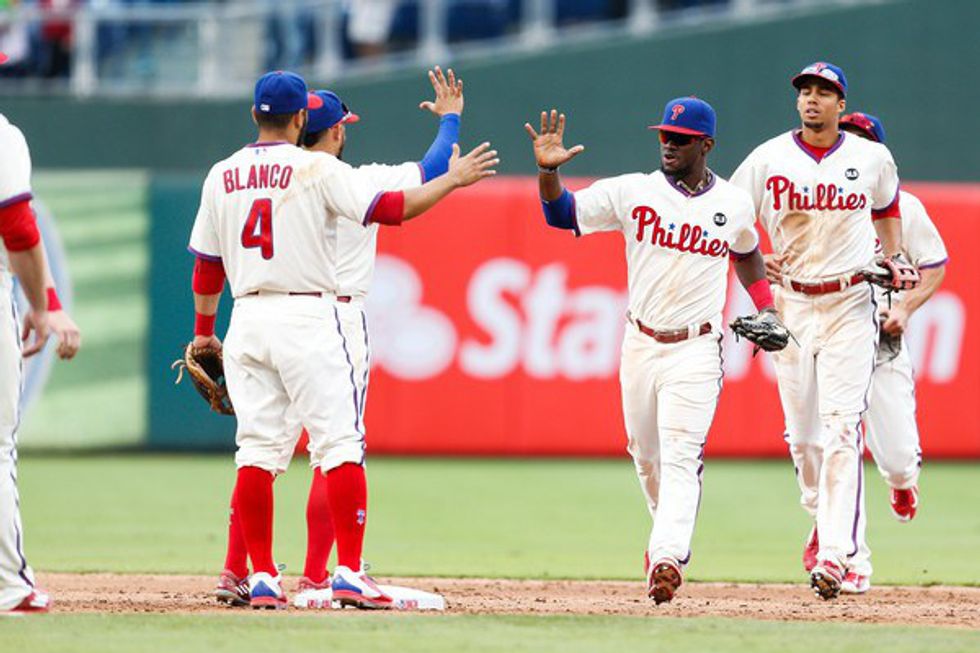 From reboots to rebuilds, several teams around the Majors are in the middle of long rebuilding processes. Which teams will take that next step forward? Will the Philadelphia Phillies figure out their batting woes even with a hotbed of talent from Odubel Herrera to Maikel Franco? Will the New York Yankees' youth movement pay dividends led by 2016 rookie sensation Gary Sanchez even among veterans threatening to fall flat in the twilight of their careers? How will the Chicago White Sox fare from their recent roster overhaul clearly for the future five years and beyond? Can the Minnesota Twins' offense continue to stride forward and make up for a bleak pitching staff? Only time will tell.
13) Things can only get better in Minnesota.
[rebelmouse-proxy-image https://media.rbl.ms/image?u=%2Ffiles%2F2017%2F03%2F13%2F6362503117465523941831252997_915461_web1_915461-25ced0b399d144c791f6d29b9cc0a8e4.jpg%3Fitok%3DLSD2myhv&ho=https%3A%2F%2Faz616578.vo.msecnd.net&s=976&h=77bcf3ff3f512f2f3be7b6697c82d261764a7bf27185c78914fc7645b5449265&size=980x&c=2956379057 crop_info="%7B%22image%22%3A%20%22https%3A//media.rbl.ms/image%3Fu%3D%252Ffiles%252F2017%252F03%252F13%252F6362503117465523941831252997_915461_web1_915461-25ced0b399d144c791f6d29b9cc0a8e4.jpg%253Fitok%253DLSD2myhv%26ho%3Dhttps%253A%252F%252Faz616578.vo.msecnd.net%26s%3D976%26h%3D77bcf3ff3f512f2f3be7b6697c82d261764a7bf27185c78914fc7645b5449265%26size%3D980x%26c%3D2956379057%22%7D" expand=1 original_size="1x1"]
Speaking of the Twinkies, after a surprising 2015 season nearly resulting in a playoff berth, the Twins fell flat in a big way last season, compiling the Majors' worst record at 59-103. What went wrong? Impatience at the plate, a very young roster, Brian Dozier (admirably) having to carry the load, too many Minor Leaguers having to be called up while not being ready for the MLB, and of course, the worst pitching staff in the American League. What went right? Brian Dozier's breakout season all around, the steady climb for Max Kepler as a future cornerstone, the September surge of Byron Buxton in every phase of the game, and the cementing of Ervin Santana as the team's ace pitcher. This team will need that along with a revival from Eddie Rosario, Miguel Sano, Joe Mauer, several others, and the entire pitching staff especially if they want to keep their future bright. Plus, with all this talent at their disposal, the question remains if this team really was as bad as their record indicates.
14) Are the Red Sox for real?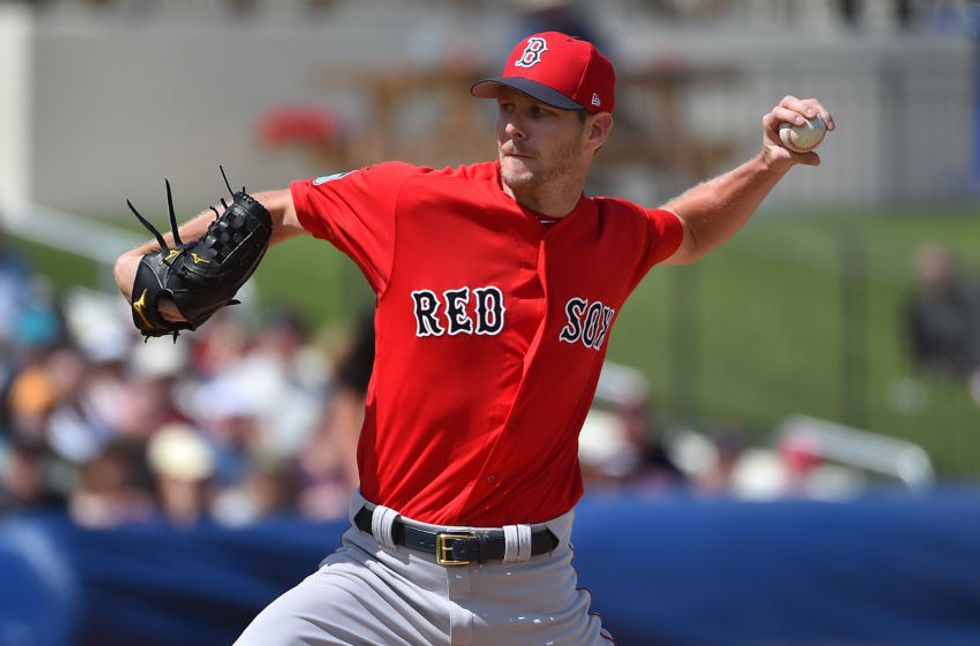 The acquisition of southpaw pitching ace Chris Sale from the White Sox showed Boston fans that this team wants and needs to win now at all costs. Even without David Ortiz, the Sox still had the Majors' best offense, and top marks in on-base percentage plus slugging (OPS), and runs scored. The order is still loaded with veterans Dustin Pedroia and Hanley Ramirez, young All-Stars Mookie Betts, Jackie Bradley Jr. and Xander Bogaerts, and rookie of the year candidate Andrew Benintendi. The starting rotation, albeit with lefty David Price beginning the season on the disabled list, is still one of the most stacked in baseball including Sale, Cy Young winner Rick Porcello, and knuckleballer Steven Wright. The question is, without Ortiz in the fold, will the Red Sox be able to run the table? Who will emerge as the true clubhouse leader? Lastly, will the Sox realize their true potential and step up past the ALDS?
15) Birds will fly off the radar.
[rebelmouse-proxy-image https://media.rbl.ms/image?u=%2Ffiles%2F2017%2F03%2F13%2F6362503124489553222056951643_6e8404ee7da84145a4834b424fb1ee35.jpg%3Fitok%3Dbxn-VCAx&ho=https%3A%2F%2Faz616578.vo.msecnd.net&s=509&h=cfb01561d33c65cccac204181cad0f65570275972ef403da7b2ef3e92428c6d5&size=980x&c=1599440924 crop_info="%7B%22image%22%3A%20%22https%3A//media.rbl.ms/image%3Fu%3D%252Ffiles%252F2017%252F03%252F13%252F6362503124489553222056951643_6e8404ee7da84145a4834b424fb1ee35.jpg%253Fitok%253Dbxn-VCAx%26ho%3Dhttps%253A%252F%252Faz616578.vo.msecnd.net%26s%3D509%26h%3Dcfb01561d33c65cccac204181cad0f65570275972ef403da7b2ef3e92428c6d5%26size%3D980x%26c%3D1599440924%22%7D" expand=1 original_size="1x1"]

The Red Sox' chances of a championship run could be thwarted by the two bird squads that are looking to fly off the radar in an upward trend. The Baltimore Orioles are still fuming over their missed opportunity in the Wild Card game last year, plus they boast an AL home run champion in each of the last four seasons. Manny Machado, Mark Trumbo, Chris Davis, and the bulk of the O's lineup will have to bash their way to the promise land, masking a subpar rotation and relieve stress to the AL's best bullpen last season. North of the Beltway, the Toronto Blue Jays are seething over not surpassing the hump known as the ALCS for two straight seasons. Despite losing Edwin Encarnacion to the Indians, the Jays still possess a thrashing lineup with Jose Bautista, Josh Donaldson, and Troy Tulowitzki still in it. However, all three are going to have to get off to hot starts unlike 2016 if this team wants to glide into championship contention. Plus, the Jays cannot afford to have the AL's best kept secret of a starting rotation, which in 2016, had the best earned run average of 3.64, overwork themselves in order to take pressure off of the bats to go swing-crazy. The bottom line is, it will be a hectic road between these two birds to establish superiority.
16) Dexter Fowler's true impact will be shown.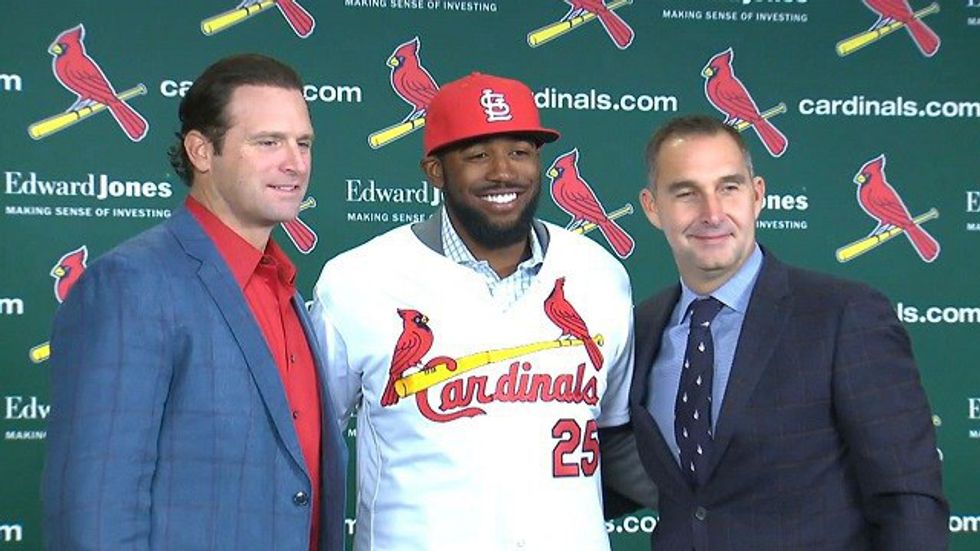 Over in the National League, the St. Louis Cardinals are the other bird squad looking to fly off the radar into championship contention. They are looking to do so with the help of an old rival. All-Star outfielder Dexter Fowler was a key piece in the rival Cubs' curse breaking run last season. Fowler provided reliability, durability, and stability at the top of the order and in center field. He may be the veteran presence the Cards need to close the gap in the NL Central and turn some heads. Plus, Fowler will provide a significant defensive improvement over Matt Holliday, who is now with the Yankees. He will also be a significant mentor to young starting outfielders Randal Grichuk and Stephen Piscotty. Last, but not least, Fowler has a chance to help the Redbirds possibly thwart the attempt of the following scenario from happening.
17) Will we see Cubs/Indians 2?
[rebelmouse-proxy-image https://media.rbl.ms/image?u=%2Ffiles%2F2017%2F03%2F13%2F636250312767085948-2056310915_cubs1.jpg%3Fquality%3D85%26strip%3Dall%26w%3D400%26h%3D225%26crop%3D1&ho=https%3A%2F%2Faz616578.vo.msecnd.net&s=86&h=4476de69765349edfb189843a069cd85ef88bd25d6ae9d6c486757074cd3a400&size=980x&c=505955173 crop_info="%7B%22image%22%3A%20%22https%3A//media.rbl.ms/image%3Fu%3D%252Ffiles%252F2017%252F03%252F13%252F636250312767085948-2056310915_cubs1.jpg%253Fquality%253D85%2526strip%253Dall%2526w%253D400%2526h%253D225%2526crop%253D1%26ho%3Dhttps%253A%252F%252Faz616578.vo.msecnd.net%26s%3D86%26h%3D4476de69765349edfb189843a069cd85ef88bd25d6ae9d6c486757074cd3a400%26size%3D980x%26c%3D505955173%22%7D" expand=1 original_size="1x1"]

These two are perhaps the solid favorites to headline the October Classic once more. What's stopping them? Is this the new Warriors and Cavs rivalry of baseball? Many fans would like to see this match up again based on what an absolute masterpiece last season's World Series was. Both teams are almost completely intact at the dish and in the field with changes here and there (Cubs sans Dexter Fowler, and the Indians adding Edwin Encarnacion). Both teams are still as potent, if not more so, than ever. Who's to say these two cannot run the table once more and beyond?
---
How will all of these questions and premonitions play out this season? Either way, baseball season is a week away along with all the drama, dingers, web gems, and heaters your heart could desire. These seventeen things are why you really should be looking forward to Opening Day and beyond in 2017.