From as early as I can remember, I've always loved nights spent alone and in my room. I always feel invigorated by the space and time I have to myself to do what's best for me, which can be catching up on some videos that spark creativity or reading some books that I need to finish.
As a person who is very busy and lives by the schedule in her planner, it's important for me to take a night to myself to refresh and recollect my thoughts from the many tasks and issues over the course of a week or two. Some nights, this means just laying in bed and watching a movie, and other nights, it's practicing a ritual of self-care techniques.
Lately, I've found myself to become overwhelmed quicker than usual, and although I attribute this shortcoming to the recent semester that caused me more stress than I've ever experienced in my whole life, I am now choosing to care for my mind, which clearly needs more love during this time.
Tied to this feeling of being overwhelmed, I notice that I've become more short-tempered with my boyfriend over silly remarks or mistakes. After finding myself extra irritable today, I knew it was time to take a time to reflect on myself and recollect my senses that seem to be falling apart. Because he already had plans for the night, I knew it was the perfect time to spend the night alone and not go out with my own friends.
If I'm not loving myself, I know I can't love others well. So I took the night to recharge, and this is what I did:
First, I changed into clothes that I felt my most comfortable in. It was a hot summer day in Florida so I was eager to get out of my jeans and throw on light dress. After getting changed, I put on the Refinery29 YouTube channel so I can feel inspired by other women as I begin to declutter not only my room but my mind.
When I know I have a lot to do, my mind becomes very jumbled and overwhelmed, so to combat this issue, I live by my planner and to-do list. After watching some videos having to do with spring cleaning my agenda, I got to work. I organized my week by tasks ascending by time, and in some cases, priority. If I knew it could be missed, I put it at the bottom so if I didn't end up getting to it, I wouldn't feel like my whole day was thrown off. It was the last thing to do so if I missed it, who cares? I can close my book today anyway.
After that, I pulled out my summer clothes from the bin beneath my bed and started sifting through the articles of clothing. As I was looking, I realized that a lot of what I was seeing wasn't making me feel happy. I wasn't excited to see the clothing and most of them certainly weren't going to make me feel confident in myself.
One of the best questions I ask myself when I go through my closet is, "If I saw this piece of clothing at the store today, would I buy it?" If the answer is a no, I throw it in the Good Will bag. If the answer is a yes, I throw it in my hamper to get a wash before I wear it again. If you don't feel like something is enriching your life, get rid of it.
When I completed the task, I through the clothes in my hamper into the washer and marked the task off on my to-do list. My next task might seem funny, but it was to disconnect from the internet and do some reading.
One of the best ways to make me feel empowered is to take some time to myself and read a new magazine I bought or continue working on a book. Tonight, I finished up reading Darling Magazine issue No. 19. A reason why I personally love reading the publication is that of its ability to make me feel like a strong woman because I just read stories of other strong women. Through the photography that embraces different styles and models of all body types, the writing that details perseverance and empowerment, and illustration that is utterly intriguing, reading the magazine is like reading a piece of art.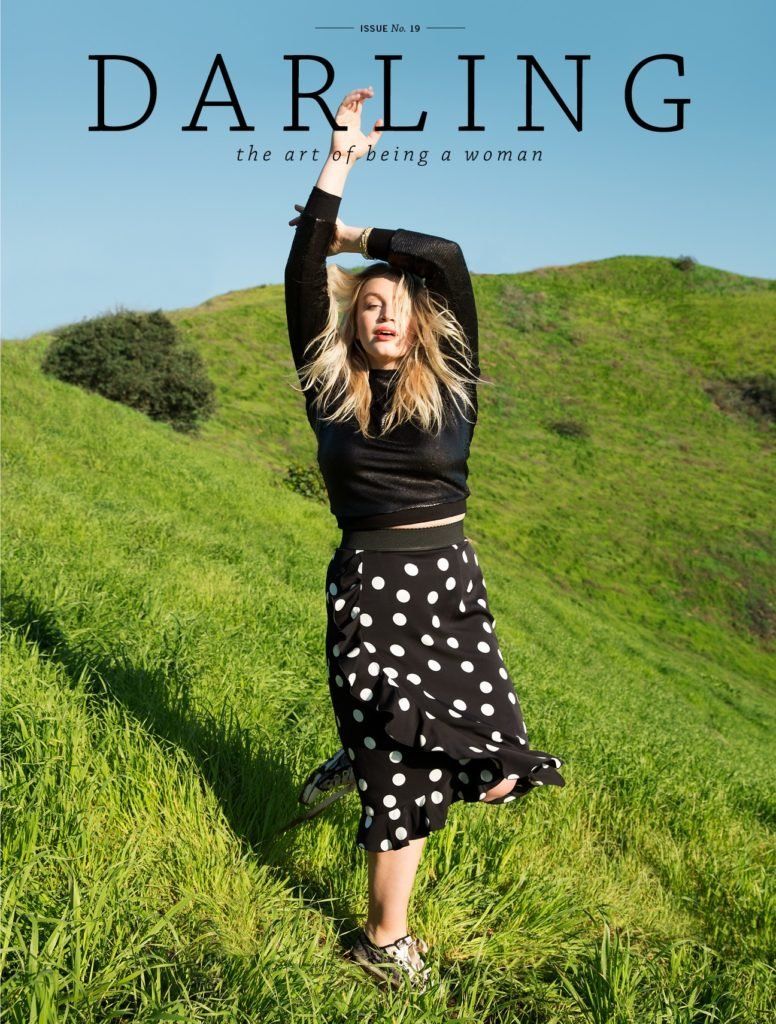 After finishing up the issue, I switched over my laundry, grabbed myself a glass of white wine, and started writing down some of my creative ideas in my journal. One of the best parts of reading about others' creativity is being able to feel their energy and start generating your own. As a writer, I'm in constant need of inspiration, otherwise, I get stuck in a stagnant lull of lack of topics and passion.
Finally, after that fuel of energy, I'm here now, writing this article for you in hopes of helping you through any lack of enthusiasm and stimulus. For me, whenever I feel creatively stuck, I look to other people to remind me of humanity and what's truly important, and sometimes, it's just the reminder that you need to love yourself and do it to your need.
Some girls practice self-love by spending time with their loved ones, others do some retail therapy and have a day of pampering. I feel my best when I recharge my brain with inspiration to help sift out any negative thoughts and stressors.
Because I take usually a night a week to work on myself, I know I can care for others better after caring for myself first. By caring for my mind and wellbeing, I can let go of the focus on me and give it to others who really need my love and support.
If you are someone who struggles with mental imbalance, finding a self-care routine that best fits you is more important than words can describe. Choose a specific day a week to attend a yoga class. Get your nails done once every couple weeks as a day of pampering. Go to the movies alone to see the movie you thought looked good that no one else really cared to see (I just did this the other week and I truly feel rejuvenated).
Don't stop yourself from doing the things that make you you so that you can spend more time with other people. If you want to go to a food place that no one else wants to try, go alone! I promise, no one is going to judge you. People are too worried about themselves to even think anything bad about you choosing to grab a meal alone. What I'm trying to say is, don't deprive yourself of things that make you happy because you fear being judged by strangers or by friends and family.
Do what's best for you and love yourself the best way you know how.