I first read Rupi Kaur's poetry collection, "Milk and Honey," when I was seventeen. Less than a year ago, I cracked open the pages of "Milk and Honey" seeking inspiration to concur a new trauma that surfaced in my life. "Milk and Honey" is split into four sections that work in place of chapters, beginning with "The Hurting," then, "The Loving," followed by "The Breaking," and closing with "The Healing." These chapters present themselves in a way that replace the five stages of grief: denial, anger, bargaining, depression, and acceptance. While grief comes to a close, the trauma of sexual abuse does not. There comes a time for acceptance, but few victims come face to face with a clean cut from their trauma.

In this way, I think Rupi Kaur replaces sexual abuse from a severe, bad experience. There are moments of acceptance, and relapse—triggers between, "I'm okay," and, "I should be okay, by now." An attack on the body leaves a victim in very private, continual healing. I wonder what Rupi Kaur would think if I told her I think it is possible to swap between The Healing and The Breaking—sometimes they're seconds apart.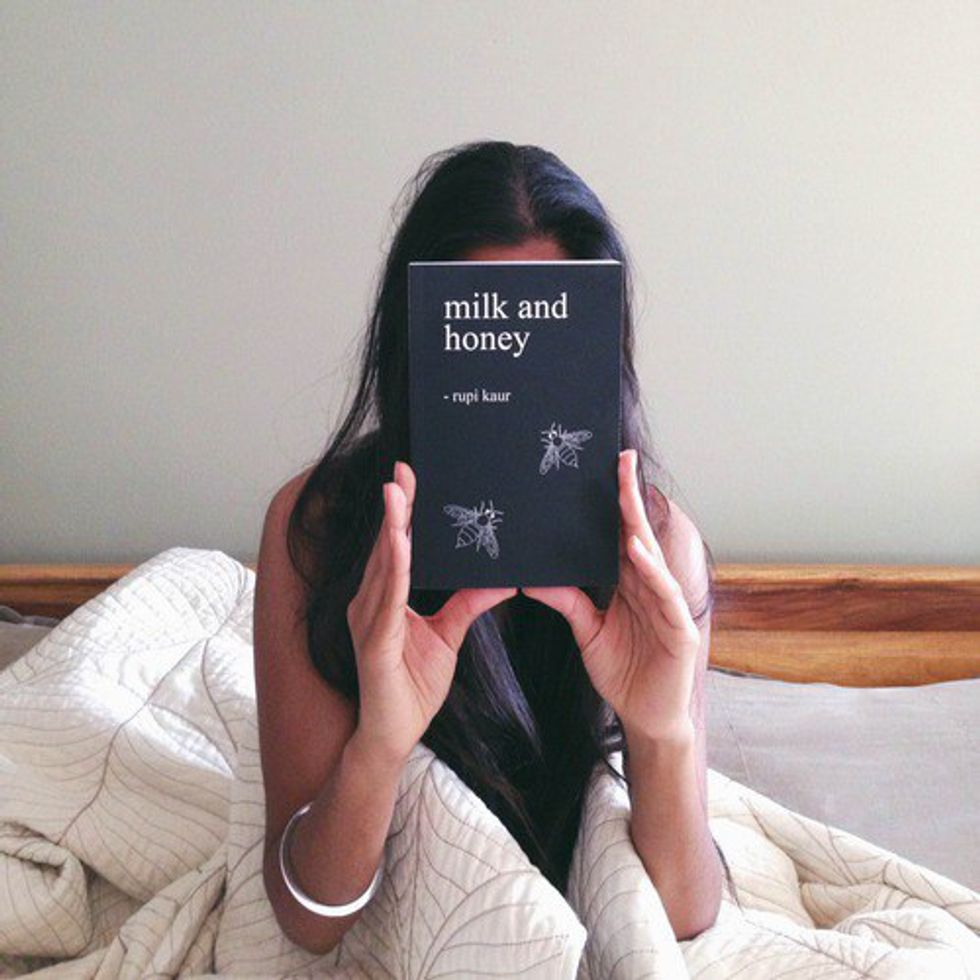 Listening to the Ted Talk, I felt a serendipitous connection with Kaur and I don't get homesick, either. Kaur moved around a lot when she was growing up with her family, and now she travels to share her gift of spoken word across the country. She's used to having "home" as a place she has built inside of herself. A Home that doesn't come will blueprints or an address.
I didn't move around much as a child, but in my family, family is what makes a home, a home. Home is what I feel when I am not alone, in my heart. When I feel loved and I love harder, I feel at home. Don't get me wrong, I wish I saw my parents and siblings more often, but living away made me find a place with of comfort within myself. So for me, there is no upstairs or guest house—I am all garden, all open floor plan.
For Rupi, Home is a connection. Home is "washing yesterday out of (her) hair," brewing coffee "to the sound of children playing outside." For me home translates to "sunlight kissing my eye lids good morning," and that can happen anywhere. I now understand that a home is not something easily rebuilt even if I am just seeking sunshine and rain showers. I have an open floor plan, but I come with a lock and key. I have too much to share, and not enough space to put it all. Before my trauma, I would have never volunteered to keep my voice in a storage; Rupi Kaur has taught me I should never have to. I am the window that forces it's self open and lets a draft in, all open floor plan.
Rupi talks about her abuser breaking into her safe haven of a home, and how she forced herself to "close the windows," "shut the blinds," and "lock the doors." Sexual abuse is trauma that shuts your body down in a way you don't expect it too. It's about seeing the hunger in your abusers' eyes and knowing your diaphragm may never push oxygen into your lungs the same way for the rest of your life. It's about the "fork and knife" that take your spirit away from you, and how all you can do is lie there "wrist nailed to the ground," and feel like the body you were born into couldn't possibly be yours anymore. Rupi Kaur continues to explain how after her trauma she felt like it hadn't ended. She says, "When you broke into my home it never felt like mine again, I can't even let a lover in, without being sick...Every lover who touches me ends up being you, until they aren't even the ones on top of me anymore, it's you."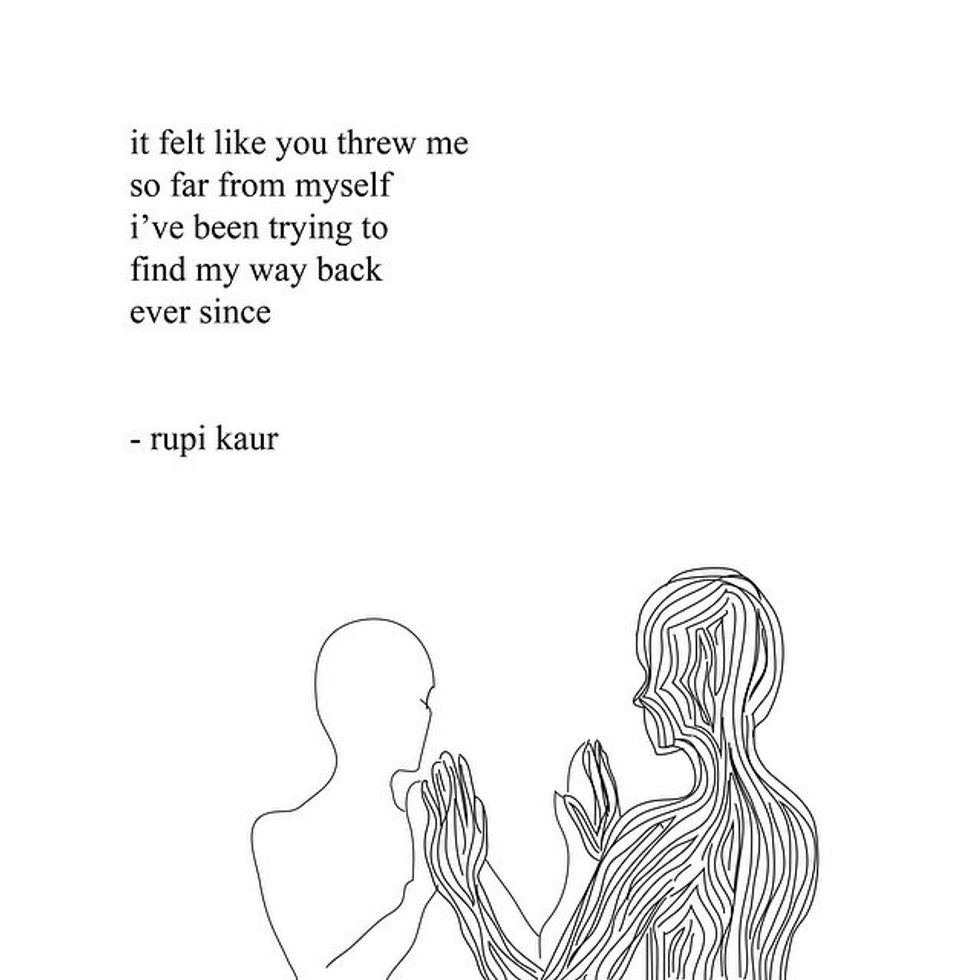 It's a different kind of robbery, a different kind of breaking and entering. There aren't any locks to save yourself, or much you can do at all. Rupi Kaur's use of this metaphor allows for people that haven't been through sexual abuse to understand how frightening of an experience being raped or molested can be. She describes the way this "robbery" left her home empty with "no gas, no electricity, no running water." So here, Rupi Kaur is again trying to describe the way she had lost her sense of self, and comfort within her own body. She later develops this metaphor into describing how she began to transform into what seems an abandoned building, "rotted from head to foot, covered in dust, fruit flies, webs, bugs." Her abuser took her home and mended it into something she didn't recognize anymore. Unfortunately, this feeling can surface and linger when other obstacles and hardships come our way.
Rupi Kaur ends her Ted Talk by sharing how writing became "an extension" of herself, and how her "private hobby," saved her life. Writing has saved my life too. When the "waterfall" of tears stop, and your soul is seeking to be refilled look to what makes you feel whole. For me, it is my family that I have found here in Tallahassee; through the sisterhood I joined this fall, and through my writing. Home is "sunlight kissing my eyelids open, and washing yesterday out of my hair." Turn the lights on, place the fan on full blast, and let your heart be whole again.
If you have not read Rupi Kaur's "Milk and Honey", I encourage you to do so. She is an insightful, wise, and strong writer who has inspired me to share my story, and grow into myself instead of "hiding in the upstairs closet." No matter what hardship you are trying to conquer, remember, "It takes a whole, complete, perfectly-designed person to survive it."