I would like to say I'm not drooling over my laptop as I browse the photos of Christian Yelich in the ESPN 'Body Issue', but, I am. Like most girls (or guys who knows?), I find Christian Yelich to be a beautiful human, and him doing the ESPN Body Issue was something I don't think I would ever see him doing. You look at his social media, and he's not the one to post 'tool' or 'douchebag' pictures, it's pretty much family and baseball. We love that; We love a family man.
Yelich is currently trying to do a back-to-back MVP season, which he's in a good position to possibly win it again, Cody Bellinger and Mike Trout also are in that race, but, not to be biased, Yelich has the better record. BUT, I won't start arguments about that. We're here to discuss Christian's beautiful body.
Every year, ESPN publishes their 'Body Issue', where athletes bare it all (literally) and pose in the nude, allowing the readers of the magazine to know that you don't have to have a certain body type to be considered an amazing athlete; Your passion and dedication is what truly matters. 21 athletes from all sports participated in this photoshoot including some of the Philadelphia Eagles offensive line, Scout Bassett (Paralympic sprinter), Michael Thomas (New Orleans Saints Wide Receiver), and of course, reigning NL MVP, right fielder Christian Yelich.
Christian Yelich in the Body Issue: Behind the scenes | Body Issue 2019 www.youtube.com
In an interview, Yelich stated that he "is in a good position in his life that he felt it was something he wanted to do." And even though he was very pleased with the shoot and enjoyed doing it, some people on social media were not happy with him posing naked for ESPN.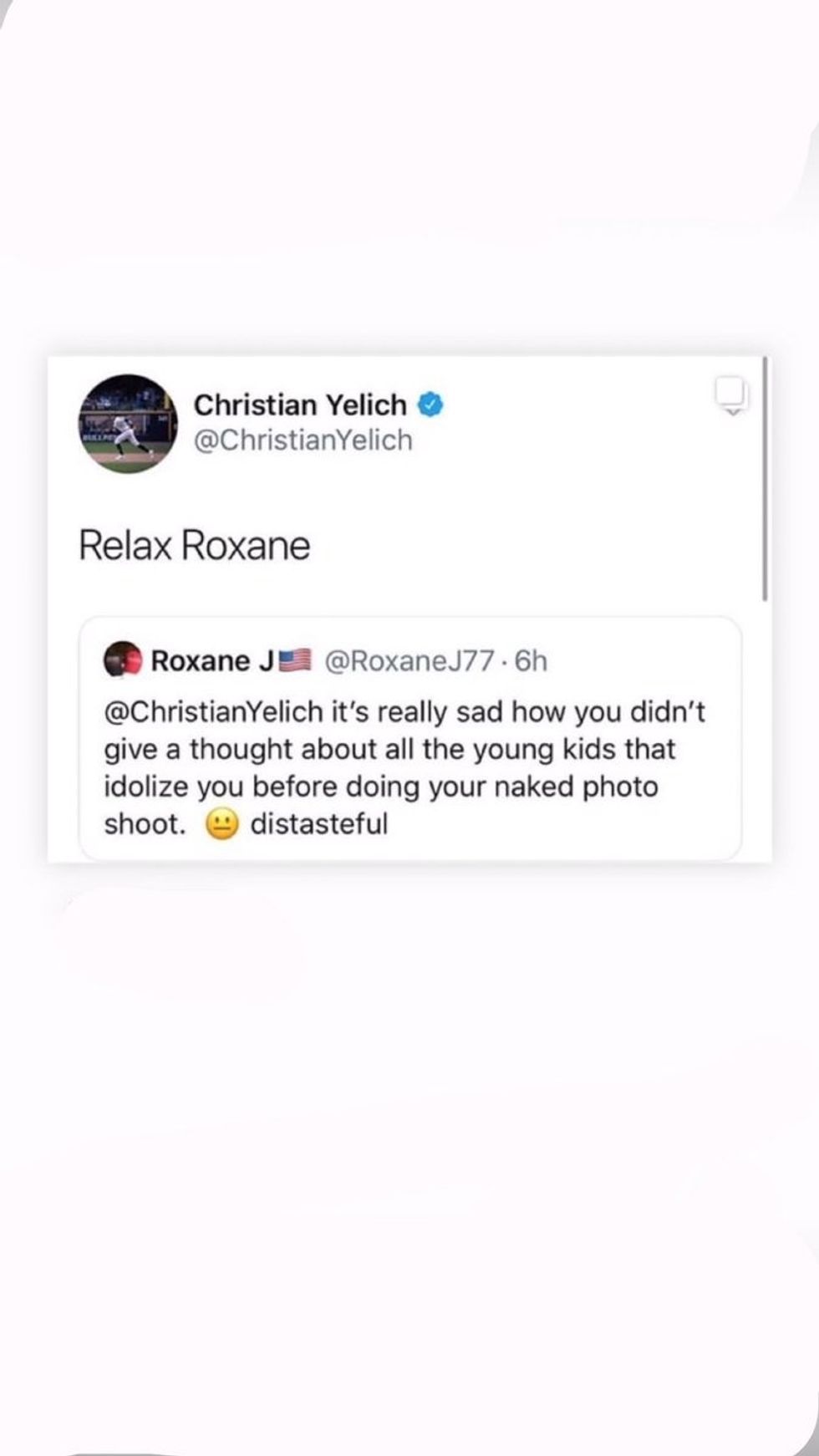 A woman, who appears to be a mother, was NOT happy with Christian's photos being published on social media. Christian 'didn't think of the kids' before posing nude and proceeded to call it distasteful. Christian, as he said "clapped back", and told Roxane to relax. Since that moment, Relax Roxane was exploding all over social media. To make the joke even funnier, Christian changed his walkout music that night to "Roxanne" by The Police. I'm not sure how he didn't lose his shit walking to the plate and laughed his ass off, but even when I was listening to it on the radio, I cackled (yes, cackled) hearing the music change.
Christian Yelich just use the song "Roxane" as his walk out song tonight. Earlier today he told a lady on twitter… https://t.co/5ts8VuFLQW

— Barstool Sports (@Barstool Sports) 1566950683.0
I give Yelich props for doing this. The last Brewer athlete to do the shoot was Prince Fielder (yeah, it's been that long). It was definitely something that was worth it, according to Yelich, even if Roxane thinks it's 'distasteful' and he 'didn't think of the children that look up to him'. Roxane, sit down, take a deep breath, take your MAGA hat off and just chill. She then proceeded to make her Twitter private so people couldn't ridicule her on her tweets, but guess what, Roxane? We got the screenshots. I also did some researching for this article and found a male Roxane, who basically hated on the Body Issue for his entire article... (https://athletesinaction.org/underreview/three-reasons-not-to-click-on-espns-body-issue#.XXABYjfYrnE). Turns out? It's mostly this man-bashing on how the athletes are doing 'soft porn' and that they should 'Choose Joy in God', and it doesn't 'truly display the sport or the true human body'... Last time I looked at Yelich's photos, I could see the stretch marks on his thighs, and Bassett can't just fake being a paralympic athlete, doesn't work like that.
Not to be 'one of those girls', but I truly LOVE these photos. My parents just think I'm crazy for going nuts over them, but mom, if you saw pictures of Patrick Swayze naked from his Dirty Dancing days? You would be going nuts too, so...No room to judge. One thing that is going to grind my gears (and this is all personal opinion) is that people are going to just like Christian for his looks, not even begin to focus on the type of person he is or how incredible of an athlete he is. They're gonna say 'I love Christian Yelich so much!'. Yeah? Talk to me when you've watched him hit for the cycle twice in one season and hit his first career grand slam during a Brewers game. Okay, I don't mean to sound vicious, but, be a fan of Christian for more than his looks (even if he is the most beautiful human being I've ever seen in my life).
So, I will be purchasing the physical magazine when it hits shelves September 6th, and showing all my friends, and even showing my parents, even though that's the last thing they want to see.