From 1925 to 1999, the University of Pittsburgh had its very own football stadium.
Most people (except for alumni and Pitt fans) don't know that Pitt Stadium used to exist, unless you're told on the Pitt tour that the Petersen Events Center is built where Pitt Stadium used to stand. Now, Pitt plays football in Heinz Field, home of the Pittsburgh Steelers. It's an amazing facility to watch football in, except for one point: Heinz Field isn't on Pitt's Oakland campus.
Up until 1999, Oakland would be flooded with people on game day. Students would climb Cardiac Hill, Greeks would all sit together with standards claiming their seats.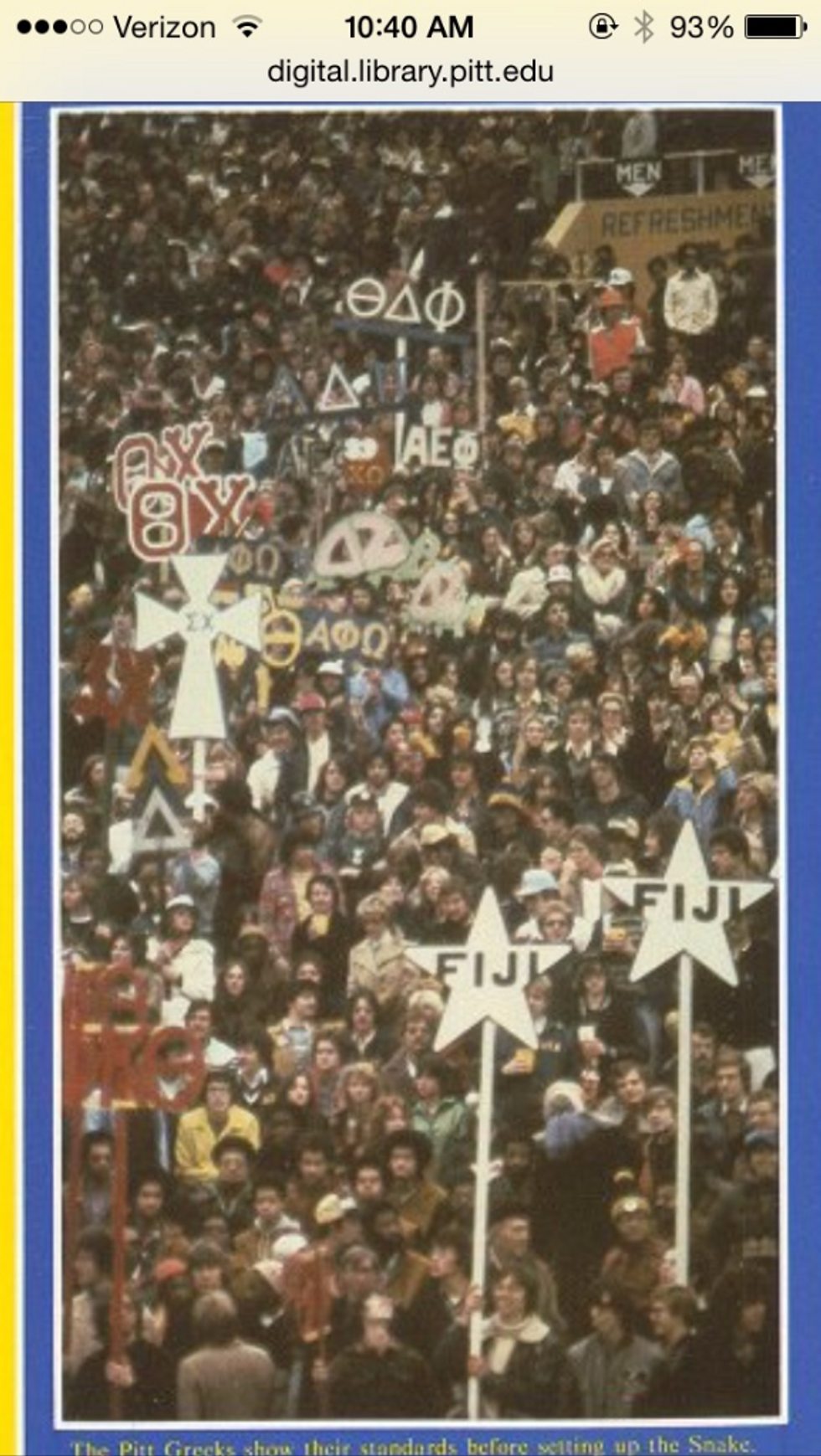 Greeks sit together with standards letters in Pitt Stadium, circa 1975.

How do I know all this?
Aside from being a third-generation Pitt student, I was in Pitt Stadium.
My parents were in Pitt Stadium when they attended Pitt, as I'm sure my grandfather was when he was at school. While Heinz Field is great, it isn't our stadium alone; we share it with the Steelers. Pitt Stadium was only for Pitt, and was located right on campus. There was a greater tie to school spirit as it was so unavoidable on game day. I know that since Pitt had its own stadium on campus, there was a different attitude about Pitt football- people cared a lot more.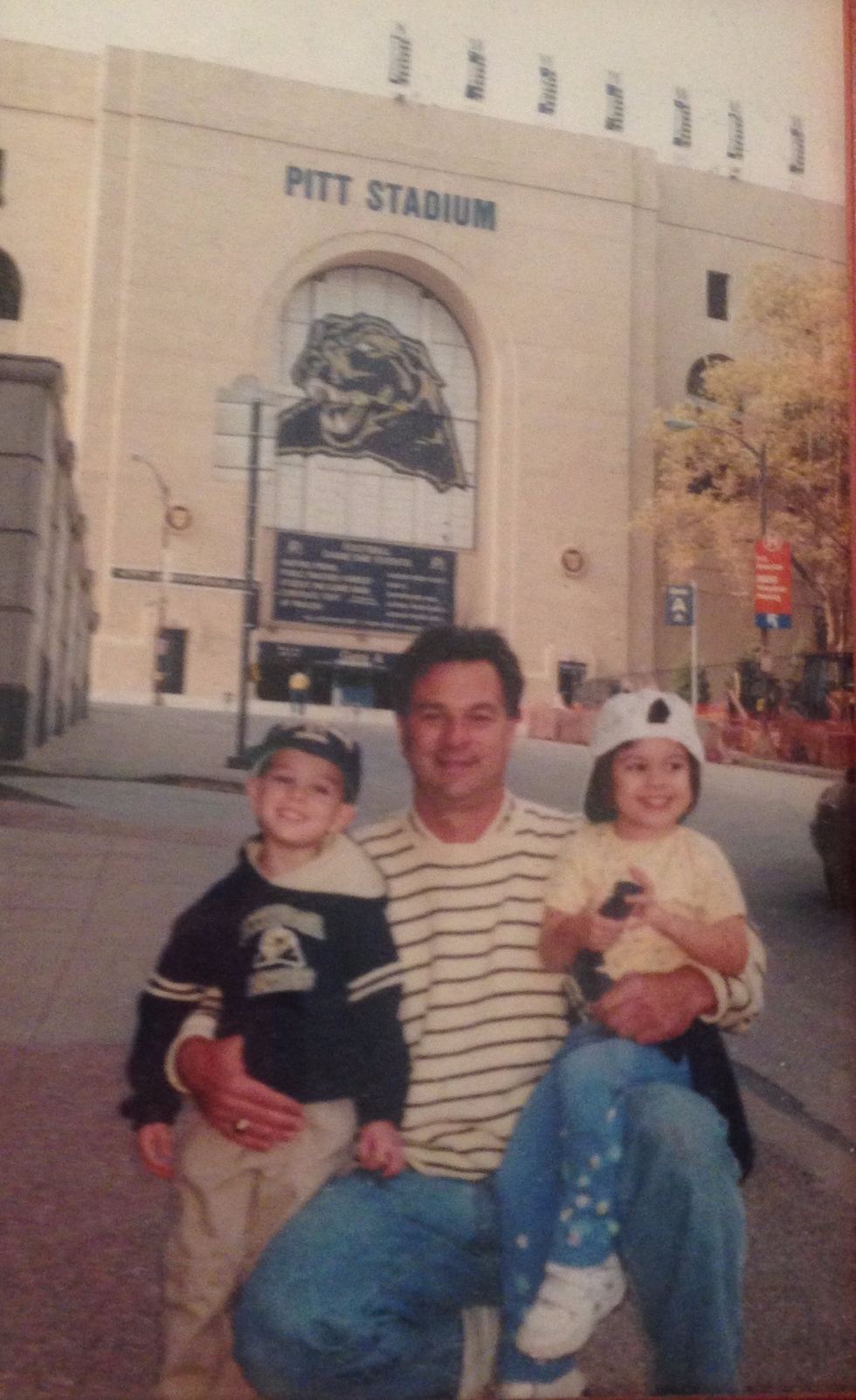 My brother, father, and I on Cardiac Hill, circa 1999.
Now, 16 years later, students and fans alike have lost the experience of walking up Cardiac Hill to the stadium, seeing Oakland jammed with people all to see Pitt play, and the joy after a Pitt win right on campus. Sure, we have the Pete for basketball, but so many more students are able to attend football games just because of the size of a football stadium as opposed to the Oakland Zoo seating in the Pete.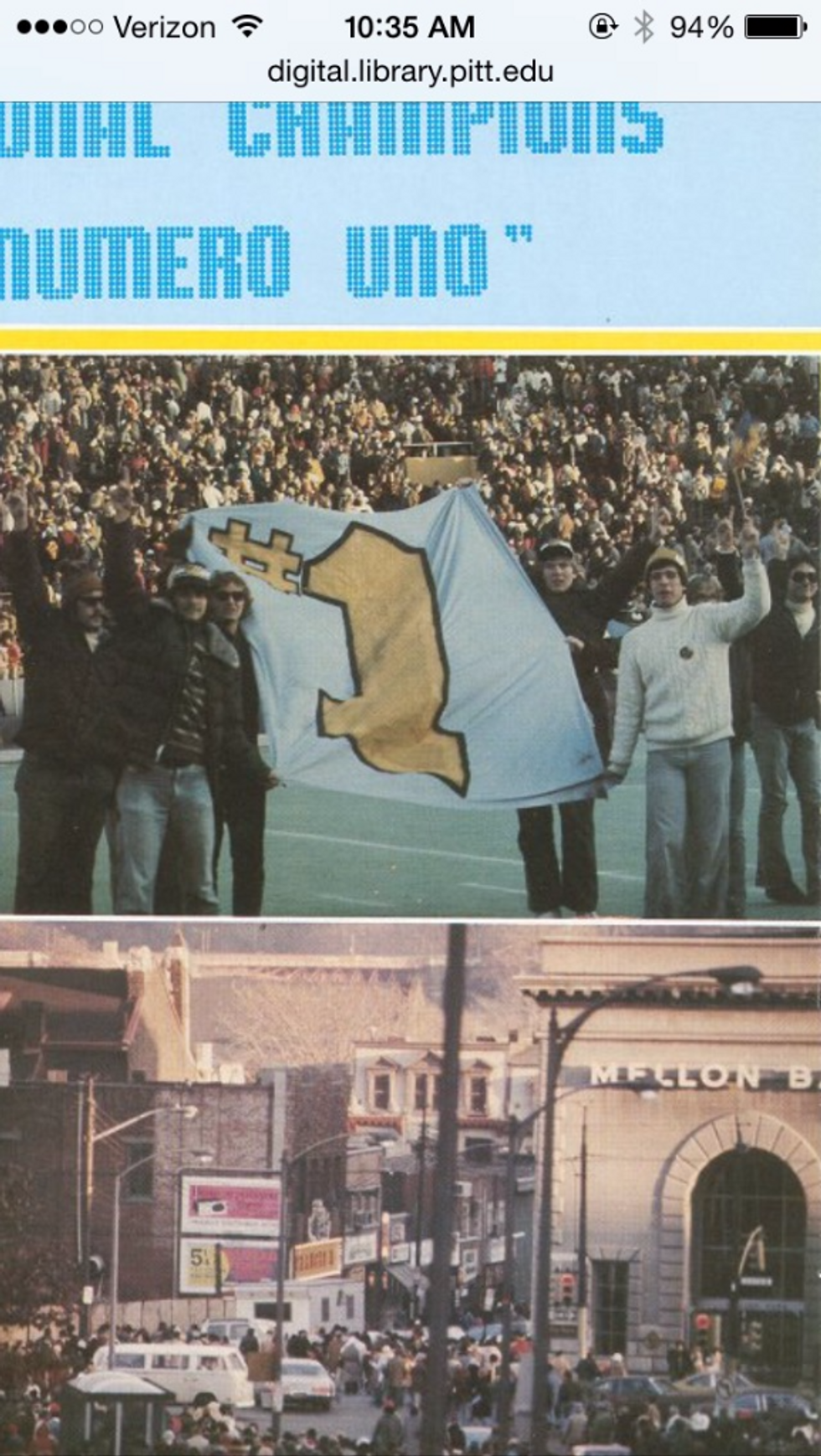 Top: My father and some fraternity brothers holding #1 flag for Pitt as National Champs. Below: What Oakland looked like on game day.

Basically, what I'm trying to say is that, though it won't happen during my time at Pitt, Pitt needs a new football stadium on campus.
It's estimated that building a new football stadium is a 15-year plan, with a budget of roughly 700 million dollars. To say the least, that's a ton of money. Where it will come from, I can't really say. The Pete is here to stay, so a new football stadium would have to be built on current neighborhoods, thus causing a problem of what would happen with all those residents. But if Panther fans want a true Pitt football experience that would build school spirit, possibly a way to do so is to have a new football stadium.
Aside from having a less-than-perfect season this past year, Pitt football struggles to fill Heinz Field for each game. Perhaps it's because Pitt football conflicts with the Pirates, Penguins, and Steelers, or because Pitt isn't off on its own in Oakland. If the only way to see Pitt play were in Oakland (and if the football team played better), maybe less seats would be left empty. Or maybe the real problem is a combination of all these things. Either way, a great experience has been lost of Pitt students, athletes, fans, and alumni.
Since I have been in Pitt Stadium, I remember that it was a great place to watch football, to say the least. But more importantly, there was such a strong, tangible feeling of school spirit and loyalty to Pitt. People were so connected to the game, which made wins (and losses) all the more important. Hopefully, in fifteen years or so, Pitt will get its act together and rebuild a stadium of its own. Only time will tell.
Sources:
https://en.wikipedia.org/wiki/Pitt_Stadium

http://triblive.com/sports/robrossi/6952873-74/pit...