Here in lovely Illinois, it snowed seven inches just a few days after the Spring Equinox. Spring is a fickle season for sure, but there's still just something about it that's incredibly captivating. It never fails to invite a beautiful energy of renewal, new beginnings, and subtle joy. It inspires attitudes of abundance, gratefulness, and positivity.
Our ancestors looked to the earth to teach them about life itself. If you just stop to see and feel, you'll know, like them, that nature is a great teacher. So as spring arrives in all her glory, take advantage of her happy energy! In my mind, there's no season greater than spring for inviting a little extra self-love and self-healing into your life. Mama Tierra is a wildly underestimated source of power, love, healing, and learning. Here are some poems to help us harness all the good vibes she has to offer this spring:
1. No matter how long the winter, spring is sure to follow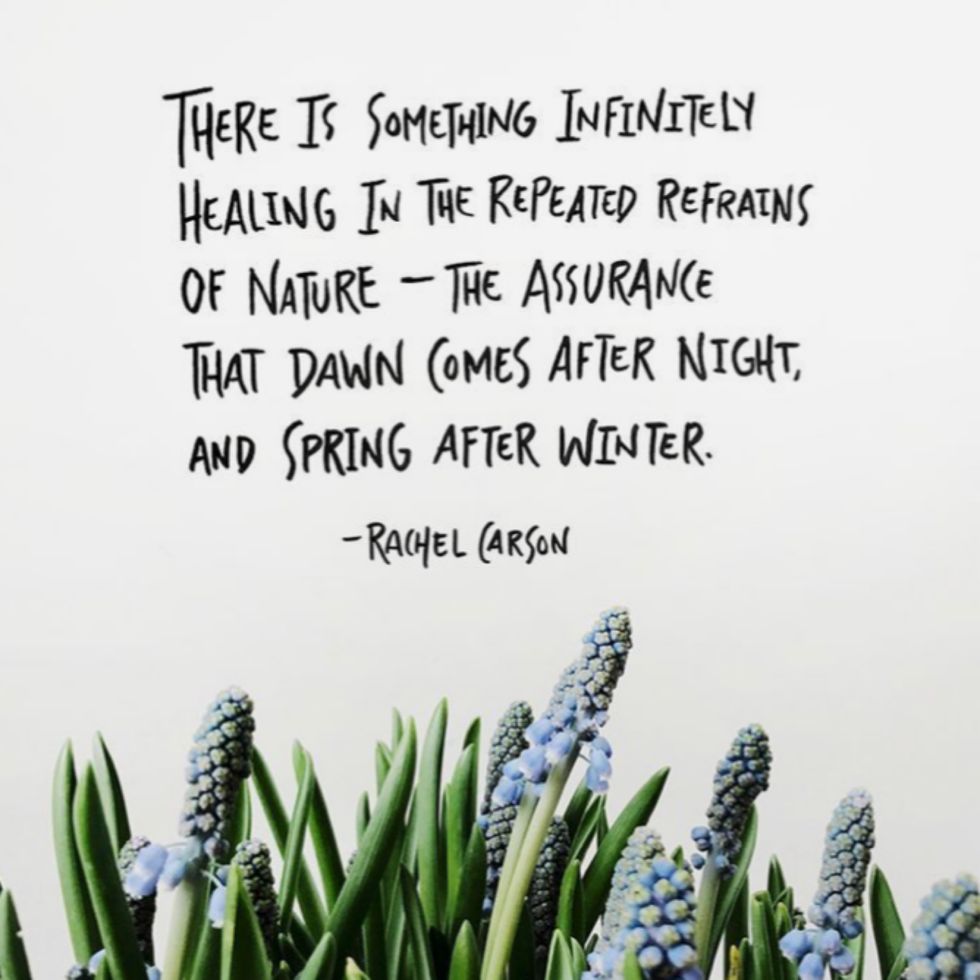 "There is something infinitely healing in the repeated refrains of nature-- the assurance that dawn comes after night, and spring after winter." -Rachel Carson
2. Nature does not hurry and yet everything is accomplished. -Lao Tzu

"The universe took its time on you / crafted you to offer the world / something different from everyone else / when you doubt / how you were created / you doubt an energy greater than us both." -Rupi Kaur
3. Here comes the sun.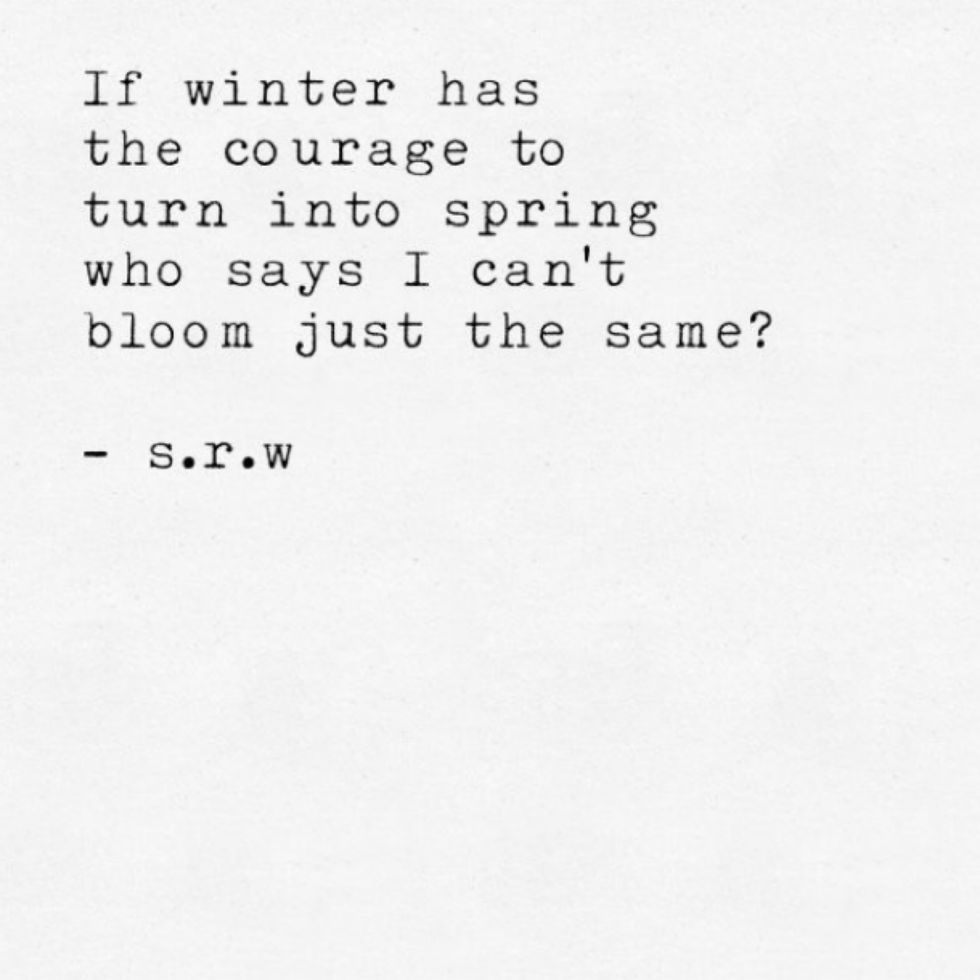 "If winter has the courage to turn into spring, who says I can't bloom just the same?" -s.r.w
4. How to grow a garden: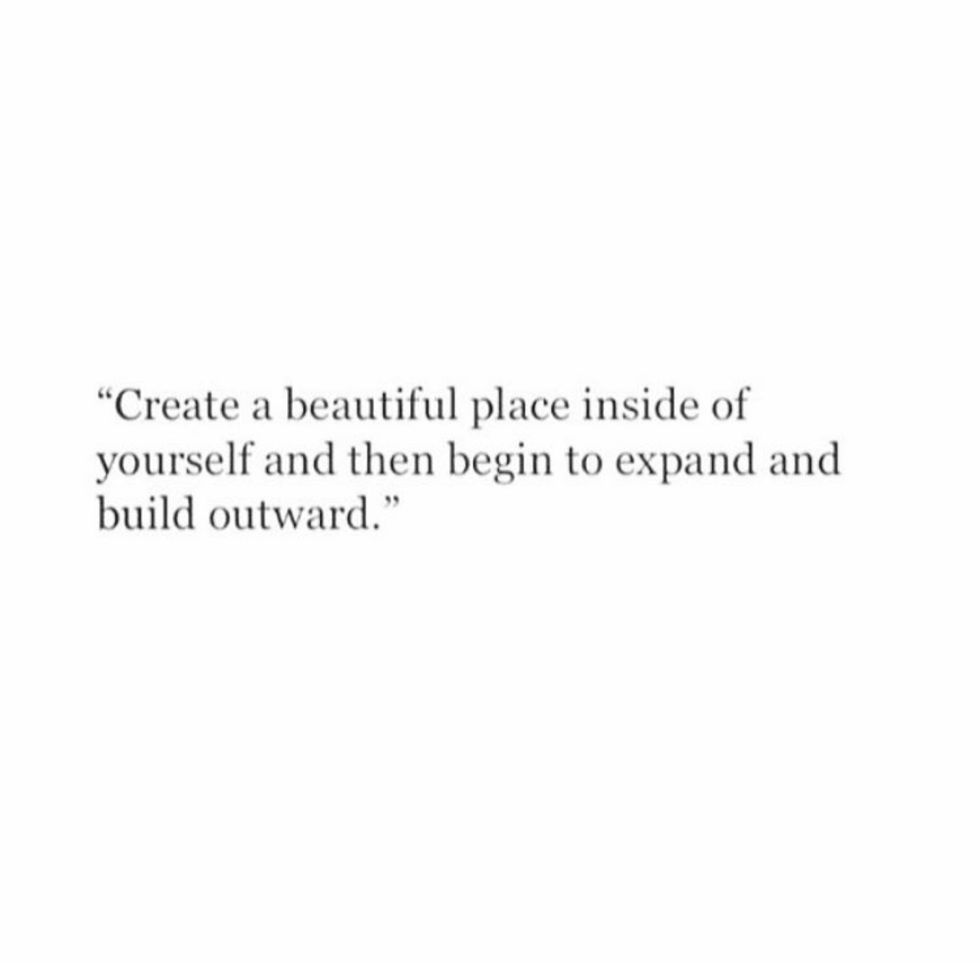 "Create a beautiful place inside of yourself and then begin to expand and build outward."
5. How lovely is the silence of growing things.

"Never ever mistake her silence for weakness. Remember that sometimes the air stills, before the onset of a hurricane.." -Nikita Gill
6. You've got to nourish to flourish.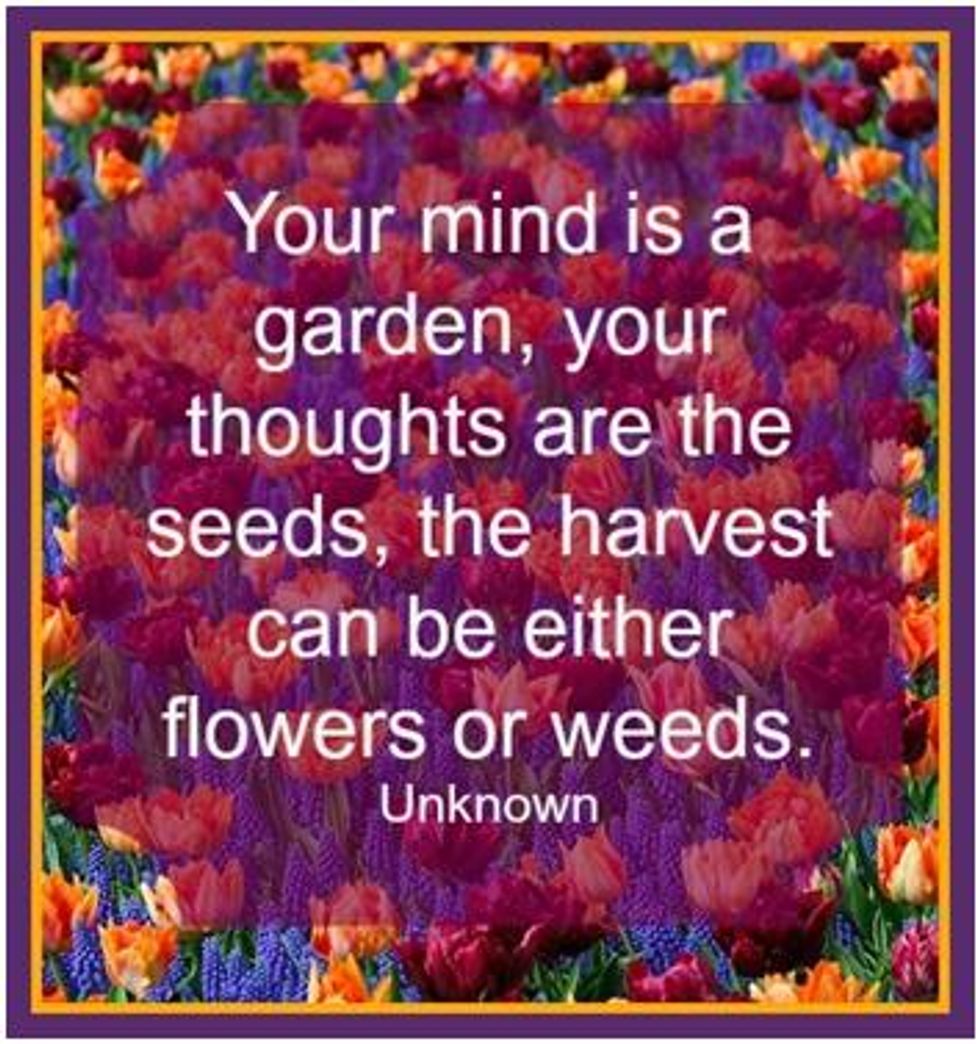 "Your mind is a garden, your thoughts are the seeds, the harvest can be either flowers or weeds." -Unknown
7. Bloom where you're planted.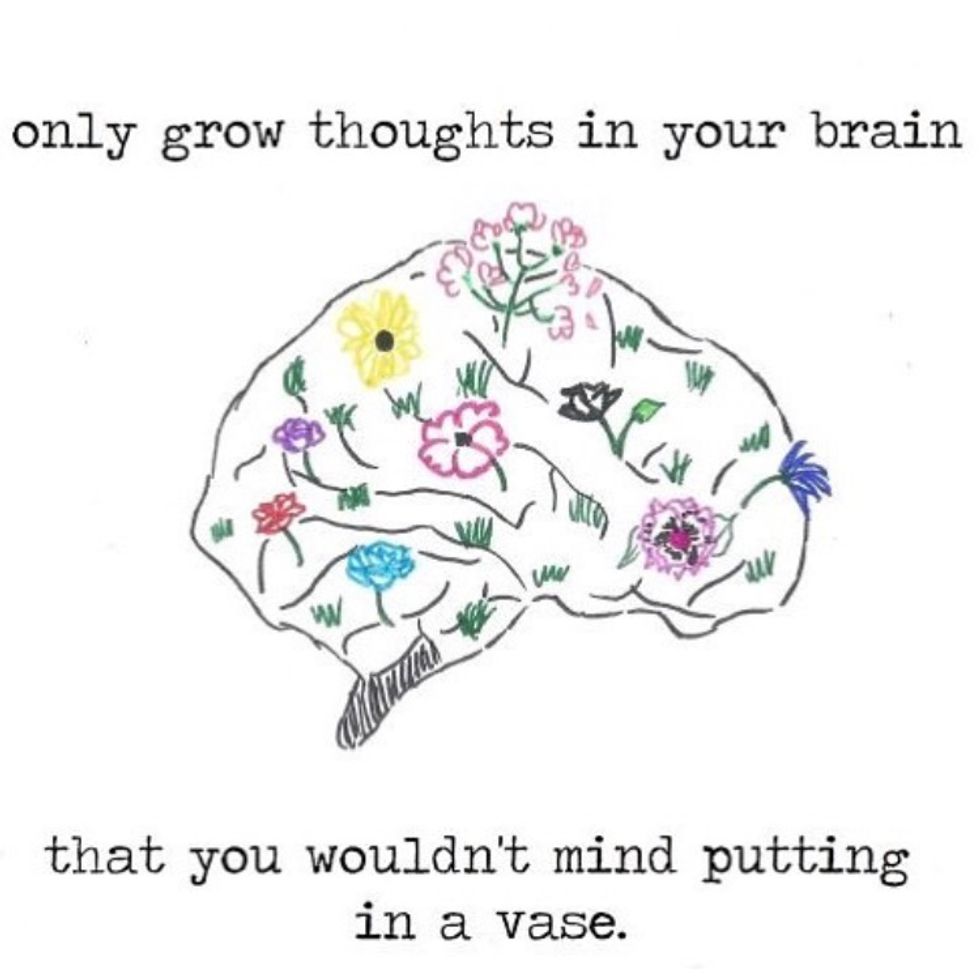 "Only grow thoughts in your brain that you wouldn't mind putting in a vase."
8. You belong among the wildflowers.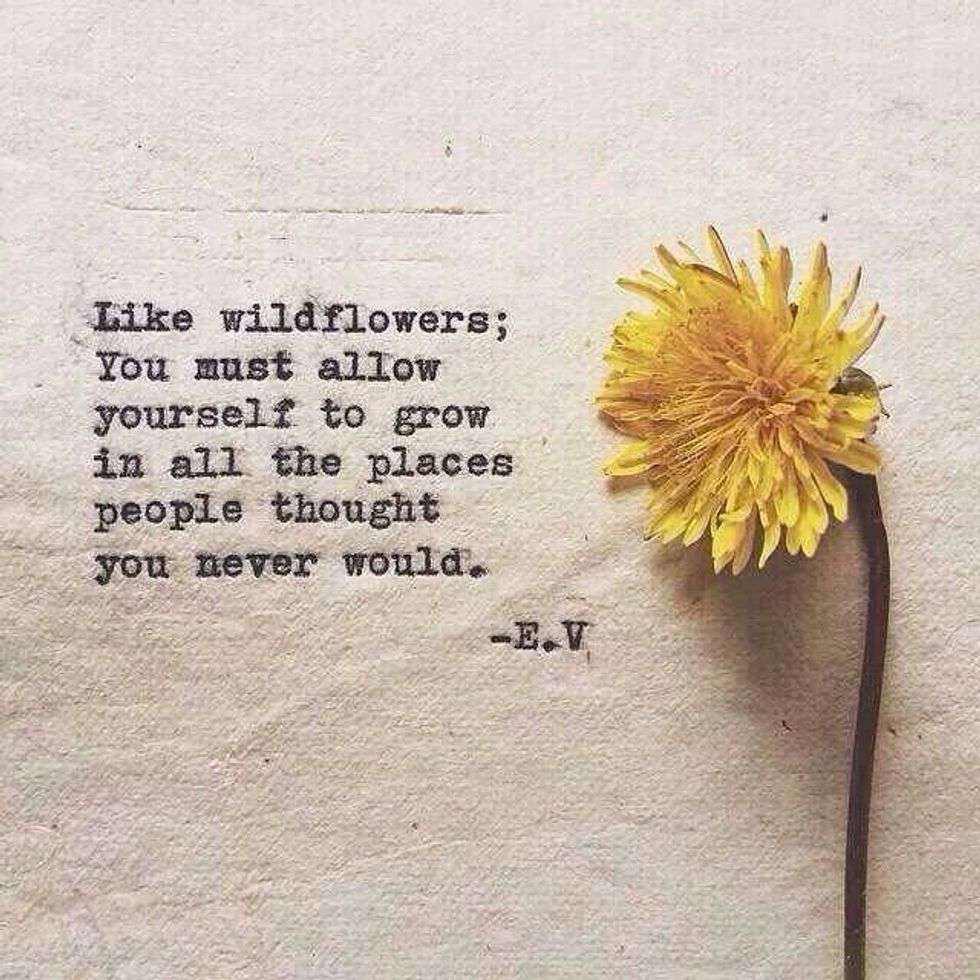 "Like wildflowers; you must allow yourself to grow in all the paces people thought you never would." -E.V
9. And most importantly...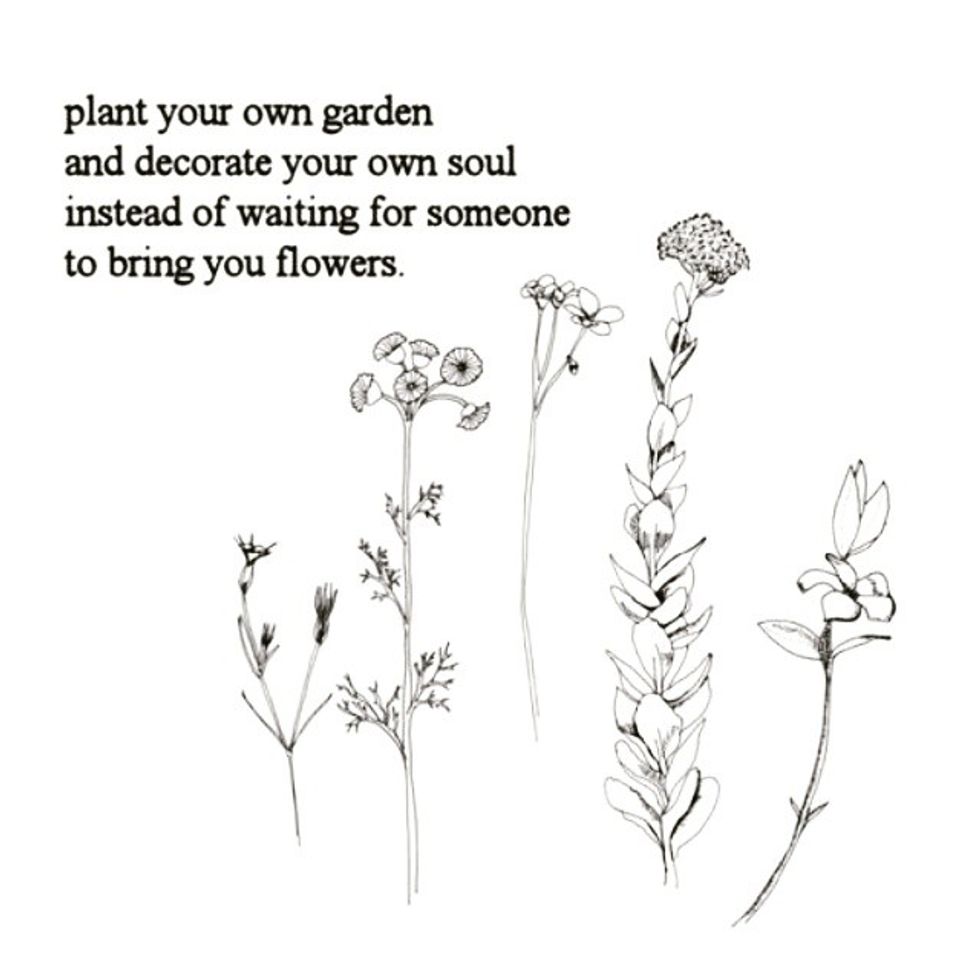 "So plant your own garden and decorate your own soul instead of waiting for someone to bring you flowers." -Veronica Shoffstall
Spring teaches us about rebirth and growth. We learn that nothing lasts forever, but we find hope in the truth that new things will always grow in the empty places. In early spring we see that there is beauty hidden underneath the surface, that good things can grow even after the harshest of winters, and that it is oh so important to both plant and nurture the seeds in our gardens. As winter turns to spring, we are taught patience and the art of being still. With the first blossoms we see firsthand that miracles do indeed exist, and we learn the importance of stopping to enjoy the little things.
Take some time to set an intention for yourself this spring. What do you want to cultivate in your garden this season? Be open to what this spring has to offer you!