TRIGGER WARNING: SEXUAL ASSAULT

In light of the upcoming Senate Judiciary Committee vote that was due to take place on September 20, this past Sunday, September 16, 2018, the woman who wrote the letter accusing Supreme Court Nominee Brett Kavanaugh of sexual assault allegations came forward to tell her story.
Professor Christine Blasey Ford, a research psychologist from California, actually accused Kavanaugh of the assault in July in a letter to Senator Dianne Feinstein, when he started moving up the list for Supreme Court nominations, but she chose to redact her name and keep it confidential. Nevertheless, the story leaked regardless.
Once this happened, Professor Blasey felt she had no choice but to come public with her story once reporters started to pursue her. It has sparked a storm of responses on Twitter using the hashtag, #NoKavanaughConfirmation.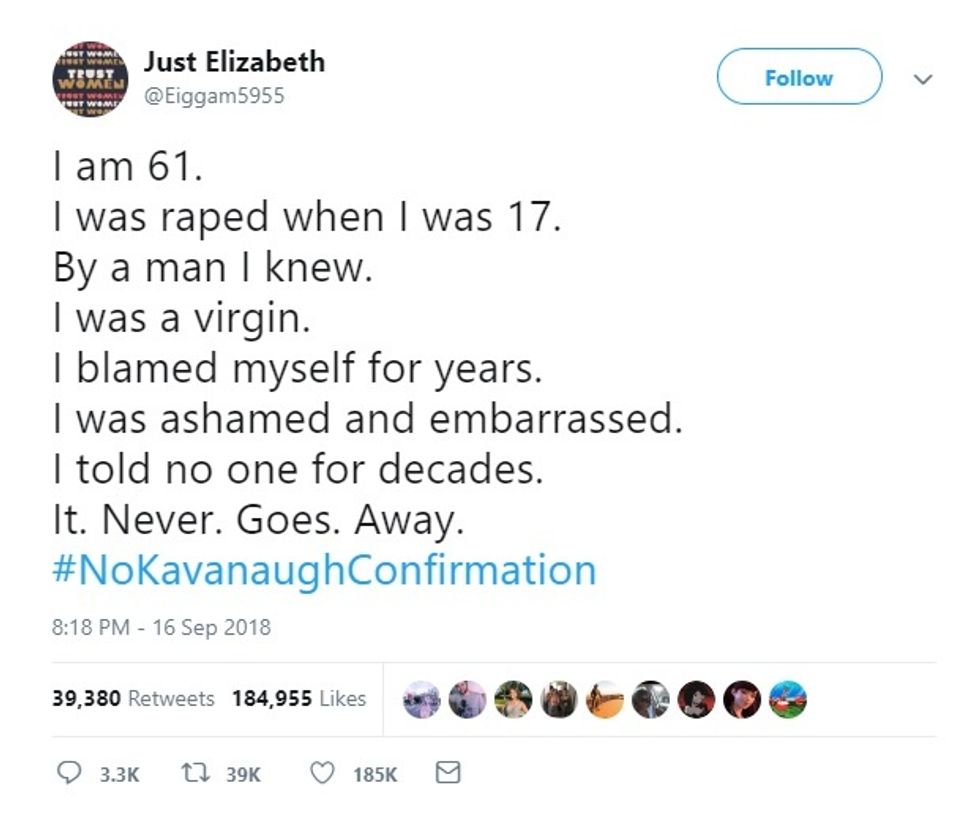 https://twitter.com/Eiggam5955/status/104148148139...
According to reports by CNN, the accusations are of physical and sexual abuse that occurred at a party in the summer of 1982, when Blasey and Kavanaugh were high school students. Allegations state that Kavanaugh and his friend, now writer, Mark Judge, physically pushed Blasey into a bedroom, locked the door behind them and played loud music to drown out cries for help.
Kavanaugh then tried, while highly intoxicated, to remove Blasey's clothes and rape her. He covered her mouth with his hand and used his weight to hold her down. Judge then jumped on top of them making them topple over and Blasey quickly exited the room and hid in a bathroom until the two boys had returned downstairs and then she left.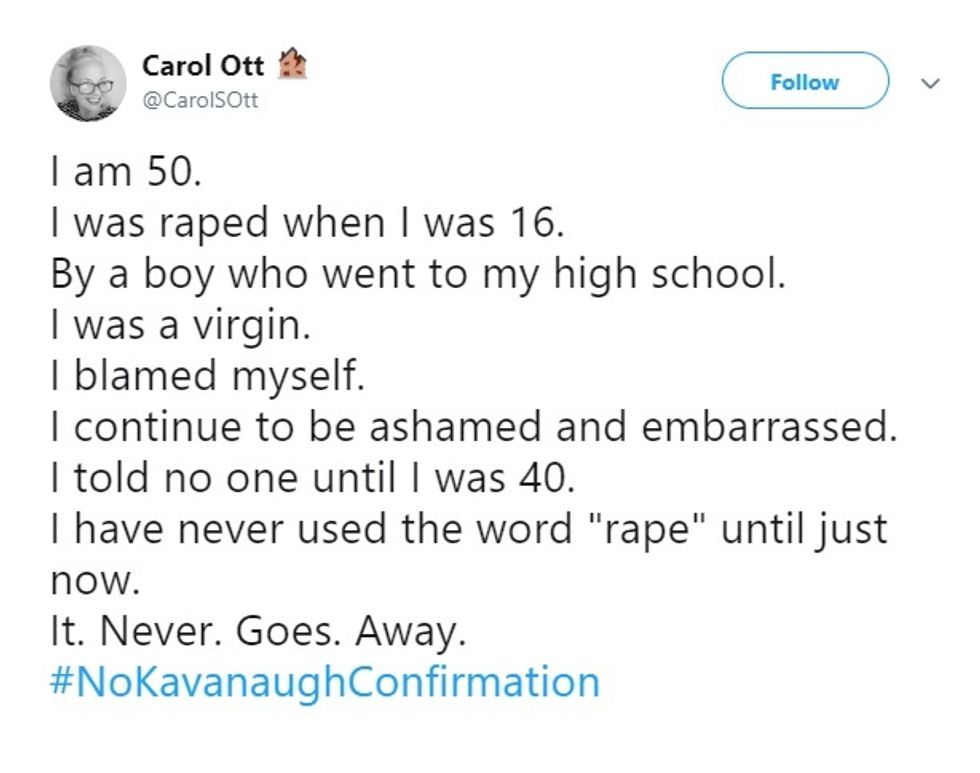 https://twitter.com/CarolSOtt/status/1041688355090...
Since these allegations have taken place, Kavanaugh and Judge have both come forward to defend themselves, Kavanaugh stating, "I categorically and unequivocally deny this allegation. I did not do this back in high school or at any time.", and Judge saying, "It's just absolutely nuts. I never saw Brett act that way."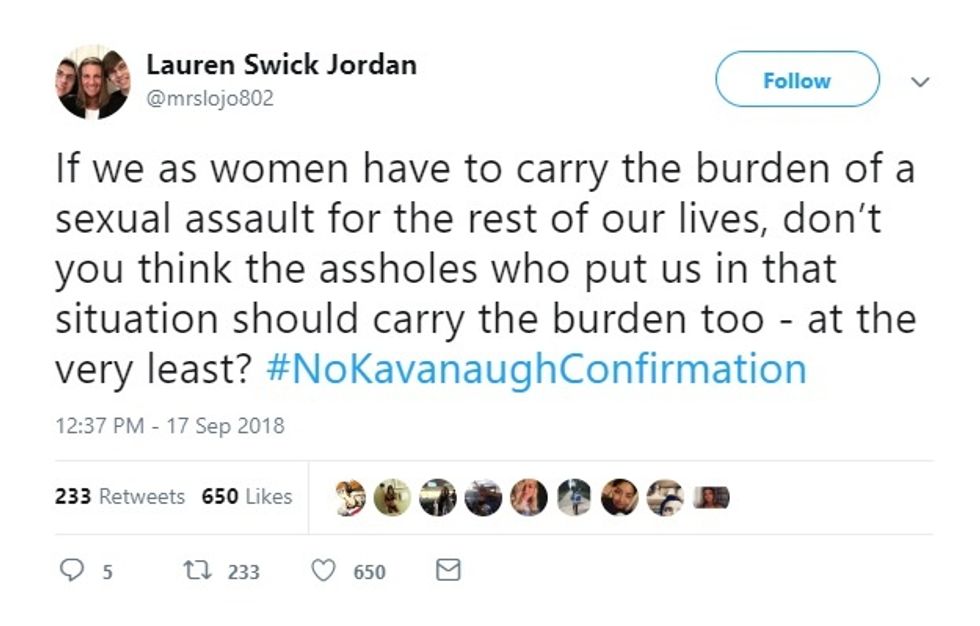 https://twitter.com/mrslojo802/status/104172788570...
I would like to start off saying, I one-hundred-percent believe in Blasey's account of what happened that night. I believe that although there is a lack of evidence, there are many things that Blasey has brought forward to substantiate her claims, as noted in the New York Times. Since allegations have arisen, Blasey has produced documents from her therapist, recounting her telling of the story during a session in 2012, as well as passed a polygraph test administered by a former member of the FBI.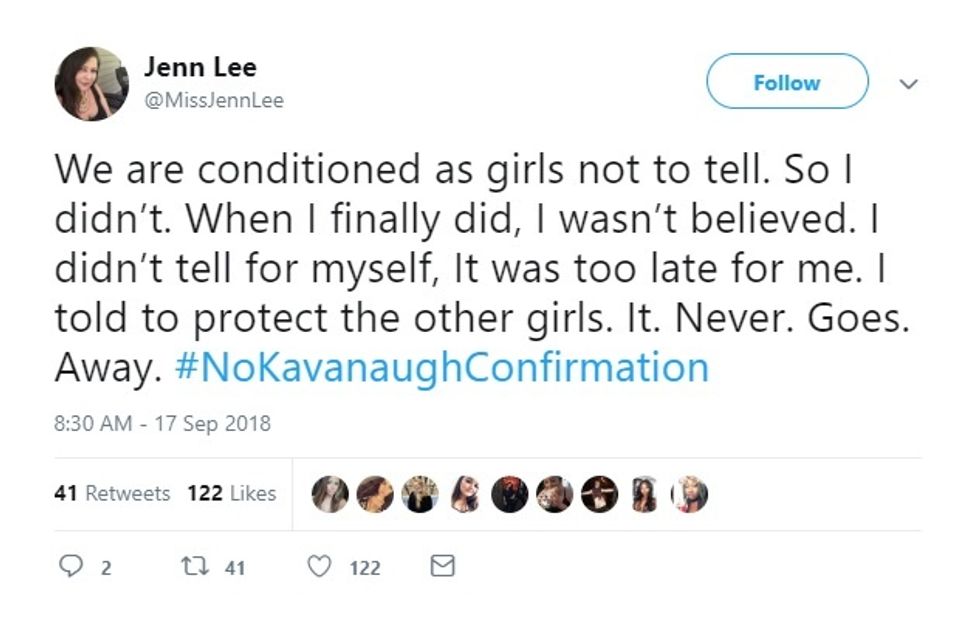 https://twitter.com/MissJennLee/status/10416656865...
This case has, unfortunately, offered new opportunities to perpetuate victim blaming, with many people and high ranking officers in Washington asking why Blasey didn't come forward with allegations sooner. As shown in a report by Psychology Today, many women do not come forward with allegations for a number of reasons. High on the list, are feelings of shame, feelings of denial and minimization, and fear of the consequences. I can say I have felt these feelings, in my own personal story, and I'm sure many women who have suffered sexual abuse can empathize with Blasey.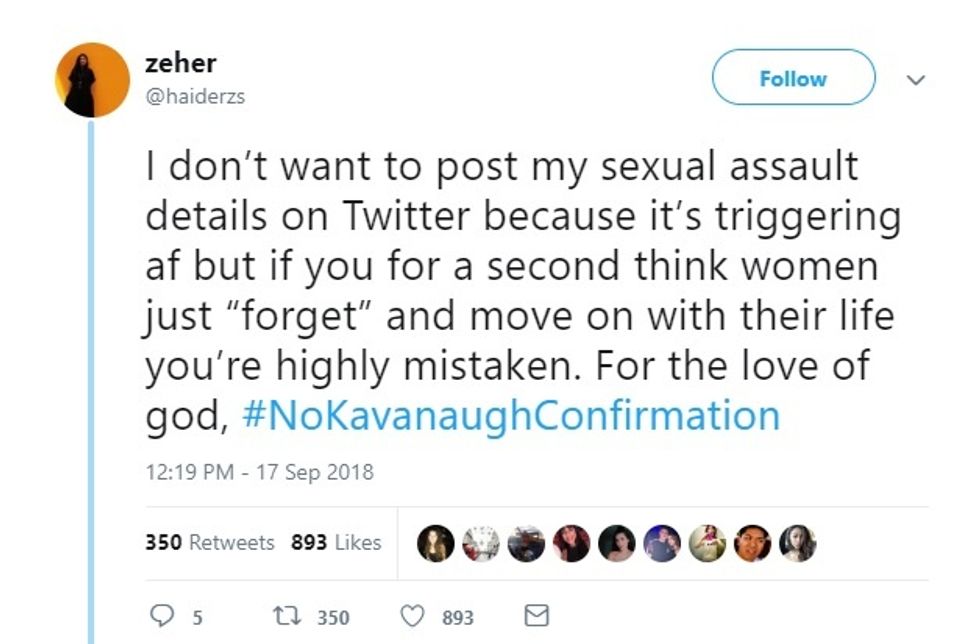 https://twitter.com/haiderzs/status/10417234304653...
I am 21.
I was 18 when I was assaulted.
I never told anyone because I was ashamed.
I was just able to tell my therapist this year.
I still live with the shame and fear every day.
It truly NEVER GOES AWAY.
We cannot let this man become a Supreme Court justice. We must protect the future women to come, our daughters and nieces, from this culture and from this becoming a normal occurrence. Blasey stated after coming forward as the woman who made the accusations, "Now I feel like my civic responsibility is outweighing my anguish and terror about retaliation." I stand in solidarity with Christine Blasey Ford and commend her for coming forward when it does nothing to help her situation but does a great deal to help our country from making a clearly wrong decision.
No Kavanaugh Confirmation.
Thank you Professor Blasey.