That's right, it's almost that time of the year!
The time of the year where we, the sports fans, can all take a break from the over-exaggerations of "Are the Cavs even elite anymore?" and "Boston has a losing streak, should we be concerned?" Of course, "Will anyone ever beat the Warriors?"
Soon, we will all be able to put all that stressful nonsense aside for a bit, and instead enjoy our NBA players and watch them have a good time and show a bit more of their fun personalities.
Last Wednesday, the league announced this year's Rising Stars Challenge roster, per NBA: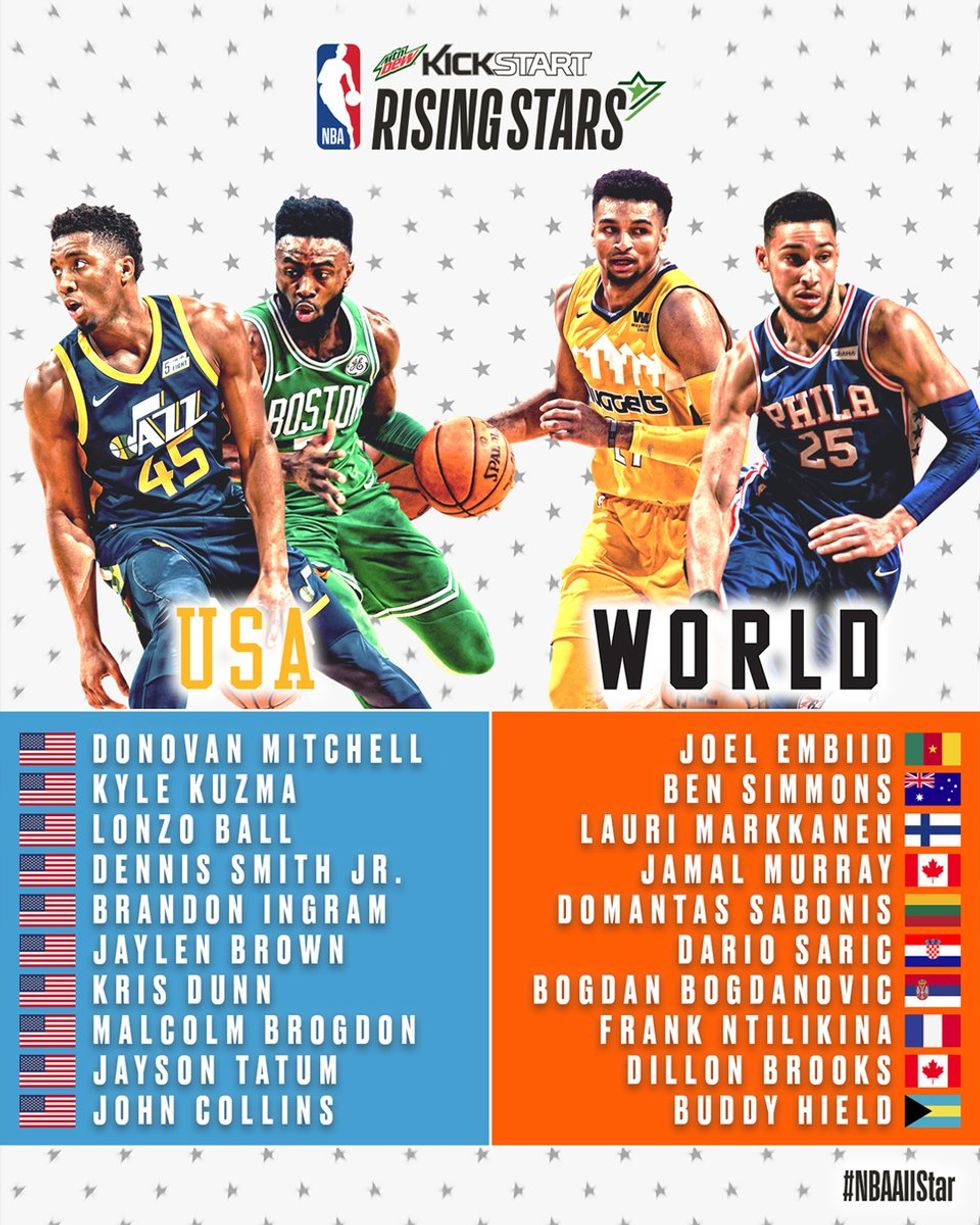 United States
Lonzo Ball, Los Angeles Lakers
Brandon Ingram, Los Angeles Lakers
Kyle Kuzma, Los Angeles Lakers
Jaylen Brown, Boston Celtics
Jayson Tatum, Boston Celtics
Donovan Mitchell, Utah Jazz
Kris Dunn, Chicago Bulls
Malcolm Brogdon, Milwaukee Bucks
Dennis Smith Jr, Dallas Mavericks
John Collins, Atlanta Hawks
World
Joel Embiid, Philadelphia 76ers
Dario Saric, Philadelphia 76ers
Ben Simmons, Philadelphia 76ers
Bogdan Bogdanovic, Sacramento Kings
Buddy Hield, Sacramento Kings
Dillon Brooks, Memphis Grizzlies
Lauri Markkanen, Chicavo Bulls
Jamal Murray, Denver Nuggets
Frank Ntilikina, New York Knicks
Domantas Sabonis, Indiana Pacers
Earlier last week, the All-Star captains and reserves were also announced per Bleacher Report:
Eastern Conference
Starter: Kyrie Irving, G, Boston Celtics
Starter: DeMar DeRozan, G, Toronto Raptors
Starter: LeBron James, F, Cleveland Cavaliers (Captain)
Starter: Giannis Antetokounmpo, F, Milwaukee Bucks
Starter: Joel Embiid, C, Philadelphia 76ers
Reserve: Kyle Lowry, G, Toronto Raptors
Reserve: Bradley Beal, G, Washington Wizards
Reserve: John Wall, G, Washington Wizards
Reserve: Victor Oladipo, G, Indiana Pacers
Reserve: Kevin Love, F, Cleveland Cavaliers
Reserve: Kristaps Porzingis, F, New York Knicks
Reserve: Al Horford, C, Boston Celtics
Western Conference
Starter: Stephen Curry, G, Golden State Warriors (Captain)
Starter: James Harden, G, Houston Rockets
Starter: Kevin Durant, F, Golden State Warriors
Starter: Anthony Davis, F, New Orleans Pelicans
Starter: DeMarcus Cousins, C, New Orleans Pelicans
Reserve: Damian Lillard, G, Portland Trail Blazers
Reserve: Klay Thompson, G, Golden State Warriors
Reserve: Jimmy Butler, G, Minnesota Timberwolves
Reserve: Russell Westbrook, G, Oklahoma City Thunder
Reserve: LaMarcus Aldridge, F, San Antonio Spurs
Reserve: Draymond Green, F, Golden State Warriors
Reserve: Karl-Anthony Towns, C, Minnesota Timberwolves
The All-Star festivities kicks off on Sunday, February 18. Be there.