It really was a perfect, sunny day when Nikolas Cruz took an AR-15 assault rifle (a common weapon among school shooters) and opened fire on the students and staff of Marjory Stoneman Douglas High School. This is a story we have all heard reiterated in the media countless times, but the other common factor in these stories is the portrayal of Cruz.
19-year-old Cruz is currently on trial with 17 counts of murder, which he has readily admitted to. And yet, media corporations, such as the New York Daily Times, are publishing articles worrying about whether or not Cruz will receive a trust fund of $800,000 from his deceased parents. Why are we even considering giving a murderer $800 grand (aside from whether or not he is eligible for a state-provided attorney)?
When he pointed an AR-5 assault rifle at Marjory Stoneman Douglas High School and fired the first bullet, all his chances of living a comfortable, guilt-free life vanished. He doesn't deserve the gifts the American people are giving to him: the gift of a fair trial (considering everyone saw who walked into that school and killed 17 people), the gift of considering giving him a state-funded attorney (even though he is very wealthy from his parents' deaths) and the gift of bothering to check up on his past (trying to justify his actions with some pitiful backstory).
Why are we giving a murderer so much humanity? Why are we desperately searching for reasons in his backstory to defend him?
Most sources defend Cruz by saying that his mental illness and his parents' deaths caused him to be an inherently violent child and shoot innocent children and adults at Marjory Stoneman Douglas. This is an all-too-common story nowadays for a certain brand of criminals, especially shooters.
What's giving him the privilege of using these excuses to seem more pitiful instead of despicable is his race.
There have been 97 mass shootings between 1982 and February 2018, and 56 of them have been caused by white shooters. However, not a single one of them has been formally called a "domestic terrorist". Shocked? We should be. Anyone who intimidates civilians with heinous acts of violence must be called as they are: domestic terrorists, whether they are white, black, Asian, or any other race. Most people associate the word "terrorism" solely with the Islam, although most violent crimes that can be counted as terrorist acts are not initiated by Muslims.
SEE ALSO: Muslim Americans Fear What Trump Symbolizes
When the instigator is white, instead of identifying him (shooters are predominantly male) as a terrorist, the media gives the mental health excuse, which muddles the morality and evil nature of the act committed. If the person was not completely well mentally, it becomes harder to blame him for the action because the American course of action for the mentally ill is to treat, not to condemn. When he has a tragic event in his past like the death of a parent, it becomes easier to justify the action as something of a trauma-induced breakdown. It humanizes the shooter and paints him as a person whom the system failed, instead of a criminal with vicious intent.
However, these excuses are solely reserved for young, male, and white school shooters.
Another young, white and male shooter, 21-year-old Dylann Roof, fatally shot nine African Americans at a black church in Charleston, South Carolina in 2015. Instead of being labelled as a domestic terrorist, he was humanized and made excuses for, which (unsurprisingly) included the mental health excuse. Even a former FBI special agent, Jonathan Gilliam, was interviewed on CNN and was recorded saying that Roof "probably has some mental issues" and was unaware that he had done anything wrong. White criminals are also always labelled as "lone wolves," which isolates the crime from their race.
People of color are afforded no such mercies. When a colored person commits a crime, he is immediately linked to terrorism and his entire race is defiled. This has been seen time and time again with Trump calling for bans on Muslim immigration and promising to build a wall between America and Mexico, because too many "drug dealers", "criminals", and "terrorists" are coming from these countries.
SEE ALSO: Unconstitutional Or Not: What You Need To Know About Trump's Travel Ban
Colored criminals' backgrounds are not looked into at all, so any potential mental illness or past trauma that may have pointed to the cause of their crime are left unseen and ignored. An excuse of mental health has never been afforded to a colored shooter, although this excuse is consistently seen in every single case of white violence.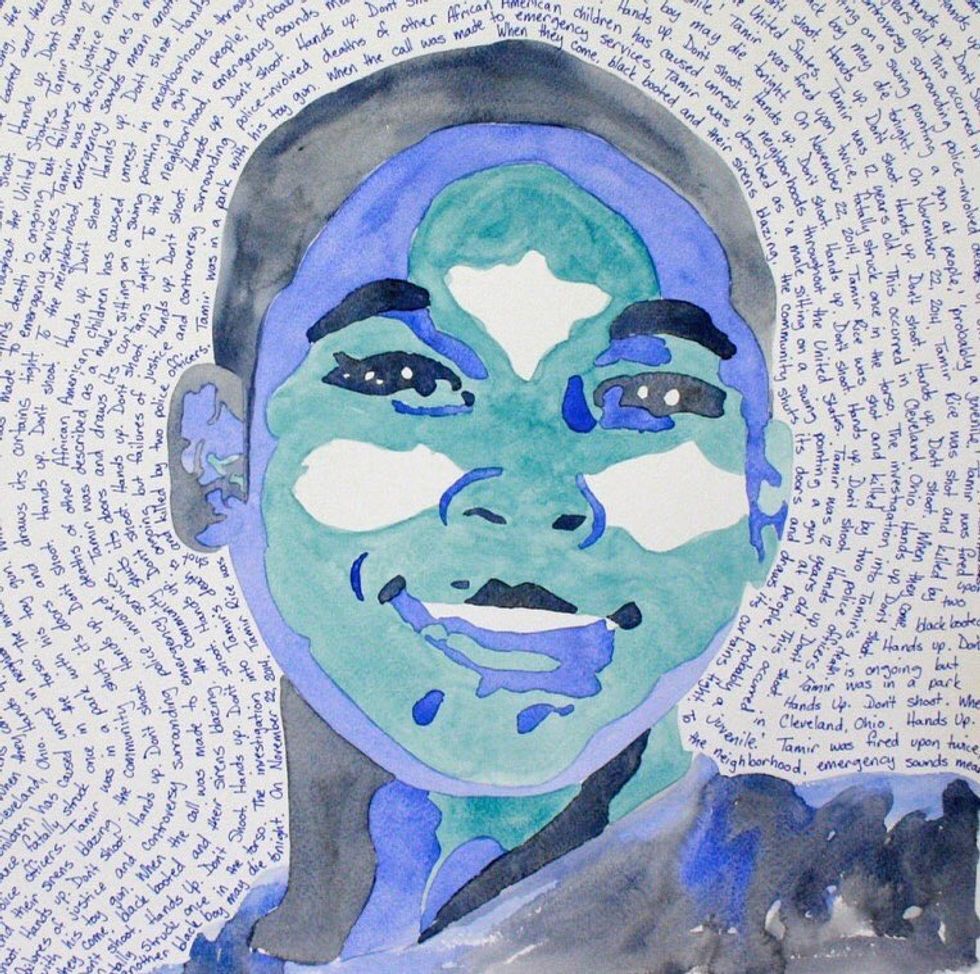 Even colored victims are vilified. Take, for instance, the case of Trayvon Martin's fatal shooting at the hands of George Zimmerman back in 2012. Fox News anchor Geraldo Rivera even asserted that the African-American Martin's clothing (yes, clothing!) may have incited the Caucasian Zimmerman to murder him in cold blood. In the media, colored victims transform into menacing adults, such as in the case of 12-year-old Tamir Rice, who was shot by police when he was playing with a toy gun and was consistently referred to as a "young man" by the media afterwards. Meanwhile, white mass shooters are portrayed as innocent children, even ones well into their 20's like James Holmes, who, although he shot dozens in a movie theater, was described as a "normal kid," a "smart kid." and a "typical American kid".
Nonwhite criminals and victims are not given the opportunity to be anything other than malicious and their backstories and intents remain unexplored, while white criminals are provided every excuse to use in the media. So, no, Nikolas Cruz isn't a lamentable case of when "the system" failed him. No, he isn't just a pitiful child who must be treated with understanding. No, he isn't an orphan just wanting to be understood.
This racism-based media narrative must be eliminated. White shooters are not always lone-wolf, mentally ill children who must be helped. Colored shooters are not always menacing terrorists whose races must be stopped. We must label all criminals, including white criminals, as what they truly are.
Nikolas Cruz is a domestic terrorist.