On Jan. 27, President Trump issued the infamous immigration/travel ban — aka, an executive order "protecting the nation from foreign terrorist entry into the United States." But do you know who this order really affects? Or why was it shot down as "unconstitutional" three times in a row? And do you think it'll stand in the Supreme Court now, considering who's in there...?
So who did the immigration/travel ban effect?
Well according to the White House executive order:
"In order to protect Americans, the United States must ensure that those admittedu to this country do not bear hostile attitudes toward it and its founding principles."
Sounds alright, except that wish coincides with this faulty mindset:
"We've had dozens and dozens of terrorism cases from these seven countries, case after case after case," said senior White House adviser Stephen Miller.
Which is simply not true, because the travel ban affects Syria, Iraq, Iran, Libya, Sudan, Yemen and Somalia — seven countries with refugees who CNN states have no record of having "killed anyone in terrorist attacks on American soil." Furthermore, those being banned include visitors, students, workers on temporary visas, new immigrants issued visas (green cards) based on employee or family status and most notably, refugees — indefinitely barring Syrian refugees in particular.
But why is it considered unconstitutional?
It's been speculated that the nations listed are being targeted because they are predominately Muslim. Yet some argued that not all Muslim countries were banned, especially not countries where a vast majority of Muslims live like Saudi Arabia despite it being the center of Islamic religious activity, so there must be a reasonable explanation for all this. And of course, there is.
The countries that made the cut are nations President Trump maintains business ties with, and as any clever businessman knows, it's best to stay on your connections' good side.
This temporary ban also suspended "entry of all refugees — those who want to resettle in the United States — for 120 days and barred refugees from Syria indefinitely." However, the ban was as more temporary than expected, because within a week after it was issued, federal Judge James Robart in Seattle temporarily lifted the ban nationwide.

A three-judge federal appeals panel met soon after on Feb. 9 and came to the unanimous decision to reject reinstatement of the travel ban. The 9th Circuit Court of Appeals upheld this decision, supported by technology giants like Apple, Google, Microsoft and 94 other companies by filing the legal brief opposing the ban due to its predicted harmful effect on American businesses. So far, the ban has been ruled unconstitutional.
Trump fired back right away, finally bringing this questionable executive order under the scrutiny of the Supreme Court.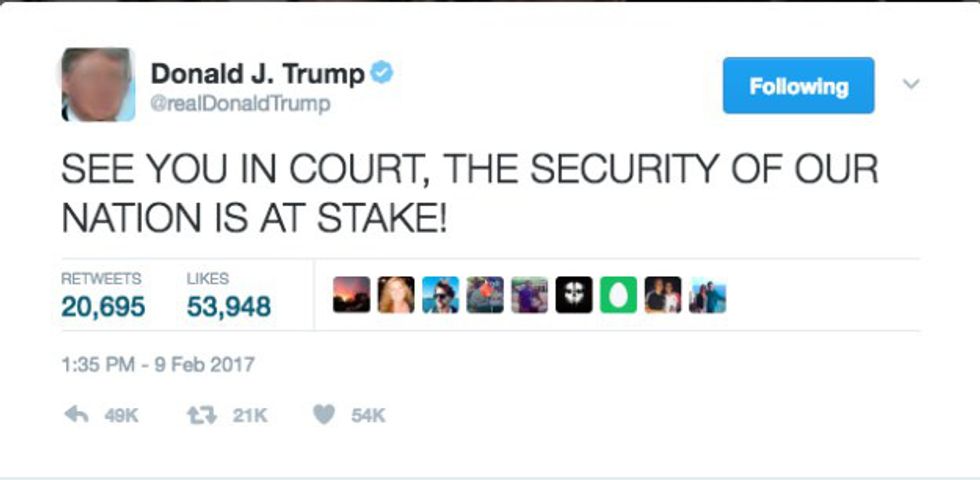 And if you think Trump sounds cocky for a president who just got shot down thrice yet still insists he's right, well, he's got a reason for that, too. On Jan. 31, the president nominated Judge Neil Gorsuch as a Supreme Court justice, a solid conservative who is expected to break the possible 4-4 tie regarding the case if his nomination is accepted. But when asked for his opinion regarding the ban during the second day of the Senate Judiciary Committee's confirmation hearing, Gorsuch said he felt it would be "grossly improper of a judge to do that," so nothing confirms if he'll vote in favor of Trump or not. Still, if there's one positive note to end this on, it's that at least this nominee has enough sense to handle himself with dignity and just enough humor to get by.