I am a writer as you may have guessed by now. I will have a BA in a few months. I just walked at commencement a few weeks ago. I knew I wanted to do more after this degree and I knew I wanted to get something for Creative Writing.
I researched and researched and researched schools for my next step. I need an online study to fit my schedule. There were so many factors to consider. I need to be able to work at a set pace. I need to be able to take care of my daughter while still going to class. There were so many factors to consider.
As other students begin their own research into this, they might be asking what the difference between an MA and an MFA is. I've learned that the Master of Arts and the Master of Fine Arts are two very different degrees. Here are the things you should know about them both, so you too can make an informed decision about your future.
An MA is typically 2 years of lecture (classroom) based learning, while the MFA is a more practical (learn by doing) type of study. Both still have you take classes, but the MA is more about what you learn in class and the MFA is more about honing and improving your skills as a writer.
The MA is more geared towards teaching, but you can still teach with an MFA because you still have the same experience as someone with an MA. A lot of places will say there is nowhere you can teach with an MFA, but some schools offer positions teaching MFA work to MFA students if you have an MFA. Also, there is the option of becoming a tutor with an MFA. If teaching is a goal for you, go with the MA and save yourself the struggle of trying to find places that will let you teach.
Earning an MA then a Ph.D. gives you more actual physical degrees! Yep, I said it. If the number of degrees you hold matters to you and you don't mind doing the tons of extra work for a Ph.D., the MA option might be for you. It gives you the ability to go into research as well as teach, but you also gain an extra degree under your name that you won't with the MFA.
An MFA is a terminal degree. That means you cannot go any higher once you have one, unlike the MA where you have the Ph.D. option. An MFA is also all experience based. That is what the FA is for, Fine Arts. You are learning the art of writing and storytelling rather than just taking classes about it English or Literature. There is real world experience involved in an MFA that you may not get with an MA.
Here's my breakdown of the two options: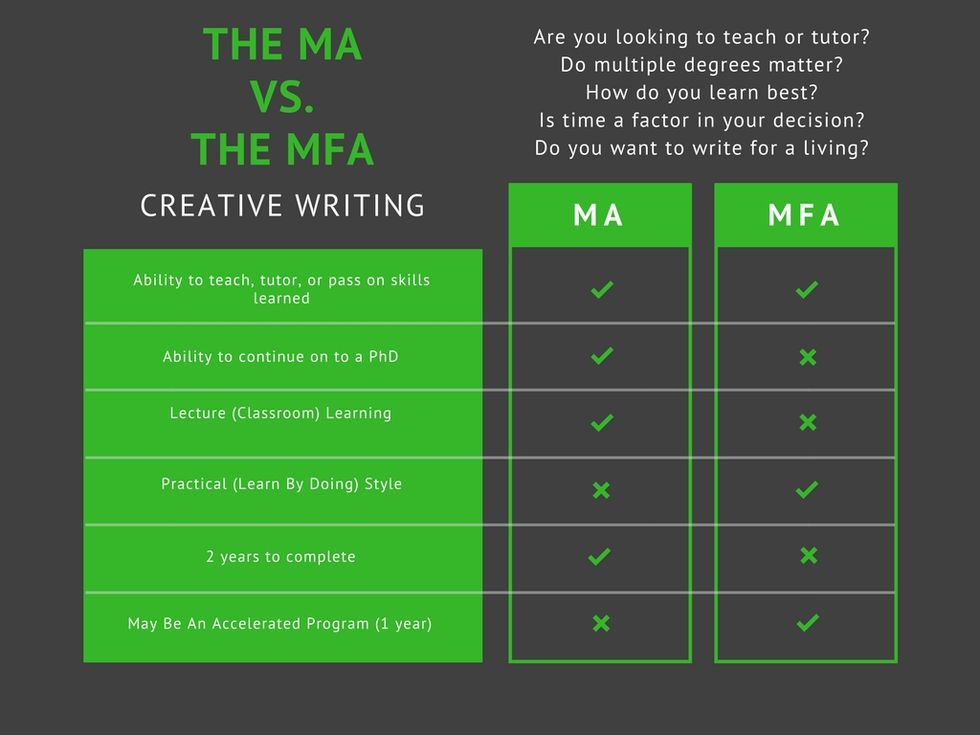 What may not be as obvious is that I choose the MFA option. I did this because it is the best fit for me. I have applied to Full Sail University and I am working on the admissions process now. Truthfully, I wanted an experience-based, learn by doing, interactive program.
Overall, I think what it comes down to is…
What you want out of that degree?