1. We see A LOT of crack.
Please make sure your swim trunks and your kids' swim trunks are secure!
2. Yes, we talk about you.
Sample conversations between me and my co-workers about guests have included: "Ew that man's abs look so weird" and "My head is going to bust if these prepubescent girls don't stop making their tik toks". Sorry, we get bored after staring about people for hours upon hours.
3. We're terrified at the thought of having to actually rescue someone.
We are trained to handle emergencies and save lives, but that doesn't mean we're completely comfortable with the idea. This is why we dedicate so much time to enforcing rules and why they're always blowing whistles and shouting, "No running!" — to keep an accident from occurring.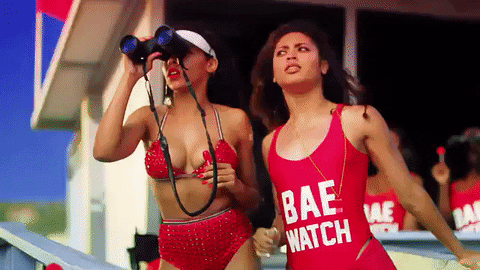 4. We get annoyed when we watch people cheat at pool games.
Cheating children are the most annoying thing we witness as a lifeguard. Honestly, when kids are clearly cheating at Marco Polo, it makes us want to intervene and kick the kid out of the pool.
5. We legally have to push your kids off the high-dive!
It's a legal and safety issue and pushing your kid off the high dive is way easier than carrying them down.