Dear ladies,
I want you to feel beautiful. I want you to feel strong.
I want you to skip your hour-long cardio session. Pick up a kettle bell, barbell, or free weight and start exercising in a way that will really benefit your body.
If you were like me, you focus mainly on burning calories, eating like a bunny, and having a close relationship with your gym's elliptical or treadmill. I believed that weights make you look manly and that protein shakes were for body builders. I listened to what my peers said about my body, and I made sure I ran at least three miles a day. I found myself drinking health shakes that made my stomach turn. It's funny how cleanses claim your skin glows because my body felt more tired and worn down than ever. This lifestyle tore me down inch by inch until one day I couldn't do it any longer. I wanted to feel good. I mean really good about my body, about my health, and overall about my own definition of beautiful and fit.
So ladies, I want you to know that it is OK to leave the women's section of the gym. I've never experienced more satisfaction than when I decided to skip my daily run and pick up a weight and start a whole new fitness journey. This was my revelation. I characterize beauty an entirely different way now. There is no greater feeling than deadlifting with the big boys. I cannot even comprehend how I ever lived a life without back squats or power cleans. I wake up sore, I'm tatted with bruises, and my hands are rough and marked by calluses. The gym is a place to push yourself, to struggle, and to eventually achieve. I leave with chalk streaks on my legs, a tomato red face, and a body that's drenched in sweat. There's this feeling of satisfaction that overwhelms me when I get in my car and head home. Over the past four years, my body has changed drastically, but it's something that I'm proud of because this is the body that resulted from my dedication and fortitude.
My eating habits changed as well. I'm no longer afraid of calories. I know that the right kind of carbohydrates fuel my workouts and carry me throughout my busy day. I eat more protein in one day than I used to in a week. It's funny how things can turn around so quickly. Years prior, I would have never imagined stepping foot in a GNC, let alone buy supplements there. Now, there's four protein shaker bottles sitting on my counter, and my gym bag has two different flavors of whey protein ready to be scooped, mixed, and drank after my morning workout. I've invested time to learn about the foods I cook, the do's and do not's of eating, and the best ways to fuel my body.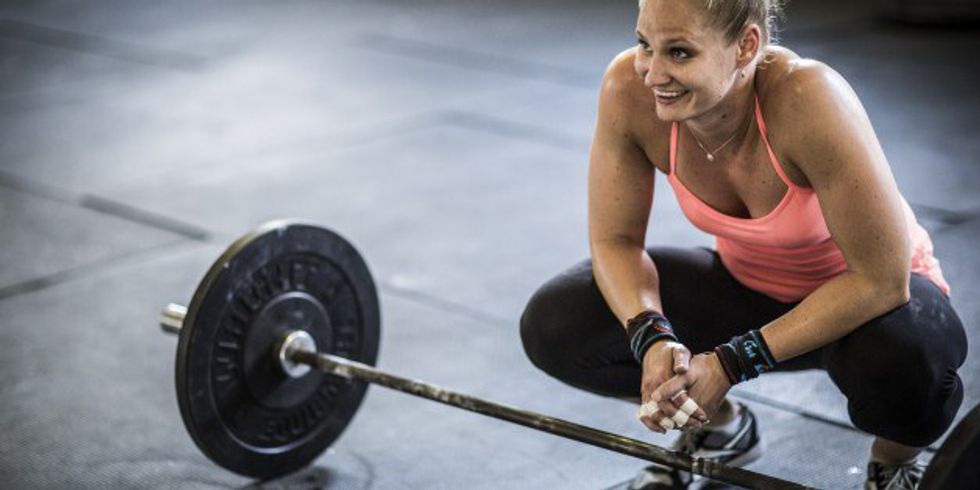 The message here is simple, and I said it at the very beginning.
I want you to feel beautiful. I want you to feel strong.
Aerobic exercise like an hour long treadmill session tends to burn both fat and muscle. Strength training is actually the best way to lose all that stored fat you want gone. The amount of muscle you have actually determines your resting metabolic rate. So, you definitely do not want to be burning those muscles off. You want to be gaining them. This way your body will burn more stored fat when it's at rest then ever before!
It's funny how many people will say that weight lifting has changed their life outside of the gym, and I can attest to that. The determination that empowers me at the gym engulfs my entire life now, and I've become mentally stronger in all aspects. I'm obsessed. I'm infatuated with weight lifting. Why? I've never been healthier. I've never been happier. I wake up in the morning and get excited about setting a new personal record or PR. I want you to know that there is no reason for you not to push yourself outside of your comfort zone. You never know how it will make you feel in the end if you never try. The day I chose to pick up a weight was the day I stepped into a world I had never known before. Skip the long cardio because you won't regret it. Drink protein shakes because it's a misconception that you'll sprout muscles like a man. Challenge yourself at the gym because you can't say you hate it until you've tried.
Become a new you because it's possible.