Sunday morning I woke up, put my robe on, and stepped onto my porch. The air was chilly, but I needed my usual morning dose of nicotine (I truly wish I could quit). I took my phone out of my pocket to see what I had missed on social media during the time I was sleeping. For those of you that know me, you know that sports is an absolute passion of mine. I eat, breathe, and sleep sports. It honestly doesn't matter which one it is (I'm more partial to the Mets, New York Football Giants, and the Rangers).
Suddenly, my phone lights up with an ESPN alert. It was a breaking news story:
Jose Fernandez, ace for the Miami Marlins, 24, was killed in a boating accident off the coast of Florida overnight. (Toxicology reports are pending, but are not suspected.)
Immediately, my heart sank. This guy was an absolute monster. An absolute beast. The type of player children in Little Leagues around the world aspire to be. There was no denying his greatness: he led the league in Wins Above Replacement (WAR), strikeouts per game, and was 8th in the league in ERA. During the short span of his career, he was putting up Cooperstown like numbers. His strikeouts at home were the highest percentage of anyone since 1935. The only one to do this better: Sandy Koufax. I dreaded when the Mets had to face him. It was almost always a guaranteed loss.
This young man, whose life was tragically cut short, transcended baseball. He was constantly at children's hospitals in the Miami area. He always reaching out to the Cuban population of Miami. He himself was a Cuban defector. He had tried to leave the country four times. He had been shot at and imprisoned during some of those attempts. During one attempt, a few passengers on the boat he was traveling on went overboard. Without thinking, Jose jumped in the water. After he rescued a woman, it turned out that this woman was his mother. Such a selfless act by a selfless person. He was a Cuban son, the pride and joy for all those who wished to come to America to live a better life, free of the oppression by the communist Government and corrupt leadership of Cuba. He was so proud to be an American that he became a United States Citizen in 2015. In the midst of all this, just days previously he had announced that he was about to become a father.
His teammates and manager had nothing but good things to say. Same for everyone around the sport. This young man was so full of life and energy. He always had a smile on his face, always tried to keep the peace. He always joked, always tried to put people in a good mood. He used to ride his bike a lot, but he had heard that people were getting run over by cars in the streets of Miami at night. He wasn't willing to have that happen to him because baseball was his life. Jose decided to take up something much more calm as a recreational activity: fishing. He was the type of person who transcends sports, yet also very human.
After releasing a statement Sunday morning, the Marlins also announced that Sunday's game against the Atlanta braves would be cancelled. Tributes from players, sports icons, writers, and organizations filled up twitter: condolences for a fallen comrade. Most of the teams in Major League Baseball as well as several NFL teams had moments of silence for Jose. At the Cardinals game, their shortstop burst into tears. He and Fernandez had been childhood friends. The team granted him leave, in the midst of a wildcard race, to attend the funeral services. The Mets even did this: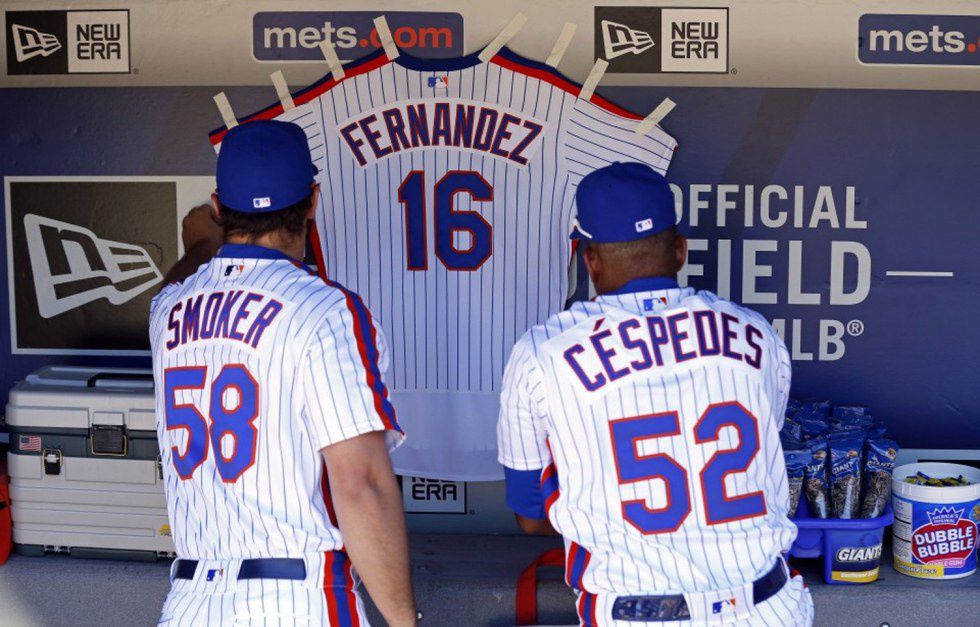 (Yoenis Cespedes is Cuban as well. The Dodgers also participated due to the fact that their outfielder Yasiel Puig is Cuban.)
But as all things in life are concerned, the show must go on. Originally, Fernandez had been scheduled to pitch on Sunday. Due to a players return to the rotation from the disabled list, they pushed his start to Monday. I'm sure many are thinking of the possibility that he may not have been on that boat were he starting Sunday. But we can't think that way. On Monday, the Marlins were hosting The New York Mets.
This was one of the most difficult things I think I have ever watched in my life. The announcer started a moment of silence, tears streaming down the Marlin's faces as well as some of the Mets players. A color guard came on the field and played a resounding rendition of "Take Me Out to the Ballgame" with trumpets. Not a dry eye in the house. Even the Mets broadcasters couldn't contain their emotion. Neither could I. I just kept saying to myself: he was just a baby, he was just a baby. 24 years old. No one should have to die that young. After this, a children's choir came onto the field and sang our National Anthem, something that I'm sure Jose Fernandez was extremely proud of. The Mets also formed a line on the field to shake hands and offer condolences.
The entire team was wearing Fernandez number. It had been announced earlier that day that no Marlin would ever wear it again.
Then suddenly, magic happened. Batting leadoff for the Miami Marlins was Dee Gordon. He was never particularly a power hitter, but he was as fast as anything. He's sometimes called Flash Gordon. He approached the batter's box as a right handed batter, a tribute to Jose. After the first pitch, he switched to the other side of the plate. The rest, as they say, is history.
The emotion could hardly be contained. He couldn't even make it around the bases without sobbing. As he came to the dugout, his teammates embraced him. Many of them pointed to the sky. There was only one person who had a hand in something like that happening. If I didn't believe in a higher power, I do now.
At the end of the game, it was more of the same, but it didn't hurt any less. The Marlins won the game 7-3. The Mets players stayed in the dugout. When it ended, the Marlins came to the field and surrounded the pitchers mound. Fernandez was given the game ball. They participated in a group prayer, then individual ones. Giancarlo Stanton turned his jersey backwards so all could see Fernandez's name. Dee Gordon had a special RIP shirt made for his best friend. After a few minutes or so, they took their caps and placed them on the mound. There is no script for this, and these young men handled tragedy the best way they knew how: by coping together.
What a tremendous loss not only to the baseball world, but to the world as whole. In my heart, he will never be forgotten. R.I.P. Jose Fernandez.