D.K. Metcalf? The Ole Miss wide receiver and NFL combine hero that went viral on Twitter for looking enormous in a post-workout picture?
Rashan Gary? The Michigan defensive end who runs a 4.58 40-yard dash at 277 pounds and was the previous No. 1 overall college recruit in 2016?
Dwayne Haskins? The Ohio State Rose Bowl-MVP who has more passing yards in a single season than any other Big 10 quarterback ever?
The correct answer in my humble, yet accurate, opinion is none of the above. The Jacksonville Jaguars should barter their pick with teams behind them. They should look to trade down, even if that means trading out of the first round entirely, and get an extra second-round pick. Let me first address why then I will tell you how.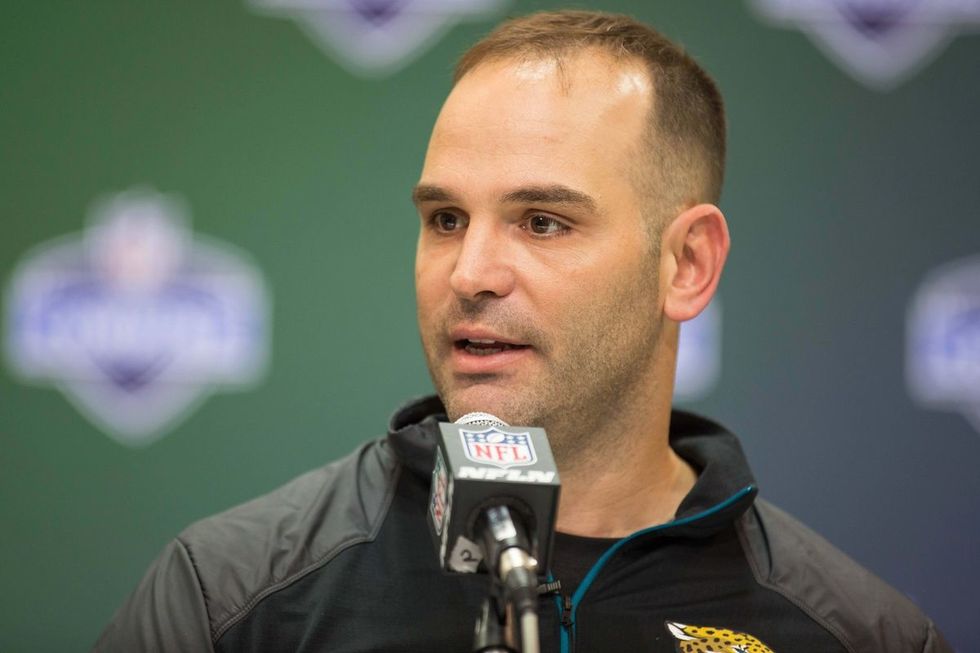 Jaguars general manager Dave Caldwell speaks to media at 2019 NFL combine. The 45-year-old from Buffalo, New York, worked for the Carolina Panthers, Indianapolis Colts and Atlanta Falcons before going to Jacksonville in 2013.Trevor Ruszkowski-USA Today Sports
Why: The Jags Need A Bunch Of B-B+ Players, Not One A+ Player.

In the past few years, general manager Dave Caldwell has rarely drafted solid NFL starters that are not necessarily stars but will contribute well to your team. He has either drafted studs or total flops.
When you have drafted names like Jalen Ramsey, Telvin Smith and Yannick Ngakoue, and then also drafted names like Dante Fowler, Luke Joekel and Blake Bortles, your roster naturally ends up in an awkward spot. Jacksonville looks into the 2020 campaign needing to fill serious holes in this roster, primarily on offense. Tight end and offensive line are the main two, as well as a wide receiver.
This means that the Jaguars need to get as many offensive players as possible to add offensive depth to a team that currently has none.
How: Leverage The Defensive Talent In This Draft.

Unfortunately for the Jaguars, this draft is historically good at all the positions that they don't need. Two of the deepest positions in this draft are edge rusher and corner, literally Jacksonville's two best positions. The edge rusher/outside linebacker class is hilariously good. More than half of the top 10 could potentially be that position. Teams behind the Jags want those guys. Edge rushers like Nick Bosa from Ohio State and Josh Allen from Kentucky will be easily gone by pick seven, but perhaps the tier just below them like Devin White from LSU, Montez Sweat from Mississippi State, Rashan Gary from Michigan or his teammate Devin Bush could peak the interest of team's who don't have Jacksonville's defensive line and linebacker depth.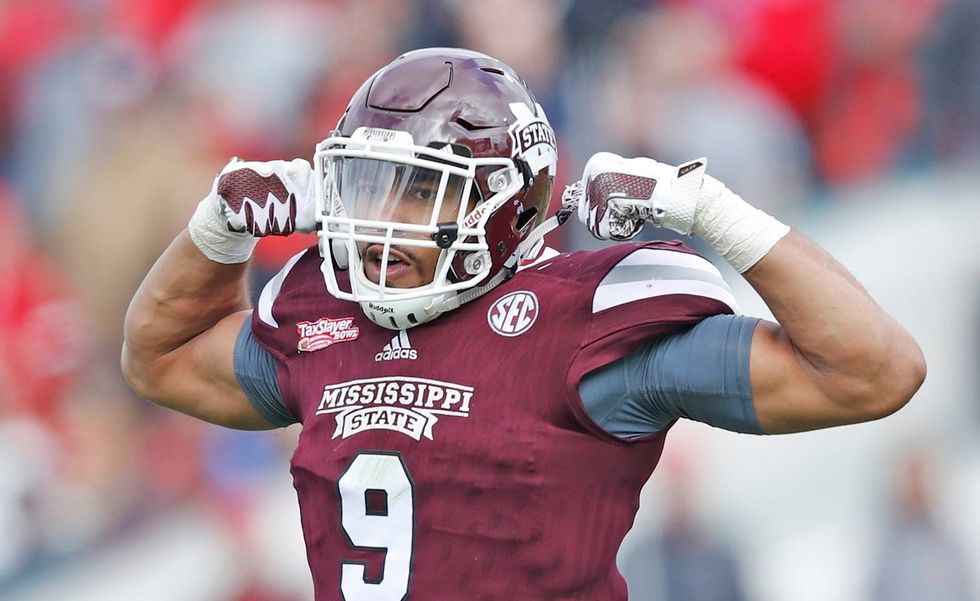 Mississippi State edge rusher Montez Sweat flexes during the TaxSlayer Gator Bowl in Jacksonville, Florida, in 2017. Sweat is the fourth-ranked player at his position in the 2019 NFL Draft, according to Bucky Brooks of NFL.com.Joe Robbins/Getty Images
The Green Bay Packers and Miami Dolphins pick at No. 12 and No. 13, respectively. Both of those teams lack front-seven depth. Perhaps one of those guys have caught Green Bay or Miami's eye on tape and those teams are willing to trade up. The Carolina Panthers pick at No. 16 and need a corner, they could look to move up to go get Byron Murphy from Washington or Deandre Baker from Georgia. The Pittsburgh Steelers need both secondary and defensive line help badly. It is almost guaranteed that they will pick that side of the ball and perhaps they will want to move up and get somebody with a higher grade than who would fall to them at pick No. 20.

If Nobody Trades.

There is the obvious, and the very legitimate possibility, that nobody trades with Jacksonville. If that happens, I like two guys in particular to just go ahead and snag at No. 7.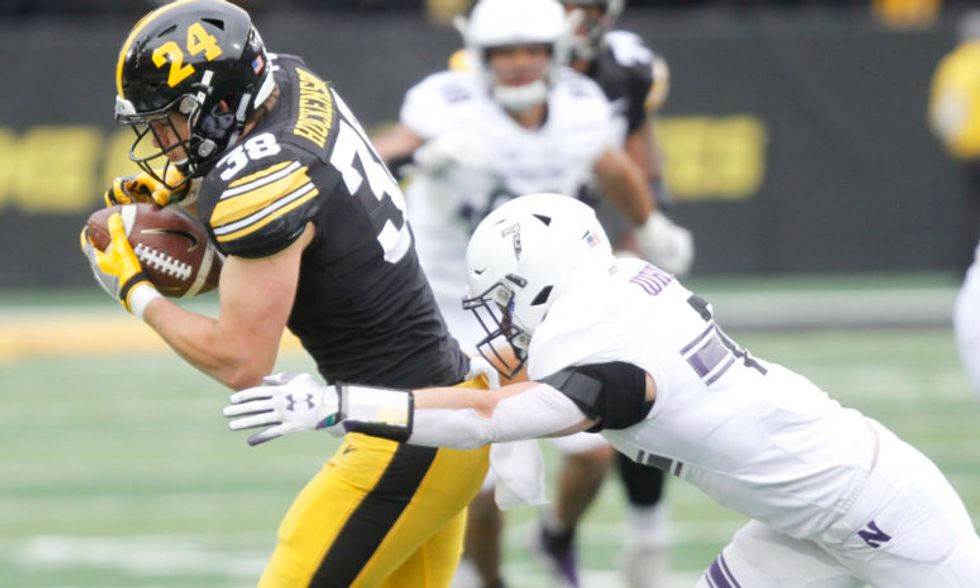 TJ Hockenson catches a pass against Northwestern. Hockenson is Bucky Brooks' No. 1 ranked tight end. The sophomore was awarded the John Mackey award as the nation's most outstanding tight end. Matthew Holst. Getty Images
If Jawaan Taylor, the offensive tackle from Florida is available, I like him to the Jags at pick No. 7. The 6'5, 328-pound prospect out of Cocoa, Florida, could add depth to an offensive line that badly needs it. Taylor could back up starter Cam Robinson at left tackle, who is extremely injury prone, or start at right tackle over Will Richardson, who was hurt most of his rookie season in Duval and has yet to show much of anything.

The next best option is Iowa tight end TJ Hockenson. Hockenson was sensational in his time with the Hawkeyes. He is the first sophomore to ever win the John Mackey Award, given annually to the nation's top tight end. He had 49 catches for 760 yards and six touchdowns in the 2018 season. Jags' new quarterback Nick Foles had a history of throwing to tight ends during his time with the Philadelphia Eagles. This roster currently has nothing even sniffing elite pass-catching abilities from a tight end.
So the ideal scenario is a trade down for extra picks. If not, look for one of these two guys to be the seventh player to walk across the stage in Nashville.