I have never fully understood why girls looked at themselves in the mirror and picked out everything wrong with how they look; it has always confused me. I understand how people feel uncomfortable with their appearance, I do a lot, but I have never felt insecure like this. I'll admit that I am not the healthiest person alive, but I try my best to take good care of myself; I'm active and I eat a fairly balanced diet. That's why I was shocked this past week when I found out my BMI was 27. If you aren't familiar with what the BMI (Body Mass Index) is, it's a way to measure your height-to-weight ratio. Underweight is calculated as less than 18.5, normal weight is 18.5–24.9, overweight is 25–29.9, and obesity is 30 or greater. So in my case, I am slightly overweight. I know people always say "weight is just a number," but it honestly makes me feel very insecure to be told I am overweight, especially when I feel comfortable in my body.
So, I read a little further into the BMI, and the thing is that it doesn't account for where exactly the fat on your body is, or if it is fat or muscle. Honestly, I am a very broadly built woman. I have wide shoulders, hips, and thighs. That's just the way I am built physically, and I have learned to accept it. About a month ago, I was in Forever 21 trying to find some shorts to buy, and a size ten wouldn't even fit over my thighs. I know now for a fact that Forever 21 makes their clothes smaller than they should be. I went and asked if they had any more sizes and the young woman very loudly and rudely said, "Sorry, not in the 'normal' sizes, but you could try the 'plus-size' section." After that I said, "Okay, bye," And walked right out the door. On top of having an overweight BMI, there are so many images about what it means to be "plus-sized" or "obese" and what guys are and aren't attracted to. The other day I saw a whole conversation on Facebook about guys who could "never go near a girl that weighed close to 200 pounds." My jaw dropped at this, because it's not fair to say that, especially when someone is healthy and feels comfortable in their body. People need to understand that as long as you are in a good health condition and comfortable in your own skin, you shouldn't be ashamed of yourself.
Recently, a picture of a so-called "plus-sized" model has been resurfacing on social media. Myla Dalbesio was hailed as Calvin Klein's first "plus-sized" model in 2014 and the pictures of her have recently sparked a debate because of how inaccurate it is. Dalbesio is a size 10, which should in no way be considered plus-sized. She is a beautiful, normal-sized woman, I honestly don't care what the "fashion industry standards" are, that is extremely outrageous and not acceptable.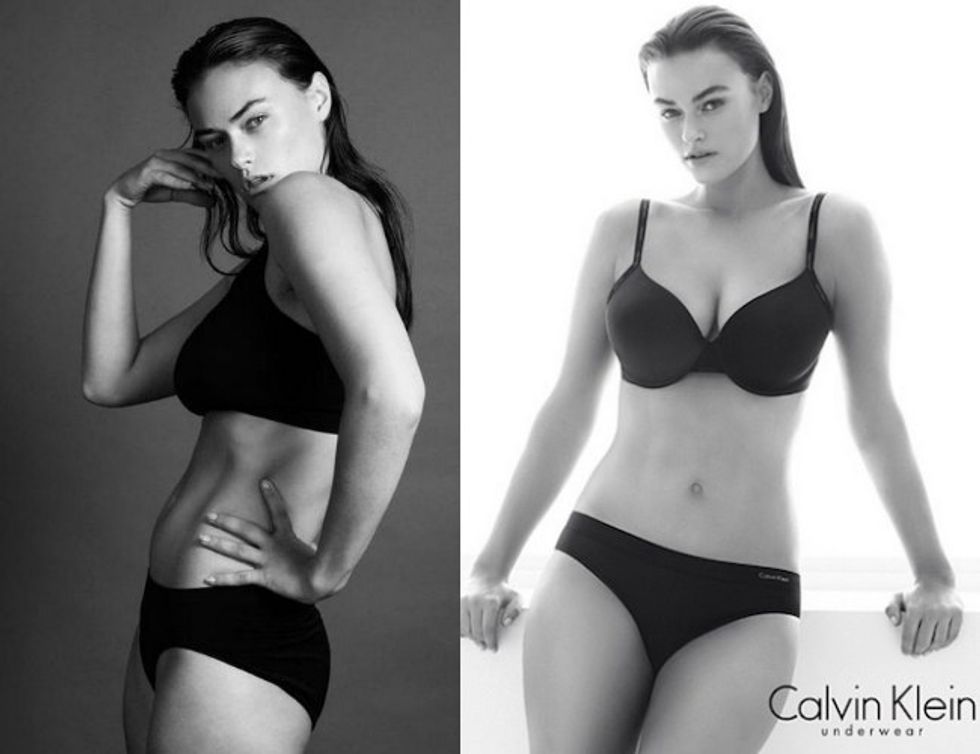 This, all of this, is why I have just begun to feel insecure about my body. I see women with completely different body structures than me and think, "That's how I have to be if I want to be noticed or attracted to." That shouldn't be the case; girls and women shouldn't have to rely on a size or a number on a chart to determine whether they are "normal" or "attractive" enough to meet everyone else's standards. The only thing that should matter is you feeling comfortable in your own skin, and as long as you are staying active and healthy, there shouldn't be an issue with being you.
Stay strong and beautiful, don't let anyone or anything bring you down.