I'm a coffee addict, a tea enthusiast, and an all-around fan of anything containing caffeine. I'm always trying new cold brews or interesting tea blends, but masala chai has always been a reliable favorite of mine. When I found these vanilla caramel chai bags on a grocery trip, I was obviously excited – the flavor sounds like something out of a cozy café.
Masala chai is spiced with cinnamon, ginger, cardamon, cloves, and black peppercorn; its flavor is bold and inviting. You're probably familiar with chai lattes, which take that spice and transform it into a rich comfort drink. Homemade chai lattes are wonderful, but your Starbucks order is high in sugar and saturated fat – your tastebuds might thank you, but your cardiovascular system won't. Here's where your new favorite tea comes in.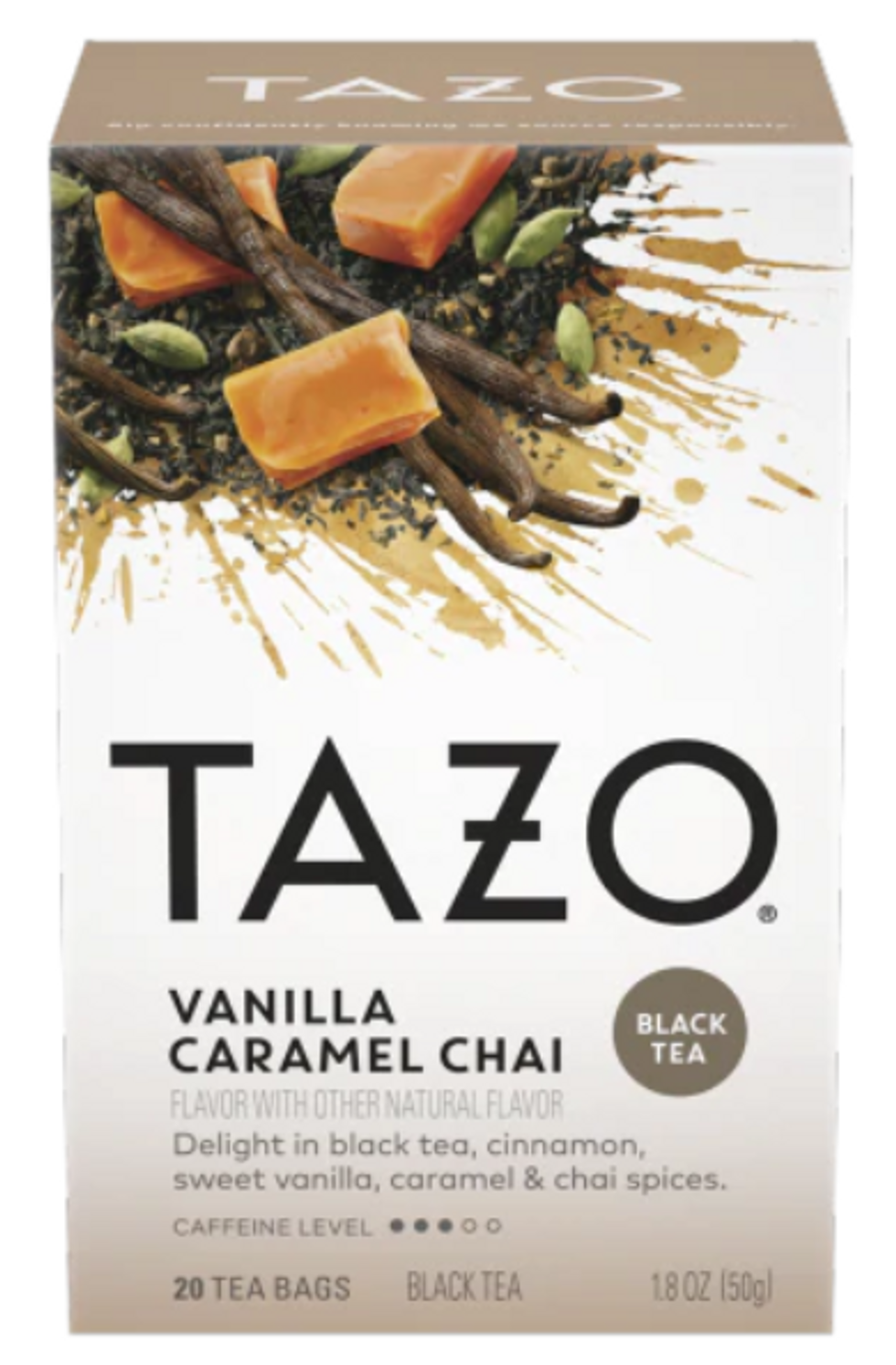 Tazo
Tazo's Vanilla Caramel Chai tastes like heaven. If a Pumpkin Spice Latte and a Smoked Butterscotch Latte had a baby, it would be this tea. The sweet notes balance the spice perfectly, so this cup is nearly impossible to put down. The tea bag's scent alone is soothing, but once you take a sip, you'll feel the warmth, sweetness, and spice that makes this blend so unique. I like to add a little cinnamon and locally-harvested honey to my cup to give it an extra kick of the flavors I enjoy most.
The taste isn't even the best part about this tea: it's surprisingly healthy, and a few simple add-ins make it even better!
Of course, steeped tea is much healthier than a sugared-up mixed tea or any crafted drink at Starbucks. It's just leaf water, as opposed to the typical syrupy frappuccino or refresher. Masala chai, though, is especially healthy: its ingredients promote heart and blood function, and consuming the tea is associated with weight loss. The key is the chai's cinnamon, which reduces cholesterol, lowers blood pressure, and reduces fasting glucose levels (which, in turn, helps you burn body fat).
Add-ins can make this healthy comfort tea even healthier and more comforting, too. I add extra cinnamon – whose benefits are huge – and raw honey sold from a local farm. Most store-bought honey is pasteurized, which destroys beneficial enzymes and antioxidants. It's also usually sugared-up and the healthy pollen is filtered out. Raw honey, on the other hand, is full of 30+ types of antioxidant polyphenols; plus, the pollen alone has more than 250 kinds of micronutrients.
If you're looking for healthy swaps to make in your diet, or you simply need a little more comfort in your morning routine, vanilla caramel chai is calling your name. I don't know what I love more: the health benefits or the taste!