When you choose a university, you consider a lot of things: cost, distance from home, majors offered, and so on. You never really think about if that university might care about you as a person, not just a source of funding.
On September 1, 2017, a woman who will remain anonymous, was raped in her own Blair-Shannon residence hall room.
After the horrifying assault took place, she spoke to her suitemates and then went to her sorority house and slept in a friend's bed. She was later woken up and taken to the hospital.
As if the event itself wasn't tragic enough, the events that followed compounded the pain.
She did everything she was supposed to. She filed a complaint with the Title IX department on campus, the department that "oversees all issues having to do with sexualized violence, sexual assault, rape, sexual misconduct, dating and domestic violence, sexual harassment, sex discrimination, stalking, and pregnancy rights," according to Missouri State's website. She had a meeting set up with police detectives and met with one later that week to tell her story.
But the results? For both, nothing. Nothing happened. Although there was proof that the rape happened, she says, there was "no proof it wasn't consensual."
Because apparently filing a report that she was raped in her own residence hall bedroom wasn't a clear indicator that she didn't consent to the sex.
"But I'm not sure how I, or anyone else, is supposed to prove consent in a situation like this," she said. "Do they think I planned to lose my virginity like that? It makes absolutely no sense and it's just absurd."
The #TimesUp movement on Twitter has been making waves in outing sexual predators and removing the stigma that gets attached to women who are victims of these horrible attacks. However, it still seems that we have a lot of work to do, even in the place we call home.
Since nothing came of the reports, the only reason anyone has any knowledge of this incident is that the victim's friend called out Missouri State University on Twitter, accusing them of doing nothing.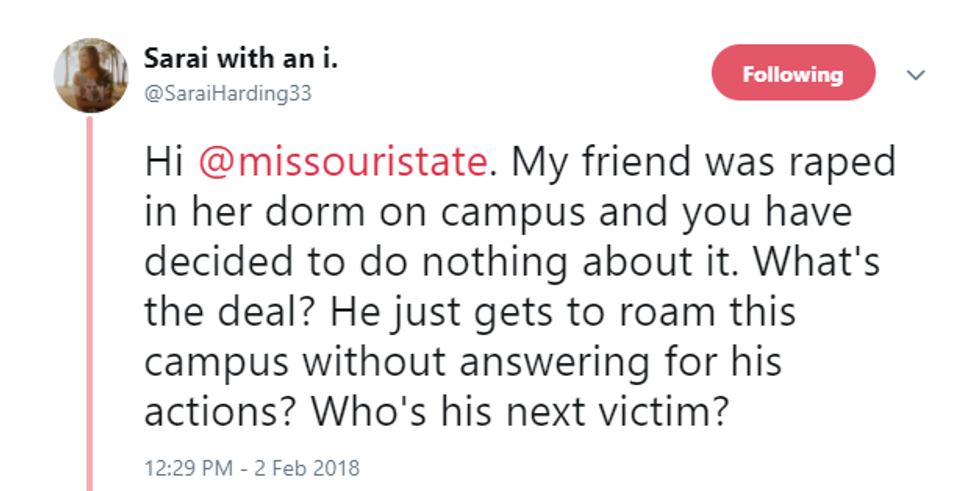 Missouri State's Twitter account replied to many tweets in response, saying things such as "Title IX investigates every report of sexual assault, this one included. The university does not tolerate sexual assault," and "Title IX conducted a thorough investigation, as it does with every sexual assault case, and has offered support for the student."
But for the victim, she doesn't feel like that "offered support" was anything at all.
"I just wish I could be able to speak into the lives of other young women going through similar things and tell them that they should speak up because it gets better, but speaking up did nothing for me. I just want someone to believe us when we say we've been hurt."
Time is up. Something needs to be done.