You might know someone who never drinks, or you might be that someone. There are two main reasons why I don't drink. Aside from hating the taste of alcohol in general, the main reason I don't drink is because of The 'Asian Flush Syndrome' which is also known as the 'Asian Glow'. Yes, it is a real thing and I'm here to educate you on what it is and what happens to people like me when we drink. So for starters what is 'The Asian Flush Syndrome'?
Well here's a quick science lesson for you! For those of you who don't know what the Asian Flush Syndrome is, let me elaborate. Basically, this is a reaction to drinking alcohol because people with this don't metabolize alcohol the same way you or your friends would. What does this mean exactly? Well I'm no scientist or doctor, but google basically gave me my degree in this subject. When I started to wonder why I couldn't drink like my friends, could I turned to google, and here is what I've gathered:
There are two enzymes responsible for metabolizing alcohol: Alcohol dehydrogenas and acetaldehyde dehydrogenase (ALDH2). The first enzyme; Alcohol dehydrogenas turns the alcohol into acetaldehyde which is a toxic substance. Then the second enzyme; Acetaldehyde dehydrogenase (ALDH2) processes the acetaldehyde to turn it from a toxic substance into a harmless substance called acetate. BUT for people with the 'Asian Flush Syndrome' they break down alcohol 100 times faster than a normal person, and they lack the second enzyme acetaldehyde dehydrogenase(ALDH2) which is supposed to turn the acetaldehyde into acetate. This then causes blood vessels to dilate and our faces to turn red because of the build-up of acetaldehyde in our bodies. So instead of breaking down alcohol to be harmless, it leaves all the toxins in our bodies longer causing unpleasant side effects. If you're still confused don't worry, I was too when I first started reading into this. So here's a chart to hopefully make it easier to understand: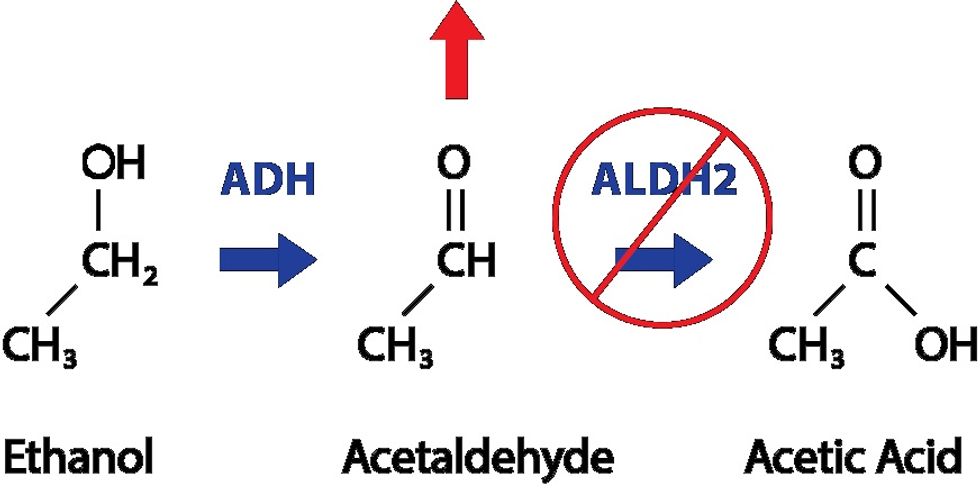 While yes, this mostly affects Japanese, Chinese, and Korean people, it can affect others as well. Now when it comes to the symptoms of the 'Asian Flush Syndrome' everyone is different. Some Asian's just get the red flushing, others get the whole nine yards, plus more. Me personally? Well I'm not that lucky, unfortunately, because my symptoms are pretty bad. I first get super lightheaded and dizzy, which then leads me to feel nauseous and my face to turn tomato red. This is then followed by a racing heartbeat; my heart beats so hard and fast I can almost physically feel it jumping out of my chest. And if that's not bad enough, my skin gets so hot you could scramble an egg on my cheek. This all happens after a drink or two, and if I drink hard liquor, I'm basically a red tomato hanging over the toilet all night. So as most of you can see, it's more fun for me to be sober than to drink. Not because I don't want too, but because my body doesn't want too.
So for anyone wondering why I don't drink alcohol, allow me to ask you this: Would you still want to drink if you were me? If your answer is yes, allow me to inform you of one more thing. People with the Asian Flush Syndrome who continue to choose to drink frequently and heavily in addition to ignoring the signs their body is sending are at a higher risk for esophageal cancer. Anyone who drinks can get esophageal cancer, but because people like me are missing the ALDH2 enzyme, the acetaldehyde stays in our bodies longer, which increases our risk. People with this who drink two beers a day are ten-times more at risk than a normal person who can metabolize alcohol correctly. So not only does it make me feel terrible and taste terrible, but it increases my chances of cancer if I do decide to drink...so would you STILL want to drink if you were me?
There are benefits to not drinking! I know, shocking right? Being the friend that doesn't drink really isn't as terrible as people make it out to be. It's actually kind of awesome, but it's all in the way you look at it. First off, I'm not missing out on anything because I never really knew what it was like to be happily drunk in the first place. Drinking just made me sick and miserable, so for starters, it's more fun to not be sick rather than to drink.
Secondly, I don't know about others, but I love watching my friends get drunk. They're so much more bubbly and carefree when they drink, and I'm always showered in hugs and love. And you'll never believe some of the confessions I've been told. It's quite funny, and in general it's just fun to watch your friends get drunk! They might not remember what they said the next morning, but I sure will. You'd be surprised how many "What happened last night?" or "What did I say last night?" texts I receive the following mornings. So it's kind of fun to be the one to fill in those missing blanks and they make some great memories.
Thirdly, people mind this one but I don't. I'm usually 90% of the time always the driver. I like it though, because I never have to worry about anyone else drinking and driving me home. While people may drink a couple of beers and SEEM like they're ok to drive, I KNOW for a fact I'm a better option to drive because I don't drink at all. So not only do my friends trust me, but we all get home safe and I'd much rather spend my money on gas to get us home safe than to waste it on alcohol that's going to make me sick. Some of you are probably wondering: Do my friends ever abuse the fact that I'm usually the designated driver? No. Because if they did, they're not really my friends. No matter how many times I offer to drive, they always offer me gas money and say thank you. So it's nice we never have to worry about things such as finding a ride home, how much it's going to cost, or if we'll get home safely. I'll take being the designated driver over drinking and driving any day.
So in the end, because of the Asian Flush Syndrome, not drinking benefits me more than drinking. I'm glad I realized this when I was younger because for while, I was wondering why I would never feel drunk or happy when drinking, but instead always felt miserable and nauseous. I'm also glad when I have the opportunity to educate someone else on the Asian Flush because believe or not, a lot of people don't know what it is. Some have never heard of it previously, or some have basic knowledge that alcohol just makes our faces red, but they don't actually know why. So instead of flushing my face, I'll just flush alcohol out of the equation.