It is no secret that professional athletes are some of the biggest egos out there. Confidence is a key to success in sports, especially at the highest levels of competition, so it is no surprise that arrogance is a label distributed freely among those who fail to be humble with the press. While it is a rarity to find truly modest athletes, there are some who go above and beyond on the ego-meter, demonstrating appalling levels of arrogance that leave some disgusted, and others humored.
1. Kobe Bryant
Surely one of the greatest basketball players of all time, Kobe Bryant has never been known for his humility. Bryant has won five championships in his 18 years in the league, and he loves to flaunt this number. It seems like every month Bryant tweets something referencing his impressive total. Bryant defined the word clutch, hitting game-winning shots left and right in his prime. Now that he is far past his prime, Bryant does his best to make sure that his greatness is not forgotten with new stars like LeBron James and Kevin Durant stealing the spotlight.
But unlike some other athletes, Kobe's arrogance is more evident in his actions than his words. Most fans rightly label Kobe the biggest ball-hog of all time. In the fourth quarter, Kobe passing the ball is a rarity. Bryant needs everything to revolve around him on the court and isn't afraid to put teammates in their place if they make a mistake because they didn't pass to him. The internet has feasted on Bryant's selfishness with a plethora of memes poking fun at Kobe's inability to comprehend the concept of teamwork.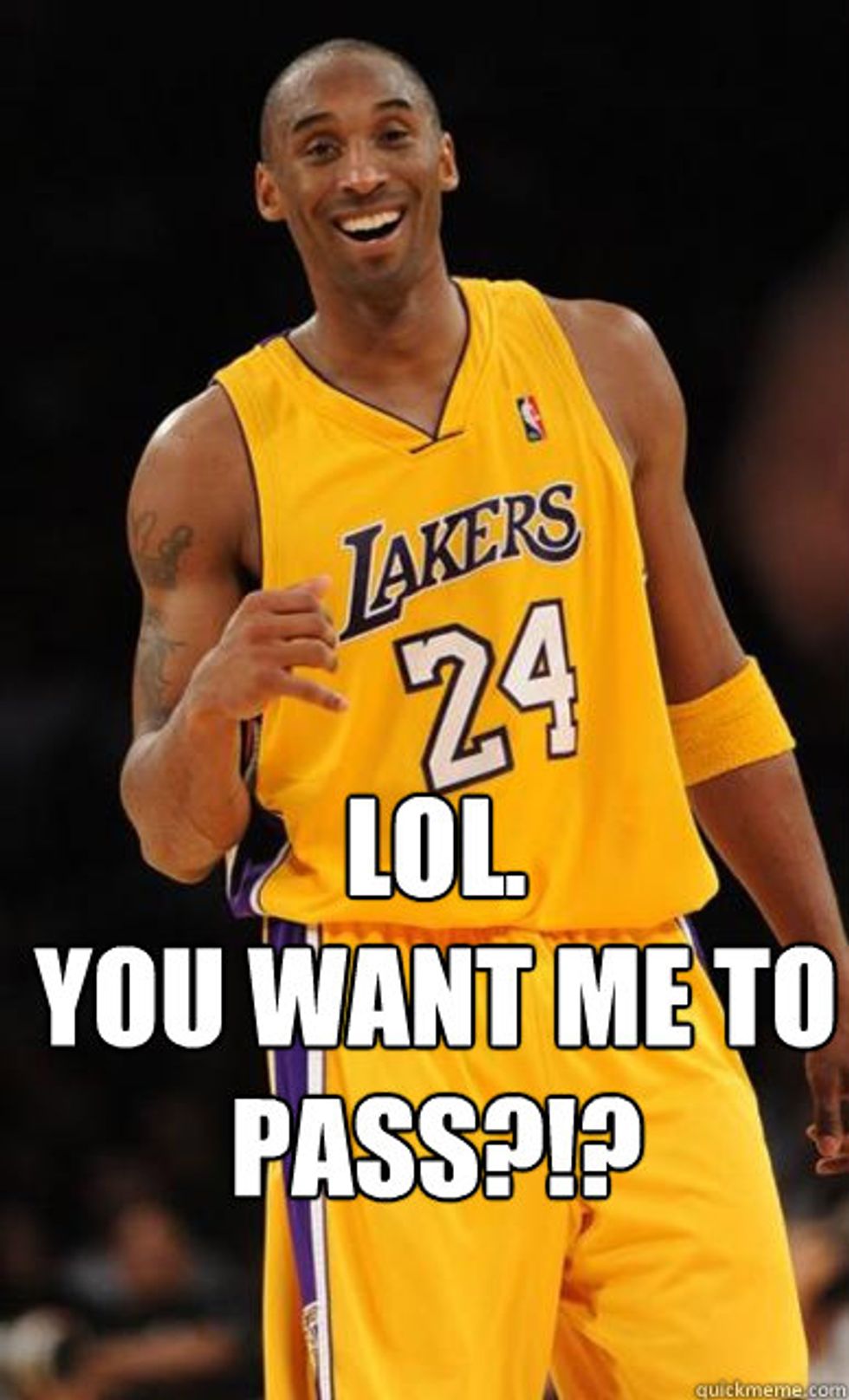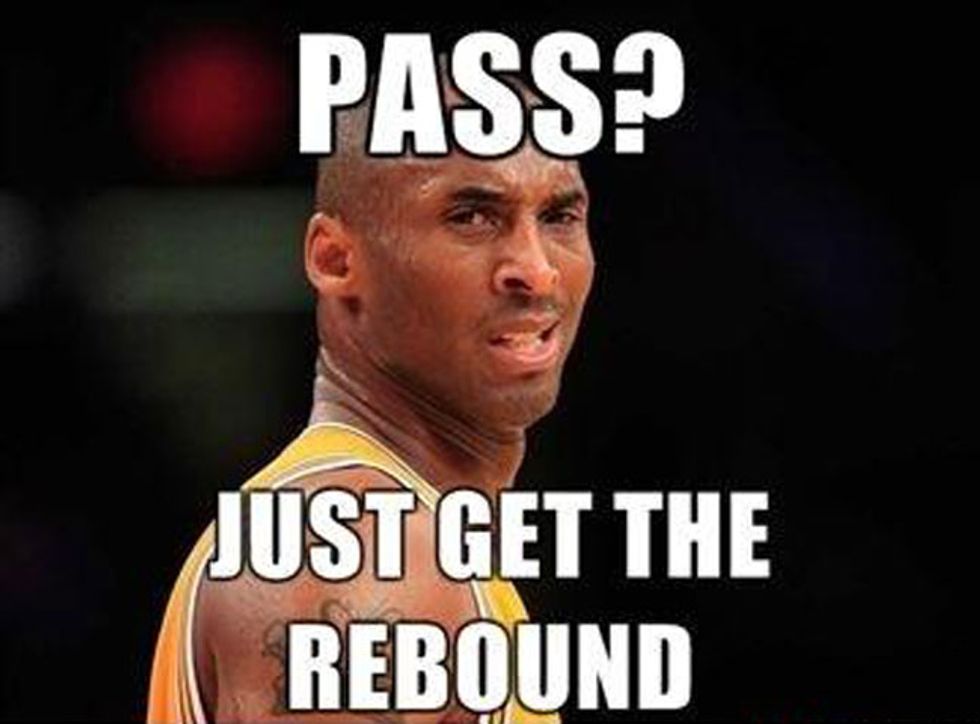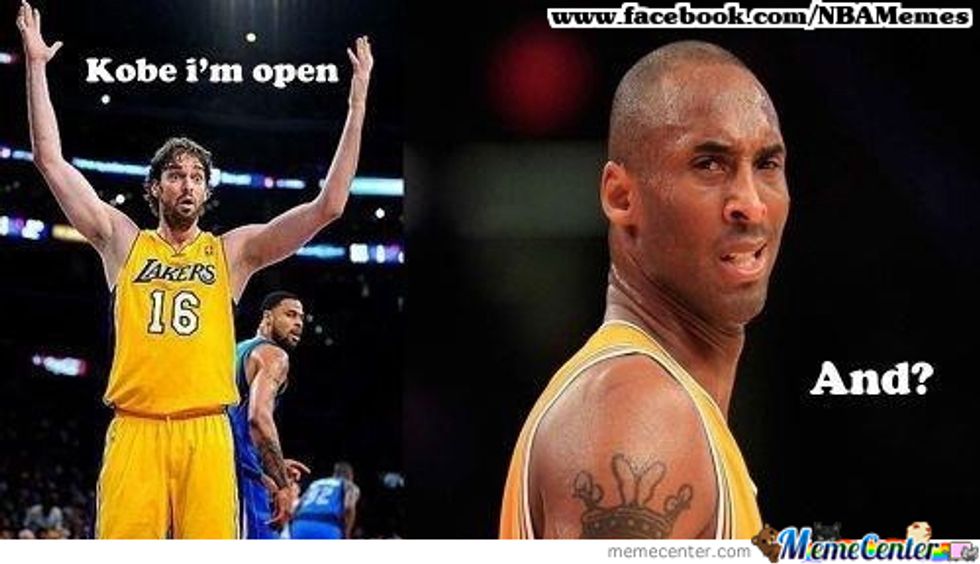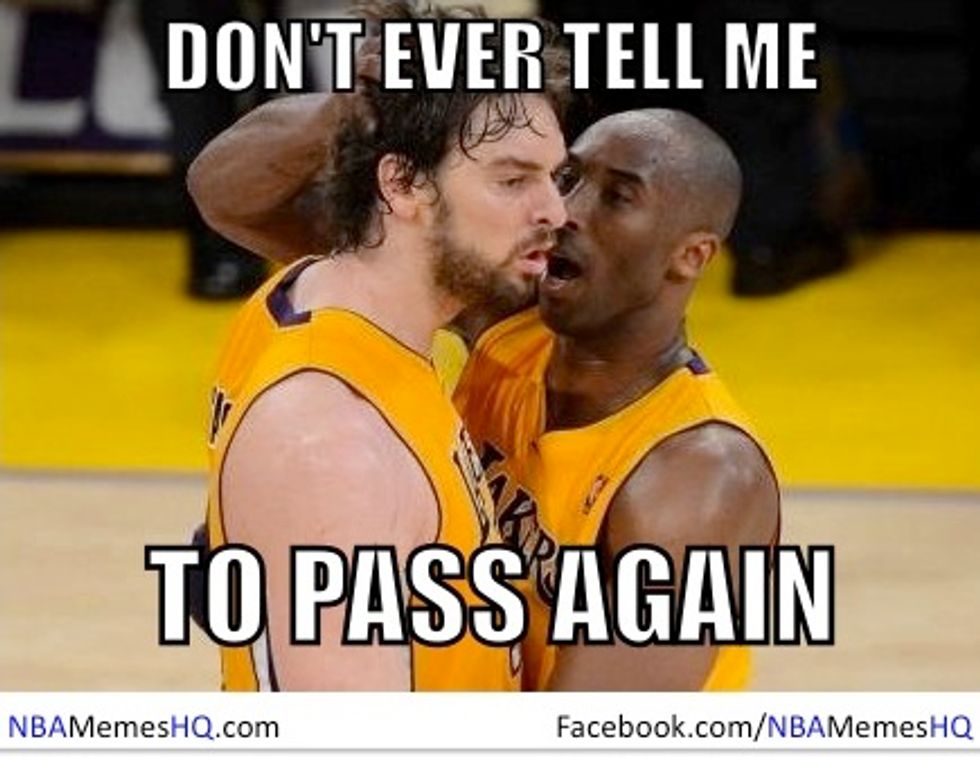 2. Richard Sherman
Richard Sherman is one of the only athletes who has talked his way into stardom. Cornerback isn't the most glorified position in football, but Sherman has made sure everyone appreciates the work he does consistently shutting down opposing wide-outs. After gaining fame through his trash-talk on the field and even with the media, Sherman backed up his talk by making some of the league's best receivers completely disappear from games. In 2014, he was given the recognition he deserved as a center piece to the Seahawks' Super Bowl victory. Later that year, his dedication to his craft was valued by the Madden NFL franchise as they featured him on the cover of 'Madden 15.' Here are some of Sherman's best quotes:
-"I'm the best corner in the game. When you try me with a sorry receiver like Crabtree, that's the result you gonna get."
-When asked about the challenge of playing against star receiver Roddy White, Sherman replied, "What challenge?"
-"Every timeout, I went up and said it right to [Brady] . Please keep trying me. I'm going to take it from you."
3. Ronda Rousey
Ronda Rousey is one scary woman. She is one of the pioneers of the up and coming women's UFC, and has ruled the sport of MMA ever since she started back in 2010. Undefeated with 12 wins, Rousey has made use of her experience as an Olympic Judo fighter taking down nine of 12 opponents by arm bar submission. Trash-talking is something that comes easily to Ronda as she makes sure to humiliate opponents before and after fights. No mercy is the name of the game for Rousey, and she's made it very clear that she didn't join UFC to make friends. Here are a couple of Rousey's best quotes:
-"Some people like to call me cocky or arrogant, but I just think, 'How dare you assume I should think less of myself?'"
-"I'm the most dangerous woman in the world," Rousey says. "I've prepared my entire life to be that way. Whichever girl I'm going to fight, I'm sure that I'm going to find a way to win."
-"You know, I think Bisping does a lot of stuff really well. The biggest problem he's got is that he drew the Ace of Spades. I'm not just another fighter on the roster or a middleweight. I'm the middleweight champion; undefeated and undisputed. I can beat any man God ever made. Michael Bisping does not survive."



4. Zlatan Ibrahimovic
Growing up in the slums of Malmo, Sweden, Ibrahimovic became a magician with a ball at his feet from a young age. Finding success in professional futbol was tough at first for Ibrahimovic, as he failed to understand the concept of teamwork in his early years. Once he learned that he had to pass once in a while, he was magic on the field. Now he is the greatest Swedish futboler of all time. Ibrahimovic is known for his antics that frustrate teammates along with opponents. It is obvious from Ibrahimovic's play and interviews that he believes he is the greatest player to ever set foot on a pitch. Now here for some quotes from the Zlatan.
-"I can't help but laugh at how perfect I am."
-"One thing is for sure, a World Cup without me is nothing to watch."
-When asked what he was getting his wife for his birthday: "Nothing. She already has Zlatan"
-"When you buy me, you are buying a Ferrari"
-Reporter: "Who will win the World Cup playoff?"
Zlatan: "Only God knows."
Reporter: "It's kind of hard to ask him."
Zlatan: "Why? You're looking at him now."
On his fight with Oguchi Onyewu: "Onyewu resembled a heavyweight boxer. He was nearly 6 ft 5 in and weighed over 15 stone, but he couldn't handle me."





5. Floyd Mayweather
As his career comes to an end, it looks like Mayweather will retire with a perfect record of 48 wins and no losses. Humility is a word that he neither understands or knows how to spell. In a sport full of massive egos, Mayweather just might have the biggest one. Mayweather tops "Forbes'" list of The World's Highest Paid Celebrities with an annual income of $300 million. Nicknamed 'Money,' he fully embraces his nickname by showing off his wealth constantly, as evidenced by this post of him sorting through his Benjamin's last year.
Here are some quotes:
"I don't feel that no fighter has the mental or physical agility to match Floyd Mayweather."
"Cotto is a talented fighter, but I'm God-gifted."
"Some pay to see me win, some pay to see me lose, but they all pay."




Leave a comment if you think I missed anyone!