Last semester, my schedule could have driven anyone insane. Sometimes, you do just have to learn the hard way.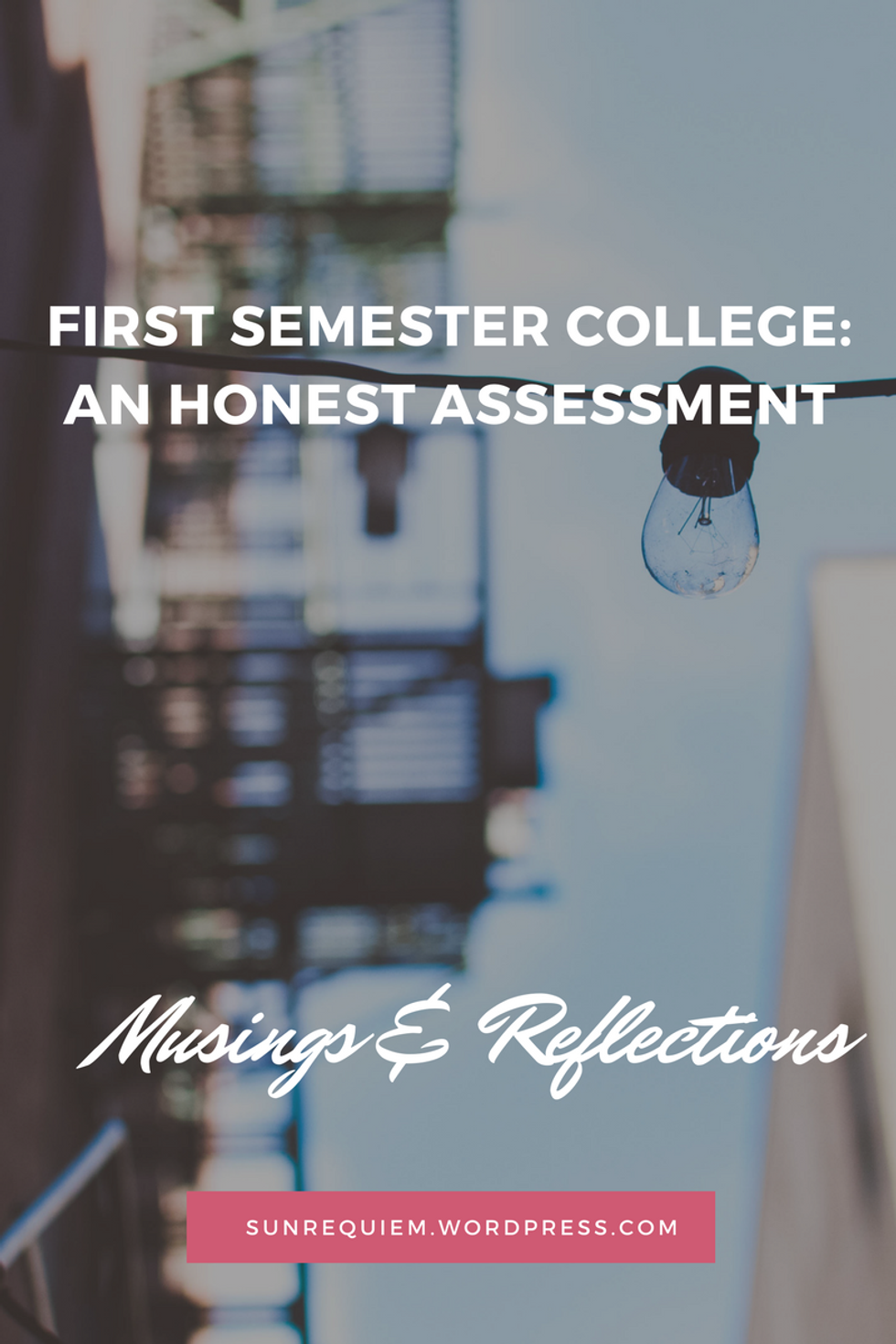 This post will be more personal than what I normally put on my blog, because I typically hide behind the bigger ideas (of what I think and what I learn about society and science and the like) rather than things and happenings which are exclusively about me.
Prepared? Okay. So my schedule last semester looked kind of like this:
Monday, Tuesday, Wednesday, Friday, first thing in the morning, "Intensive Intro Chem". Lab all Thursday afternoon.
Monday night, my weekly seminar titled "Science and the Bible."
Tuesday, Wednesday, Friday morning, right after chemistry, "Multivariable Calculus."
Monday, Wednesday, Thursday mornings, "French 101."
Tuesday and Friday, last class of the day, "Archery."
Now, that by itself was fine. But just the amount of things I tried to do outside of the classroom drove me overboard.
Monday and Wednesday afternoons were always chipped away by Chamber Music Society rehearsals and coachings and private violin lessons. Wednesday night I went to Symphony Church Family Group and had no evening. If I had stopped there, my mental health would have been fine.
But I didn't. Thursday night I had dinner with my G5 every week, and all I could think about while sitting there restlessly was how I was going to get to Wellesley Debate Society on time, which happened every Tuesday and Thursday. And always, while sitting in debate, I would be worried about how in the world I was going to get to my next thing on time. On Tuesdays, it was how to get to SI in half a minute, and then House Council. On Thursdays, it was the Brandeis-Wellesley Orchestra, of which I was third chair of the first violins.
So when it came down to the hours, I didn't have Monday through Thursday night to work on academics. All I had were abridged Monday, Tuesday, and Wednesday afternoons to complete all my work.
And I was churning out about two blog posts a week, writing for Odyssey, getting to know people in my new community, going swimming three times a week, finding time to go into the practice room, and doing two property closings in Boston, where other times I would have to get up and go to the bank on a school day to write out checks. While I was trying to relax, by reading or by journaling, or trying to sleep, I could still feel my heart pounding in anticipation of what I would have to do as soon as I left that state.
Every Friday, after archery, I would breathe a sigh of relief and step onto the bus inbound to Boston, and walk around the city until my body was as exhausted as my spirit. Saturday and Sunday I would reset myself for another cycle.
I had my period in August, which started a few days before orientation. It hasn't returned since. If that isn't a sure sign of stress, I don't know what is.
My first panic attack came when I was doing what I loved the most -- violin. I was totally out of control for about ten minutes as we adjourned the lesson. I took the rest of the day off, and then went to support my HoCo (House Council) friends at LipSync. I was so overwhelmed and I didn't even know how to tell anyone.
The next day I made an appointment to get counseling. These sessions cost me another hour every Monday and I thought it better to spend that time attempting P-Sets and doing French exercises. Funny, I thought it would help me, so I kept returning for the rest of the semester. Besides getting a cute acupuncture ring that I enjoy playing with, it really didn't.
So next, I went to a time management coach. She added up the hours, with cold hard numbers, of the commitments I was involved in, and told me it was the equivalent of working a full-time plus a part-time job. Then she told me I could make more time by spending less of it online. I left that session in tears.
At church, at family group, in my G5, we always talked about the importance of QT -- quiet time. I never had any. Believe me, if I did, I would use it. Heck, I hardly had time for social media. I filtered through the floods of emails in my inbox, I developed my hobby of photography on Instagram, and the rest was busy work.
(If this illustrates anything, I would miss notifications from group chats I was in because I wouldn't really bother to check. I never opened Snapchat or Netflix. My personal email was essentially neglected.)
All I wanted to do was to live my semester to the fullest, and I nearly deflated as a result.
That wasn't even the end of things. The day I had my first appointment, I happened to have lunch with one of my good friends. When I told her where I was going later, she revealed to me that she had chronic depression. I was surprised, because this girl, who had blessed me so much with her companionship and sunshine, must have had a fountain of joy within her. Alas, how wrong one can be when the other puts up a front.
At nearly the end of the semester, she attempted to take her own life. I visited her in the hospital, joking around and laughing the way we usually did and grieved afterward for a very long time. How could it ever be so? I was devastated.
Honestly speaking, that was how my first semester at Wellesley went. Yet, when people ask me, I respond with an "I love it so much."
And I do. Or at least I love the idea of it. And the people in it. I've always been very much of an idealist, so I think I love what my life could be, and perhaps not what it has been at that time. The truth is, I came here to work, but I also came here to continue to learn how to live my life. Because as I'm getting my degree, four years are also passing in this life of mine.
The other truth is, that I am awfully greedy. This quote from Simone de Beauvoir, which I first encountered as a highschooler, resonated with me very much at the time, and still does now:
"I am awfully greedy; I want everything from life. I want to be a woman and to be a man, to have many friends and to have loneliness, to work much and write good books, to travel and enjoy myself, to be selfish and to be unselfish… You see, it is difficult to get all which I want. And then when I do not succeed I get mad with anger."
Last semester, I was not angry, but anxious. Sure, I adjusted well, and maybe so well that I thought I could take on the whole world at once. I was wrong. I must have set myself up for failure. (BUT -- I believe there is no such thing as failure until one stops trying.)
Do less, be more. People have been saying that to me since the beginning. It looks like I was really stubborn enough to learn it the hard way.
To the past: thank you for the lesson. To the future: I am ready. Keep teaching me.