1. Chipotle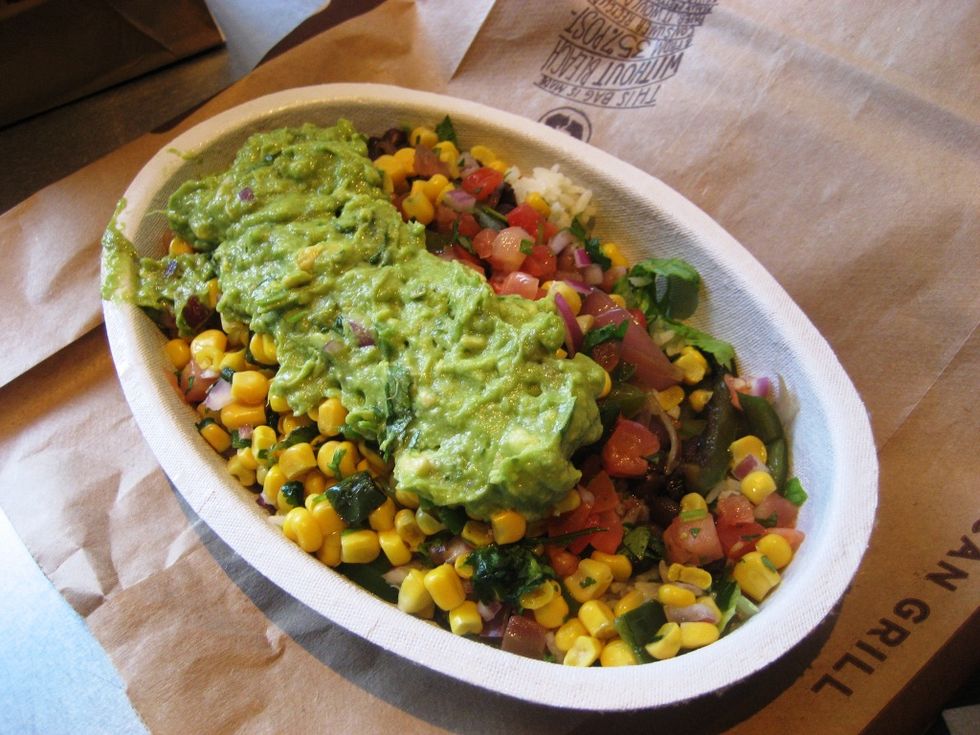 Probably one of the best options when it comes to vegan fast food, Chipotle actually offers a very tasty tofu option (sofritas). Actually, everything except the meats (other than the sofritas), cheese, sour cream, and chipotle-honey vinaigrette is vegan. So grab a burrito, taco, burrito bowl, or a salad and go crazy.
2. Domino's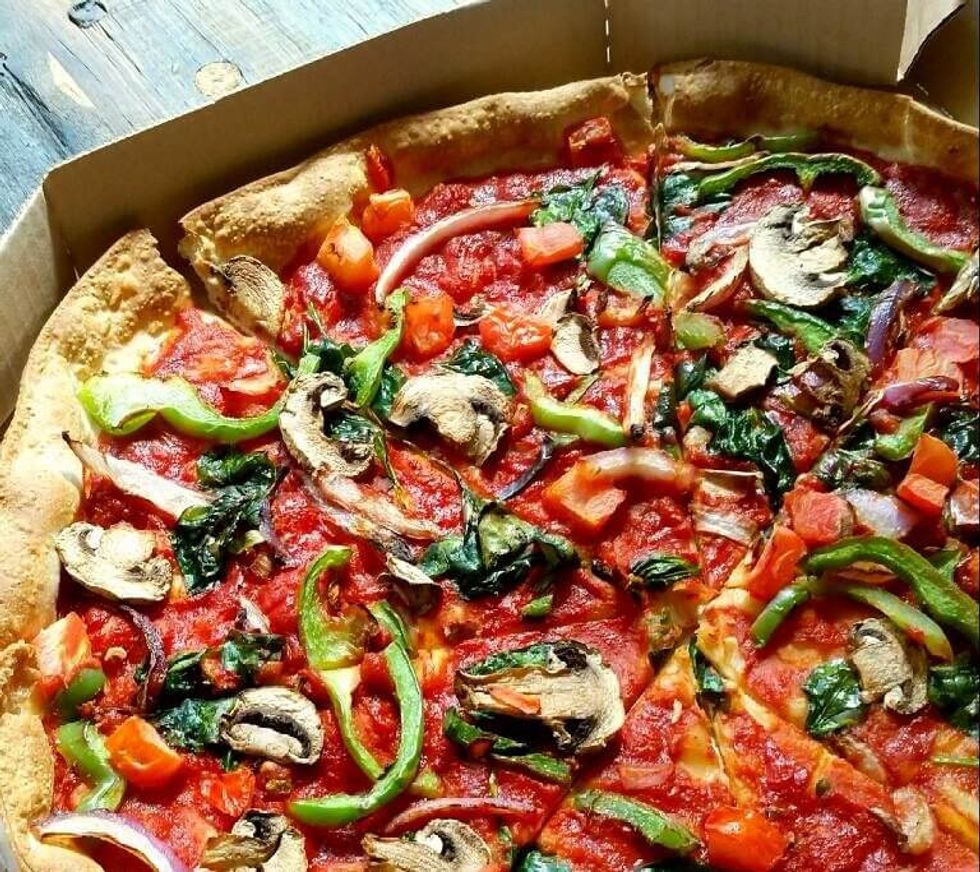 While only the thin crust dough is vegan, there is an abundance of toppings to make a killer vegetable pizza: banana peppers, green peppers, mushrooms, onions, spinach, hot sauce, black olives, jalapeño peppers, pineapple, roasted red peppers, and diced tomatoes. But make sure to choose the robust inspired tomato sauce since the others contain either meat and milk. Spice it up with a sauce; all the BBQ sauces, the garlic sauce, the marinara sauce, the sweet mango habanero sauce, and all the wing sauces are vegan. Not feeling a pizza? You can opt for the penne pasta dish, just be sure to request no sauce.
3. KFC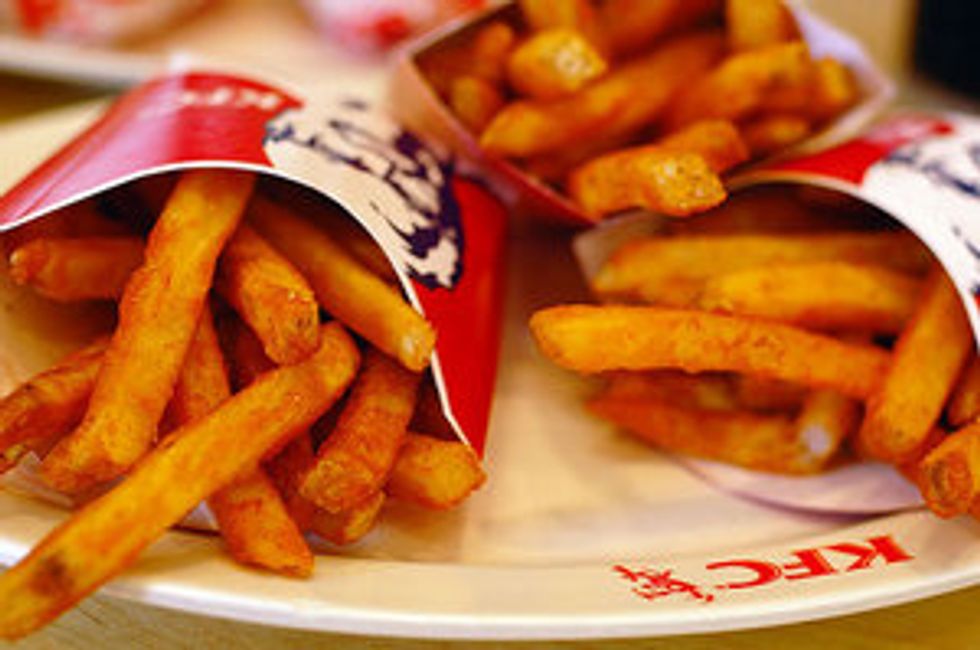 While it's not one of the best options for vegan food, there are still a few options. The fries are cooked in vegetable oil, making them vegan, or you can go for a healthier option with corn on the cob, green beans, or a house salad with golden Italian light dressing.
4. Panera Bread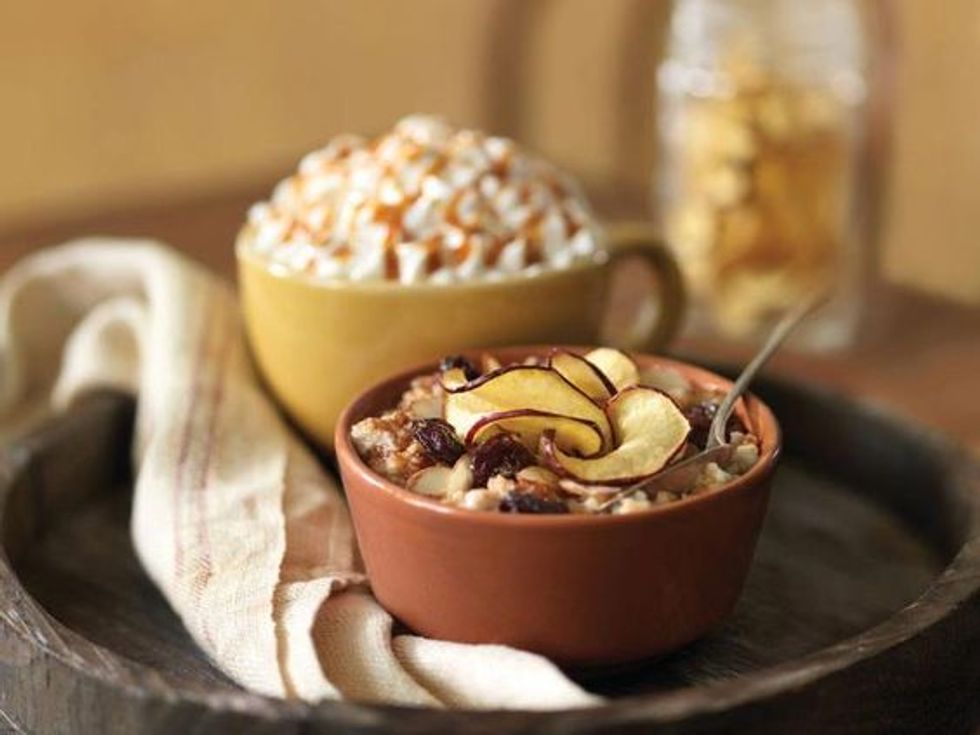 Panera bread actually has some variety in what vegans can order. You can satisfy your smoothie craving with a carrot pineapple, carrot pineapple power, green passion, or green passion power smoothie. If you're in a breakfast mood, go for the steel cut oatmeal with either strawberries and pecans or apple chips and pecans and get a seasonal fruit cup as a side. Feeling a healthier option? Go for one of four salads: modern greek salad with quinoa, seasonal greens salad, roasted beet quinoa & citrus salad (without gorgonzola), or the ancient grain & arugula salad (without chicken).
5. Chick-fil-a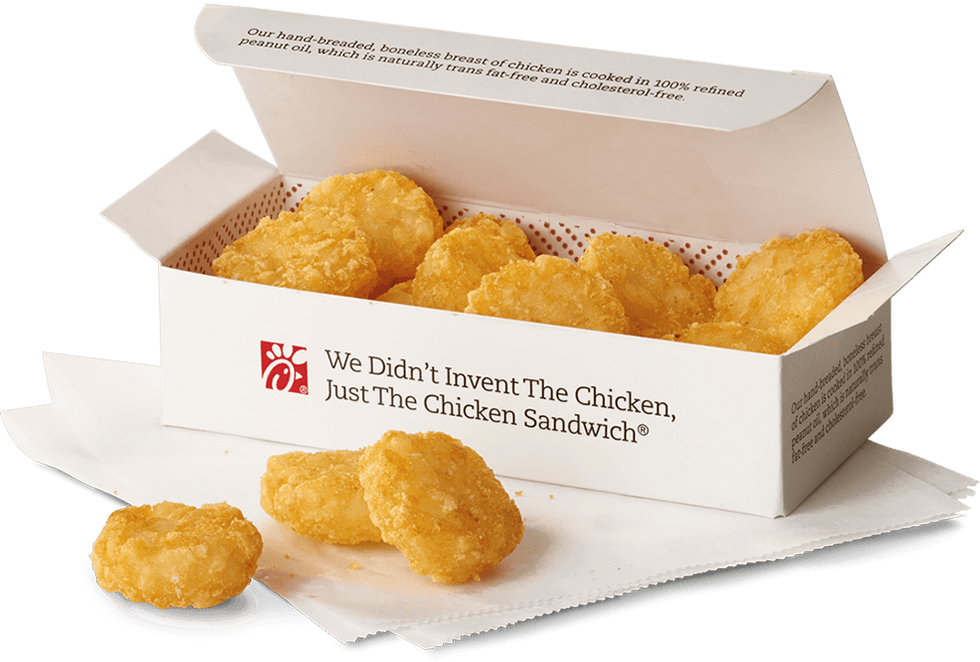 It may seem like Chick-fil-a would be lacking in vegan options, but there are actually quite a few. You can go for something quick and simple like waffles fries, hash-browns, or a fruit cup. Or you can build a meal by using either a flax seed tortilla, side salad, or market fresh salad (without feta) as your base. Add in as many toppings as you want: black bean relish, broccoli florets, fresh strawberry slices, grape tomatoes, harvest nut granola, mandarin orange segments, red and green apple pieces, red grapes, romaine and iceberg lettuce, shredded carrots, shredded red cabbage, light italian dressing, and reduced fat raspberry vinaigrette dressing. As far as condiments go the apple and grape jellies, mixed fruit jelly, ketchup, mustard, BBQ Sauce, and Polynesian sauce are all vegan.
6. Dunkin' Donuts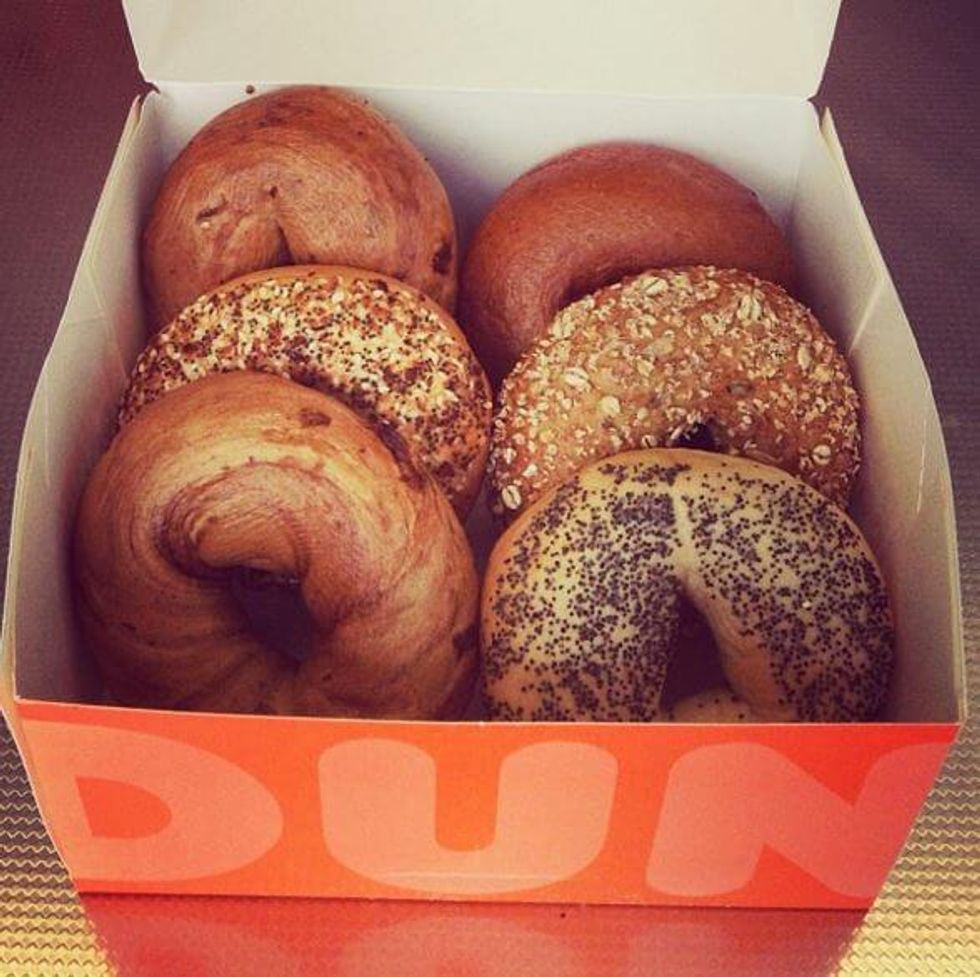 There's a few options you could go for at Dunkin' Donuts for both food and drinks. For food, feel free to grab a bagel (Cinnamon Raisin, Cinnamon Raisin Bagel Twist, Everything, Garlic, Onion, Plain, Poppy Seed, Salt, or Sesame), hash browns, an english muffin, french roll, or pretzel twist. For your drink you can grab a coffee (with Blueberry, Caramel, Cinnamon, Hazelnut, Mocha, Peppermint Raspberry, or Toasted Almond flavors), espresso, hot or iced latte, peppermint mocha latte, turbo shot, coolatta (in Frozen Arnold Palmer, Mango Passion Fruit, Minute Maid Orange, or Strawberry), or a tea (hot or iced, in Blueberry, Raspberry, Earl Grey, Green, Peach, or Sweet flavors). All locations carry almond milk so no need to drink your coffee black.
7. Taco Bell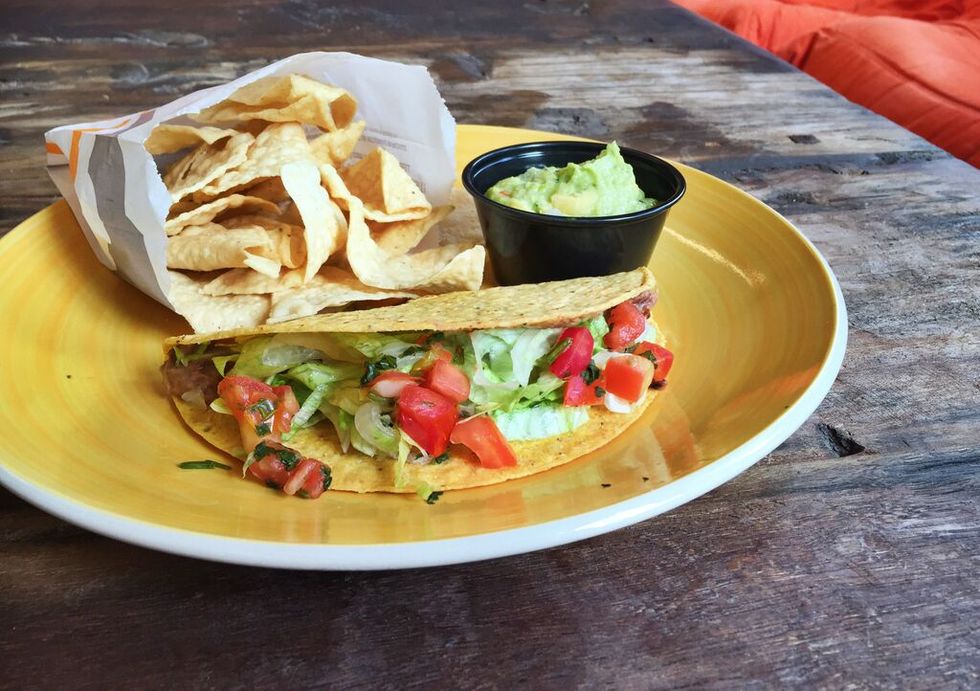 While it's not the healthiest option, Taco Bell has quite a few vegan options. The seven-layer burrito (without cheese and sour cream), crunchwrap (substitute beans for beef and leave off cheese and sour cream), double decker taco (substitute beans for beef and guac for cheese), spicy potato soft taco (order it fresco style), black beans and rice, chips and salsa, and even the cinnamon twists are vegan.
8. Wendy's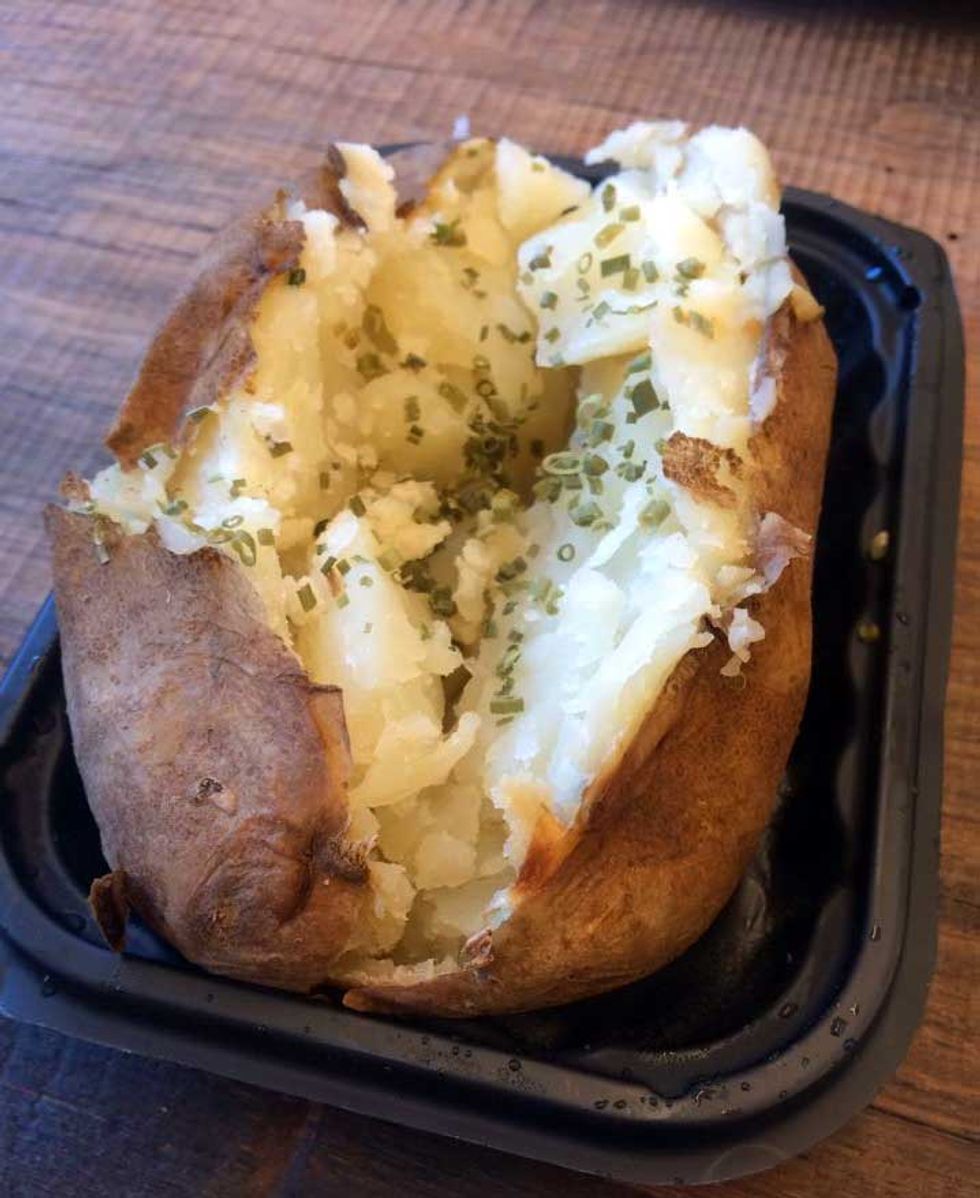 One of my personal favorite junk food options when on-the-go, Wendy's offers quite a few choices. Fill your potato craving with fries or a baked potato (leave off the sour cream, butter, and cheese of course). Or opt for something healthier with apple slices, garden side salad (without croutons), asian cashew chicken salad (without chicken), or the apple pecan chicken salad (without chicken, bleu cheese, and pecans). Top your salad off with Light Spicy Asian Chili Vinaigrette, Pomegranate Vinaigrette Dressing, or Light Balsamic Vinaigrette. And if you're lucky, your Wendy's may carry a black bean burger. If you're not as lucky and still want to fill your sandwich craving, order a "veggie sandwich" (omit mayo and replace with ketchup and mustard). And if you're feeling really adventurous you can even add fries to your sandwich.
9. Burger King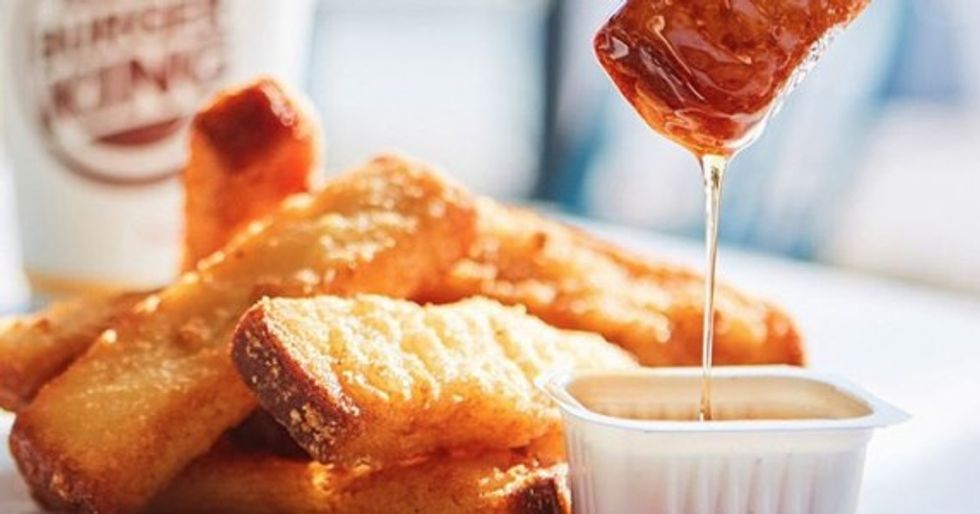 Don't worry, the beloved french toast sticks are actually vegan. As are the dutch apple pie, garden side salad, fries, oatmeal, and hash browns. Or you can be creative and order a Whopper Jr. (omit mayo and meat and replace with ketchup and mustard).
10. Subway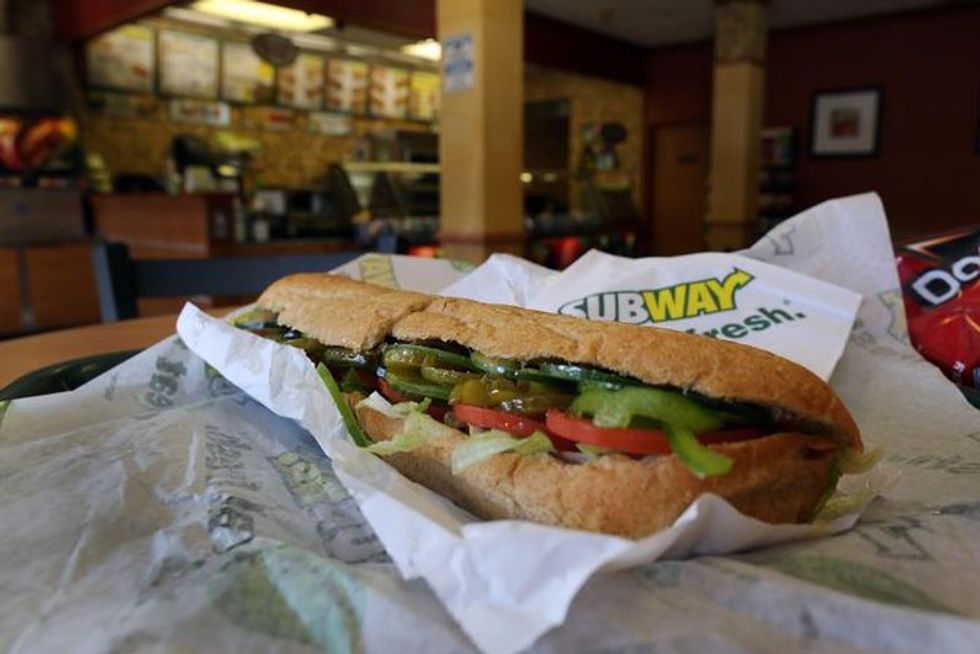 Subway has a variety of vegan add-ins and toppings to make the perfect hoagie. For bread choose hearty italian, italian, or sourdough. For add-ins choose shredded lettuce, tomatoes, green peppers, red onions, cucumbers, spinach, olives, pickles, jalapeños, guac, or avocado. For sauces you can go with yellow mustard, deli brown mustard, oil, vinegar, sweet onion sauce, or fat-free italian dressing. While sides vary by location, you can choose the apple slices, Lay's Classic chips, Sun Chips Original, or Oven Baked Lay's if they are available to you.
11. Starbucks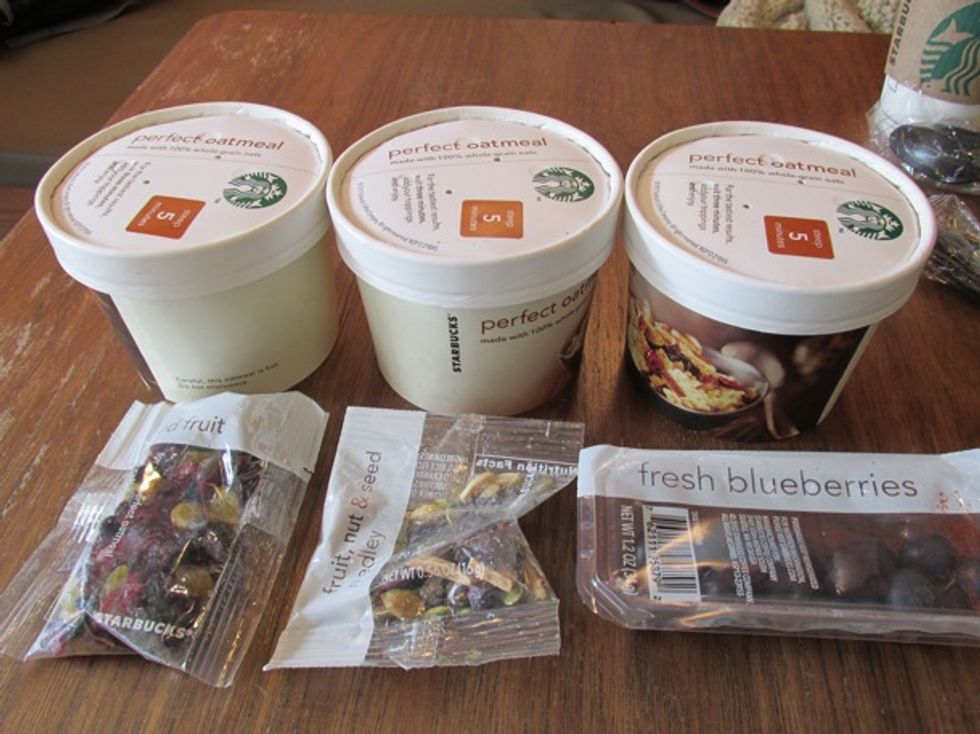 For breakfast go ahead and grab a bagel (multigrain or plain) or some oatmeal. Most coffee and tea can be made vegan by omitting the whipped cream and substituting almond milk for regular milk. You could also make most frappuccinos vegan by omitting whipped cream, substituting almond milk, and steering clear of java chips, caramel drizzle, and protein powder. But be careful because some things like drinks containing pumpkin spice, white mocha, caramel brûlée, and any light frappuccinos can't be made vegan.
12. McDonald's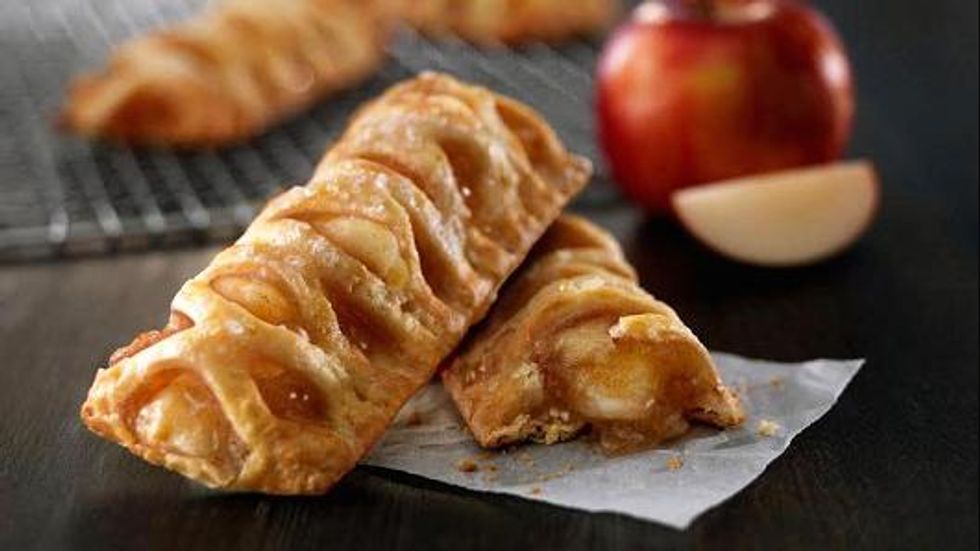 Definitely one of the saddest options when it comes to vegan fast food, not even the fries here are vegan. You can grab a side salad and add in Chili Lime Tortilla Strips, Diced Apples, Grape Tomatoes, Leaf Lettuce, Lime Wedge, Crinkle Cut Pickle Slices, Onions, Red Onions, Salsa Roja, Sautéed Mushrooms, Shredded Lettuce, Slivered Onions, Southwest Vegetable Blend, or Tomato Slices. Top it off with Cilantro Lime Glaze or Newman's Own Low Fat Balsamic Vinaigrette. For breakfast you can grab an english muffin, oatmeal (without cream), or a bagel. There's quite a few condiments to choose from including BBQ Sauce, Grape Jam, Ketchup, Liquid Margarine, Mustard, Southwestern Chipotle Barbeque Sauce, Strawberry Preserves, and Sweet 'N Sour Sauce. For your sweet tooth the baked apple pies are always a safe choice.
13. Arby's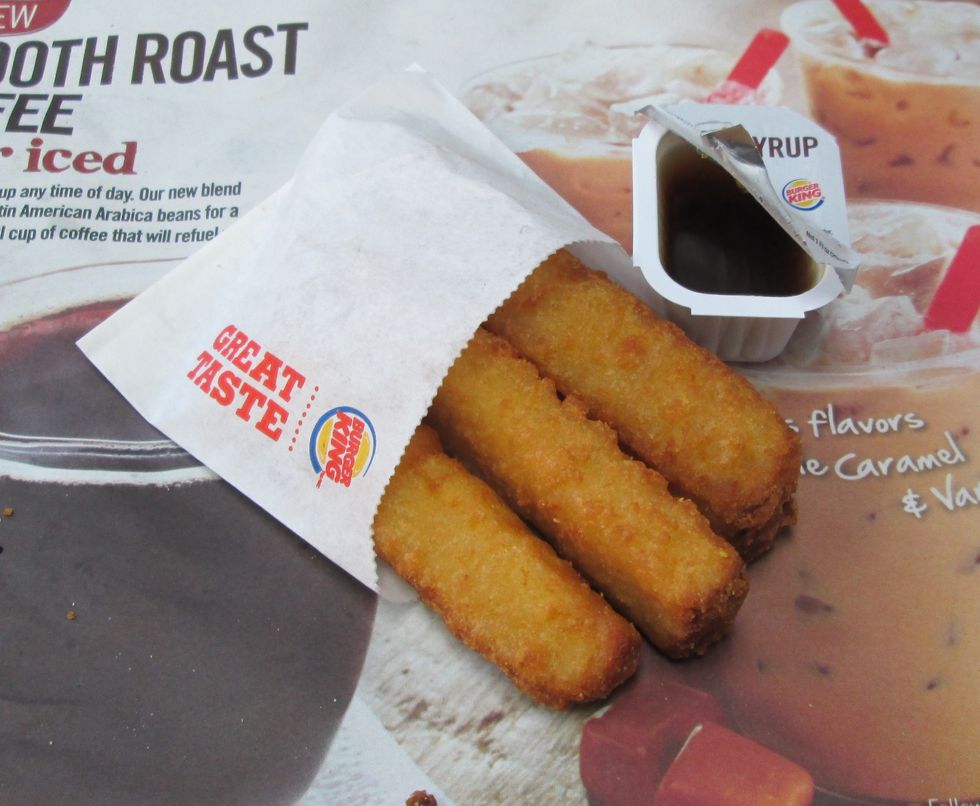 The options are a bit limited but you can still get curly fries, french toast sticks, homestyle fries, potato cakes, and sauerkraut. Some breads are vegan including the Harvest Wheat Bun, Marble Rye Bread, Mini Bun, and Sourdough Breakfast Bread. For sauces choose Arby's Sauce, Balsamic Vinaigrette Dressing, Bronco Berry Sauce, Marinara Sauce, Red Ranch Sauce, or Smoky Q Sauce.
14. IHOP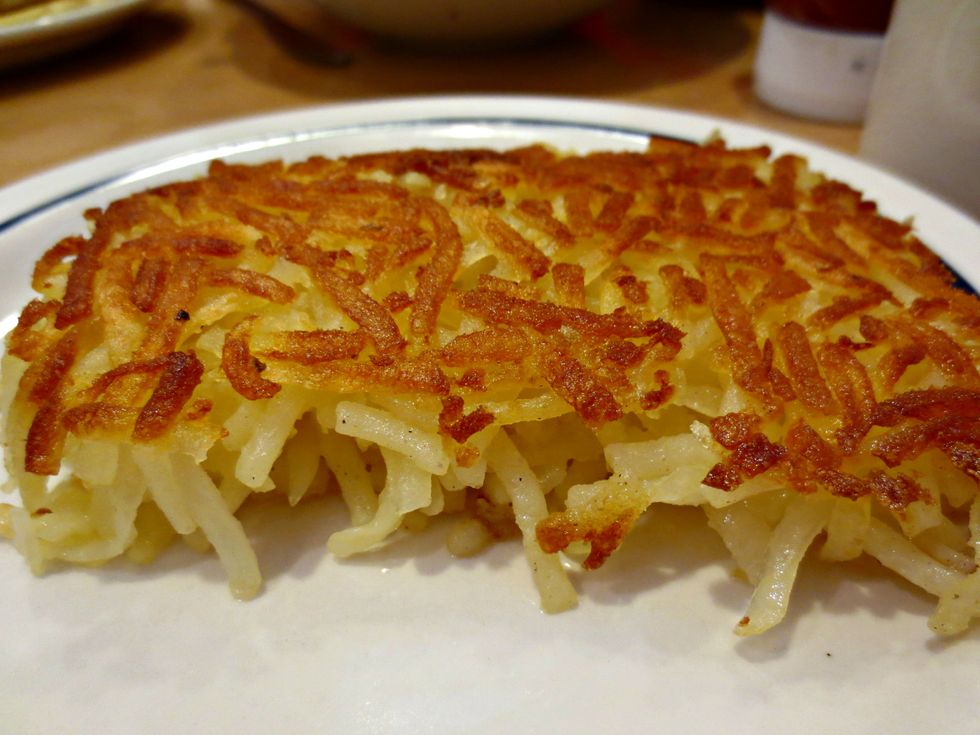 There are, surprisingly, a few good options at IHOP. You can go for the Citrus Chicken Pecan Salad (without chicken) or the House Salad. Go ahead and top it off with Creamy Italian, Fat-Free Raspberry Vinaigrette, French or Catalina Dressing, Orange Vinaigrette, or Raspberry Vinaigrette. You can go for many different sides including the English Muffin (without butter—replace with jam or avocado), Hash Browns (add peppers or avocado if you want), Seasoned Fries, Seasonal Mixed Fruit, Baked Potato (plain), Grits, and Steamed Fresh Broccoli. The minestrone soup is also vegan!
Happy eating!