With the Philadelphia Eagles having one hell of a season shooting for a franchise-high 14 wins against Dallas this Sunday for the final game of the season, the City of Brotherly Love continues to remain positive despite losing franchise QB Carson Wentz for the remainder of the season in Week 14 against the Los Angeles Rams.
Wentz suffered a torn ACL in the third quarter when he scored a touchdown that was called back due to a holding call on offensive lineman, Lane Johnson, by running into the end zone where he took the hit that would end his season early and put an arrow straight through the hearts of every Eagles fan in Philadelphia.
I mean, really, you could literally feel the attitude of the city completely shift from confident to panicking over Wentz's injury.
Wentz stayed on the field for the remainder of the drive and even threw a touchdown pass before heading to the locker room where the rest is history.
Carson Wentz has missed the last two and a half weeks of football so far and yet, he still leads the NFL in TD passes (33), as of December 28th, though that will most likely change in Week 17 as there have been a few quarterbacks that were able to close the gap since the Wentz injury.
Wentz is someone who, amazingly enough, is able to lift the spirits of every fan in the Philadelphia area and that's exactly what he did following the news of his injury instead of thinking negatively when he took to Twitter.
Since the injury, QB Nick Foles, who has been a starter before for Philadelphia in previous years and later rejoined the Eagles after a brief duration with other teams, took over the Eagles' offense. It hasn't exactly looked pretty in the two games that Foles has started so far, but each game resulted in an Eagles win, and that's all that matters right now.
With just one final game left to play in the regular season, the Eagles have their eyes set on the playoffs for the most part, but many of the players are eager to finish out the season with another win to set a new franchise high in wins during the regular season. A win in Week 17 against Dallas would give Philadelphia 14 wins on the season for the first time ever.
Despite losing Wentz to a torn ACL, the city has really rallied behind Foles, and the team is finding ways to win--something every Philadelphian is hoping will continue to happen in the playoffs as well.
There have been fans who have given up hope, even though the Eagles have earned a first-round bye and home-field advantage in the playoffs because they feel as though Foles won't be able to lead the team to Super Bowl LII like they were confident Wentz would.
But, I'm here to tell those "fans" that they are wrong.
For starters, going to the Super Bowl--and hopefully winning it-- is something that needs to be an effort from the entire team, not just the quarterback. Even if we did have Wentz in the game, he would still need the offense, defense and special teams to operate on all cylinders to move forward in the playoffs.
Secondly, Foles is tied for the NFL record of most TD passes in a single game where he is joined by the likes of Peyton Manning and Drew Brees, two guaranteed future Hall of Famers, so there is no doubt that the man knows how to throw the football.
Is Nick Foles as good as Carson Wentz?
No, not at all, and I think most Eagles fans and NFL fans, in general, would agree with me on that. However, that does not mean Foles isn't perfectly capable of leading the Eagles to their very first Super Bowl victory because he definitely has enough skills and the talent around him to do so.
Not every game will look pretty from this point on but one thing we, as a fanbase, are guaranteed from the Eagles is that they will continue to give 110 percent each and every game, and that's enough to make me feel confident that the Eagles can still get the job done without Wentz this season, something even Wentz, himself, feels confident about, too.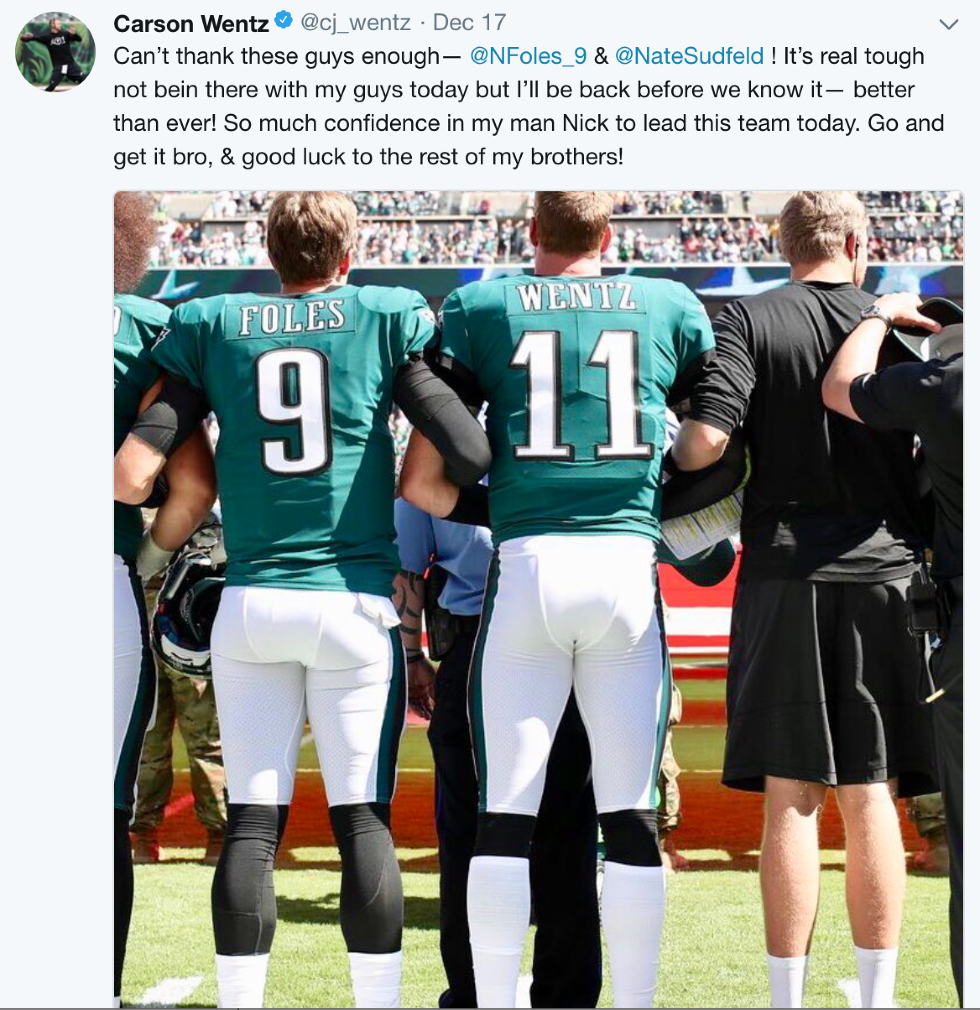 Wentz is doing as much as he can to help Foles' transition from practices with the second squad to starting QB heading into the playoffs as smooth as possible, and I think the Eagles can get it done this year. The Eagles seem to believe that, too, and even their odds from Westgate Las Vegas SuperBook are still showing solid chances to win the Super Bowl.
So, remember, Eagles fans, remain confident and have faith in this team because it is insanely talented and competitive. They will give everything they've got on that field for us so we need to give them everything we've got to them from the Lincoln Financial Field, home or anywhere else we might be when they are competing.
We're all in this together, and that's how we're going to finish it. Go Birds!