I can still remember watching Disney Princess movies as a little girl, mesmerized by the beautiful women with the angelic voices triumphing against all odds to conquer evil and secure her one, true love. The princes were always handsome, caring, valiant, gallant, and would lay down their lives for a girl whom they may have only seen once. Those archaic princes of Snow White, Cinderella, and Sleeping Beauty gave way for more active male roles in Disney films like The Little Mermaid and Beauty and the Beast, or even Aladdin, Mulan, and Tangled, where the leading men were not princes, but they certainly were charming.
Growing up surrounded by films, books, television shows, and other streams of media that all professed this fairy tale ideal of "Prince Charming," I realize now that my outlook on and my expectations of real-life relationships are inherently twisted. Expecting a make-believe "Prince Charming" and landing a guy who is neither a prince nor incredibly charming, can be severely detrimental to actual relationships.
But, just how wonderful are these Disney Princes now that we aren't gullible, easily manipulated children? Can our future partners compete with our fantasy?
It's time to see what's behind the curtain and to see these Disney men as they truly are: for the good, the bad, and the "eh".
1) "The Prince" (Snow White): Not even given a proper name, the prince in this film only makes two appearances: one at the beginning when they both start singing an impromptu song (that they cannot possibly both know the melody and lyrics to) and when he saves Snow White from her Sleeping Death by kissing her. The good: he saves her! That's sweet. The bad: he obviously doesn't know himself all too well if he can't go by anything other than his royal title. Talk about an ego problem. The "eh": everything. He is probably the most boring of all the men, which is why Disney never bothered to name him. Male-o-meter: 3/10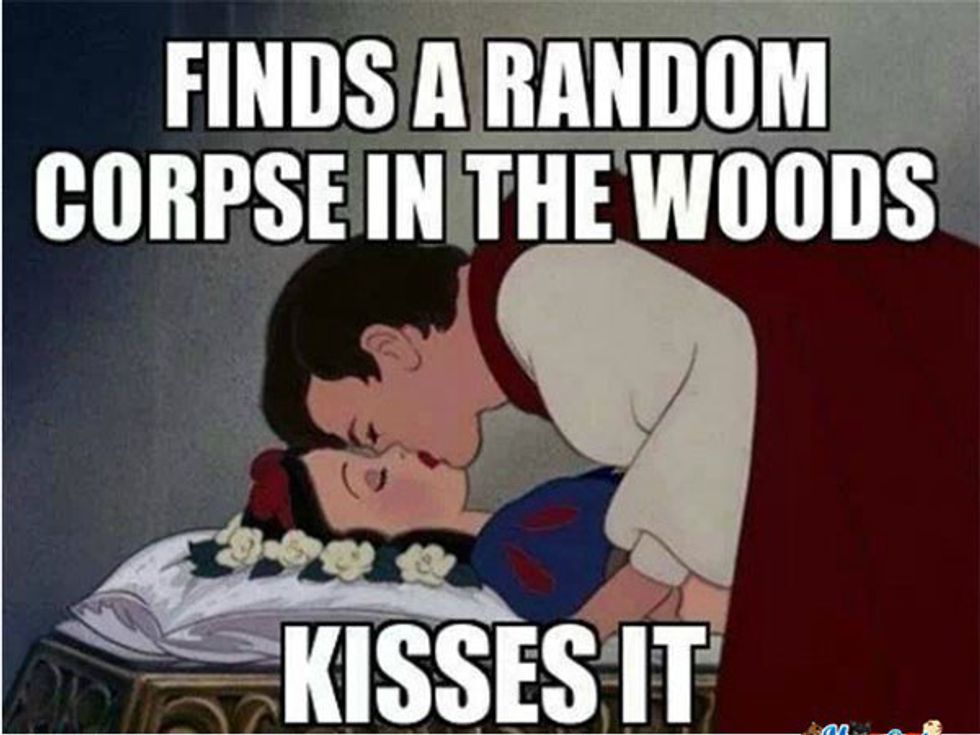 2) "Prince Charming" (Cinderella): Only slightly better than the last. While it has never been clarified as to what Prince Charming's name actually is (is Charming his first or last name? Or is it just a nickname he earned through being the player of the palace...?), he does earn some brownie points for searching for Cinderella as opposed to cutting his losses when she leaves and picking out literally any other woman at the palace. However, he loses all said brownie points when he must use A SHOE to determine who his lost love is... Uh... You don't remember what she looks like? You have got a major foot fetish, my friend. The good: Cinderella's social status is of no importance to him. The bad: his facial recognition. The "eh": his dancing skills. I've seen better. Male-o-meter: 4.5/10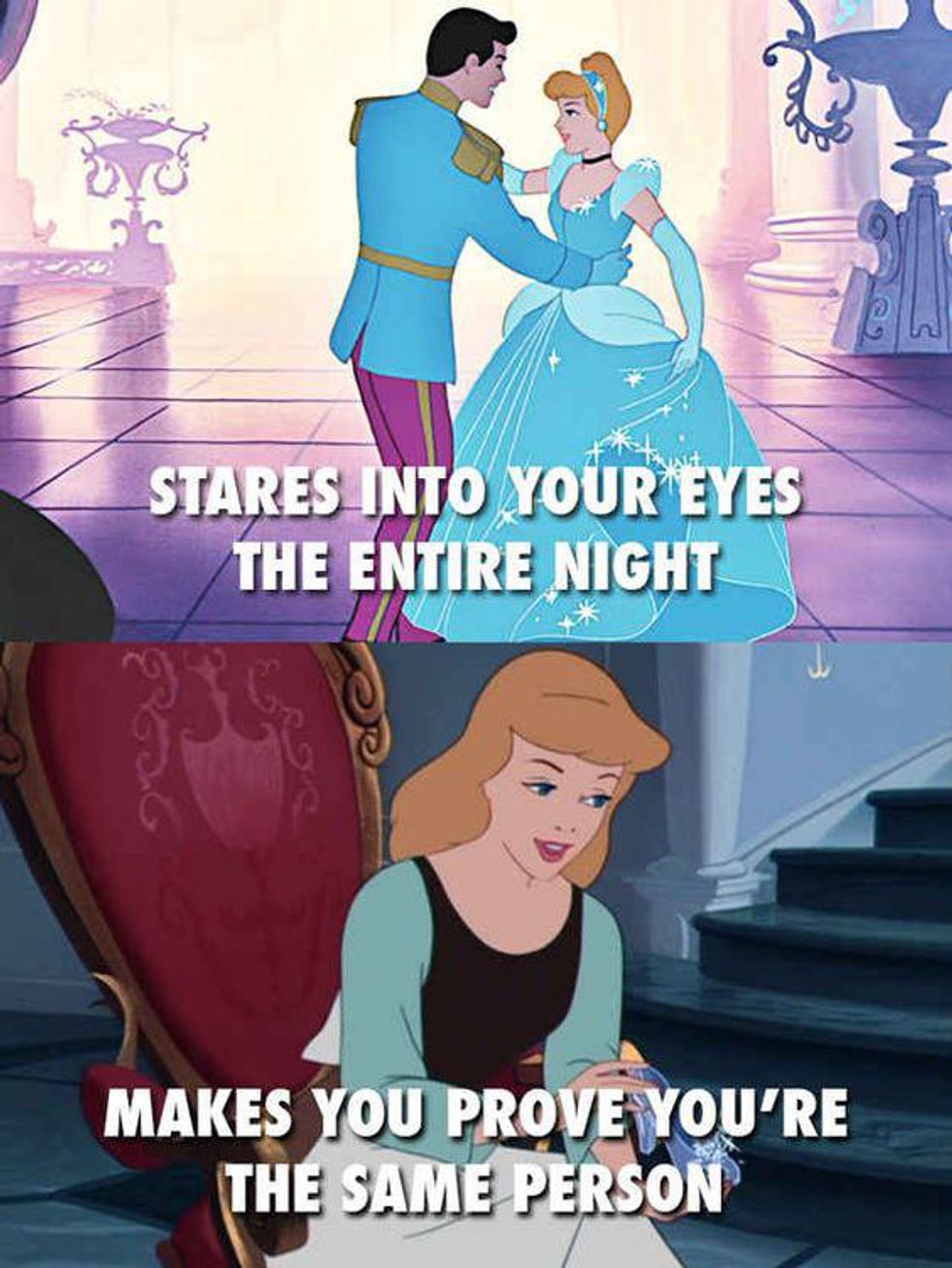 3) Prince Naveen (The Princess and the Frog): Initially a vain, egotistical, self-centered philanderer, who boasted of his many female conquests and his ability to woo any woman with his smile and handsome features, Prince Naveen is a spoiled brat. He cares only about living the "good life," which for him, is full of money, irresponsibility, and hoards of women. It isn't until he is turned into a frog and falls in love with Tiana (as a frog) that he begins to become a selfless, decent, and caring individual... But, he literally had to transform into an amphibian to make this possible. Ladies, unless you have the power to change physical forms, I'd never wager on a self-proclaimed party animal to be fully committed. The good: he assists Tiana in her dreams, is charismatic, and appreciates fine music. The bad: he's a wild and privileged free-loader. The "eh": he can't admit when he's wrong. He trusted Dr. Facilier, the shady voodoo magician... Not what I'd call great judgement. Male-o-meter: 5.5/10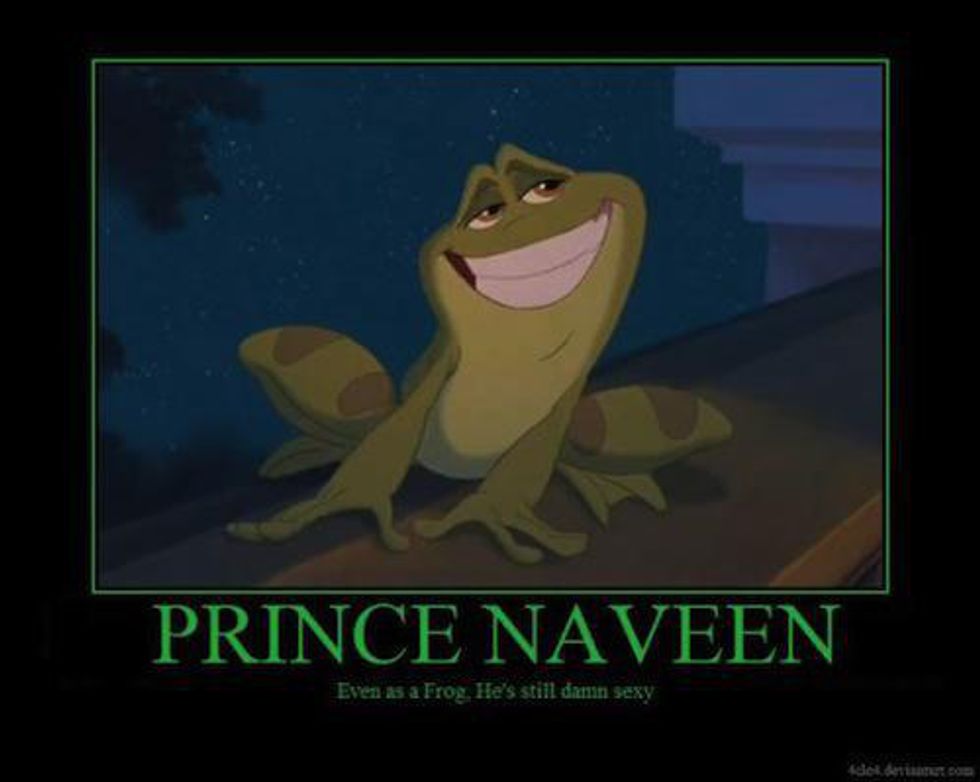 4) Prince Eric (The Little Mermaid): On top of his royal duties, Prince Eric is more of a mariner than anything else. He spends his time at sea and loves nothing more, making him the perfect match for our mermaid princess, Ariel. When a storm hits and Ariel saves Eric, he falls in love with her, but can only recognize her beautiful singing voice and not her face... What is with these guys and facial recognition? You'd think you'd remember the girl you claim to be in love with... Be able to spot her in a crowd or even face-to-face, no? I guess not. Eric, however, redeems himself with his show of bravery when he and Ariel team up to kill Ursula (in a pretty bad-ass way, might I add). The good: he's good with his hands, he loves nature, and he can rock a v-neck. The bad: he almost married Vanessa (Ursula in disguise) because she had Ariel's voice... He isn't of the soundest mind, is he? The "eh": he might leave Ariel for the next girl that can sing a lil' ditty. Tip for Ariel: don't bring him to karaoke nights. Male-o-meter: 6/10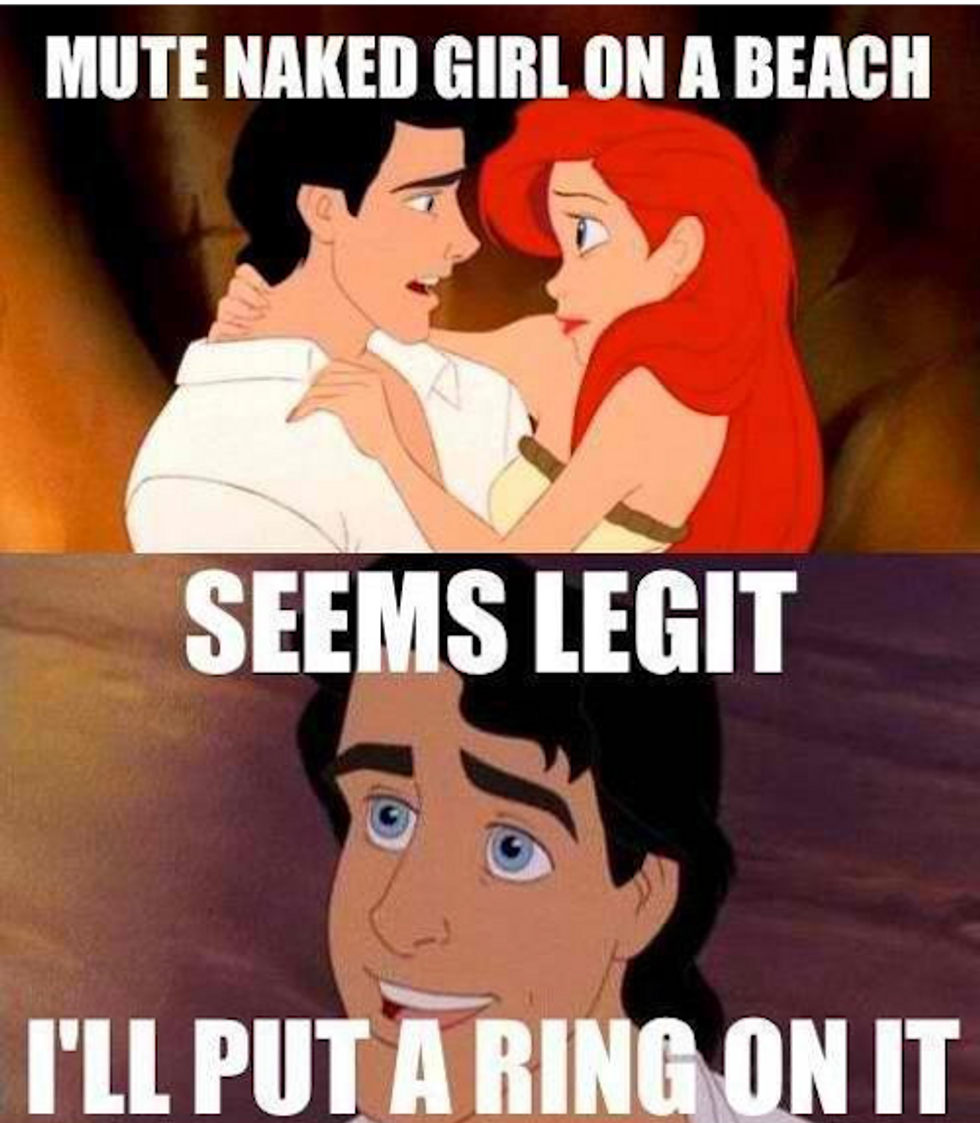 5) Flynn Rider (Tangled): Real name, Eugene Fitzherbert. Flynn Rider, the most notorious thief in the land (although they can never quite get his nose right), for all of his smooth-talking abilities and his offers of adventure to the girl locked away in a tower, is actually incredibly insecure. Although he initially promises to take Rapunzel to see the lanterns so he can get the tiara he stole back from her (after all, he just wants to lead a solitary, care-free life filled with money), Flynn soon falls in love with Rapunzel after actually SPENDING TIME WITH HER and REMEMBERS HER FACE. Quite the miracle, isn't it? Flynn doesn't care about Rapunzel's magical hair, but is instead fascinated by her personality, her dreams, and her mind. The good: he's brave, charming in that not-so-charming way, caring, and REMEMBERS HER FACE. The bad: he was a professional thief... The "eh": he might not have the best relationship with animals (particularly the horse, Maximus) but at least he tries for Rapunzel. Male-o-meter: 7.5/10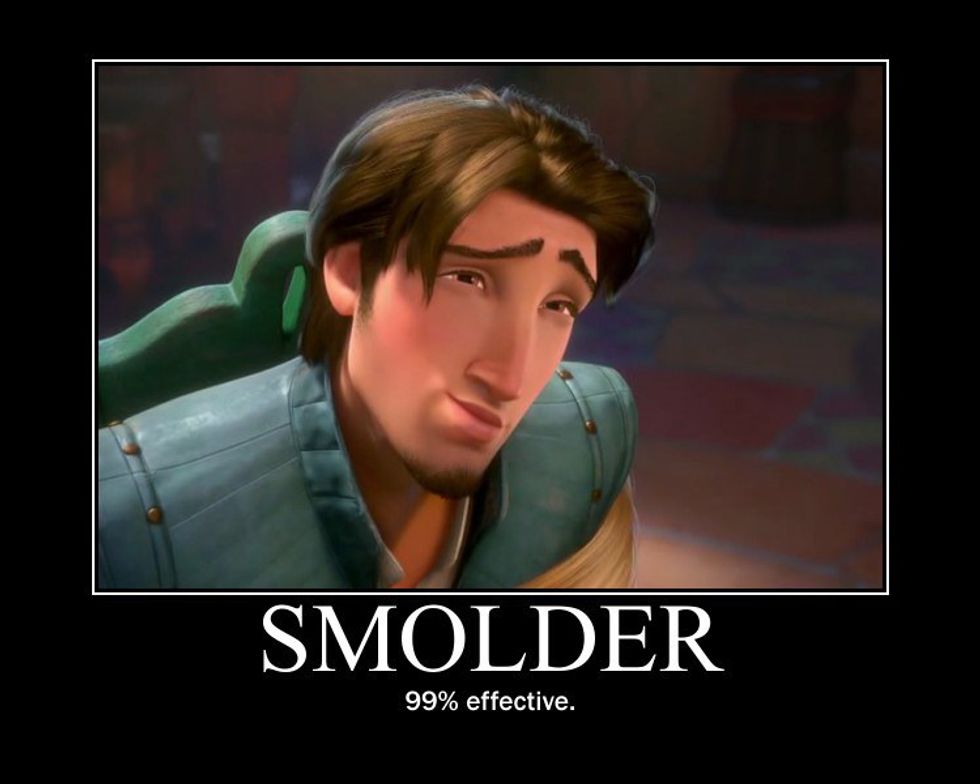 On the relationship spectrum, the idealistic "Prince Charming" is not as wonderful as he seems. Stop comparing every potential partner to your image of perfection because no one will ever fit it. Some may come close, some not so close, but the real successful relationship stems from growth, compromise, and flexibility. Let go of the rigid frame because a picture will never fill it fully. Instead, hold onto the picture itself and admire how it fits in your hand, not the frame.
Just as we no longer idolize the Disney Princess physique, we should no longer idolize the Disney Prince lie. Women come in all different shapes and sizes. Men come in all different levels of maturity, stability, and affability (shapes and sizes, too). To use an idealistic cookie-cutter outline when searching for your perfect partner will only lead to boredom, disappointment, and frustration. You might not date an Aladdin, a Flynn Rider, a Prince Eric, or a Merida (depending on which way you swing). But, you can certainly find someone who brightens your day, who is uniquely themselves, who makes you a better version of yourself, and you can write your own fairy-tale together.