Dear Tom Brady,

You are without a doubt the greatest quarterback of your generation. The way you have dominated the QB position for almost 2 decades speaks volumes to just how great you are. You have set records, been apart of one of the greatest offenses to set foot on a football field, and have just been fantastic. Your character and personality off the field says a alot about you as well. You always try your best to stay focused on the task at hand and keep outside issues away from football.
With the Super Bowl coming up this weekend, I have been thinking a lot about your career, how wonderful it has been and how its all began.
With all of that being said, you are welcome for the fantastic career you had.
Tim Brown said it earlier this week, you need to thank the Oakland Raiders for your entire NFL career.
On the night of January 22, 2002, you played in a divisional round game against the visiting Oakland Raiders. I'm pretty sure you know where this is going, but had the most controversial call in NFL history (The Tuck Rule) had not occurred, who knows where your career would be today. The Tuck rule might be the worst rule in the history of the league. You are either throwing the ball or you are not, there is not in between so that rule makes absolutely no sense.
I have been a Raiders fan my entire life and was heartbroken as an 8 year old watching my team go through a playoff run and see them lose under those circumstances. I hated you for every year until you got Randy Moss and dominated the league that year and every year after that. I respect you as one of the greatest QB's to play the game and no longer hold any disfavor towards you with regards to the tuck rule.
However, had it not been for that faithful snowy night, would you be the man you are today? Would Bill Belichick and Robert Kraft want to go forward with the kid who lost a home playoff game in the snow to a wild card team from California? Would Drew Bledsoe have gotten his job back or would they have brought in another QB?
While Adam Vinatieri had to hit a game winning field goal, & you still had to win two more games to win the Super Bowl that year, that one play may have made your entire career. Had Charles Woodson not knocked the ball loose when he rocked you from behind, and Greg Biekert not recovered the ball who knows what happens for you and the Raiders. If "Tuck Rule"did not exist, or that play never happened, what becomes of Tom Brady.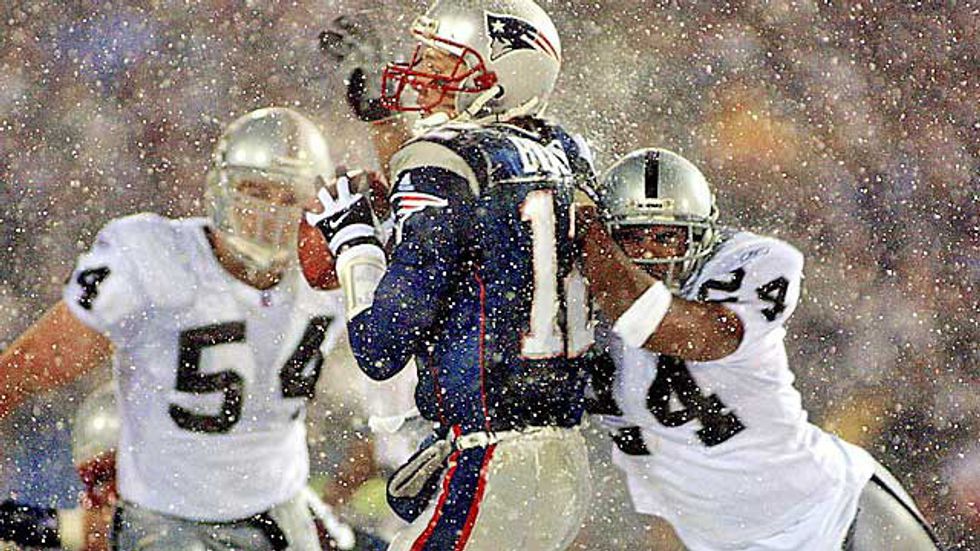 (The infamous "Tuck Rule" play from the 2002 divisional round match up.The Patriots won the game 16-13)

This is not to say you do not deserve to be called the greatest QB of your era. Your play after the fact proves that you are a very capable NFL QB. Who knows what would have happened if it were not for the Tuck Rule.
What would have been?