Our final morning in Venice, we boarded a ferry and rode to the other side of Venice where we got on a tour bus and drove for about four hours to Florence.
Your browser does not support the video tag. On the ferry from one side of Venice to the otherBrooke Burney
Upon entering Florence, one of the first things we saw were the Ponte Vecchio. Our hotel was also just adjacent to it so we got to walk across this bridge quite a few times.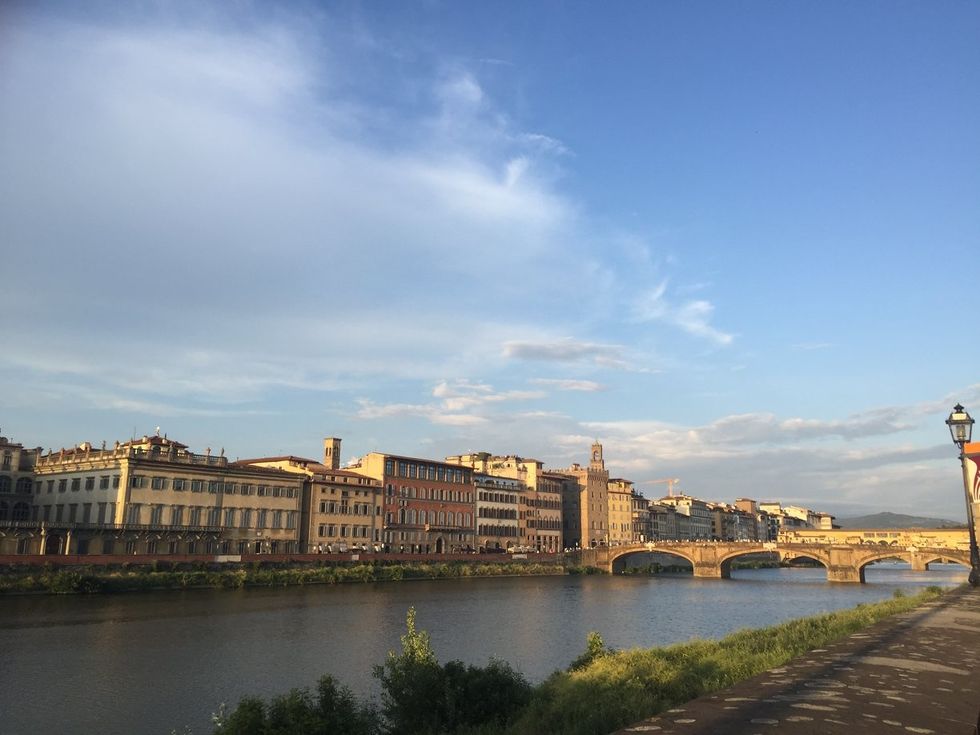 Brooke Burney
Soon after we got to Florence, we put our luggage in the hotel and we were off to explore Florence. We went to a small town square and ate and met up at the church that was in that area. After this, we saw Pitti Palace, where there is a secret passageway lining the town where the chief could walk. The street that Pitti Palace is located used to be lined with butcher and leather shops, making the town smell unpleasant. The chief did not like this so he changed these butcher shops into jewelry shops where he was able to purchase whatever jewelry he pleased while it also did not smell up the streets.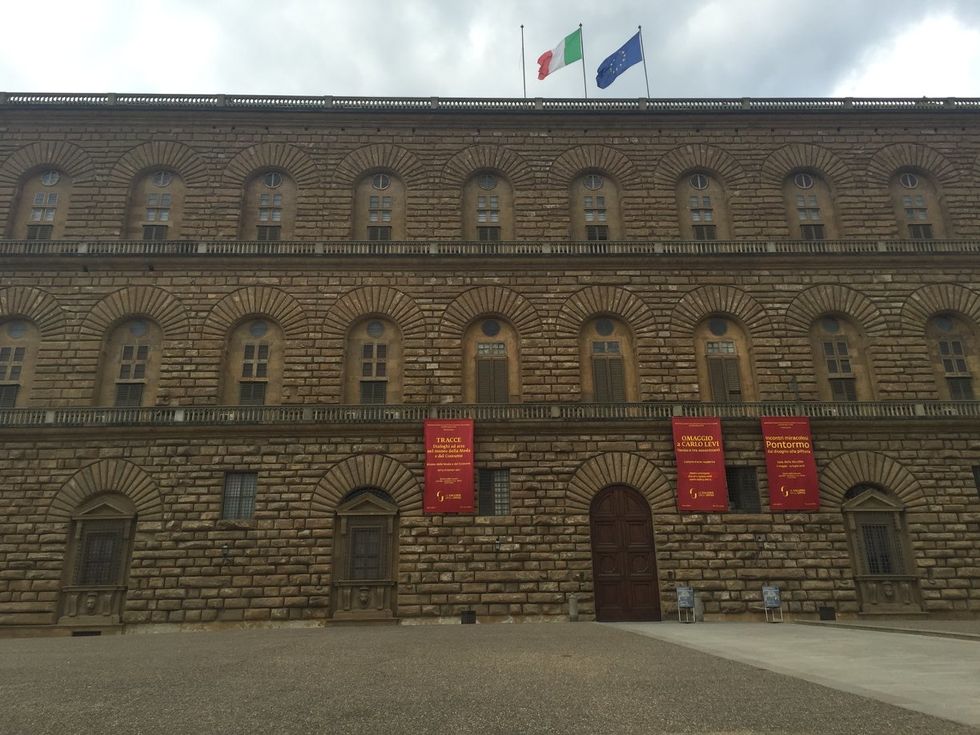 Pitti PalaceBrooke Burney
After this, we walked to the Signoria Square where there were statues of some Greek gods and a replica of the statue of David.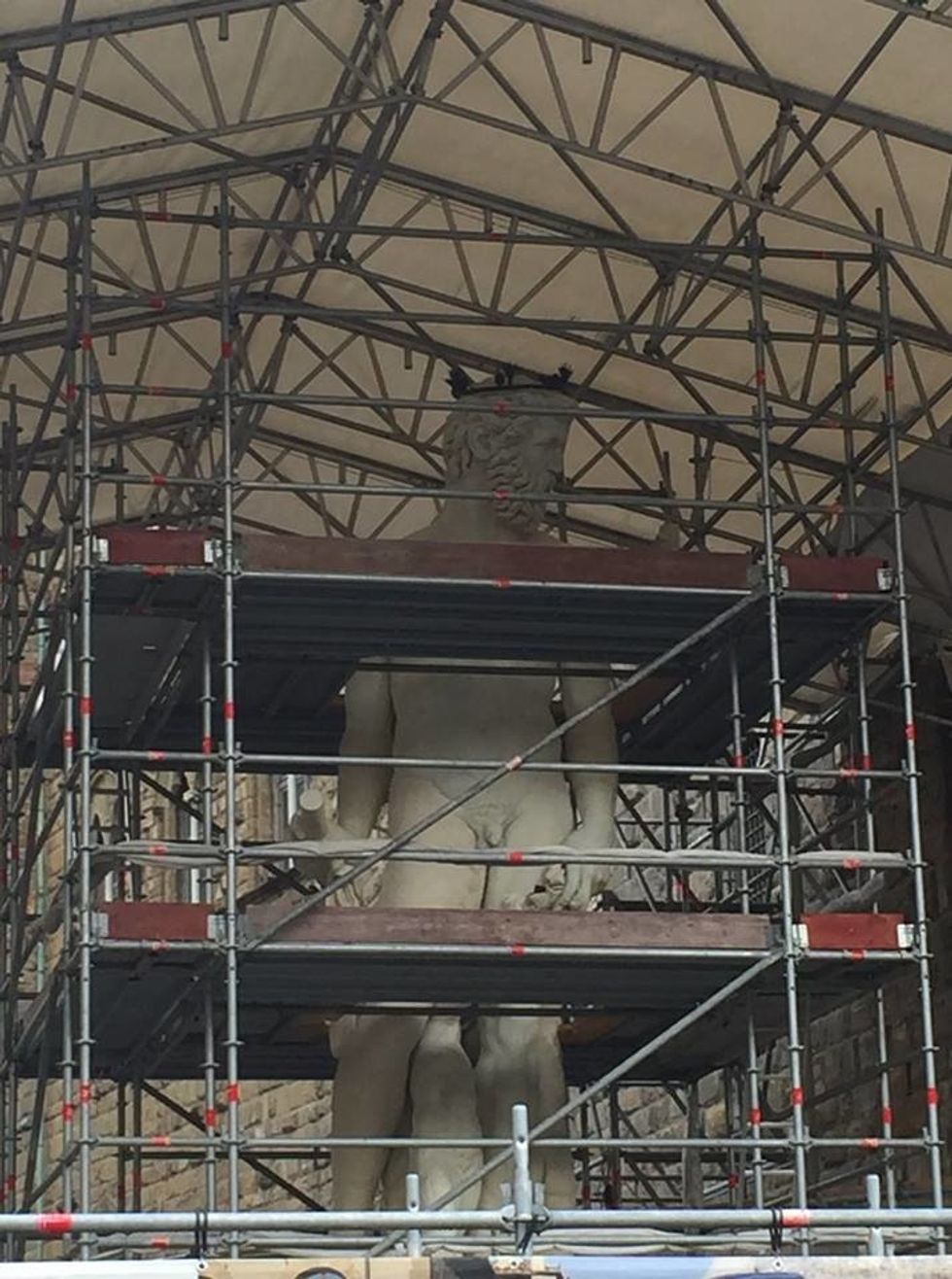 Poseidon was under construction :(Brooke Burney
During this part of our tour it began raining, so we spent one or two hours trying to stay dry. Our tour guide had us huddle under a balcony but once that got crowded, we moved to a huge tourist shop where we stayed until it calmed down.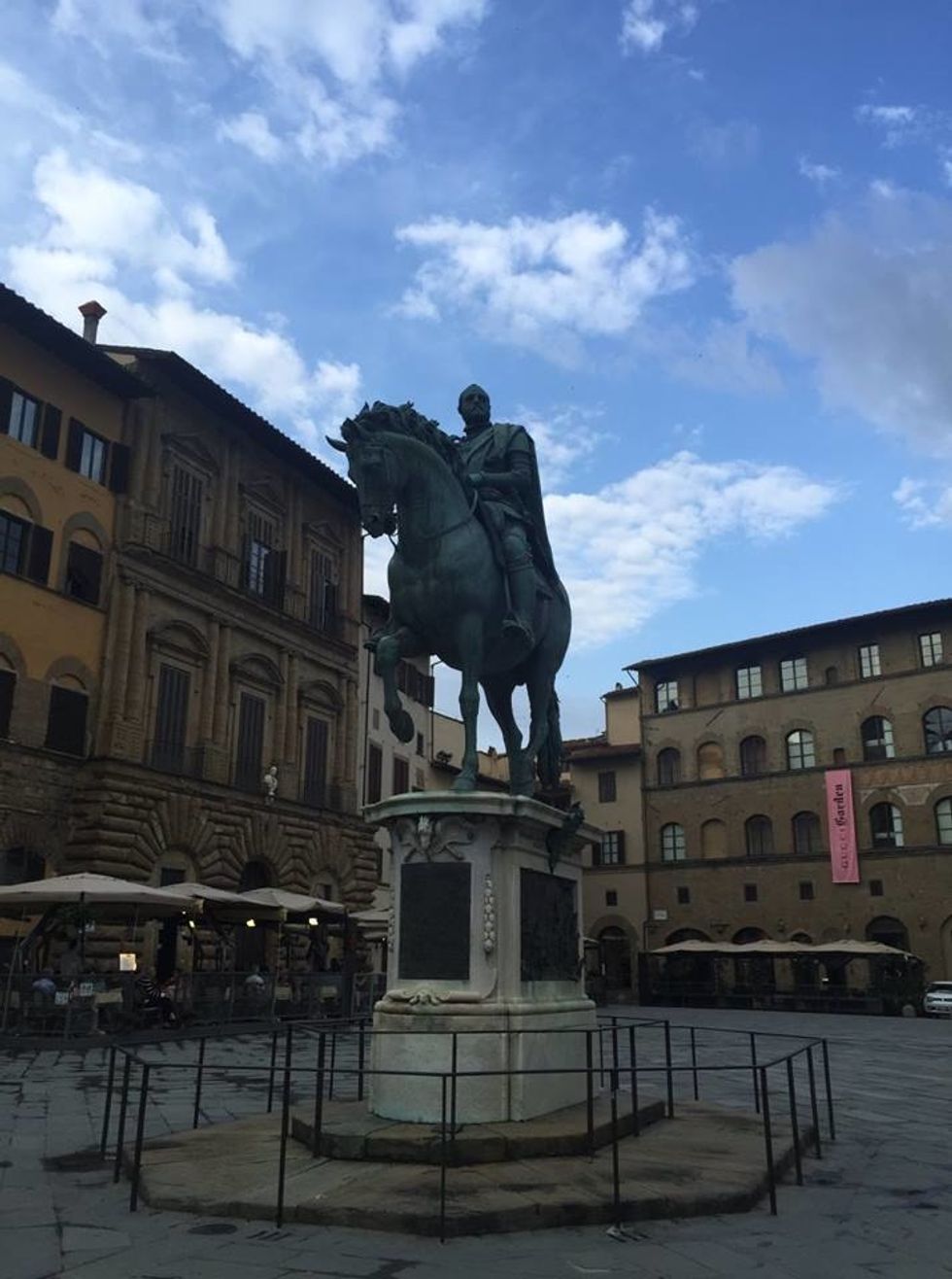 Brooke Burney
After this, we had time to shop and eat but once that leisure time was up, we were guided through the Signoria Square and were given the history of the buildings that stand there and we passed the church in which the Statue of David was originally supposed to reside.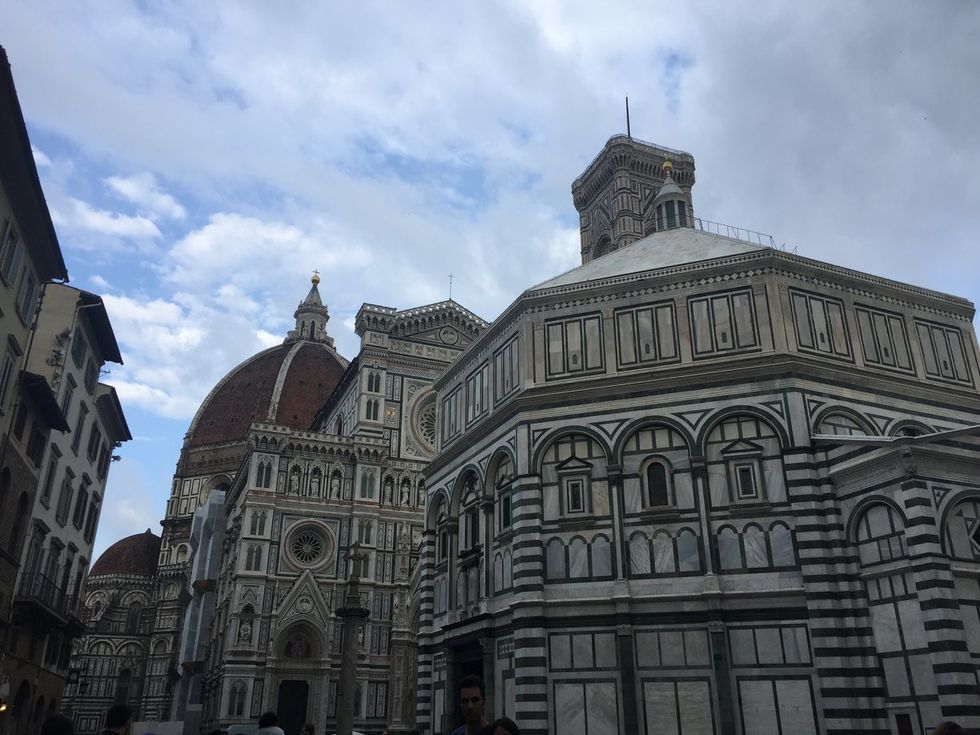 The Statue of David was going to go in that nook on top of the dome, under the golden crossBrooke Burney
At this time it was about 7 PM and we were headed to a cooking school where our entire group prepared dinner for everyone. Some of us were making the appetizer, others making the main course, and rest were making desert. I made pasta, and we made it from scratch which was not as difficult as anticipated and turned out delicious.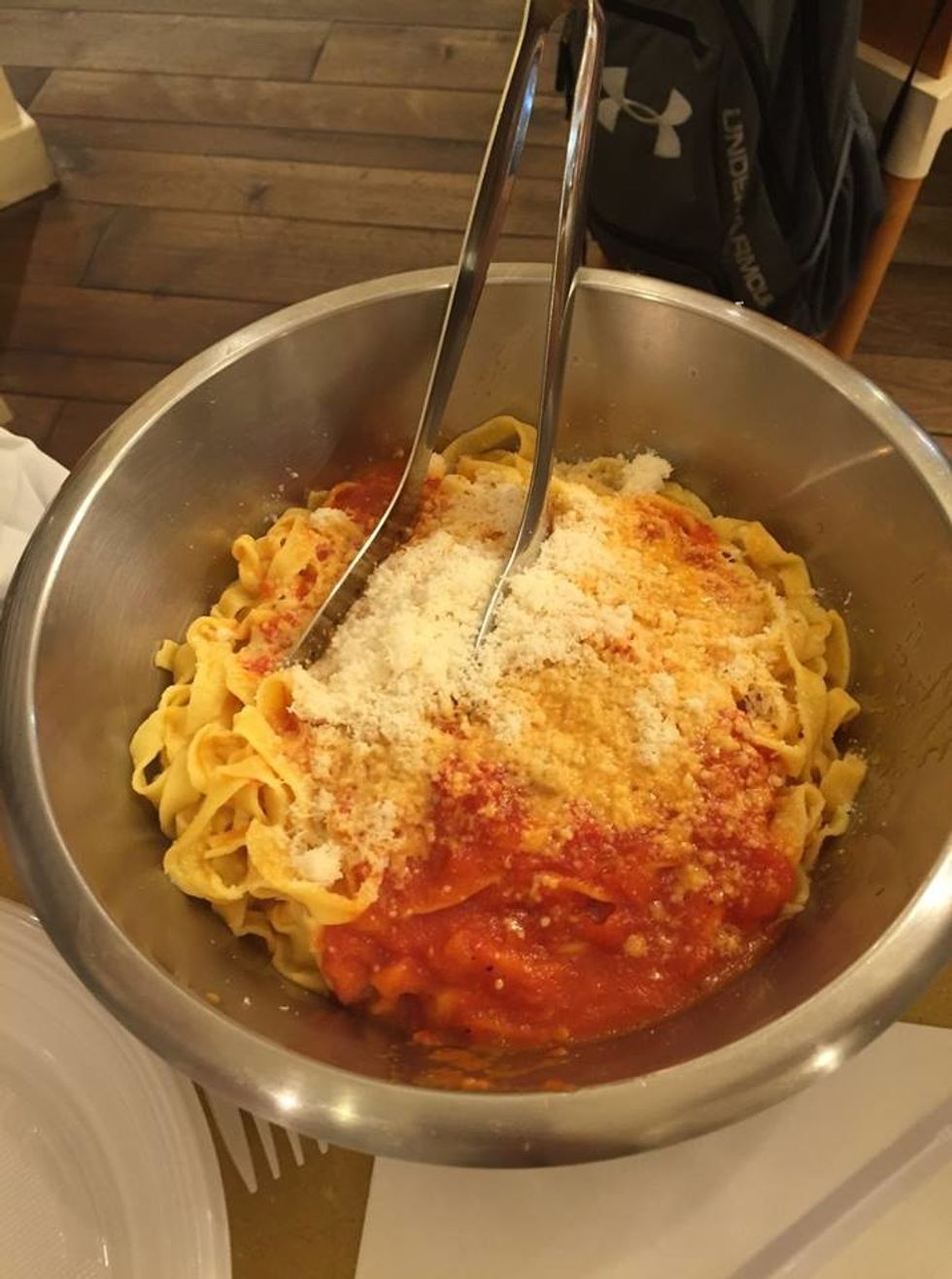 Made from scratch pastaBrooke Burney
After dinner we went back to our hotel, however before entering, our tour guide asked if the group wanted gelato. Of course, everyone piped in, except for the four of us girls that went together. Our tour guide told us he would take us to a club if we wanted to and our supervisor was okay with it. So we went to our room, got ready and then we were off to the club that is right around the corner from our hotel. If you want to read about that experience here's the link!
Once we got back, we went to sleep around 3 AM, and we were ready for more exploration tomorrow; bright and early.