Relaxing, cozy video game are on the rise!
Like independently developed (indie) games, relaxing and good-vibes-only video games are etching their way into console and PC gaming. While a multitude of games for the past decade have included features such as "peaceful mode" or "story-focus mode" and even the ability to tailor gaming experiences to better fit players with turning on/off weather, status effects, or even the length of in-game days, cozy video games are in their own niche within the indie genre.
Cozy games and the COVID Pandemic: A dire need for relaxation.
Centered around relaxing, stripped-down gaming experiences and vibing all-around, most cozy games are story-driven, puzzle, and/or RPG adventure games where you still work towards the progress of completing an either linear or non-linear story; however, combat and hard-hitting mechanics such as currency or even cumulative player choices (think Tall Tale Games) are heavily reduced to provide a gaming experience focusing around the players feeling good rather than a set and unwavering list of objectives.
To more seasoned players, any video game could be relaxing in its own sense—releasing steam while fighting enemies or completing in-game mission—but cozy games are designed to make you feel good and actually relax. A novel concept to some in the gaming community, but the ability to relax and unwind while playing video games is a modicum given the last year we all experience with the COVID-19 Pandemic and the added stress we felt as a world. Now, we can enjoy more of our time playing games and vibing that is both rewarding and comforting in a way. Nonetheless, here are my top five cozy games to play this year:

1. "Turnip Boy Commits Tax Evasion" is an adorable puzzle gaming focusing on paying back what's owed.
Turnip Boy Official
Imagine combining an adorable and sentient turnip whose sole goal is the downfall of society. Then you stumble upon "Turnip Boy Commits Tax Evasion," developer Snoozy Kazoo's puzzle-RPG where you play as the rogue Turnip Boy now evicted from his home due to unpaid taxes to Mayor Onion. Players embark on a quest to pay back all the money owed—while causing a little mayhem in-between--as you explore different dungeons (in-game environments), earn money to pay back your debt, and fight very simple mobs (enemies). The puzzles are a sure-fire way to relax and cozy up at home since they require players to slowdown and think. Nonetheless, "Turnip Boy commits Tax Evasion" does present some challenges throughout, but it does so in such an inviting and adorable way that it is the first entry on the list. Plus, who wouldn't want to cheekily commit tax evasion and then pay it back to a society of fruits and vegetables without the actual real life consequences? Just me?

2. "Cozy Grove" is a more relaxing and, dare I say, a better version of "Animal Crossing" for players.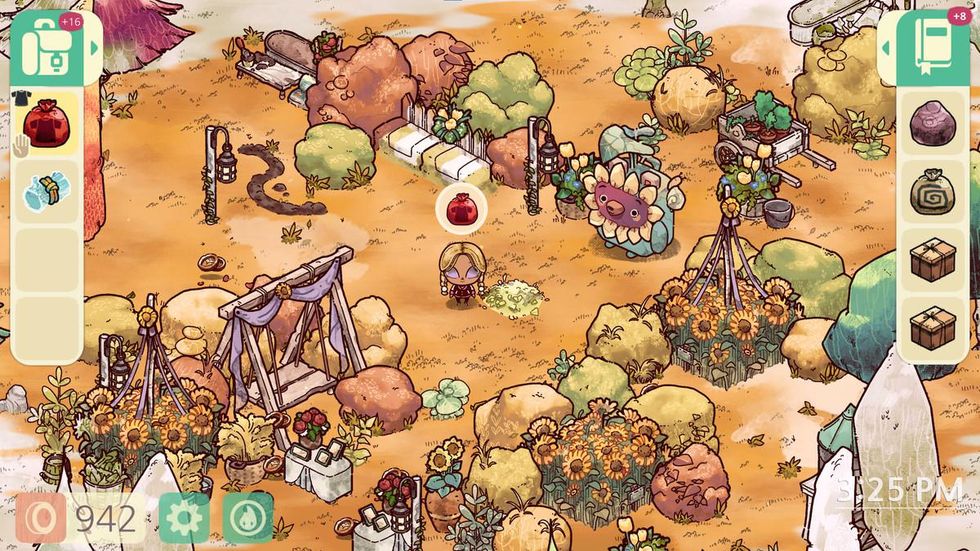 Polygon
Stranded on Cozy Grove Island, players must undertake the challenge and excitement of aiding and restoring the lives of the spirit bear population as a Spirit Scout (that's you)! Similar to "Animal Crossing" with its fishing, crafting, and real time gaming clock--meaning, the time in-game is exactly that of the real world. Developer Spry Fox's "Cozy Grove" offers a better gaming experience without the constant looming presence of that greedy capitalist Tom Nook or Isabel's constant announcements. As a Spirit Scout, players get to design how their characters look, and they have free rein on decorating the island to ensure the up-keep of the light that being to fill the island upon completing small favors for the spirit bears of the island since the island begins as completely black-and-white.
Like the name suggests, "Cozy Grove" is a slow and relaxing experience that requires players to do a few quests a day without becoming overloading; moreover, your sentient campfire, Flame, will tell you when there are no more quests to finish that day--signaling players either save and quit the game for the day or continue to decorate and gather for the next day's possible requests. While I myself played this game briefly as someone who loved the concept of Animal Crossing but hated the overall feel of it, "Cozy Grove" is a set up the world of money hungry raccoons, the stalk market, and digging up fossils.

3. "Coffee Talk" is a calming dialogue and interpersonal-driven visual novel focused on the lives of others and communication.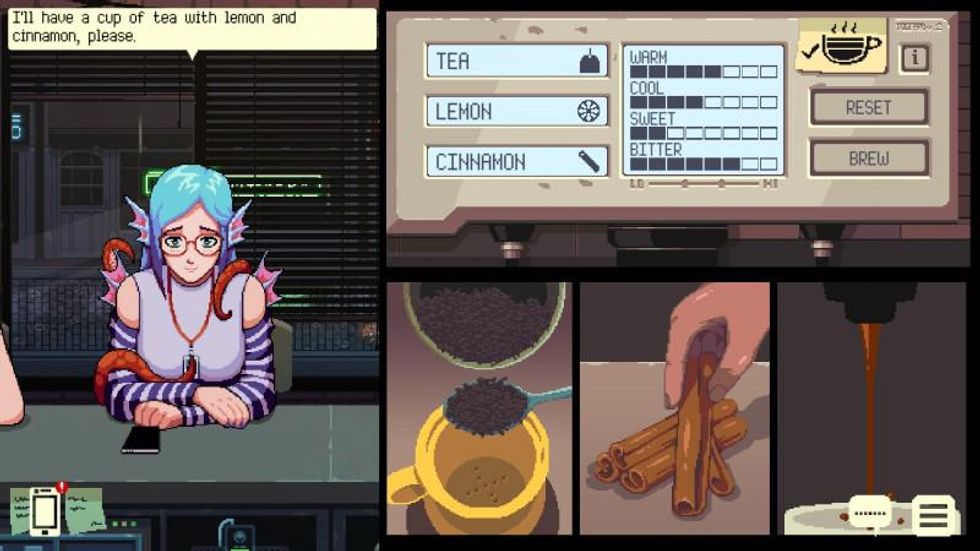 Game Informer
Indonesian developer Toge Productions outdid themselves with the creation of the visual novel "Coffee Talk." As the owner and sole employee of the eponymous Coffee Talk coffee shop, players brew and serve a variety of hot and cold beverages to patrons as they saunter into the coffee shop on rainy days and beneath lunar light. Unlike the last two games mentioned on the list, "Coffee Talk" focuses on interpersonal communication and the lives of in-game characters rather than the completing and perfection of the drinks themselves. Don't worry, "Coffee Talk" won't ask you to make any latte art or brew complicated orders, but it will get you to think about the actions of others and contemplate the simplistic comfort of a good cup of coffee (or hot-chocolate and tea if that's what you're into).
Furthermore, the variety of characters ranging from humans to fairy, elves, and succubi adds to the complexity of the coffee shop's patrons are you explore their desires, dreams, and romantic relationships. While the in-game time is only two weeks, "Coffee Talk" outdoes itself with the simplicity of brewing coffee and talking to others—acting as the medium between the patrons and their respective stressors. A comforting and fulfilling experience, "Coffee Talk" portrays a simple joy in the midst of a time where social interaction is a luxury. So, grab a cup of whatever you like and sit down to relax with an interactive novel at hand!

4. "Gris" is an adventure-platformer that sets you on the quest to restore your voice and steep the world in vibrant colors.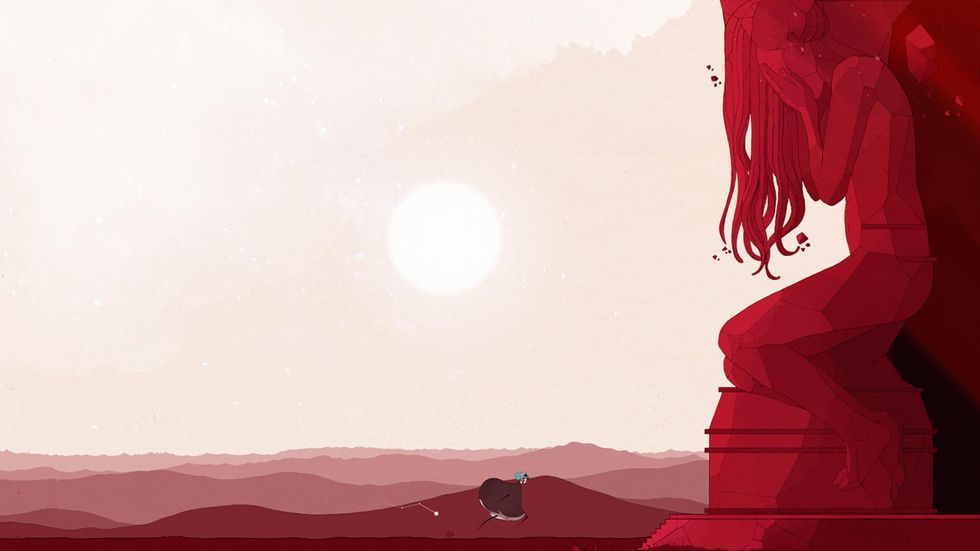 Nomada Studio
Imagine worlds seeped in a variety of shades and hues and colors—each one its own independent ecosystem of in-game life. Now imagine a game that centers delicately around themes of grief and depression. Now there's "Gris" by Spanish developer Nomada Studio where players embark on a quest to restore the voice of the female protagonist, Gris. Awakening in the palm of a crumbling woman, Gris loses her voice after becoming choked up at the sight of the statue's destruction, and players must then set out on the quest to restore her voice in a variety of different platforming environments with each one dedicated to specific colors. Moreover, players must solve puzzles in ruins and in biomes throughout the adventure as the nuanced themes of depression and anxiety become more and more pronounced.
As a cozy game, "Gris" requires players to think while also contemplate the ideas of such strong emotions and sensations. Like other games such as "Celeste," a platforming adventure game focusing around depression, "Gris" is a calming and collected way to unwind and introspectively discuss some of the strongest sensations felt during a year of lockdowns and quarantines. Although the game is heavy in its platforming, puzzles, and overall themes, it is still a relaxing experience as the puzzles are solvable within one or two attempts and offer a myriad of hints. The art style and visual components of the game are absolutely breathtaking, and that same art style is a mechanical fixture of the game rather solely just the way that it looks. If delving into the human condition and mental health is right for you, "Gris" is nothing short of incredible and reflective.

5. "Stardew Valley" is the OG cozy game where you farm and grow your own little slice of life.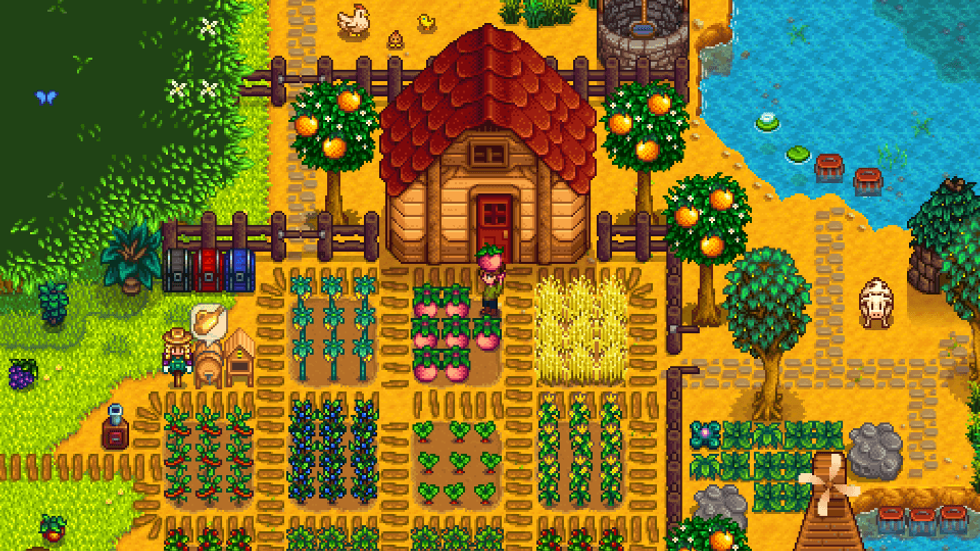 Stardew Valley Official Website
Now this is one of the best cozy games to date as it set the stage for an untold number of games released in its wake since 2016. Created solely by American video game developer, artist, and musician Eric "ConcernedApe" Barone, "Stardew Valley" is a simulation-role-playing farm video game centered around the protagonist's departure from the corporate Joja Cola office world in Zuzu City to the peace and serenity of Pelican Town in the region of Stardew Valley (yes, the title of the game is also the setting). Players arrive to the dilapidated, but albeit quaint farm left by your late in-game grandfather. The farm is left under the name of the player, and after escaping the humdrum of corporate life, players embark on the goal to restore both the farm and Pelican Town to its former glory through foraging, farming, mining, and more. Everything about this game is relaxing and enjoyable, from the simple combat to the sowing of crops and the crafting of item.
"Stardew Valley" is one of those games that makes you feel good, no matter how much time passes or which style of farm you choose. From a beach farm to ones surrounded by water or on mountain plateaus, the sowing and harvesting of crops and resources makes this game a staple in any cozy gamer's library. Furthermore, the game includes more fantastical elements with the inclusion of magic, wizards, witches, and unseen mysteries that reward players with their completion, and you get to form relationships with the townsfolk to which some you can even marry. "Stardew Valley" pays tribute to the older game title "Harvest Moon" that included many of the same elements in a different fashion since 1996, but this game is even more relaxing and nuanced than what is now known as "Story of Seasons" after a major rebranding from the old "Harvest Moon" days. Subsequently however, players in "Stardew" also tend to farm animals and craft artisan goods to sell alongside crops and other materials like ores, woods, sap, precious stones, and more exotic crafting items.
While focusing on acquiring money to rebuild farm and town, "Stardew Valley" lets you play at your own pace to take in the beauty and intricacy of a video game created by a sole developer. Overall, the amount of stress released from playing "Stardew Valley" while tending to a unique farm is nothing but incredible, and it's a great way to unwind from the woes of the real world through its simplicity and focus on a simple homestead. A word of advice however: the four different seasons come up on your pretty quickly as there are only 28 days each season (stand-ins for months), so make sure you plan accordingly to the crops and foraging items available in each season.