Fall is my absolute favorite time of the year. Unfortunately, it is also the time of the year where I have the least amount of money in my bank account because of early Christmas shopping, groceries, bills, sorority dues: the list only goes on for a college girl's financial responsibilities. So if you still want to bask in the autumn spirit, here's a few ways to do without breaking your budget.
1. Go to a farmer's market
Two words: free samples. You're buying from local farmers and steering away from the processed and fatty foods we college kids typically eat.
2. Make your own PSL
Personally, I'm more of a hot chocolate gal. I know Starbucks/Dunkin' Donuts for some reason just tastes better, but buy pumpkin/your fall drink of choice K-cups or creamer to save your wallet. You can also buy a reusable insulated cup to reduce your plastic intake as well. #savetheturtles
3. Have a photoshoot
Grab your phone and some friends and head out to a location such as a pumpkin patch or a corn maze. You can even look on Pinterest for ideas if you want your photos to stand out. Everyone loves a cute aesthetic fall pic for their Insta page.
4. Thrift your Halloween costume
Most of the time, you're never going to wear the outfit or part of the costume again so why spend an arm and a leg on it? Head to your local thrift store or even look online to find scary-good deals. Just please wash the clothes before you wear them.
5. Bake with your loved ones
Just the smell of baked goods in the oven is enough to bring the fall spirit out of me (and clear up my sinuses).
6. Carve a pumpkin
Taking out the seeds is so satisfying to me for some reason. Buy a cheap carving kit from Walmart and get to cracking. Smiling, scary, or kitten, nothing can stop this jack-o'-lantern.
7. Make leaf art
I can't be the only one where I collected different types of leaves and basically stamped them onto pieces of paper in elementary school. You can buy a canvas and end up hanging your masterpiece on the wall to give your space even more of a fall vibe.
8. Attend a football game
Obviously not the NFL, but local. Most of the time, university sports have discounts on tickets for students. Or my old high school always held a rival game the day before Thanksgiving and it was free of charge. Throw on your gear (a blanket would be a good idea, too) and cheer on your favorite team. Bonus: also tailgate.
9. Host a Halloween movie night
Popcorn, candy, blankets, pillow forts. The movies can be scary like "Texas Chainsaw Massacre" or just Halloween-themed like "Hocus Pocus" or "Halloweentown." Weather permitting, you can also buy a projector and host the night outside.
10. Go ghost hunting
Who needs to pay to be scared when you just get the feat accomplished yourself? Research haunted and/or abandoned places in your area and pretend you're on an episode of "Ghost Adventures." Remember to stay safe and do not put yourself in any situations where you feel you are in danger or uncomfortable.
Enjoy the fall festivities and may your wallet never produce cobwebs from lack of the moneys. #FunGirlFall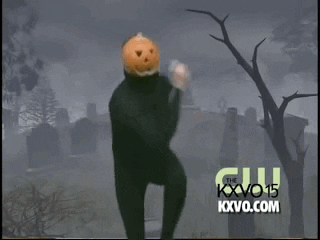 giphy.com