The Alfred E. Smith Memorial Foundation Dinner – aka the Al Smith Dinner – is an annual white tie fundraiser for Catholic charities supporting children. Hosted in New York City, the presidential candidates are also invited ever election year and they get to sit almost next to each other, with just the cardinal sitting between them. It's kind of like the White House Correspondents Dinner with all of the jokes though, because Hillary and Trump were spitting straight fire at each other last week. Not all of the jokes were good…but here are some of the highlights from the night:

Some of Trump's best jokes: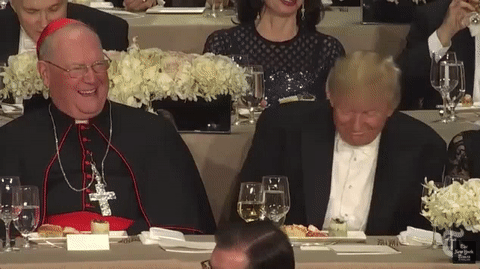 "Michelle Obama gives a speech and everyone loves it, it's fantastic. They think she's absolutely great. My wife Melania gives the exact same speech, and people get on her case, and I don't get it, I don't know why!"
"This is the first time ever, ever, that Hillary is sitting down and speaking to major corporate leaders and not getting paid for it."
"Just before taking the dais, Hillary accidentally bumped into me and she very civilly said, 'Pardon me,' And I very politely replied, 'Let me talk to you about that after I get into office.'"

"Listening to Hillary rattle on, and on, and on, I don't think so badly of Rosie O'Donnell anymore. In fact, I am actually starting to like Rosie a lot."
"The Cardinal and I, we both have impressive buildings on Fifth Avenue. His is much more impressive than mine. I built mine with my own beautifully formed hands, while his was built with the hands of God. And nobody can compete with God."

"The truth is I'm actually a modest person, very modest. It's true, in fact many people tell me that modesty is perhaps my best quality – even better than my temperament."
And some of Hillary's: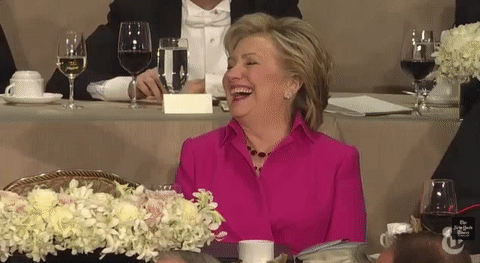 "Donald looks at the statue of liberty and sees a four… maybe a five if she loses the torch and tablet and changes her hair."
"But Donald really is as healthy as a horse, you know, the one Vladimir Putin rides around on."
"The cardinal is saying I'm not eligible for sainthood, but getting through these three debates with Donald has to count as a miracle, so I guess I'm up against the highest, hardest, stained glass ceiling."
"This is such a special event that I took a break from my rigorous nap schedule to be here."
"And because this is a friendly dinner for such a great cause, Donald, if at any time you don't like what I'm saying, feel free to stand up and shout 'Wrong!' while I'm talking."
"And, Donald, after listening to your speech, I will also enjoy listening to Mike Pence deny that you ever gave it."

"People say… I'm boring compared to Donald. But I'm not boring at all. In fact, I'm the life of every party I attend. And I've been to three!"
"Let's come together, remember what unites us, and just rip on Ted Cruz"