ICYMI, Mac Miller died this past Friday of an apparent drug overdose. The rapper was also Ariana Grande's ex-boyfriend, who she broke up with in May of this past year, a month before announcing her engagement to comedian Pete Davidson.
Because of the abrupt way their relationship ended, as well as Mac Miller's reported history of substance abuse and mental health problems, Ariana Grande is being blamed by a number of people for Miller's death, as they claim she didn't try hard enough to be with him.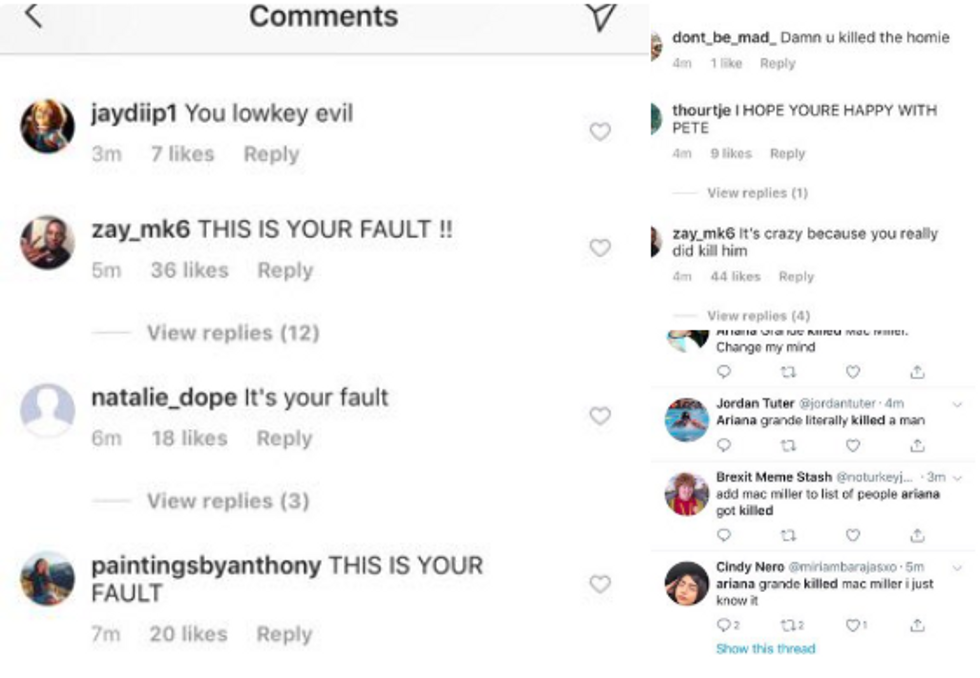 The barrage of commenters coming after Grande has led her to disable comments on her Instagram account. The abuse is not one-sided, however, as some of Grande's fans are claiming that Miller deserved to die, that Ariana should be left off the hook now, and that other artists should be promoted (stan-ed) instead.
Let's get one thing clear, Ariana Grande is not responsible for Mac Miller's death. It is not the role of anyone, including significant others, to heal or "fix" someone. Mac Miller suffered from addiction, a disease, that long preceded his relationship with Ariana Grande and ultimately claimed his life.
Placing the blame and the responsibility on someone else minimizes the impact that the disease had on Mac's life and assigns unwarranted shame and guilt to Ariana. She chose to leave for her own reasons. Her happiness in her new relationship, her need to promote her own self-care, and her inability, or decision not to, stand by Mac unconditionally for longer than she did are not representative of her value or culpability in this situation.
Ariana Grande is a person who, despite living her life in the spotlight, still needs to prioritize herself once in a while. Claiming that people, specifically women, should stick around in toxic situations doesn't allow the woman to be an autonomous person in her relationship and traps her in a toxic cycle where, like Grande, she is ultimately blamed for things that are in no way her fault.
Mac Miller's death is an unfortunate tragedy. He did not deserve to die and it is appropriate to mourn his untimely death. However, to catch Ariana Grande in the crossfire of his death is immature, unjustified, and incredibly harmful. Mac Miller should be mourned. Addiction should be treated, and Ariana Grande should be absolved. Pointing fingers and assigning blame benefits no one hurts everyone, and ultimately won't bring back Mac Miller.