As a newly certified or inexperienced diver, there are a myriad of unfamiliar experiences and unforeseen events which can quickly become overwhelming if not properly dealt with. However, with appropriate training and practice, the once novice can become equipped to mitigate problems like a pro. Yet, unlike other sports, scuba diving does not have a point at which the participant (nor even the professional) becomes the underwater, six-gilled equivalent of Buddha; mastering every aspect only to share your now sage wisdom with the less experienced. In other words, you'll never stop being a new diver in one way or another.
Consider for a moment what it is that we are doing. A few weeks of training which includes book work, confined water (pool) practice, and a handful of open water dives is all that stands between us and being certified to breathe underwater. Granted there are some limitations on that training such as depth and time at depth but, aside from that, the initial certification grants almost complete autonomy in regards to where and how one is able to dive. We purchase or rent moderately expensive life-support equipment, take a (sometimes choppy) boat ride out to a pre-determined set of coordinates and then, at the captain's call, leap into the open ocean being heavily weighted so as to sink to the bottom. Once our computer indicates that we're nearing the maximum dive time, the dive is over and we head for the surface. In most circumstances, it's literally that simple.
Now add in all of the other variables. Trying to make it to the boat on-time so you didn't eat or drink much that morning. Gear malfunctions on the boat ride out where one diver pipes in "just twist the regulator till it stops. Besides, a little leak is nothing to worry about." A moderate to heavy current. Poor visibility due to runoff from constant rain over the past few days. Diving an unfamiliar dive site or location. The hazy fog of gas narcosis. Any one of these entirely manageable aspects can compound on one another, causing the once confident and prepared diver to become apprehensive and cause a cascade of problems that will only continue to worsen.
As a PADI specialty instructor and TDI trimix deep technical diver with 600+ dives under my belt over the past 13 years, I have certainly seen and experienced all of the aforementioned problems. With that, I can honestly say that I have only felt uneasy and out-of-place underwater on two occasions. The reasons for writing all of this is to bring you, the expert diver, new diver, or future diver to a place of recognizing that you're in a sport that has no correlative standard for what would be defined as an "expert." You will always learn something new, dive in an environment of which you are unfamiliar, or simply perform an entirely normal and familiar dive yet (for whatever reason) have a different emotional and psychological response to that set of conditions. To exemplify my point, I'll share with you the most recent time that I felt like a new diver despite being entirely prepared and experienced for what was to be a normal dive.
After weeks of anticipation and copious amounts of time spent planning my dive, I was finally going to return to one of my all-time favorite dive sites: the natural shipwreck of The Hydroatlantic. Poised upright in 176 feet of salt water, it is well beyond the limits of recreational diving (130 feet) and so I would be implementing a technical diving plan, using "trimix" as the bottom breathing gas. This, however, would never happen. Due to a ripping current and an estimated visibility of 5 - 10 feet on the bottom after weeks of constant rain in Pompano Beach, FL, I was the only one on the boat who hadn't canceled their trip. Due to the situation, the boat operation will not run without a minimum number of divers in order to break even and so I opted to join the afternoon trip to a different dive site instead.
"I really wanted to dive the hydro again" I said to myself after hanging up the phone with the dive boat. Remembering back to when I did a 'survey dive' to identify various points of entry and places of interest at the site of the afternoon dive, The Captain Dan (110 feet deep). I looked forward to what was the best alternative and worked out a decompression schedule to maximize time on the wreck. "45 minute bottom time…19 minute deco…67 minute run time…" and so on.
Arriving at the boat a few hours before the dive, I checked in and left my tanks to be filled with the new mixture for this particular dive. A few moments later though, I was called over to the fill station when my one of the valves on my 'doubles' (two tanks connected together) started leaking from the seal inside the handwheel. After a few turns of a wrench to tighten it up, the issue had [seemingly] been fixed. However, while on the boat headed out to the dive site, the handwheel once-again started leaking; this time from the opposite valve which just so happened to be on my primary regulator!
Despite attempts to tighten it down, the leaking continued and so I was forced to either abort the dive entirely or dive on half of my gear. Now, this isn't as bad as it may seem. In technical diving, we carry two of everything and are trained to use every piece of redundant gear in the event of a failure. As a result of the (now lack of redundancy) I decided to err on the side of caution, by only doing a recreational dive, and not penetrating inside the wreck. Needless to say, I was not very happy about that.
Upon entering the water, I realized just how strong the current really was. At approximately 3-4 knots, it was flowing so fast that simply turning your head to the side would cause your mask to flood. This was in addition to the poor 15 - 20 feet of visibility. Pulling myself down to the wreck was a chore to say the least. With a light to moderate current, the descent would normally be a near-vertical, 90 feet of rope to the deck. However, under these conditions, there was 200 feet of rope at a 45 degree angle, into the current; my arms were on fire. Using my backup regulator was a non-issue but using the backup BCD inflator was cumbersome at best. Generally, the backup inflator sort of gets stuffed behind you as it's rarely used outside of training. As a result, I hadn't practiced reaching for it nearly as often as my primary and so that was awkward in and of itself. However, I pressed on as this was perceived to be a minor adaptation.
Reaching the deck of the ship at 90 feet, I experienced the familiar hazy fog of gas narcosis at depth. I also noticed a change in the posture of the ship: it was no longer sitting upright on the bottom as it had been the last time I dove it roughly eight months before. I hadn't taken the time to ask the boat captain if he knew of any differences and so I later discovered that the most recent hurricane had pushed it over about 45 degrees. The changed layout of the ship, the current, visibility, alternative gear techniques, and the persistent mental hindrance of gas narcosis all fed into what was now the second time that I had ever felt out-of-place and uneasy while on a dive. I felt like a new diver who had pushed a little too far beyond his limits.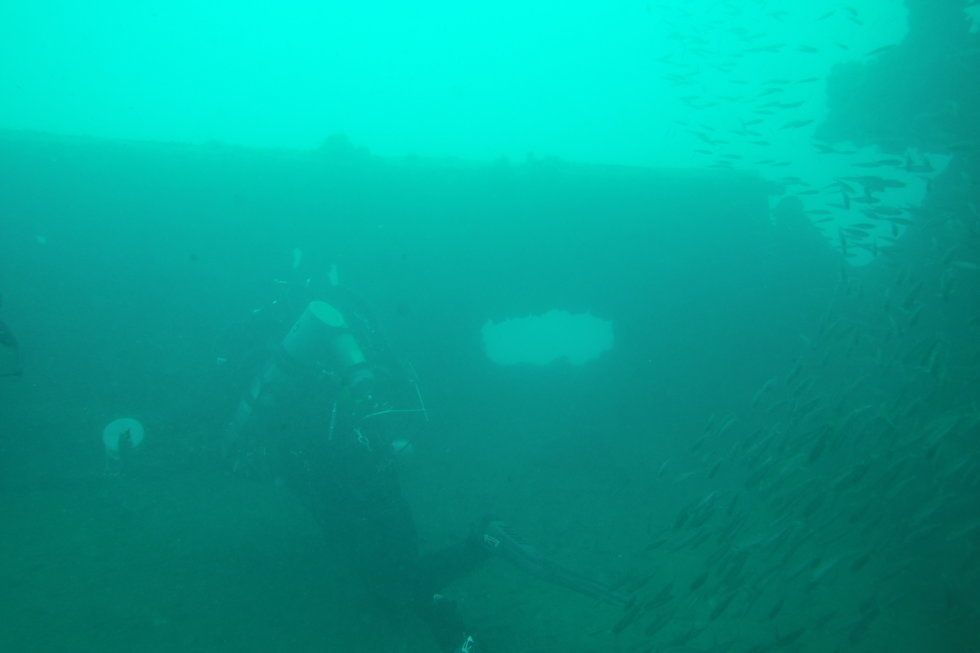 Taken from the deck of shipwreck at 90 feet deep, showing just how bad the visibility was. The Diver is ~10 feet away.Tyler Morin
Was I diving beyond my limits? No. Every decision that I made had been done rationally and well within my capabilities. However, despite that, I still had a psychological response to the compounded effect of the conditions on that dive; that of which is unusual for me and was wholly unexpected. Every one of us has a biological response to danger, a 'sense' of when something just isn't right. Developing that sense by making informed decisions and knowing when to quit has kept me safe thus far and I implore any who desire to better themselves as a diver to do so as well.