Coming into my first year of college, I knew that there was going to be a lot to learn ... both in and outside the classroom.
I chose to go about 3 hours away from home to school. After looking for months at so many different colleges up and down the East Coast, I finally chose Villanova University.
People asked (and still ask me today) why I chose there. Honestly, there's no real specific reason other than that it felt right.
Villanova felt like home when I stepped on campus for the first time which is why I chose to go there.
When I first started my school year, it was that same home feeling. I am very much a homebody so I was worried about how I would adjust coming rather far from home for school. I had never really spent a large amount of time away from home so thinking about how I was going to be spending 7 weeks of my life at college before I could come home for break was really intimidating.
But once I moved into my dorm and began classes, I was shocked by how well I was adjusting.
I am pretty sure most of my friends and family (and I, for that matter) thought I was going to be crying to come home after the first night. But I didn't. I never cried once about being homesick or hating college. I felt good at where I was and was excited to be on my own. My smooth transition just made me feel even more confident I had made the right choice on where to go.
Once the semester really started to take off, I met some of my best friends. I had a large group of people that I met in various ways that I did almost everything with. It was so much fun! But over time, we all started to get involved in different activities so it became hard to do as much as we were.
It was sad at first but it made me realize that you are going to inevitably grow apart from people over time.
Some of the original people from that group and I remained close and we are still best friends with them today. I have also been able to meet a lot of new people, being as I wasn't spending so much time with a big group of people, and I am really thankful that these people are in my life now! It is crazy how well you get to know people when you spend so much time with them. All of my friends and I have only known each other for 6 months but I feel like we have known each other for a lifetime!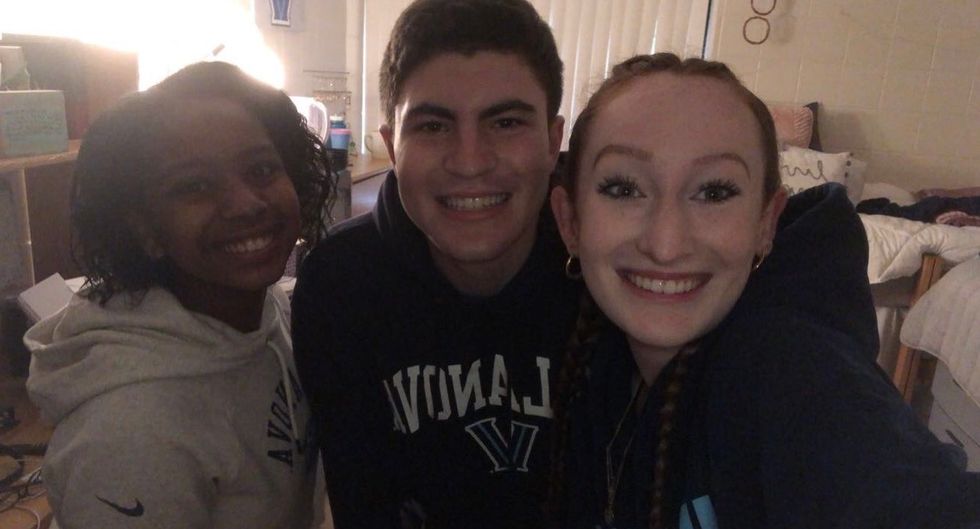 Some of my besties! Kiah and Jared!Annie Mantei
I was really loving college but the one thing that was not going well was my living situation. My roommate and I were a really poor match and I wasn't getting what I wanted out of the living situation. We were both very different and living together wasn't conducive to our lifestyles. For a long time, I felt like I was doing something wrong because things weren't the best.
I am not sure whoever came up with the idea that "the ability to live with a stranger" is a quality one must have.

The more I think about the concept of living with a complete stranger and the expectation to make it work for a whole school year, the more it blows my mind ... it is so crazy! I ended up deciding to move out of my dorm and relocated to another one on campus. It was hands down the best choice I could have ever made for myself. It was very agitating that I had to completely move out of MY room that I was entitled to 50% of, but it really was the better choice for me.
My living situation wasn't ideal and the expectation you need to be best friends with your roommate is completely absurd.

Once I was all moved into my new room, finals were starting. Thankfully, my first semester had a pretty light workload and I didn't have a lot of finals. I was really just focused on getting through them so I could come home! I was so excited for winter break. It was the first long break I had that lined up with the breaks of my friends from back home. I was really eager to see all of them.
Everyone kept telling me that I was going to get bored at home after a week ... but I never did.

As I said, I am a homebody. I sort of believed the people who said this and deep down, kind of wanted this to be true (that had to mean I loved college, right?). But over the entire 3 weeks, I really didn't ever get bored. I was so happy to be with my family and in my own home. I spent a lot of time with my loved ones and realized being with them is what makes me happiest.
When it was time to go back, I didn't want to. I really missed my friends at college but loved being with my entire family over break. I was having such a good time visiting home! I think my transition from winter break to the spring semester was harder than when I first went to college!
When you are on "borrowed time" with loved ones while you are home on your breaks, you really learn how to cherish moments.

When I realized just how much I missed my family and home after coming back to school from break, I seriously began to think about what is important to me in life. I realized for the first time in my life, being as I had never really spent time away from home before, just how much I value my loved ones. Going weeks without getting a hug from your dad, or eating a homecooked meal from your mom, or laughing with a sibling is hard! No matter who you are, at some point, you begin to miss your family and home!
The realization of just how much I miss my family showed me that someday I want to live close to them so I can see them when I want. I always used to think, "wow, I would love to live somewhere and do something where I can live lavishly and make tons of money!". That used to be one of my goals and what I "planned" my future around.
But being away from home taught me what is really important to me in my life.

I want to be able to spend time with my family as often as I can.
One of my friends told me once, "oh so you are one of those grateful children". Yes, in short, I am. But really, college just taught me how appreciative I am for my loving family. Many other people go away to college and realize different things that they want in life. Maybe they discover a cause they are really passionate about, or that they actually like broccoli after all! Either way, college can teach you a lot. For me, it just happened to be about my values!
As my freshman year comes to an end, I am excited to see what the rest holds. Even though there have been some struggles, I am grateful for all that it has taught me. I have learned a lot of deep things about myself I didn't know, so who knows what I will find out between now and finals week!