2016 was a year of bad news. I have two applications on my phone, Facebook and Twitter, that provide it for me. Of course, it's not my fault that the bad news reaches me, I'm not the one causing the bad news to happen, but I'm still the one who has to see it. I feel like I'm wired for it, I can't escape it, like I'm addicted to it.

"You ever watch CNN for longer than, say, twenty hours in one day? I gotta cut that out."
This quote comes from a bit off from the late Bill Hicks' 1992 album "Relentless". I think about this quote when I'm scrolling through hours and days worth of the news that ends up on whatever feed I'm looking at. It feels like, sometimes, I can't stop. There's always something new, something else happened, someone famous died, something happened and we can't fix it.
That was this year. At least, it seems like that was this year for me. Every day, something else happened, and I read about it. Everybody read about it. Everybody shared it so everybody else could read about it. I'm not decrying the act of sharing, this is an aspect of personal interaction and in showing others that a news story matters to you, you make an effort to get others to understand it
But still, I feel like I'm drowning. I know I can't do anything about it, really. I mean, I can try, but I'm just one person, I can't actually make an impact. I know that sentiment is shared by others. I saw that in images like this -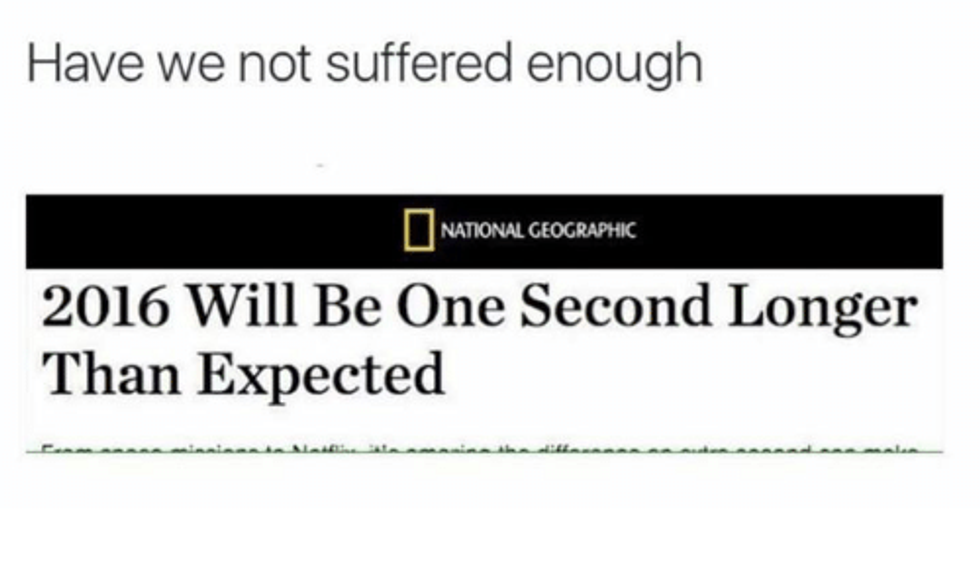 That's not a reason not to speak up or try to change things, but it's an acceptance that I'm not going to change everyone. I can only affect the people around me, and I try to do that.
Hicks continues the aforementioned bit saying "Then, you look out your window… where's all this shit going on, man?"
I think of this as well, less on the news front and more just in personal interaction. After the election in November, I noticed a lot of people expressing guilt for even enjoying themselves in minor ways. How selfish is it to be happy when everything is crumbling?
I keep trying to find a way to spin this into a positive. I keep wanting to point out that everything feels there's only bad news anymore because we only process the negative news as being valid - But maybe there's just only bad news anymore. Maybe it's all for nothing, maybe there isn't hope, maybe there's no point to going on.
But the fucking crazy thing is that we're going to keep going. Even after the "worst year ever", there's going to be another year. People don't like to hear that. President Obama got skewered for saying that the sun would come up the day after the election. But, we can't do anything about time moving forward, we can just keep working to fix our problems today, and tomorrow, and next year. There is time to fix ourselves. There will be a 2017 to fix our 2016. We just have to do something about it.
My plea to others, and my plea to myself, in a way, is to find out what that is that you can change. Stop thinking so large that you set yourself up to fail. It might be small, but it will be something - and it will be valid. Work to be more outspoken, work to take people at their word, work to do whatever you think will help - and actually help - stop the problems you feel have destroyed this year. Maybe your change won't do anything nationally, or globally, or even in a major sense in your community, but work to respect yourself enough to be proud of what you do change.
I think this year opened a lot of eyes, especially a lot of eyes around me, to the overall helplessness that one person has in the scheme of a planet of eight billion. We as people, as a race, have problems, and most of us can't solve them. But that doesn't mean we can't work. And that doesn't mean we can't get the chance.