I want to preface this article by saying I am fat, and if you are my friend please don't text me in the next five minutes apologizing for anything. You have nothing to apologize for. This article is for the fat girls in the world. We deserve recognition for the things that happen to us. I asked a bunch of fellow fat girls what were some of the worst things that happened to them all the time. So here are 16 of the most common grievances of your token fat girl in the friend group:
1. Clothes swaps aren't optional.
I lived in my sorority house last year, and nothing was worse than when we had themed parties. If I didn't have the clothes, then I wasn't going. I didn't want to be the odd one out, and I couldn't borrow from anyone because we aren't the same size. When formal comes, I always have to buy my own new dress, instead of being able to go through my sisters' closets like the rest of my house is doing. This isn't anyone's fault but mine, but it's always another reminder that I'm different.
2. You despise shopping with your friends.
This may come as a shock to straight-sized people, but most clothing stores don't offer plus size clothing. I personally only shop at Target, Torrid, Forever 21, Lane Bryant, and Old Navy. I'm sure other fat girls shop at other places, but we certainly aren't shopping at any high-end stores. At the Short Hills Mall, the mall closest to me, the only store that sells plus-size clothing that my friends will even go near is Forever 21. This means that for the rest of our shopping trips, I'm just walking around, trying not to get into anyone's way. I got really good at UnBlock Me on one such shopping trip. Once again, it's not any of my friends' faults that I can't shop in the stores they go into. However, it would be nice if, when we do go shopping, you all came with me to my stores too, even though it's a little bit embarrassing.
3. Nothing bothers you more than when your friends say they're fat.
One, you're not fat. If you're below a size 12, you're not fat, and I want you to shut up now. But the real reason why this bothers me, and every single fat girl will agree with this, if you say you're fat, what am I? I must look like a walrus to you. I must be giant. I thought I was looking good today, but if you say you look fat, you at 100 pounds soaking wet, I, at least twice your weight depending on the minute, must look like a blobfish. Please stop saying this. Nothing hurts more than our friends insulting themselves and, by extension, insulting us.
4. Unless your friends are on diets/exercise kicks, and then you're even more miserable.
I already feel self-conscious with every step I take and bit of food I put in my mouth. When you start dieting, and then talk about it constantly, I start getting even more concerned with my size. This is a me thing, not a you thing, and it's not your fault I feel this way. But if you say that you need to diet because you're too fat, how do you think that makes me feel? You have the privilege of already being able to go to restaurants without people looking at you no matter what you order. So if you're getting a salad, and all I want is chicken fingers, I'm probably going to get a salad so I don't feel even worse about myself. And you're right, salad is healthier. I just don't want the judgment.
5. Going to the club is a miserable experience when everyone is being hit on and you aren't.
I've gotten hit on once at a club and it was because my hair reminded this guy of Texas. I've never been hit on at Muhlenberg. I don't think a boy has ever looked at me at Muhlenberg. You wanna know why? It's because I'm fat. People aren't as attracted to fat people, and if they are, they're really creepy guys at the club. That's not saying fat people don't have relationships, but I know one woman who gets exclusively hit on by old men, and the amount of websites where women are paid just to eat is sickening. Many times, our fatness is fetishized or seen as disgusting, which makes going out to the club and watching our skinny friends hook up with men for hours pretty upsetting.
6. You move to the back of photos for fear you'll look like a giant next to your skinny friends.
The cover photo of this article is me and my best friend the week before I left for college. Amy is the most athletic person I know, and this has led to me constantly looking like a giant in all of our photos. It's now become my practice that I'll move to the back of group photos so I stop looking like the giant I am. There's a photo circulating around of me and my twin from my sorority and I look like I'm about to absorb her. I did a family stack once and my big looks like one of those birds on the back of hippos. I should not be in the front of photos.
7. Going for walks during the day hasn't been an option for you since middle school.
This is because I sweat. And not a cute type of sweat. I sweat like a sinner in church. I sweat like it's constantly 100 degrees in July. So taking walks when the sun is beating down means I will start sweating. It's going to look gross and I'm not proud of how I look when I sweat. It is a mess. So please do not ask me to walk someplace unless you're okay with me wearing my sneakers, slathering on 20 layers of deodorant, and leggings. Also, don't walk fast. There's more of me than there is of you which means I have more to move with each step, meaning that I will take longer to move than you. I don't walk slow on purpose, I walk slowly so I don't have an asthma attack and collapse.
8. And on that note, you avoid summer in general because of your constant state of chub rub.
Everyone experiences chafing, this isn't a "fat girls only" thing, but chub rub is. Chub rub is the horrible thing that happens when our fat on our legs rubs up against itself and gives us giant rashes. When your legs don't separate unless you're attempting to do a split, this happens more than we'd like, especially during summer when we have to wear shorts or die from heat stroke. I had chub rub so bad in Italy I started bleeding. And not just like a little cut, there were multiple giant cuts all up and down my legs. And then I went to the zoo a week later and the cuts re-opened, resulting in it looking like I had murdered a guy by squeezing him between my legs. I know everyone chafes, but fat girls have it bad, so please don't make me walk too far in the summer. I don't want to start bleeding again.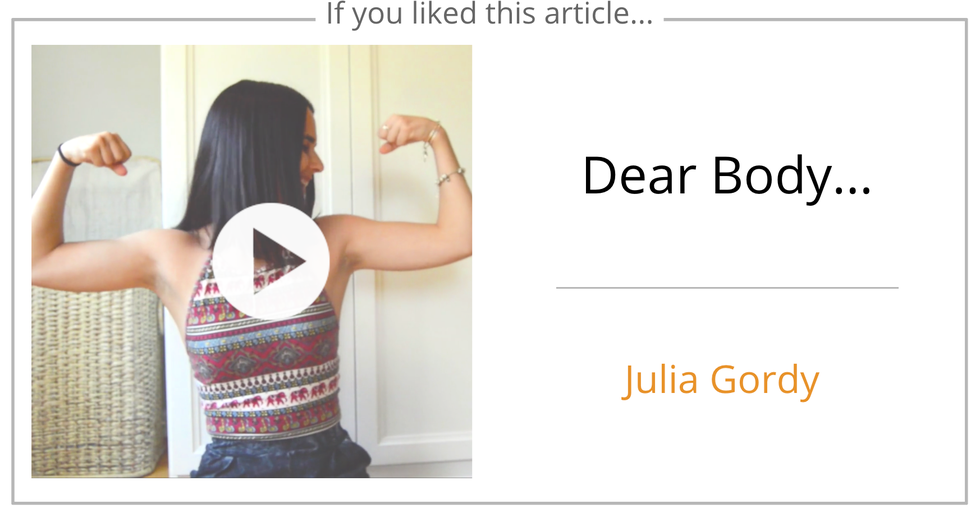 9. You're the funny one.
I don't really know why this is. Personally, I don't think I'm that funny. My friends certainly tell me I'm not funny all the time. However, when our group is laughing, I'm usually the one that started it. I think it's because I don't want people to laugh at me because I'm fat, so I make them laugh at whatever I'm saying instead. I control the laughter, and then they can't hurt me. If there's a group of people, the fat one is the funny one. Why do you think Jonah Hill makes so much money? Why do you think Melissa McCarthy is one of the highest-paid working actresses right now? Why do you think Aidy Bryant and Leslie Jones are the best women on SNL? They've had years of practice.
10. Nothing is more terrifying than a group T-shirt order form.
I get in a cold sweat any time someone asks me my T-shirt size in a group chat. This mostly happens with my sorority, and it's humiliating to be the only person above size medium. I know no one even thinks of it, and it wouldn't bother me if everyone was my size, or if even one person was my size. But I'm officially the largest person in my sorority, and it's just embarrassing to be singled out all the time.
11. You don't just do anything.
You don't just go out. You don't just go to the beach. You don't just do anything. First, you need to psych yourself up to do things. You'll get a lot of looks when you go out, especially if you're going out to eat. You need to make sure your outfit doesn't show too much skin, but also that it doesn't cover up too much or you'll be sweltering. If you're going to the beach, you need at least two weeks to prepare.
12. The worst conversations are when everyone is discussing the amount of guys they hooked up with the night before.
Well this is for me, but I'm very excited for you, I just want to talk about something else that I can actually have input in. I can't talk about boys because I either didn't go out last night or didn't find anyone who I experienced a mutual attraction with. I know a lot of fat girls who are really happy in their relationships, but I know more who are in the same boat as me. It's just uncomfortable and I don't know what to add to the conversation.
13. But even worse are the conversations you have right before a meal.
First off, it's what is everyone going to order? Is everyone going to get salad? Is everyone getting fries? What are we drinking? Is it a water kind of day? Or can I get Coke without feeling judged? I know that what other people order has nothing to do with me, but like I said earlier, if everyone else is getting salad, I'm going to get it too so I don't feel even worse. Being fat means being constantly on your toes and making sure that you aren't noticed even more because of your fatness. This shouldn't be a thing, but because of my self-consciousness, it is.
14. People always try to give you advice about your weight.
"Join me at my Barre class, you'll love it!" "Have you tried cutting out gluten?" "Well maybe if you exercised more, you'd look better." "Are you sure you want to eat that?" "You know I love you but have you tried just not eating as much?" "There's nothing wrong with you, you just could improve if you do this." "Can I recommend something?" "How about you do this diet with me?" "Let's go to the gym together!" I know you mean well, I do. But please stop. I know what I am and I know who I am and I will change when I change.
15. You've learned that "fat" means you're ugly.
When your friends say, "I look so fat today," they mean, "I look ugly today." When you're fat already, your friends are telling you that you are ugly. And then if you say, "Well I'm fat," they'll immediately respond with, "No, you're so pretty!" I didn't say I wasn't pretty. I said I was fat. I didn't say I was ugly, but you associate "fat" and "ugly" as the same word. The amount of times I've heard, "Wow, you're actually really pretty!" or "You're really pretty for your, you know," is infuriating. I'm the hottest one in this group, we all know it. You just have to stop associating these words together. And by the way...
16. You have the best butt in your friend group and they all know it.
Also you have the best boobs, sorry 'bout it. You may be fat, but you're also amazing, beautiful, funny, kind, smart, and everything in between. Your fatness adds to that. So even though you're the fat girl in your friend group, you're also the best girl in your friend group, and never forget it.