"I realized that bringing a baby into this world is a blessing, and not an inconvenience"
We all know that show Teen Moms or 16 & Pregnant. MTV thrived off of these shows because so many people can relate to being really young and finding out they or their significant other is pregnant. Although the main purpose of sex is to reproduce, let's be real, ladies, we don't exactly wear a matching bra and underwear for a date because we have baby fever (or maybe you do, to each their own) and, every form of birth control has the slightest potential of failing. Whether you have Nexplanon (birth control inserted into your arm, usually replaced every three years), Depo-Provera (shot every three months), Condoms (if you don't know what those are, you and your parents need to have "the talk" and, you're probably not old enough to be reading this), or the pill (taken once a day), the doctor will always go over the statistics and risk of them failing.
There is also the "pulling out" method with a high chance of not being effective and, then there is the "not pulling out method", which is the least effective method of them all.
This isn't to say that all pregnancies aren't planned because many people take that leap and even go as far as adoption because they genuinely want to have kids and can't/don't want to reproduce.
Although many pregnancies are in fact planned; we can't deny that when you are young, maybe almost done with college, and haven't really entered into a field yet as a career choice, a baby probably isn't on your agenda. You aren't alone.
In 2011, nearly half (45% or 2.8 million) of the 6.1 million pregnancies in the United States each year were unintended.
My mother found out she was pregnant with me at the age of 14. She was very young and barely knew my father at the time.The original plan was to give me up for adoption because, come on, she was 14. When the day came and, she looked at me for the first time, she decided to keep me. (I'll save her story for another article)
The purpose of including that story is, there is no way she didn't, even for one second, burst into tears out of fear when she thought about having a kid at her age.
That thought has been tossing around in the back of my head for many years and, caused me to have a special interest in the emotional roller coaster a woman goes through before the baby is placed into her arms for the first time.
Fortunately, I had the privilege of meeting an amazing woman about a year ago, Evelyn Carrillo, who is now under similar circumstances and, she has been kind enough to allow me to interview her about her feelings about the pregnancy from the very beginning to now, six months later.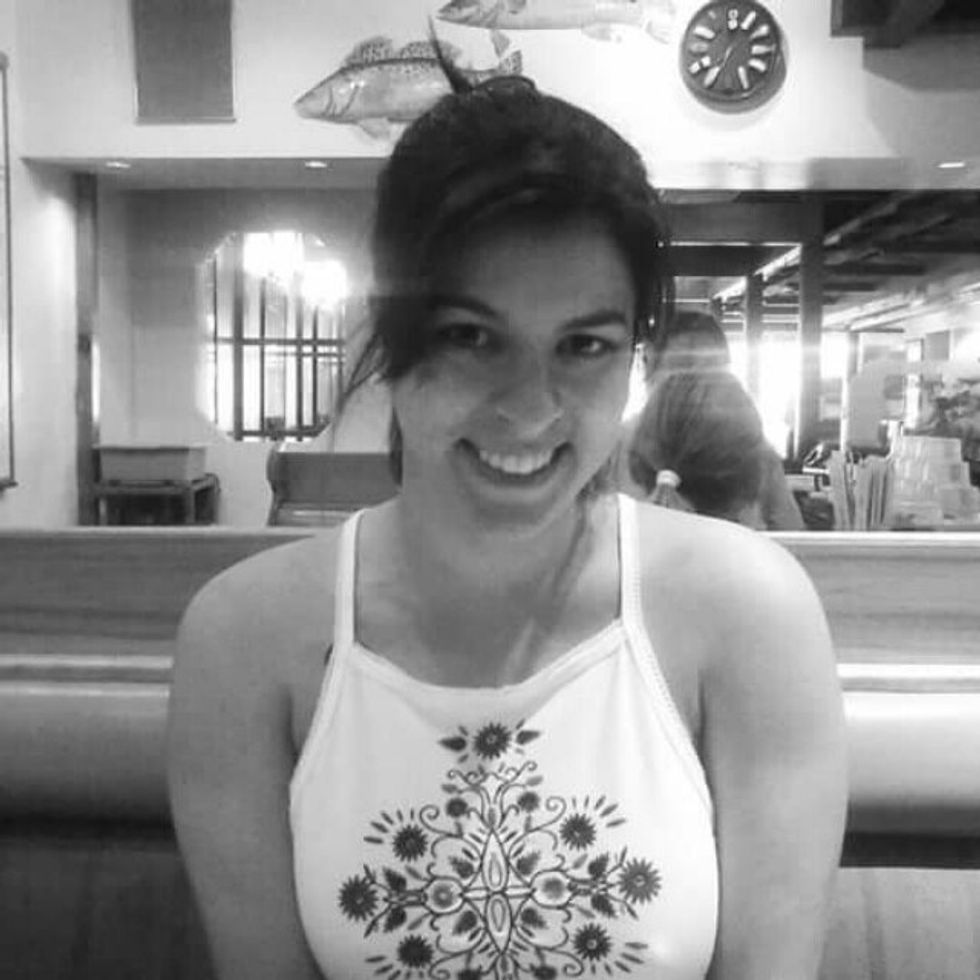 She found out she was pregnant, at the age of 21, with her boyfriend of two months at the time, Jason Rollman.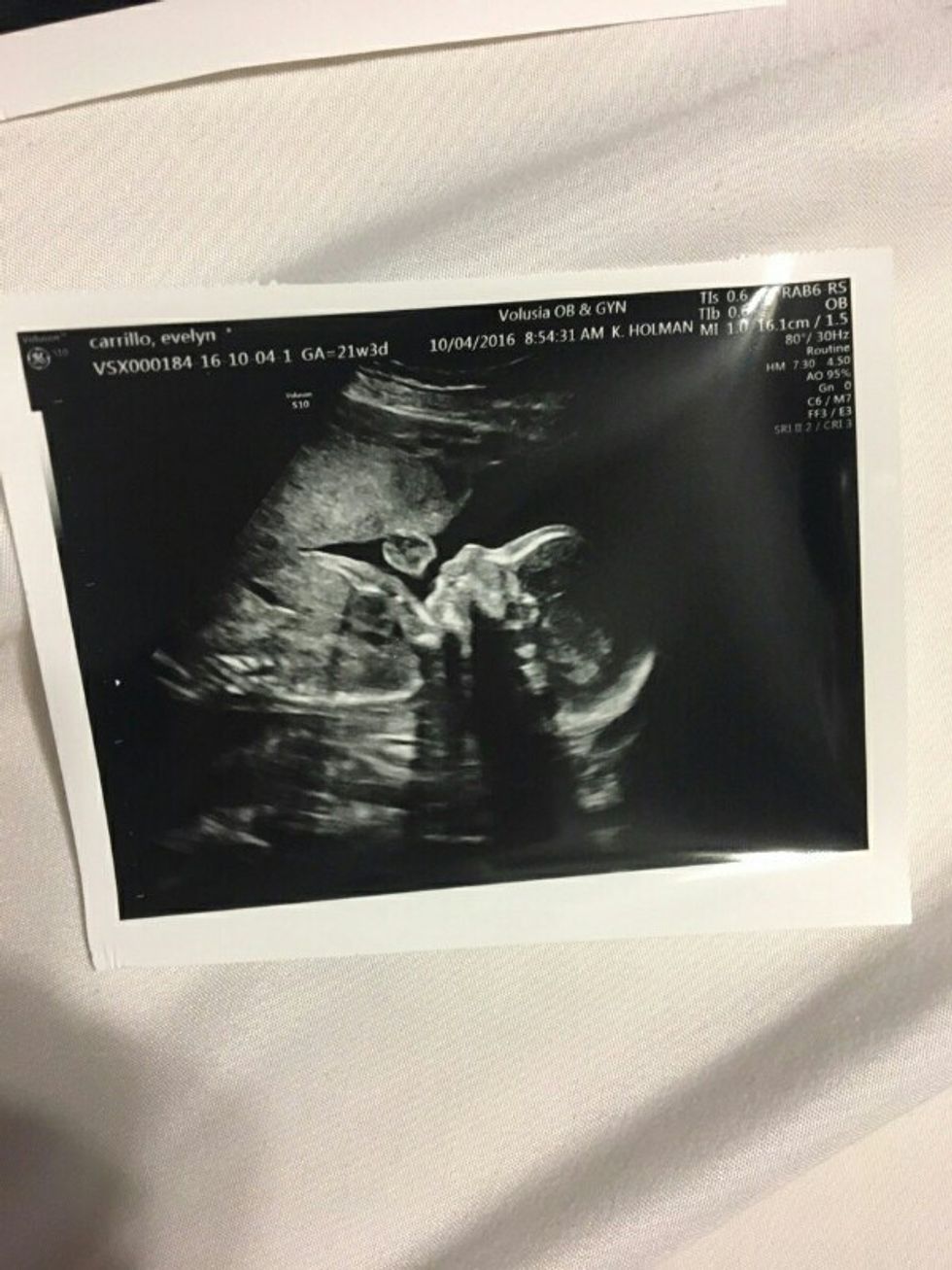 Carrillo enjoyed partying and all the luxuries of being young. With only one class left to finish up her A.A. at Daytona State College, she was definitely not ready for the responsibility of becoming a mother.

"I freaked out, cried hysterically, and kept denying it was true. I didn't want it to be true, and I kept saying I didn't want the baby, but I couldn't abort it -- I have always been pro-life. A few people did bring it up as an option but I could not in my right mind end a life because I wasn't being careful.--Therefore, I was trying to figure out how I was going to put it up for adoption."
Telling her boyfriend was the next step,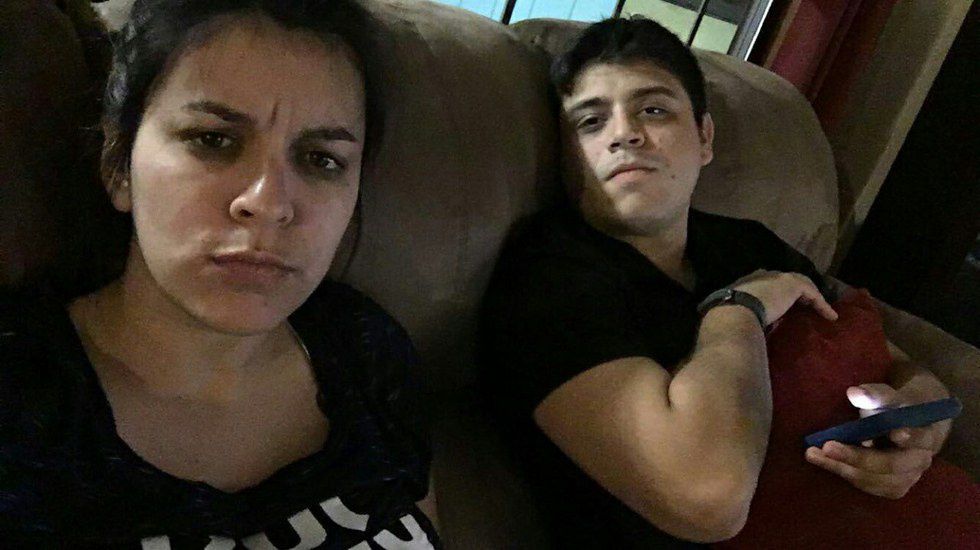 "Jason was relieved, which angered me. He said he was relieved because when I called him and said I needed to meet immediately he knew it was either because I cheated on him, I was dumping him, or I was pregnant. Apparently, me being pregnant was better than the other options."

and then her family.
This was ultimately the scariest part because of her family's religious beliefs but nonetheless, no father wants to hear about any guy impregnating his baby girl.
"At first, my mom didn't say anything, my brother walked away, my sister and her husband retreated to a different room so he could console her because she was crying when she learned I wanted to give it up because obviously she was the one who needed to be comforted since the situation was just so hard for her and, my dad asked Jason to leave."
After a few weeks, Carrillo states that everyone had finally allowed the pregnancy to sink in and they seemed genuinely happy for her.
"I didn't feel like I was disappointing them, anymore."
The months to come had a lot of obstacles to overcome. Although the initial emotions have cooled down, Carrillo admits that she had a lot of growing up to do.
"I changed my mind about giving it up for adoption. Instead of referring to the baby as 'it, 'the kid', and 'weird alien thing'. I start to own up to my actions. I started calling saying 'my baby' and 'my child'."
She couldn't have gone through this transformation by herself, her newfound faith in Christianity and unconditional love of her God, gave her strength, as well.
"I went on a church retreat, which helped me officially deal with all my mixed emotions and thoughts. I started asking God about what I should do and if I was a bad person for not wanting the baby in the first place. I remember knowing that no matter what I do, He will never be ashamed of me or turn His back on me. Now I think about what I can do to benefit my children. Honestly, everyone thinks selfishly (one way or another) until they have a kid; and there's nothing wrong with that. That's just how we are as humans."
Because of all the love and support she received the past couple of months has given her the reassurance that she will be able to give her baby the love and care they deserve and, she knows, she will have her family and loved ones to support her when her baby boy finally opens his eyes for the first time.
"I realized that bringing a baby into this world is a blessing, and not an inconvenience. There are plenty of people who are physically unable to have children."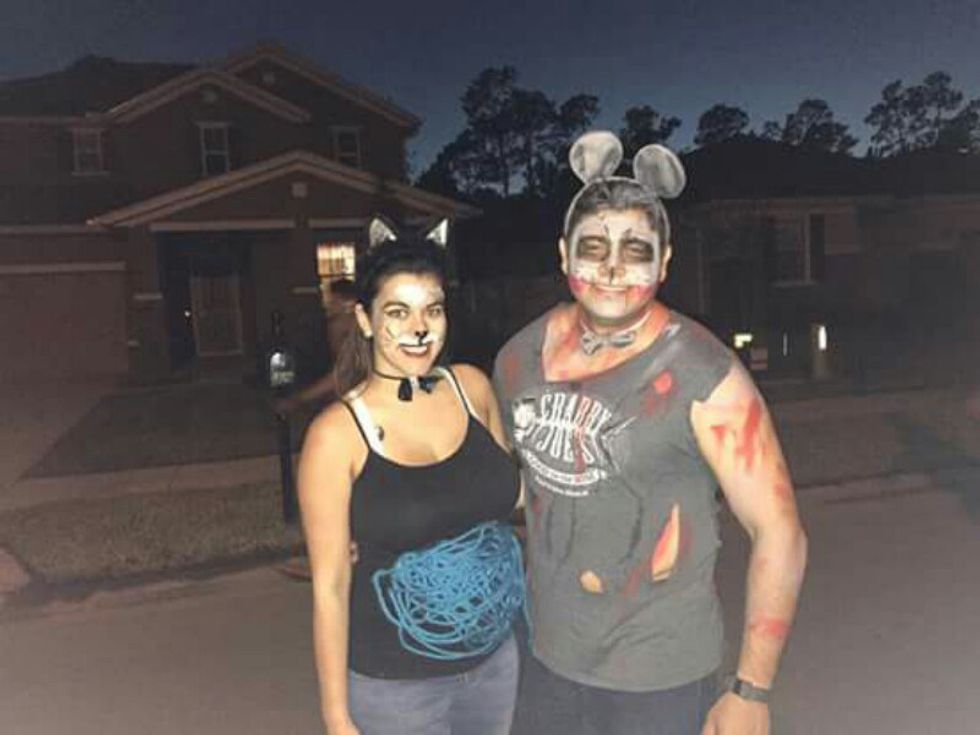 Carrillo's story is a beautiful example of what a woman can go through during an unplanned pregnancy. The best part is that she is willing to accept that, she, in the beginning, wanted nothing to do with her baby because she was scared and didn't feel she was ready but also admits that she would not be who she is today if the pregnancy had never happened.
Six months later, she is coming forward with a smile on her face and some helpful words for mothers to be.
"The due date is February 11, 2017. Even though he hasn't been born yet, I can't think about my life without him because it just doesn't make sense.This baby has already helped me find my way back to myself if that makes any sense. He has given me so much perspective I've never seen before, and he has already helped me grow up faster than I was before"