A week's worth of rain hit Southern California on Saturday, February 18th while the second annual "You Are Going To Hate This Fest," hosted by Zac Carper of Fidlar, hit San Diego's famous Soma Stage. Despite the cloudy skies and the fact this was only round two of this punk festival, The Frights, San Diego natives, sold out the venue of over 2,000. And while the rain poured down outside, the musical stylings from groups like The Buttertones, The Regrettes, Tijuana Panthers, The Garden, and of course The Frights rained down inside - twelve bands, two stages, and one hell of a night.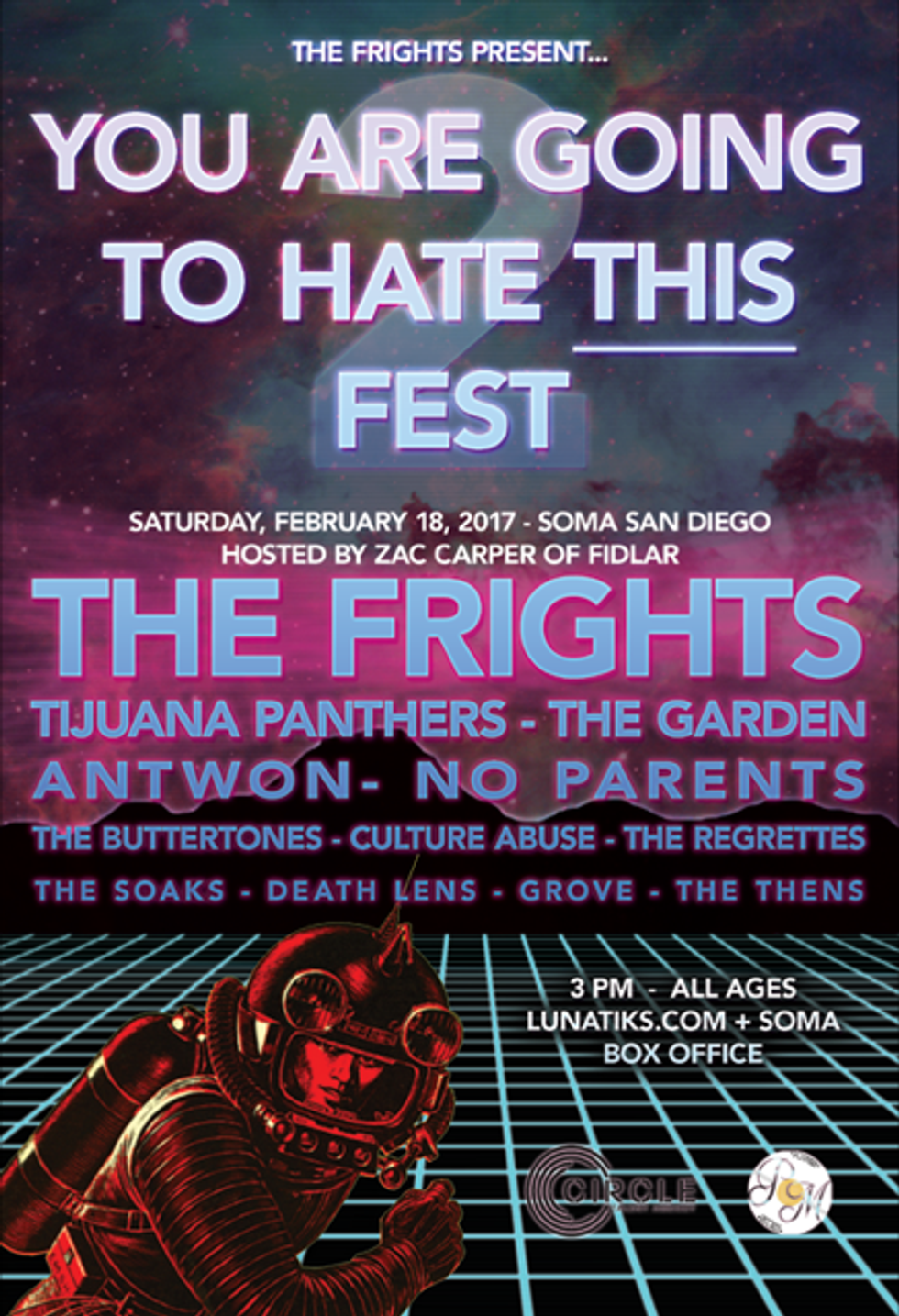 Much like Long Beach's Midnight Mass in December this fest was ragged in all the right ways. The venue was split into two main rooms, separated by a side stage and a main stage. Every corner from the entrance, to the bathroom, to both stages was packed with young punks in stylish dress; fishnets and faded t-shirts, overalls and vintage opticals, bralettes and boots.
You know it's a quality punk show if you can't go anywhere where it doesn't smell like your older brother's bedroom; well, this show gave teen spirit a new scent. Body odor, weed, tacos, for some reason, all laced together with the scent of overactive hormones, something you actually get used to - this shit was the real deal. It was dark except for the occasional red lighting, and performers were scattered around talking to fans and friends - it felt as if we all had backstage passes.
During No Parents' set, a heavy punk band out of Los Angeles, California, it was even rumored the crowd got a little more than just wild - they went absolutely ballistic. After stepping out from the main stage area to get some air and meet with The Buttertones, I stepped back into a crowd of scruffy looking teens splitting up after what must have been an absolutely killer set. A kid who looked about 18 pushed beside me, his striped t-shirt in total shreds. I heard rumors a girl threw up on the guy in front of her; people were throwing wild punches, a girl was almost dropped upside down. A scene that sounds disgusting by design, but this was the authentic punk rock experience.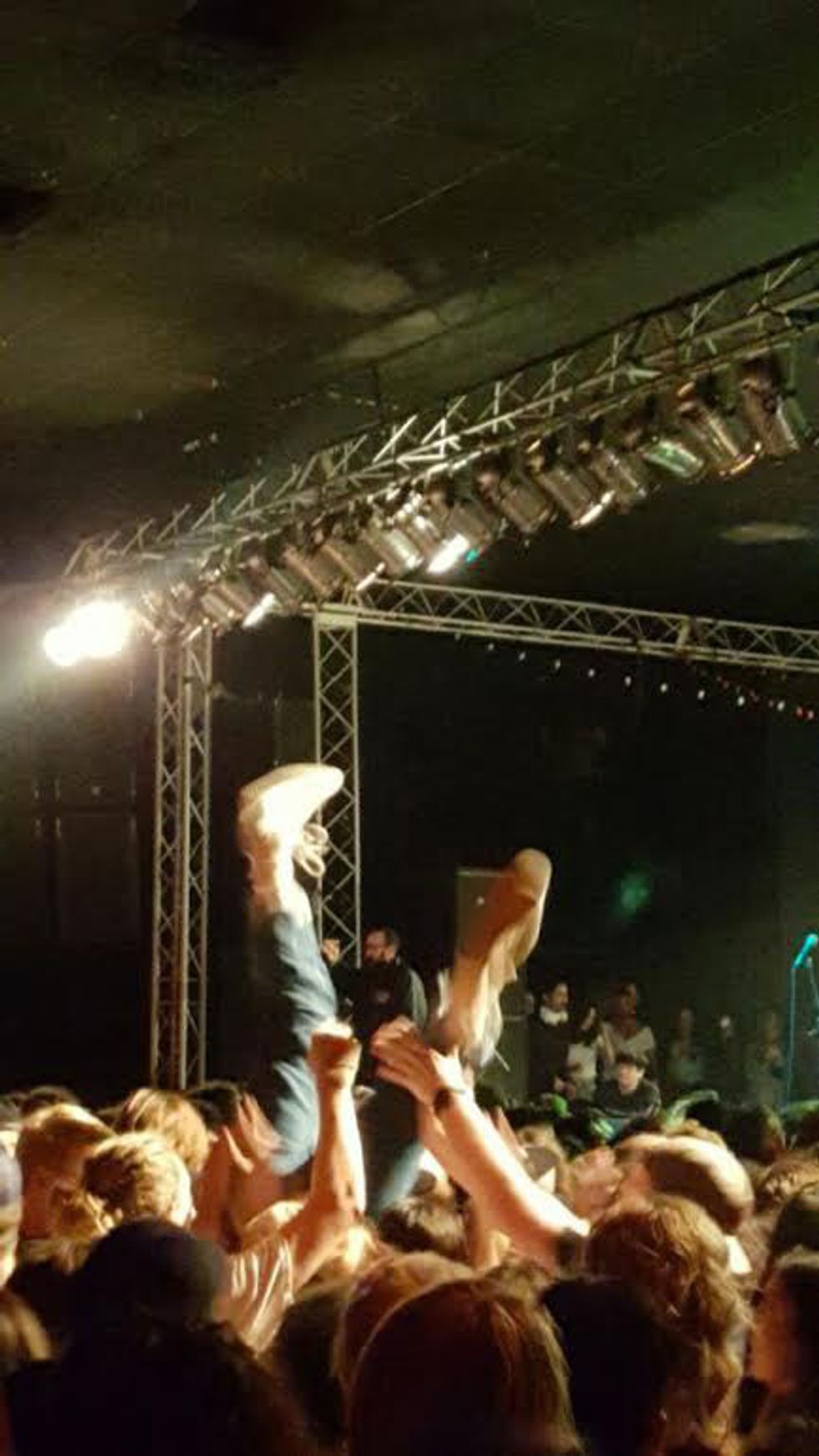 No need to fear, youngins and punk newbies; not all the bands draw such explicit crowds. With eyes wide, sweat dripping from their brows and down their chins, clothes stretched and torn, and hair in messy clumps, kids pushed past trying to escape the shuffle of the large group. If you don't like who you're standing next to, don't fret: you're almost certainly going to lose them in one song's time. A dangerous game of Twister within the legs of us all was being played, falling down like dominos lined up in intricate patterns, piled on top of one another until someone was able to get up or stop themselves from falling too. If you're left standing there's a good chance you're holding someone's head above your own - crowd surfing is a critical asset to a solid punk experience after all. Jumping, pushing, nodding like bobble head figures, the entire idea is about absolutely losing your mind and what a riot it is.
Some highlights of the night include The Regrettes, a California band giving a voice to feminism in the punk scene, packing the side stage area from wall to wall, even at maximum occupancy people jumped through the windows in the wall separating the main and side areas. After them, The Buttertones, who give surf punk a more vintage sound with the addition of saxophone, took the side stage where I was lucky enough to situate a spot front and center. We all squeezed in so tightly our arms were stuck to our sides. About halfway into their set and not even an hour of being there, my shirt was ripped completely in half and I was surrounded in communal sweat; being pushed and shoved right alongside me was Maxx Morando, the drummer of The Regrettes.
Around 8:00 pm, The Garden, twin brothers out of Orange County who are making a statement not only in the new punk scene but also on the runway for designers like Hugo Boss and Balenciaga, owned the main stage for their half hour set that sent guys wild and girls outrageous. Despite it being only the two of them The Garden never fails to completely encapsulate their audience and fill the entire stage; they even shared their new song "All Access." After them, Tijuana Panthers, a solid surf rock band, completely revived a crowd that was left exhausted and beat. Lastly of the night, the much anticipated appearance of The Frights strayed far from the realm of disappointment.
The Frights have a unique sound so effortlessly paired with the raw intensity of punk and the groove of classic surf rock you find yourself, at some points, not knowing whether to mosh or do the twist. Not only does their sound alone make for a great show but their energy and stage presence is nothing short of electric. These boys have a sense of humor too aside from their performance of "All Star" that was, sorry to say it, damn near superior to Smash Mouth, cardboard cutouts of Harry Potter characters, Fabio, an 18 inch Danny DeVito, and a 12 foot grizzly bear joined them on stage with their entrance to Celine Dion's powerful "My Heart Will Go On." While all the bands absolutely killed it, you could tell the crowd was there for The Frights and deservedly so. Performances of their songs from their album, also falsely called "You Are Going to Hate This," made us all sing along and insanely mosh. Lead singer, Mikey Carnevale, even leaped off the stage into the mix to perform an entire song whilst crowd surfing.
If these boys aren't careful with their false advertising, however, their pants might actually catch fire because all in all, the eight hour night was one to never forget and not to miss, if you couldn't go to this year make it a point to go next. The fest we were guaranteed to hate was actually what young punk's fans' dreams are made of and it's safe to say, like me, everyone f---king loved it.