To those still mourning the death of Beach Goth, focus your attention on the up and coming Midnight Mass put on by Astro Lizard Records and Freakstyle Booking. This was the second year in a row for the all-day garage rock/surf rock/punk festival in Long Beach, California. As an attendee this year, I can genuinely say this event has got more than just potential. This year's bill had big names like The Garden, The Buttertones, Audacity, The Memories, Cumstain and The Spits, a band that hasn't played Long Beach in ten years. On December 10, Midnight Mass, well, packed The Packard selling out with 1,300 people attending.
What's better than an all ages mini punk fest in a warehouse sponsored by PBR? I'll tell you - there's nothing quite like it. Midnight Mass's theme embodies a nightmare before Christmas - loosely decorated with a Christmas tree covered in spider webs and bricks wrapped with bows beneath it, Halloween masks nailed to the walls, Barbie dolls taped up with caution tape- something so awesome even Tim Burton himself couldn't make it up. The entire place had a come-as-you-are type of vibe, complete with gender-neutral bathrooms; the event tailored to the progressiveness of 2016.
As a teenage girl in Vegas, it's not often I get the opportunity to experience something as authentically awesome as Midnight Mass. The crowd consisted mostly of teenage peoples - it was like they called every high school on the West Coast and asked them to send out their coolest kids. Goths, punks, and indie babes alike all came together to mosh and jump and scream and shout. They even brought out Tyler the Creator as a VIP guest who stage-dived like the rest of us during The Garden's kick ass set.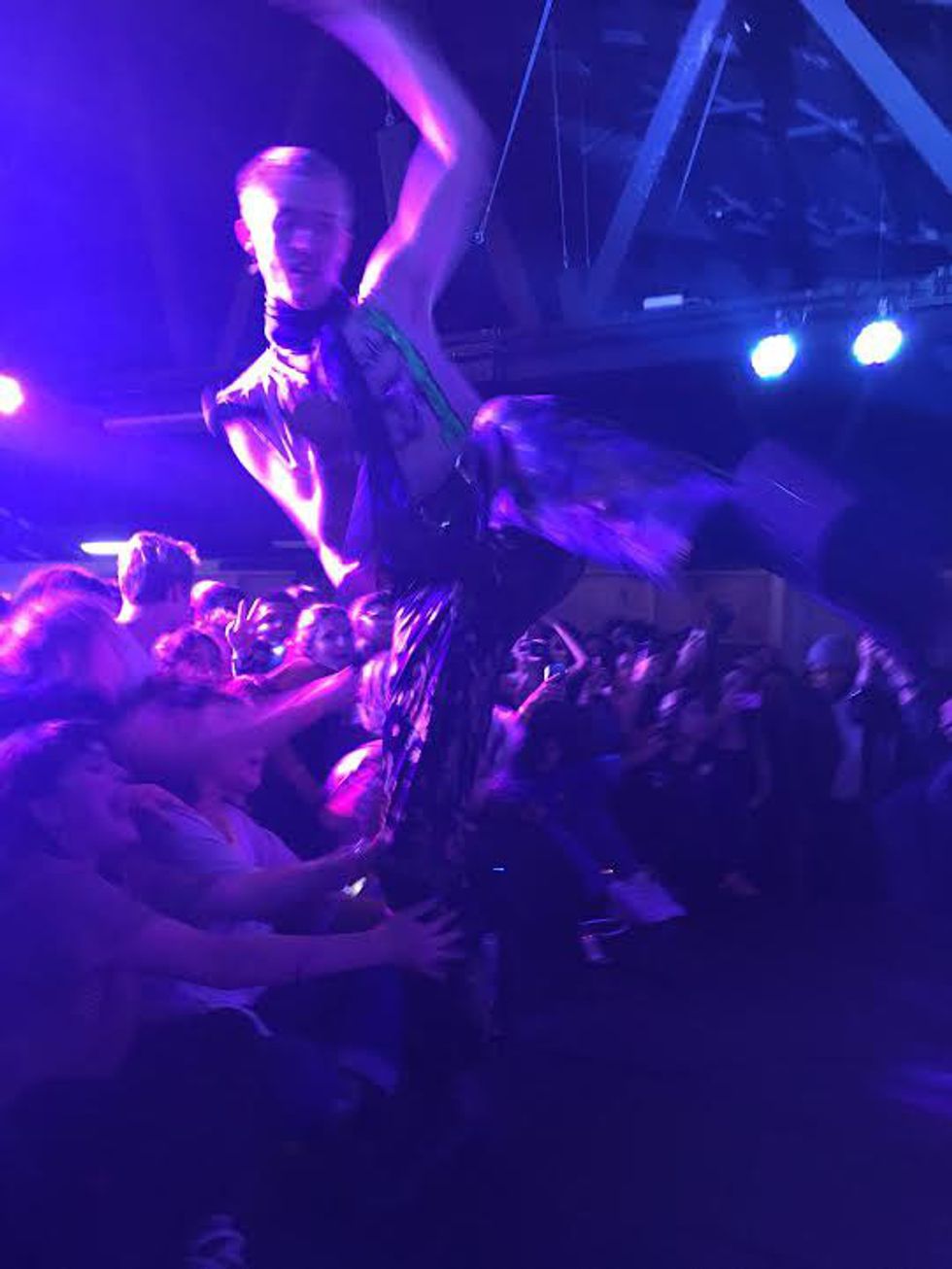 What I've always loved about concerts and festivals like this is that it clearly illustrates how music can bring people together; performers and attendees all mingling, all there for the same reason. Like I mentioned before, Midnight Mass is authentic; it's not phony, it's not just to get your money, it's something for us all to really enjoy. Concerts like this are a place to let go of everything you were holding on to and forget about it in the midst of the crowd. Midnight Mass had an indescribable energy and overall was one of the sickest nights I've ever lived. Punk's not dead, and neither are festivals for the cool kids.
At a show where everyone is just there to have a good time, plus this year's killer lineup, it's no wonder it was so successful in only its second year. So like I said before, to those of you still pissed about the flop that Beach Goth 2016 was, it's time to turn over a new leaf because while Beach Goth is dead, Midnight Mass lives!