Disclaimer: Although bear cubs are adorable, you shouldn't approach one — let alone enlist one into your army. It is likely a mother bear will be nearby, and could maul you for trying to steal her cub.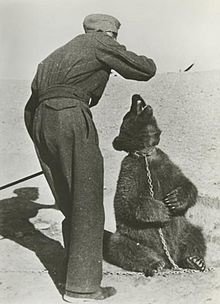 Rations are important for any growing bear.Wikimedia Commons
Our story starts with a little brown bear, lost and alone.
Orphaned as a baby, the young bear was befriended by an Iranian child. It was Spring of 1942, and the Polish Army was on its way to meet with British troops in Palestine. That's when they discovered the gentle baby bear. The soldiers passing through happened upon the pair and made a trade: rations in exchange for the bear cub. Reluctantly I'm sure, the boy accepted the trade. Wojtek would soon be officially enlisted in the Polish 22nd Transport Artillery Company.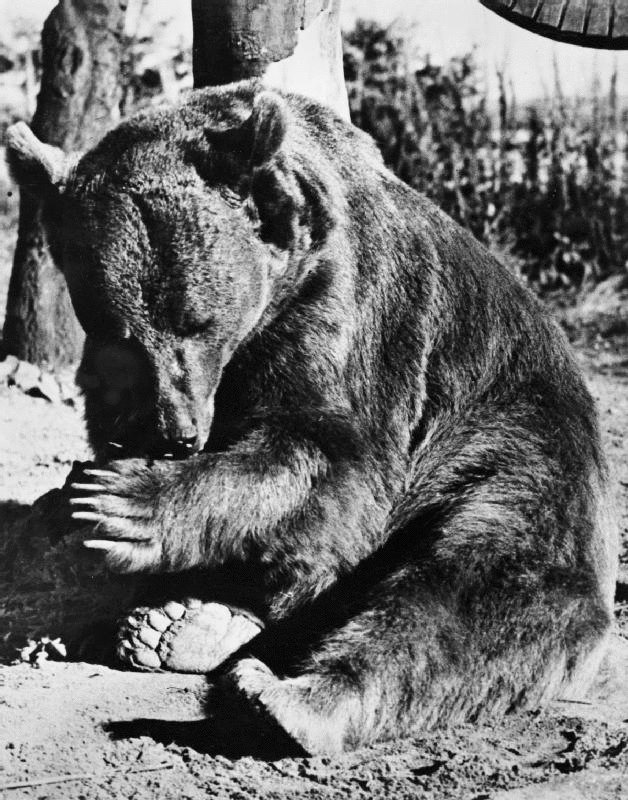 Wikimedia Commons
Wojtek meaning "joyous soldier" became an instant star. The troops rallied around him, and morale surged. Not only was Wojtek cute as a button, he was also intelligent and endearing. say he would drink milk from a vodka bottle as a baby. Wojtek was a casual cigarette smoker and eater — and was known to 'crack open a cold one with the boys." Soldiers were said to have engaged in friendly wrestling skirmishes with the playful bear. He'd also steal into the showers and turn them on, causing water shortages. Everybody loved him, and he loved it.
Wojtek was excellent at carrying heavy packs and boxes of ammunition. He brought a smile to those suffering under harsh times and truly contributed to the war effort. He was even let on the transport vessel out of Egypt as an official recruit. Maybe one of the heaviest soldiers, but also one of the sweetest. Wojtek has no confirmed kills.
After the war in 1945, Wojtek was honorably discharged. He spent the rest of his days at the Edinburgh Zoo, recounting Old war stories to the cubs. Every now and again, his veteran army buddies would come to visit — and toss him a cigarette.